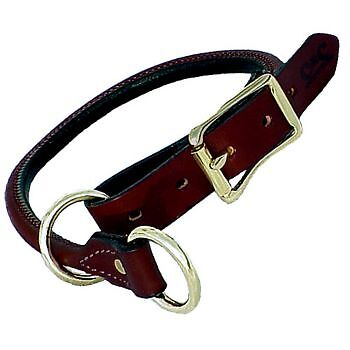 The UK is a nation of animal lovers, and dogs are right at the top of the list of most loved pets. In 2011 there were 10.5 million dogs in the country, and that number is rising every year. The dog is one of the most popular pets in the country but adopting or taking on a dog or puppy isn't to be taken lightly. They require training as well as love and affection, and there are many methods used to train and help dogs learn the basics.
Choosing the right training lead and collar can be a key decision in ensuring a dog reaches its potential and is able to integrate and socialise happily. Training a dog with a slip collar is a proven although controversial method, but when done properly it can have astounding results not only on puppies but also on older dogs that may have behavioural issues.
Buying a slip collar is extremely straightforward on eBay and buyers can be sure they'll have a range to choose from and listings should be detailed enough to ensure the collar bought is perfect for the dog in question. The right size and material for the chosen slip collar are important to ensure they suit the dog and are comfortable to wear.
For the widest range of different types, as well as competitive prices, eBay is the place to start.
How to Use a Slip Collar
Understanding how to properly use a slip collar is integral to the process of buying. Used incorrectly they can be harmful and can upset a dog or even cause injury. Below is a quick guide to using a slip collar in the correct way for the dog and owner's best interests.
| Step | Process |
| --- | --- |
| One | Assemble the slip collar correctly. It needs to be in a P shape. |
| Two | Correctly place the chain around the neck. The correctly assembled collar will have one end ring with the chain going through it and one without. The end without is attached to the leash so the collar should be placed over the dog's head with that ring facing upwards on the dog's neck. |
| Three | Test the collar. Pull the end ring gently and release. On release the pressure should be removed from the dog's neck immediately. |
| Four | Place the dog by the side and use a quick jerk and release method to keep them on track and right next to the owner. |
| Five | If at any point the chain seems to tighten around the dog's neck it needs removing and refitting. |
If the collar is fitted correctly then the dog is completely ready to be fully trained and learn to enjoy their walks without going completely off the rails. Slip collars are also known as choke chains but they are not designed to choke the dog, merely to mimic the nip of a mother dog with a short sharp jerk, bringing the dog back into line.
Tips for Buying a Slip Collar
There are a few universal tips that all potential customers should know before purchasing their slip collar. It is important that the above steps are followed to ensure the collar is used properly. It is also important that the collar fits perfectly. Collars that are too big cannot create the necessary reaction to work. Buyers should measure their dog's neck and then add 1-2 inches onto the size. The proper fitted collar should be able to be slipped over the dog's head without pulling on the ears. Another tip to keep in mind is that a slip collar is only appropriate for dogs who are 6 months or older – they are not suitable for very young puppies.
Slip collars are used solely for training and once the dog is off the lead or not in training any more then another type of collar should be used. It's one of the most popular and effective training tools on the market for teaching dogs the importance of walking measuredly with their owner.
Alternatives to Slip Collars
There are other training collars on the market that could be considered in competition to slip collars, but could just as easily be used in conjunction. Below is a closer look at some of the alternatives available through eBay:
Buckle Collar – the most basic type of collar connected by a buckle and no discomfort would be felt if it was jerked. Owners of dogs who need intensive training probably need something more robust.
Prong Collar –another type of collar specifically designed for training. Older than slip collars they are used to demand an immediate positive response from a dog when they're misbehaving during training.
Head Halter Collar – a further training option – head halter collars are preferred by trainers who stress the importance of positive reinforcement. These collars fit round the head and rather than putting pressure on the neck like a slip collar the pressure is exerted on the head.
Martingale Collar – an older design again often used with greyhounds and faster dogs that can easily escape and be lost. The collars tighten with a sharp tug of the lease but are fitted with a stopping mechanism so complete closure on the neck is impossible.
These are just some of the common collar alternatives on the market. The slip collar choice is often one of the most popular because of its proven results but of course individual buyers may have other preferences.
Cost-Effective Slip Collars
There are a range of slip collar choices on eBay, which means buyers can make informed decisions through comparing the products available. The range of different styles and materials means that it's easy to find one that suits the individual user's requirements. Many of the listings give measurements as well as just small, medium or large, so buyers can ensure they are definitely buying a product which is right for their dog.
The slip collars available on eBay can be found in auctions and also at fixed prices, which give buyers a chance to either bid on items or decide they're rather buy straight out. The range of prices is dependent mainly upon the materials the collars are made from with everything from rope to chain to leather possible.
Making the right purchase is much easier when there's a range of choices to compare and using eBay gives this choice in much more depth than can be found in high street stores or pet shops.
Conclusion
With so many homes having a dog for company it's not surprising that pet accessories are big business. Dog training has also become quite a popular area of interest since celebrity TV shows featuring many tips and tricks have appeared. Choosing the right accessories for your dog to meet their needs can be difficult but there are some essentials which you need to ensure they have access to.
A slip collar is a training tool for dogs over six months of age that can have dramatic positive effects on their behaviour. They're constantly in demand and are a popular item for getting dogs to behave in the way their owners see fit.
Buying slip collars on eBay presents the buyer with a wide range of options including style, material and size and this often far outstrips what can be found elsewhere. The price range offered is usually much more competitive too as online sellers can offer a wider range of different products. Buyers considering a slip collar but not sure exactly which one to get will find that eBay offers a considerable range at affordable prices making the decision much easier.