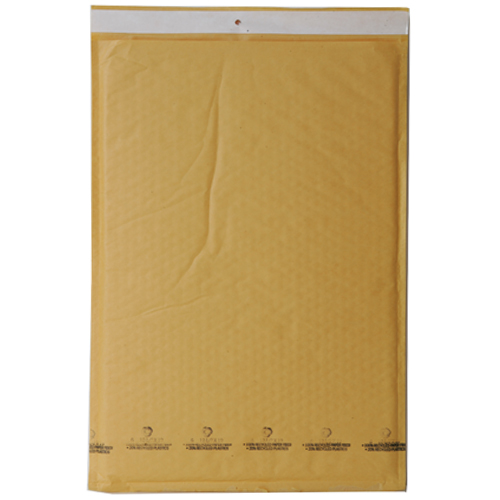 Small padded envelopes are used for a variety of purposes. Some people find them useful for sending items through the mail, while other people use them to safely store and protect valuable documents and other items. There are a variety of padded envelopes available, each with their own unique features. Since envelopes such as these vary in how they are constructed and in size, it is good to know more about the various types and what features they include.
Although the use of the envelopes depends solely on the person, using them in the proper manner can mean that the envelopes function more effectively. In order to get the best results from envelopes such as these, it is helpful to know the purpose that each type is created for. Some types of padded envelopes are better than others for mailing or storing items. Being able to purchase small padded envelopes on eBay is a great way to save money, especially when they are purchased in bulk quantities.
Overview of Small Padded Envelopes
Not all envelopes are created equal. Standard envelopes are great for mailing letters and other documents; however, there are times when other items need to be mailed and a standard envelope is not appropriate. Standard mailing envelopes are thin and afford little, if any, protection from environmental factors. They also are not a safe way to send items that could easily become torn or damaged if handled improperly through the mail.
In cases like these, padded envelopes are often the best choice to use not only for mailing items, but for packaging and storing items as well. Not all padded envelopes are created equal either. Some people like small padded envelopes that peel and seal, so it is best not to assume when buying them that all envelopes come with this type of feature. Knowing what features these envelopes include as well as the various types and sizes available helps in knowing which types to purchase.
Features of Small Padded Envelopes
Padded envelopes are constructed from paper that is thicker than that of a standard envelope used to mail letters. Some envelopes may come with lines for shipping and return addresses while others may not. The interior of the envelope is padded with a material meant to cushion the inner contents from both sides. The material used to cushion the envelope can be varied.
Some small padded envelopes use a bubble wrap material to keep the inner contents safe from harm. Even those these bubbles are formed by trapping air inside of a thin plastic material, they are highly durable if used properly. Other padded envelopes may use a material composed of recycled fibres.
Padded envelopes are easily distinguished from the standard mailing envelopes because of their bulky size. There are some varieties of padded envelopes that have an adhesive strip used for sealing the envelope in order to help keep the flap from opening and the contents from falling out while in transit. This type of envelope is commonly referred to as being self-adhesive. The exterior of some padded envelopes also have qualities that make them ideal for storing items that need extra protection from moist environments. These types of padded envelopes are ideal for storing documents because they have an exterior that seals out water and keeps the inner contents from becoming mouldy or mildewed.
Uses for Padded Envelopes
Because small padded envelopes are designed for a variety of purposes, knowing which to use is very important. Some types of envelopes are designed to hold up better than others in specific environments. Other envelopes are more secure for mailing because of the features included for sealing them. Not all small padded envelopes are created equally. Even though an envelope includes padding, this does not mean that it is safe to use when mailing any type of object. Items made from glass, porcelain, or other breakable materials should be properly padded and mailed in a box instead.
Most people use padded envelopes for mailing items, such as compact discs and DVDs, literature, and other small objects, such as cell phone covers or jewellery. There are even padded envelopes that come with vibrant foiled interiors and colourful exteriors, which are ideal for sending items intended as gifts to a special person. Standard small gummed padded envelopes work well in situations where a box is too large for the object, yet some protective covering is still needed.
Adding Affordability to Small Padded Envelopes
Being able to reach customers over the Internet is a great way to increase sales, but it does come with the added price of having to ship the item purchased to the customer. Some merchants find that they need to use small padded envelopes on a routine basis for mailing items to customers and over time this expense can add up. Finding ways to make this process more affordable helps to save time and money.
Because the definition of the word small is not always the same for everyone, assorted small padded envelopes are very popular and can often be a tremendous value to those who mail small items in a variety of shapes.
Shipping
Not only does having to buy the materials and ship them take away from the profit made, it also uses valuable time to do this as well, making reaching these customers less affordable than ones who buy items in-house. This does not mean that new customers should not be sought out over the internet, it just means that a more affordable solution should be found for shipping the merchandise.
Shipping items using small padded envelopes is normally cheaper than wrapping it in bubble wrap or another protective coating. Not only is it cheaper to use these types of envelopes, it is also safer as well since mailing items in a standard envelope could cause damage to the item enclosed if the envelope were to tear because of the lack of stronger outer material.
Buy in Bulk
Buying items in larger quantities or more is a great way to make purchases almost any purchase more affordable. This is especially true when items that are used on a continuous basis are purchased in this way. Although buying items in bulk quantities usually means that the initial investment is often higher than buying a few at a time, money is saved over the long run.
Not only is it cheaper to buy small padded envelopes in larger quantities, it also saves time. Buying envelopes in this manner saves time that would normally be spent in a post office or other location. There are no lines to wait in and there are always envelopes when they are needed.
Buying Padded Envelopes on eBay
One of the most affordable business solutions for obtaining small padded envelopes is to buy them on eBay. There are several reasons why shopping on eBay makes purchasing envelopes more affordable. One reason is that many businesses are open around the clock. If a person needs to prepare an item for delivery and find that the stock of envelopes has been depleted, there are not many options for obtaining more except to wait until a business that sells them opens.
Since eBay is available around the clock, 365 days a year, this is never an issue. There are no lines to wait in either and with the variety of sellers available, prices are affordable as well. Many sellers also offer expedited means of shipping items so that they arrive when they are needed. There are also options to buy padded envelopes in bulk quantities to ensure they do not run out when least expected.
Finding Small Padded Envelopes on eBay
It is very easy to find small padded envelopes on eBay and requires very little time. One of the simplest ways to find these items is to conduct a keyword search. A keyword search is one where the most relevant words that pertain to an item are used. In this case, all you need to do is to type the keywords "small padded envelopes" and click on the search icon button. All results for the keywords are displayed for you to browse through.
There are other search filter features available to make the process more streamlined, such as being able to choose the exact size and quantity of padded envelopes desired. In addition to those search filters, there are also additional ones available through the advanced search option feature. To make it even more convenient, you can perform a keyword search from the eBay home page or at the top of any subsequent web page on this site.
Conclusion
Small padded envelopes come in handy in many situations. They are a useful and often necessary way to ship items to customers who are unable to pick items up from a store location. Many businesses and individuals who find the need to ship items on a regular basis find that buying padded envelopes in large quantities ensures that they always have them when they are needed.
Because many items that are sent through the mail require some form of additional protection, small padded envelopes are often used to fill this need when a box is too large to ship small items. Envelopes constructed from durable outer materials and a protective interior help to ensure that items shipped to customers arrive safely. Some padded envelopes are also useful for storing items and keeping them safe from outside elements like moisture.
Using eBay to purchase small padded envelopes makes the purchase more affordable since these envelopes can be purchased in bulk quantities. Offering affordability and convenience to customer shopping experiences is what shopping on eBay is all about.