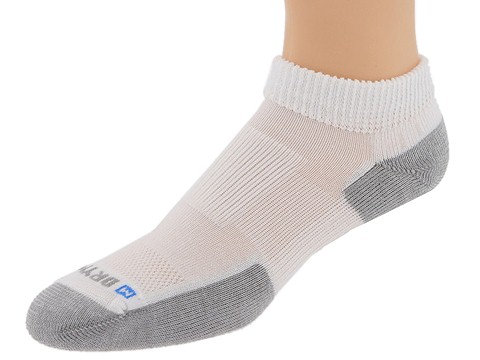 Everybody knows that choosing the right pair of sports shoes is crucial to ensure that the feet are well protected from injury and odour. However, people often overlook the importance of getting a good pair of sports socks. Along with buying the right equipment, buying the right pair of sports socks is absolutely necessary to ensure a good performance during any kind of sports activity. The main purpose of sports socks is to provide extra cushioning for the feet and to protect them from blisters as well as odour that may derive from practicing physical activity. Not all sports socks are suited to be worn during all types of physical activity; there are special socks for cycling, running, or trekking.
There is a wide variety of sports socks available in different fabrics and types. In this guide, buyers can learn about the different materials and types of sports socks, the way to select the best pair to suit any kind of sport activity, and the purchase options, including online stores like eBay.
How to Choose the Best Sports Socks
Engaging in any sport activity can put strain on the feet. Therefore, it is important for a buyer to choose the right pair of socks before taking off for a jog or run. There are a few criteria to consider when purchasing a pair of sports socks but the main ones are the material and type of sport activity for which they will be worn.
Materials
The material is the most important factor to consider before buying a pair of sports socks as different materials provide different cushioning, durability, and wicking ability. Wicking is the property of a material to absorb moisture and transfer it away from the skin. Materials with high wicking ability are able to absorb and evaporate the sweat from the feet. This ability is important to keep the feet dry and odourless and also to prevent blisters. Some materials with good wicking ability are wool, acrylic, and polyester.
Cotton
Socks made of 100 per cent cotton are comfortable but they absorb and retain moisture easily, meaning they do not dry easily. Walking or running around in wet socks is not only uncomfortable but may also cause blisters. Cotton socks also produce more friction when the feet are moving around, so they will wear off quickly, especially when worn during intense physical activity.
Sports socks made of cotton usually involve cotton blends. Cotton blend socks are a combination of 60 per cent or less cotton and the rest synthetic fibres. These socks are good as sports socks because they are comfortable and have better wicking ability and durability than socks made of 100 per cent cotton. Cotton blend socks are suitable for short sessions of less intense sports or exercise.
Wool
Because of its texture, wool offers great cushioning. Wool sports socks are also more durable than cotton socks and they retain their shape better, meaning that they can last longer even when worn during high impact sports. They also have great wicking ability as they can absorb moisture up to 1/3 of their weight and still feel dry. However, wool socks are better to be hand washed as washing them by machine can damage them. For better performance, merino wool socks offer all the benefits of wool with the softer feel of cotton.
Acrylic
Acrylic sports socks are among the most widely used sports socks available on the market. Compared to cotton socks, acrylic socks have great wicking ability and are able to quickly draw moisture away from the feet to keep them dry. Acrylic is a synthetic fibre which is lightweight, durable, and soft to the touch. Acrylic has been combined with other fibres such as cotton to produce sports socks with better wicking ability and durability.
Coolmax
Coolmax is a branded material made from polyester. It is made by using a four-channel fibre technology which gives Coolmax socks greater wicking ability compared to acrylic socks. Coolmax sports socks are lightweight and are great at wicking away moisture and keeping the feet dry. This is especially useful for people who engage in sports such as running or rugby. Coolmax is among the best materials for making sports socks and that is why it is often used in blends.
Nylon
Nylon is a synthetic polymer which is very durable and versatile. It retains its shape very well and can be worn for a long time. However, nylon does not wick away moisture very well as it tends to absorb it in the same way as cotton does. On its own, nylon would not make very good sports socks but is very useful to be blended with other fibres as it provides strength and elasticity.
Lycra
Like Coolmax, Lycra is a branded synthetic material. The main properties of this fibre are stretch ability and elasticity. The elasticity makes Lycra socks a good fit for every type of foot. Lycra sports socks are also light and comfortable to wear. This material is often blended with other fibres when making sports socks, as its elasticity complements the properties of other materials such as the wicking ability of wool.
Sports Socks by Activity
Many people do not realise this but not all socks are suitable for all kinds of sports. Each type of sports socks is usually best fit for a particular activity. Here are the main types of sports socks according to their intended activity.
Athletic Socks and Running Socks
Athletic socks are considered as the multipurpose sports socks. They include normal gym socks, football socks, and running socks. They usually provide good cushioning but are still lightweight. Running socks are designed considering a runner's footfall and the stress that the foot absorbs when the person is running. Therefore, they usually have some thick padding for the ball of the foot and the heel. There are also running socks with less padding for those who prefer their socks to be lightweight. Running socks are typically lighter than athletic socks.
Hiking Socks
Hiking socks range from lightweight, to midweight, and mountaineering socks. Lightweight hiking socks are intended to be worn on shorter hikes in warm weather. Thus, they provide less padding than midweight and mountaineering socks. Midweight and mountaineering socks are thicker and more padded than lightweight hiking socks. Mountaineering socks are the thickest and they are designed to keep the feet comfortable and warm on longer hikes. Since they do not have very good wicking ability as lightweight hiking socks do, liner socks can be worn under them to wick away moisture from the feet.
Cycling Socks
When cycling, wearing thin socks with better wicking ability is recommended. Since cycling does not involve any impact on the foot, extra padding is unnecessary. In fact, the added friction from thicker socks can lead to skin chafing.
It is important to select sports socks considering the properties of their material and the sport for which they are intended to be worn. Sports socks are available from sports shops, department stores, specialised sports shops such as hiking and cycling equipment shops, and also from online retailers such as eBay. The next section discusses how one can purchase sports socks on eBay.
Buying Sports Socks on eBay
The auction site eBay has a large selection of sports socks that can be worn while practicing different types of physical exercise, such as running, cycling, or athletics. To find the best pair for your needs, just type the kind of sports socks that you want into the search bar on the eBay home page. For example, by typing "running sports socks" into the search bar, a list of running socks will appear. You can then browse through the list and look at the details and prices of the socks.
To avoid going through the entire list just to find out that the size or material you are looking for is not available for the types of sports socks you are looking for, you can filter the results. To specify the material, colour, size, price, or any other characteristic you would like the sports socks to have, filter the results by entering the relevant keyword in the main search field, or select the appropriate category from the menu that you find on the same page.
After you have selected the pair of socks that you would like to purchase according to the purpose for which they will be worn, price, style, colour, and other specifications that you may have, you can check its full description and other details such as the postage fee and the refund policy. If there is no refund policy displayed for the item or items that you intend to buy, you can contact the seller and ask him or her directly. If you are satisfied with the socks you have chosen, you can then proceed to buy them.
Conclusion
Wearing the wrong type of socks for a certain sport can cause discomfort, odour, or even injuries to your feet. Therefore, selecting the right pair of socks for a particular activity is essential. Things to consider before buying a pair of sports socks are the activity for which the socks will be worn and their material.
Athletic and running socks offer varying levels of cushioning and wicking ability, so it is up to the buyers to decide what they want more in their sports socks. Hiking socks are usually thicker to provide comfort for longer hours of walking while cycling socks are thinner and are made with materials that have good wicking ability to keep the feet cool and dry. One must also remember to consider the properties of the materials used to make the sports socks before buying them. eBay has a great selection of sports socks for all activities and is a great place to start looking for the perfect pair for any type of sport.