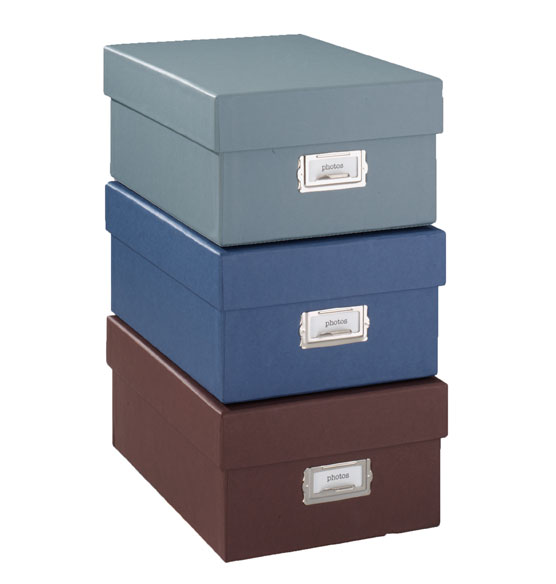 Storage boxes can provide solutions to storage needs throughout the home or office and are available with many different features, ranging from plain and lidded to decorative and hinged. Perhaps one of the most useful types of storage box is the stackable storage box which allows many of the same or similar boxes to be placed on on top of the other. Stackable storage boxes come in a variety of styles and with a number of different aspects meaning there is something to suit all home and office environments.
Stackable Storage Boxes as a Home Storage Solution
One of the many reasons why stackable storage boxes are some of the most useful types of storage boxes, especially around the home, is that as the boxes can be safely stacked high, they can store a great deal of infrequently used items in a small space. This makes them a very popular and common addition to small houses, particularly apartments, flats, or maisonettes, or for rooms that are short of free space. Stackable storage boxes usually have a design feature which allows the boxes to slide into existing indents, rather than needing to place them freestyle onto a lower box. This means that the stack will be safe and secure, removing the risk of boxes slipping, falling, cracking, and damaging the contents. Different features, such as a drawer style, makes accessing stacked items simple.
Choosing Stackable Storage Boxes
Although stackable storage boxes are a specific type of storage box, there are also specific types of stackable storage boxes as well; subcategories. Different styles, materials, and sizes are available to suit all sorts of intended purpose.
Stackable Storage Box Styles
Whether the stored items are rarely needed or required on a daily basis, or whether the stackable storage boxes will be kept hidden out of sight in an attic or garage, or placed on display in the home, different styles lend themselves to different requirements and preferences.
| Style | Benefits |
| --- | --- |
| Removeable Lid | Sturdy lids help to secure boxes placed on top of the boxes. The lids protect the boxes and their contents from damage and decay from dust and other airborne particles which could cause deterioration. |
| Hinged Lid | Hinged lids provide a sturdy base for supporting the higher boxes. They protect the contents from dust and other particles which could cause damage and cannot be misplaced due to attachment to the box. |
| Open | Open boxes tend to have grooves or indents near to the top for the higher boxes to sit in or slide into. They are basic yet functional and are one of the most common types of stackable storage box. |
| Plain and Basic | Usually made from plastic or very heavy duty cardboard, plain boxes are inexpensive and can be used for hidden storage in attics or garages where design, detailing, and style isn't of great importance. |
| Decorative | Decorative boxes usually have lids that support the higher boxes. They are typically made from wood or heavy duty cardboard and have intricate detailing. Decoration ranges from busy baroque to minimalist art deco. |
| Drawers | Boxes can be fitted onto rails to be stacked, so although piled high they are not resting on lower boxes. This can reduce pressure and damage to the lower boxes and can increase ease of access. |
| Carry Handles | Handles can be fitted to most types of boxes. They make movement and lifting easier, but are more beneficial on smaller, lighter boxes than larger and heavier boxes which could be difficult to lift high to stack. |
Stackable Storage Box Materials
Stackable storage boxes are available in many different materials. Due to the pressure placed on boxes during stacking, flimsy materials are rarely used, with more hardy, stable, and high-quality materials usually a preferred choice.
| Material | Benefits |
| --- | --- |
| Plastic | Plastic is by far the most common material for stackable storage boxes. It is sturdy and secure to allow for high quality storage and stacking. However, it is prone to cracking, especially if overloaded. |
| Cardboard | Heavy duty cardboard boxes can be stacked, although flimsier cardboard may damage easily. This material is generally inexpensive but it vulnerable to damp and mold growth if not protected, especially in attics, basements, and garages. |
| Wood | Wooden boxes may be decorative and perhaps more costly than other materials. They are hard wearing and sturdy to allow for safe stacking, although painted wood could become scratched during the stacking process. |
Stackable Storage Box Sizes
Depending on the desired purpose, small, medium, and large stackable storage boxes are available. If planning to stack many boxes in one pile, it may be best to choose smaller boxes for ease of movement than larger boxes.
| Size | Use |
| --- | --- |
| 10 Litre | Small boxes can be used for tiny items that may be a little fidgety and easy to misplace such as jewellery, buttons, or sewing accessories. |
| 30 Litre | A little larger, these boxes can be used for individual items that need to stay together or in a specific place, such as remote controls for the television. |
| 50 Litre | A larger box, 50 ltr and up boxes are generally used for out of the way storage in lofts, attics, basements, and garages for items not frequently needed. |
| 80 Litre | Very large boxes can be used for large amounts of light objects, such as storing old clothing which is no longer worn. |
| 125 Litre | Extra large boxes may be difficult to stack if they're filled with heavy objects, although they are useful to storing kid's stuffed toys which are large yet light. |
Stackable Storage Box Purposes
Due to differing styles, stackable storage boxes can be utilised throughout the home for different purposes. Storage boxes don't always have to be hidden in attics, basements, or garages, and can be a welcome addition to existing home decor.
| Room | Purpose |
| --- | --- |
| Living Room | A stack of boxes in the living room can be used for remote controls, keys, DVDs and console games, or decorations that need to be kept out of the way, perhaps due to toddlers and babies in the family. |
| Kitchen | A stack of boxes in the kitchen can be used for cutlery, especially for keeping knives out of the way of children, or for storing snacks or small appliances. They can utilise space that is otherwise unusable in the kitchen. |
| Bathroom | A stack of small boxes in the bathroom can be used for storing medicines, toiletries, cosmetics, personal products and washcloths. They are useful in small bathrooms where shelving is not a suitable option. |
| Bedroom | A stack of boxes in the bedroom can be used for clothing storage or for keeping spare bedding and towels in homes where there is no other suitable room for storing such items. Smaller boxes could be used for jewellery. |
| Attic | A stack of large boxes in the attic can be used for almost anything; old clothing, old appliances, or for hiding Christmas or birthday presents from the family. It is generally used for storing items not needed on a daily basis. |
Buying Stackable Storage Boxes Online
Stackable storage boxes can, of course, be purchased from a local DIY store, or even from select supermarkets, although deals and discounts can often be found online. However, there are some considerations to make when buying stackable storage boxes online which aren't applicable to traditional brick and mortar stores. Two of the biggest considerations to take into account when buying stackable storage boxes online are condition and practicality. Items for sale in online stores, such as eBay, are available in both new and used condition depending on seller. When looking for used stackable storage boxes, it's important to ask the seller about any existing damage which could make the boxes vulnerable to cracks and splits. In terms of practicality, due to the sizes of stackable storage boxes many sellers will offer collection only, so it may be a good decision to filter results based on seller's distance.
Finding Stackable Storage Boxes on eBay
Stackable storage boxes are simple to locate on eBay through the Home & Garden category page. Choose Storage Solutions, followed by Storage Boxes. From the left hand preferences menu, select Stackable. This will produce all listings for stackable storage boxes on eBay, and results can be narrowed down further by selected preferred materials, brand, condition, and colour from the menu. To see a wider range of stackable storage boxes without any filters, enter 'stackable storage boxes' into the search facility.
Conclusion
There are many different varieties of stackable storage boxes to suit all storage requirements and preferences. They are useful throughout the home and office, especially in areas of low storage space, as the boxes can be stacked on top of each other, utilising height space rather than floor space. They are common in lofts, attics, and garages, but decorative stackable storage boxes can also be used for display storage and as feature furniture around the home. Stackable storage boxes are a safe, secure, and useful addition to many households.