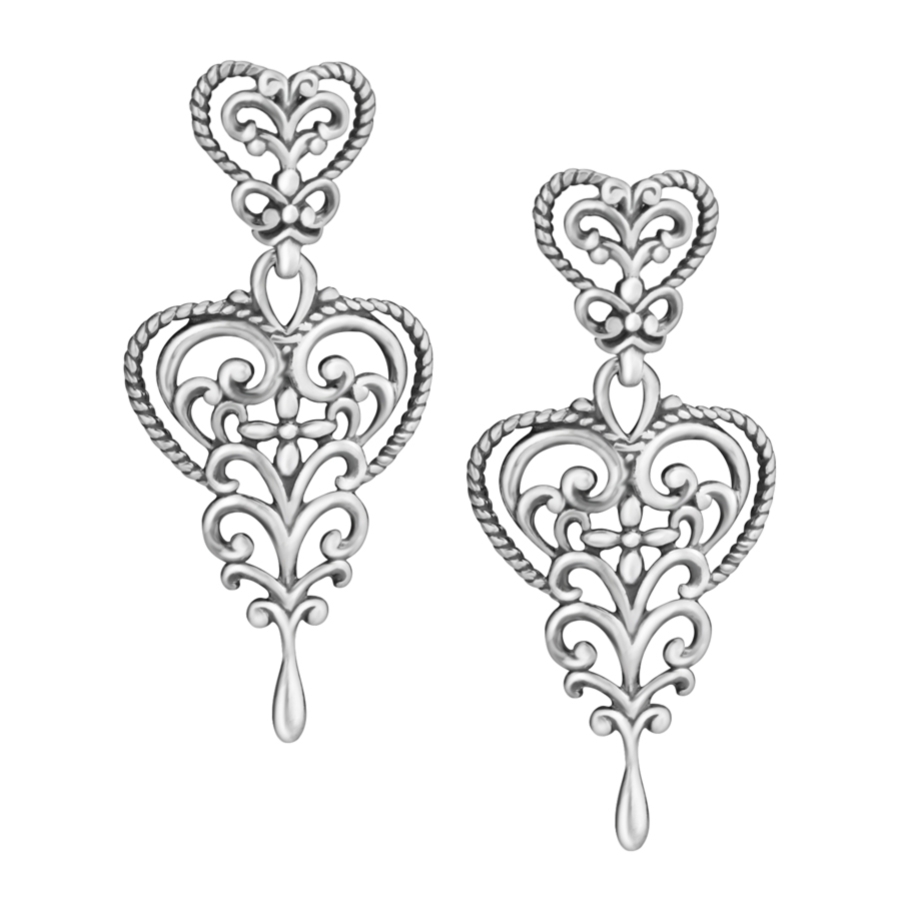 Sterling silver can make a beautiful accent to almost any outfit. It can be understated for a less than formal look and it can be flashy for a dressy look. Many people buy sterling silver for its look and affordability. Silver has been made into adornments since the metal was discovered. Sterling silver was created as a stronger alloy of silver in order to make more refined pieces of jewellery. Many silversmiths use it to make classic and modern earrings. The sterling silver earring is hypoallergenic for most people due to its composition.
A good place to find inexpensive sterling silver jewellery, particularly earrings, is the popular auction website, eBay. Here you can browse all sorts of types, styles, and composite earrings in sterling silver. When searching for sterling silver earrings on eBay, there are a few things to keep in mind, such as: sterling silver compared to fine silver, the styles of earrings, and how to find the sterling silver earrings that are desired on eBay.
Sterling Silver vs. Fine Silver
Sterling silver and fine silver are two different metals. Many people confuse the two because they appear the same and are both forms of silver. Sterling silver is an alloy of silver, and therefore, there is less actual silver in the earrings or other piece of jewellery. Fine silver is usually very close to pure silver. It, unfortunately, is very malleable and difficult to work with or wear on a daily basis unless it is combined with another metal. Sterling silver, on the other hand, can be used daily without worry of bending or breaking the piece of jewellery or earring. Sterling silver is more durable, less likely to tarnish, and generally looks and feels like fine silver. Many heavier pieces are made from sterling silver, whereas fine silver is likely to bend, break, or be too costly to purchase. From the standpoint of value, the more pure fine silver is more expensive, where sterling is not. eBay sellers who sell silver earrings and other items often identify the type of silver their product contains. If it is a silver alloy, such as sterling silver, they also know which alloy it is. Sterling silver is silver often blended with copper, nickel, and other light metals.
Marks on Sterling and Fine Silver
All silver, including earrings, jewellery, flatware, silverware, and other things made of silver, are marked in some way. Each country has its mark, and generally, each designer has their mark. A person can often tell where the piece was made, who made it, and what percentage of silver is in it by the markings on it. Different countries have different standards of sterling and fine silver. Each country has a mark for their silver products.
| Country | Mark |
| --- | --- |
| Japan | .1000 |
| International fine silver | .999 |
| Poland | .940 |
| Austria, Germany, Switzerland | .935 |
| Netherlands | .930 |
| U.K., U.S. sterling silver | .925 |
| Finland, Russia | .916 |
| Spain | .915 |
This is by no means an exhaustive list of the country hallmarks for silver. Many countries have other decimal hallmarks, but do not conform to the international hallmarking conventions. These numbers represent the standard percentages of silver and the country from which they come. The country name, abbreviation, or the number is stamped on silver items to identify from where they came.
Hallmarks for Designers
Most sterling silver craftsmen are proud of their work. Most of them have a unique stamp that they place at the base of an earring or other item. This hallmark represents who designed the silver piece even if it is a reproduction, and often the original designers hallmark is reproduced with it. Just like an artist signs his or her work, silversmiths sign theirs. British silver is also marked with the city it is from, in some cases. Most true British silver is marked with a lion, a castle, a crown, or a cross in various configurations. This is particularly true of older silver and antique pieces. There are entire encyclopedias for different silver makers and sources.
Styles of Earrings
There are about as many types of sterling silver earrings as anyone can imagine. The main types of sterling silver earrings are the classic hoop,, the stud, the dangle earring, and the cuff. Each type has its own style.
The Hoop Earring
The sterling silver hoop earring is a classic for men, women, and children. Men wear a small hoop in one ear. This practice was established from the practice of pirates wearing hoops in their ears to signify wealth. Women, however, wear just about any size of hoop. The hoop earrings for women can range from very small to very large. Girls wear a variety of hoop earrings as well. Small hoops are usually solid sterling silver. The larger variety are normally hollow due to their weight. The larger the hoop, the thinner the silver. If they were solid, they would pull on the ear and be extremely uncomfortable.
The Stud
A sterling silver stud is also an earring that can be worn by men, women, and children. With a stud earring, the stud can be a mount for a stone or it can just be a simple ball. Men tend to go with the simple ball or a small stone. Women who enjoy variety wear stud earrings that have any number of precious, semi-precious, or synthetic stones. There are also stud earrings for women that feature just about every other object imaginable in a variety of different sizes. Children of both sexes also wear studs, much in the same way that their adult counterparts wear them. Each person has their own taste in sterling silver studs.
The Dangle Earring
The dangle earring is mainly worn by women. These sterling silver earrings also come in a vast variety of shapes and styles. They can be set with stones, marcasite, and quite a few other objects. They come in the same object features as stud earrings. Almost everything, including things like forks and enamel silver bonded teapots, can be the shape of a sterling silver dangle earring or stud. These earrings can be either short or long. Many of the longer earrings can reach to touch the shoulders or can be connected to other body jewellery.
The Cuff Earring
The cuff earring is a style of earring that curves around the earlobe. These are popular with both men and women but not many children wear them. Some people wear an earring that looks like a climbing man or animal. Other cuff earrings are just sterling silver clamps that go over the earlobe. Some may have chains or backings to them, while others just have a clamp.
Finding Silver Earrings on eBay
In order to find sterling silver earrings on eBay, all that a person has to do is go to eBay's website and enter the desired search terms in the search box, and then click search. If searching for a pair of sterling silver earrings, the search terms used are "sterling silver earrings", which populates a list of all of the items on eBay matching those search terms. If the results are too broad, adding a search term may help. For example, adding "stud" to the search terms "sterling silver earrings", brings up the results for all listings for the new search terms. Using either more broad or more narrow search terms changes the search result.
Once a desirable listing is found, it can be clicked on to bring up a description and more information about the chosen sterling silver earrings; read through this information. The listings most often have a photo, a description, the seller's name, shipping, and return information.
Buying Sterling Silver Earrings on eBay
Once you have decided on which pair of sterling silver earrings you wish to purchase, there are only a few more things that need to be done. Review the description and make sure all of the information that you need is there. If it is not there, you can use the "ask the seller a question" feature. Most sellers on eBay are happy to answer any questions about their products that you may have.
Almost all sellers have some form of feedback associated with their listings. Take the time to read the feedback and look at the star rating. This is a good way to find out whether or not the seller has had any problems in the past. If there are problems, then considering another seller with a similar product may be a good idea. There are also sellers that have the honour of being a top seller on eBay. This designation means that they have consistently high feedback.
Conclusion
There are many different types and styles of sterling silver earrings. In order to find the exact pair of sterling silver earrings that are desired, a consumer may need to go to a variety of shops. One way to view a huge selection of the different types of sterling silver earrings is to look on the popular auction website, eBay. A person can browse, select, and purchase earrings without leaving the comfort of their home.
Sterling silver earrings should not be confused with fine silver earrings. Sterling silver is a silver alloy that most often is 92.5 per cent silver. There are many different manufacturers from many different countries that make these earrings, and usually use a hallmark or code to mark their earrings or jewellery. These marks can be seen on the backs or clasps of most types of jewellery. Knowing these facts about sterling silver can make the experience of buying sterling silver earrings easier.