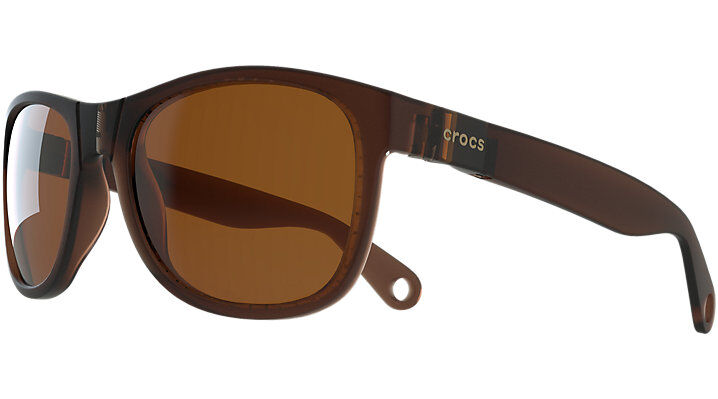 Sunglasses have evolved from being a tool for protection against sunlight and its harmful rays, to being the must-have accessories for sunny summer days. Available in many different styles, colours and brands, they can be a key component in showcasing the wearer's personality.
eBay hosts a large range of sunglasses, which can be found in the site's fashion category, and this guide will attempt to map the various styles, types, materials, colours, frames and special features that sunglasses are available in, including their respective benefits for the wearer.
What Are Sunglasses?
Since the 1900s, sunglasses have been used to protect peoples' eyes from the sun's harmful ultraviolet rays. The American military were one of the first people to use this new technology for their servicemen and women, whilst Sam Foster in 1929 found the perfect market for sunglasses at the beaches of Atlantic City, New Jersey.
Celebrities soon adopted sunglasses, partly as a way of disguising themselves from the public; and the increasing popularity of sunglasses allowed beach-goers, sports-lovers and the fashion-conscious alike to step out in many varieties of the stylish shades.
Composition of Frame
Sunglasses are made up of lenses that rest in front of the eyes via a frame that stretches from the eyes up to the ear. The frames are often made of metal or metal alloys, nylon or plastic, each with their varying pros and cons:
Metal: strong but rigid, often quite thin arms which can break or become bent out of shape if they are twisted. Some of the metal models have spring-loaded hinges for better grip.
Nylon: lightweight, strong, flexible and often quite thick frames which offer better grip. Nylon is often used in sport sunglasses as they can bend slightly without breaking or becoming warped.
Plastic: lightweight, strong, flexible and the most inexpensive material from the three. Some frames come with a textured finish or a rubber or plastic coating on the bridge (the part across the nose) and the earpieces, or resting hook, to help the sunglasses remain on the face.
The ends of the resting hook are usually curved and wrap around the ear with the exception of very few models, such as Oakley, who make straight resting hooks.
Some sunglasses come with small pieces called 'nose pads' which rest between the frame of the lens and the wearer's nose and act in the same way as nose bridges, which provide support and prevent pressure marks on the cheeks from being formed by the weight of the sunglasses. Nose pads are attached to the frame using small screws or by pushing it in, depending on type. Nose pads can be made from plastic, silicone, titanium, ceramic, crystal and vinyl, with some even coated gold for extra luxury. There are hypoallergenic pieces available for those with sensitivities.
Composition of lens
Sunglass lenses are usually made of glass, plastic or polycarbonate, with Kaenon using SR-91, a resin-based non-polycarbonate lens material created and used exclusively by Kaenon. All sunglasses must meet minimum FDA standards regarding impact resistance; however, some materials are better than others.
SR-91: offers high impact resistance and lens clarity.
Glass: glass is the heaviest and offers best optical clarity and scratch resistance, but may break easily on impact.
Plastic: lightweight, found in most brands and shatter resistant, but can be prone to scratches. CR-39 is the most common type of plastic lens due to its lightness, scratch resistance and low transparency for ultraviolet and infrared radiation.
Polycarbonate: lightest material, strong and shatter resistant even with high impact. Polycarbonate lenses are common in sports sunglasses but scuff easily, so a scratch-resistant coating may help.
Lens Coatings
Sunglasses can be enhanced with a range of lens coatings that can alter the impact on the wearer's eyes or simply be a style choice. The cost of these enhancements is usually added to the price of the frame at the time of purchase, as choosing coatings is often the buyer's prerogative. Some models come complete with particular coatings as standard. Not all sellers on eBay offer all available lens coatings; however, the following is a list of the various lens coatings that may be available:
UV-coated
The main medical reason for sunglasses is to protect the eyes from excessive exposure to light, including UVA and UVB rays which are invisible. Experts recommend buying sunglasses that reflect or filter out 99-100% of UVA and UVB light with wavelengths up to 400 nm. Sunglasses may be labelled as UV400 to indicate they meet this requirement. In the EU, the minimum requirements are 95% with 380nm to be filtered.
As almost all sunglasses are UV-coated, eBay sellers may not use 'UV-coated' as a descriptive feature of their sunglasses. Ensure the sunglasses are indeed UV coated before purchase. The CE mark will be present, at least in European models, to confirm they meet the European Community Standard.
Side effects of ultraviolet radiation on the eyes can include short-term and long-term problems with the eye, including various forms of eye cancer. Dark lenses do not necessarily mean they have stronger UV protection as even lightly tinted sunglasses can have 100% UV protection. Further information about tints and other cosmetic features available on eBay will be addressed in a later section.
Polarized
When light is reflected from flat surfaces such as a road or body of water, it travels in a horizontal direction, or is horizontally polarized. Instead of light scattering in all directions, light reflected off flat surfaces are therefore more intense and can be dangerous. This glare is reduced using special polarized filters that block high intensity rays.
Polarized sunglasses are beneficial for driving, cycling, running and all forms of water and winter sports. They are common in sports sunglasses.
Mirrored
Also called flash coatings, they are thin layers of metallic coatings designed to reduce the amount of visible light entering the eyes. The mirrored sunglasses are beneficial for use in high-glare environments such as sunny snow activities and water sports. Due to advances in technology, there are now a large variety of colours available for mirror coatings in all colours of the rainbow including pink, blue, yellow, silver, gold and copper.
Unlike tinted lenses, a mirror coating does not affect the wearer's colour perception. In the case of wraparound sunglasses, mirror coating may provide added protection against light entering the eyes. Wraparound sunglasses will be explained shortly.
Anti-reflecting
These glasses work in the same way as polarized sunglasses by reflecting light off the back surface of the lenses instead of the front. Anti-reflecting lenses can be combined with polarized and/or mirrored coatings for optimum protection.
Gradient
Tinted from the top down or from the bottom up so one side is darkest. Top down sunglasses shield the eyes from overhead sunlight whilst allowing light through the bottom half. When driving, it will allow you to see the dashboard clearly, whilst shielding from the overhead sunlight.
Single gradient lenses are most common as dark on top and lighter on the bottom. Double-gradient or bi-gradient lenses are dark on the top as well as the bottom and lighter in the middle. They aren't as dark as fully tinted lenses, but shield eyes well against bright overhead sunlight and light reflecting off sand, water and the road – they are therefore good for sunny snow trips, the beach and water sports.
Photochromic
Also called transition lenses, they automatically adjust their level of darkness based on the amount of UV light they are exposed to. It is a gradual change and, as such, does not provide immediate UV protection. However, coating prescription glasses can reduce the need for both sunglasses and glasses.
When driving, the windshield takes away 40% of the UV risk, reducing the effectiveness of photochromic lenses while behind the wheel. Thus, manufacturers may make 'sun' photochromic lenses, which are tinted to go from dark to darker. Photochromic glasses often do not get as dark in hot weather as in cooler weather, so are more suitable for the snow than the beach.
Scratch-resistant
Glass lenses are naturally scratch-resistant whilst plastic and polycarbonate need a coating that makes it more durable than untreated lenses. Coating can be applied to glass lenses for further reinforcement. Sport sunglasses may include scratch-resistance as standard.
High-contrast
Orange and yellow sunglass lenses offer contrast filtering which aids in depth perception. It allows the eye to react naturally to changing light, but distorts colour and may not be suitable for driving.
Prescription
Enjoy outdoor activities and sports on sunny days while maintaining good vision. Transition prescription lenses also eliminate the need to carry two pairs of glasses around.
Tints, Special Features and Styles
The following are purely cosmetic additions that can be made to sunglasses for customisation and personalisation.
Lens Filter Categories
Some brands may have varying degrees of lens filter categories, with transparent or slightly tinted glasses designed for weak sunlight, lightly tinted glasses for average sunlight and heavily tinted glasses for bright sunlight. The UV rating of sunglasses is not affected by the darkness of the tint.
Coloured Tints
Different coloured tints behave in different ways. Blue-blockers that block blue light are amber-tinted, heighten the contrast, work well in low light and reduce haze. They are popular among skiers, hunters, target shooters, boaters and pilots. They may also have a protective effect for high-energy visible light (HEV). Some tints may obscure vision, with grey and brown having the least colour perception affect. Light tints and dark tints are available in colours including blue, green, red and yellow. Look for a uniform tint to ensure best quality.
Wrap-around
These sunglasses curve around the head and help keep out peripheral glare and spray, providing additional protection against sunlight and wind, which can enter the eye from the side of normal sunglasses. Wrap-arounds are popular in sports sunglasses due to the extra protection; however, older models cannot accept prescription lenses due to optical distortion caused by the curvature. It can be combined with coatings for an extra protective effect.
Rimless
Rimless sunglasses do not have a frame around the lenses, and thus do not frame the face as much as normal sunglasses. It can give a less-is-more look, and lighten the facial structure of the wearer.
Designer sunglasses
Many fashion brands produce sunglassesto complement their clothing lines, such as Armani and Chanel. Whilst they can be expensive, coatings may need to be applied for optimum eye protection.
Aviator and Oversized
Both big and bold designs with large lenses, Aviator sunglasses have a wire frame, whilst oversized sunglasses have a thick all-round frame. Mostly made for style, oversized sunglasses can provide extra cover from debris and sunlight.
Driving
Made especially for driving, they feature high contrast lenses that provide a sharper image and cut out glare.
Bi-focal
With Bi-focal lenses two different focal lengths are offered, with a magnifying portion on the lower part of the lens to help focus the eyes at short distances, like during reading.
Novelty, celebrity and vintage
Often offering little or no UV, novelty sunglasses come in a range of quirky designs, sizes and colours and are not usually customisable. eBay often hosts celebrity sunglasses similar to those worn by actors and actresses in movies. Vintage models may come with UV protection; however, it is always worth checking with the seller to make sure.
Sports
Some manufacturers cater exclusively to sports, with water-resistant sunglasses for water sports, durable and lightweight designs for rock climbing, and so on.
Flip-up glasses
Corrective glasses that feature a dark lens that can be flipped up when not in use
Children's Sunglasses
It is especially important for children to wear sunglasses as they are outdoors more and have more sensitive ocular lenses. They come in a variety of sizes and novelty designs. If buying a novelty design for regular use, ensure it has sufficient UV protection.
All of the features mentioned can be combined with lens coatings and frames to make a complete pair of sunglasses. It may be possible to choose many of the coatings and tints to be placed in one set of sunglasses at your request; however, each customisation option is likely to come with a cost attached.
Choosing the Right Frame for Your Face
When buying online, it is useful to have an indication beforehand that the sunglasses will suit your face. Short of trying on the sunglasses in a brick-and-mortar shop first, this basic guide will help figure out the best frames for your face shape:
Square faces are as long as they are wide, with a deep forehead and square jaw line. Choose rounded or oval frames, avoiding slim, square or angular shapes.
In oval faces, the length is roughly equal to one and a half times the width, with well-balanced high cheekbones, and forehead slightly wider than a gently curving jaw. Most frames suit oval faces, as long as the size is in proportion to the face.
Round faces are as wide as they are long, fairly short in height with a wide forehead, full cheeks and rounded jaw line. Choose frames with lenses wider than they are deep, and squarer. Decorations on the arms and arms that meet the frame at the top would suit. Avoid big round frames.
Heart-shaped faces are narrow at the jaw line with a small neat chin and mouth and wide at the cheekbones and forehead. Choose slender, rounded or square frames, avoiding a style with greater width at the top
Long, oblong faces are longer than they are wide, with high cheekbones and deep forehead. Choose wider frames with a heavier tip or strong looking large square frames and avoid small subtle shape.
How to Buy Sunglasses on eBay
To buy sunglasses from the home page, go to 'Shop by category at the top left, then click on Fashion, then from the left sidebar, choose either Women > Accessories or Men > Accessories. From there, select Sunglasses from the subcategories.
There will be a range of refining subcategories such as 'Style', 'Brand,' 'Frame Colour', 'Frame Material', 'Lens Colour', 'Protection' and 'Lens Technology', as well as 'Condition', 'Price' and 'Format'.
If you have a particular pair of sunglasses in mind, it may be more effective to simply write the name in the search bar spanning the top of each eBay page.
Conclusion
Owning the perfect pair of sunglasses can be easy with eBay's wide range of available styles, brands such as Michael Kors, models and customisation options. Not only can you narrow down results by gender, brand, and style, everything from frame and lens colour to protective coatings for the sunglasses are also available. From designer wear, sports styles and novelty designs, eBay gives you the freedom to choose your perfect way to exude cool on hot summer days.
When you have found the right sunglasses for you, remember to make the purchase via PayPal, as the transaction will be covered by eBay's buyer protection programme.