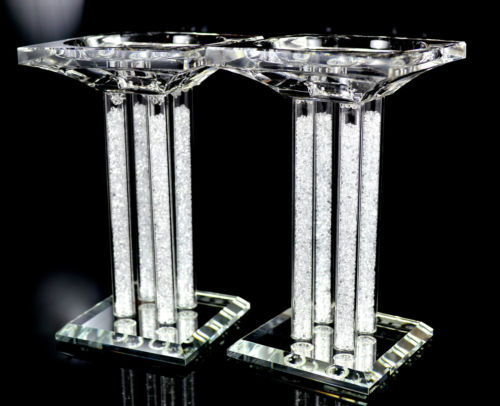 Swarovski is synonymous with fine crystal. Although there are other producers of crystal, many people around the world recognise Swarovski as the manufacturer that sets the standard for crystal. With sharp clarity, strong light refraction, and blemish-free finishing, Swarovski crystals are featured in many fine pieces of jewellery and ornaments. One of the more popular Swarovski home interior adornments is candlesticks. These pieces hold candles, adding elegance to the mood that candles set and standing alone as eye-catching accoutrements.
One can find a good selection of Swarovski candlesticks for sale on eBay. In order to buy successfully on the site, consumers should learn about Swarovski crystals in general and know what to expect from the listings of candlesticks on eBay. It is also important that consumers follow tips for authenticating the Swarovski candlesticks they buy on the site. Finally, consumers should know how to use certain eBay features to help ensure smooth transactions on eBay. By educating themselves beforehand, consumers can find the perfect Swarovski candlesticks on the website.
About Swarovski Crystals
Swarovski candlesticks either feature Swarovski's famed crystals or are made entirely from this beautiful material. Being familiar with the history of Swarovski, where candlesticks fit into the company's different range of products, and the key characteristics of Swarovski crystals helps consumers understand the value of Swarovski candlesticks and confidently shop for them on eBay.
History of Swarovski
Swarovski has been a standard-bearer for precisely cut, glimmering crystals for over 100 years. Company founder Daniel Swarovski was born in Bohemia in what is now the Czech Republic in 1862. He opened his first crystal production and refinement centre in Wattens, Austria in 1895. Swarovski had honed his skills as a glass cutter through apprenticeship with his father. He developed a machine that could cut crystal as precisely as he could by hand, only significantly faster. This led to larger scale production that made his work famous throughout Europe in the early 20th century. Famous fans, from Josephine Baker in pre-war Paris to Audrey Hepburn and Marilyn Monroe in post-war Hollywood, helped Swarovski reach iconic status across the globe. The clarity and light-reflecting properties of Swarovski crystals continue to dazzle admirers to this day.
The Swarovski Family of Products
Although the Swarovski brand is typically associated with ornamental pieces, numerous divisions within the company create many practical products as well. Swarovski Optik makes optical instruments such as binoculars, and Swareflex produces road markings, with both divisions showing that the clarity and reflective properties of Swarovski's crystals have a wide range of useful applications. The Tyrolit division makes cutting tools, selling the technology that helped make Swarovski famous to begin with.
Candlesticks are parts of Swarovski's line of home accessories. The items in this area of Swarovski's production blend fashion and function, serving practical purposes around the home while making eye-catching contributions to decor. Swarovski candlesticks serve both ends well, holding candles that help set a room's atmosphere while adding a touch of opulence to that atmosphere at the same time.
Characteristics of Swarovski Crystals
Swarovski crystals would not be as well-known and desired as they are without some defining characteristics, shown in the table below. Being familiar with these features helps consumers shop successfully for Swarovski candlesticks on eBay.
| | |
| --- | --- |
| Characteristic | Description |
| Composition | Composed of 32 percent lead oxide; maximum amount of lead before crystal loses its shine, strength, and refractility |
| Cut | Crystals' facets precisely cut to gaplessly meet one another; precision results from Swarovski's patented cutting technology |
| Colour | Many crystals colourless, but some given pigment from Swarovski's own palette; clarity retained even when colour is present |
| Refraction | Metallic coating present on some crystals to enhance light refraction; crystals generally known for their refractility |
Consumers can improve their ability to discern genuine Swarovski candlesticks by being aware of these characteristics. eBay sellers of Swarovski candlesticks should be able to answer questions about these characteristics as they relate to the candlesticks.
Swarovski Candlesticks Listed on eBay
The selection of Swarovski candlesticks listed on eBay is constantly changing, but there are a few elements of design and colour that remain fairly constant in the selection. Being familiar with these elements helps consumers know what to expect when they search for Swarovski candlesticks on the site. Consumers should also consider buying their candlesticks from sellers outside of the United Kingdom if particular items are especially appealing.
Designs of Swarovski Candlesticks
Swarovski candlesticks are available in numerous designs for on eBay. Many are tealight candle holders. Tealight candles reside in thin metal or plastic cups to hold the wax as it liquefies. Tealights work especially well with Swarovski candlesticks because they prevent wax from spilling onto the crystal. Consumers may also find candlesticks from the Swarovski Ambiray line. Also designed for tealights, these candle holders have clean lines and feature faceted crystals integrated into a glistening metal cylinder.
Consumers who want candlesticks designed in true artisan fashion should consider the Swarovski Waterlily. These pieces feature a holder shaped like a water lily and fashioned entirely from crystal that elegantly refracts candlelight. Many other designs for Swarovski candlesticks appear on eBay, so consumers should browse the listings to find ones that appeal to them.
Colours in Swarovski Candlesticks
Swarovski develops many of the colours that it uses in its crystal, and it applies these colours in thin layers to its pieces to create richer effects when light refracts through the crystal. A good portion of the Swarovski candlesticks that consumers encounter on eBay do not have colour, but some do feature a coloured bead or two. One example is the Swarovski Blue Flower candlestick . It is also possible to find Swarovski candlesticks made of coloured crystal, and the shades can vary a great deal.
Seller Location
The craftsmanship that goes into Swarovski candlesticks makes them relatively uncommon items. Consumers may therefore find that their searches for the perfect Swarovski candlesticks carry them beyond the borders of the UK. One can find many listings on eBay from sellers located in Germany. Consumers may also encounter sellers from other EU locales. Buying from these sellers may result in higher shipping fees, but it is usually worth the extra cost to acquire a desired Swarovski candlestick.
Tips for Buying Authentic Swarovski Candlesticks
Swarovski crystal pieces are unique, and their craftsmanship commands a premium price. It is therefore important that consumers ensure that they are buying authentic Swarovski candlesticks on eBay. Packaging and a certificate of authenticity are two things that help consumers confirm that the candlesticks they want to buy on eBay are genuine Swarovski pieces.
Packaging
Many eBay sellers offer the original packaging along with the Swarovski candlesticks they are listing. The packaging has a silver hologram on it that confirms Swarovski as the manufacturer. This hologram is difficult to duplicate, so consumers should be confident that Swarovski candlesticks sold with their original packaging are genuine.
Certificate of Authenticity
Every new Swarovski piece comes with a certificate of authenticity when it is sold. Many eBay sellers can provide this certificate, so consumers should ask for it if the listing does not mention it. If a seller is unable to confirm the authenticity of Swarovski candlesticks, it is still possible to have trained eyes inspect the piece, assuming the seller is accessible and allows it. Lower-quality crystal features imperfections that are not present on Swarovski candlesticks, so experts can tell the difference immediately.
Buying Swarovski Candlesticks on eBay
In order to successfully find and purchase Swarovski candlesticks on eBay, consumers should know how to search the site and how to evaluate sellers. Understanding how to use these eBay features should help consumers have satisfactory shopping experiences.
Searching eBay for Swarovski Candlesticks
You can search for Swarovski Candlesticks from any page that has the search bar. "Swarovski candlestick" and " Swarovski candle holder" are two good search phrases to use. When you receive the results, you can choose the appropriate category to ensure that the listings are relevant. While eBay offers a relatively broad selection of Swarovski candlesticks, the selection is still browsable once you successfully search for it.
Evaluating Sellers of Swarovski Candlesticks
It is important to buy Swarovski candlesticks from reputable sellers. Consumers can evaluate eBay sellers by checking the feedback that sellers have received from other customers. You can check a seller's feedback by clicking on his or her username on the listing and use this information to determine if you are likely to be satisfied buying candlesticks from that seller.
Conclusion
Crystal candlesticks are one example of Swarovski's fine craftsmanship. These items do more than just hold candles while they burn. The fine crystals that they feature or are made from refract the light from a candle to enhance the atmosphere in a room. Without a candle, they are still eye-catching accessories that enhance the decor of a space.
Consumers can find a good selection of Swarovski candlesticks on eBay. In order to buy the right pieces though, consumers should be familiar with the Swarovski brand. By learning a bit about the company's history, its reputation for fine products, and the characteristics of its crystal, consumers can better appreciate the value of the Swarovski candlesticks they find on eBay. Being familiar with the different designs and colours of the Swarovski candlesticks and understanding that many items come from sellers outside the UK helps consumers shop with confidence on eBay. Lastly, consumers should ensure that the Swarovski candlesticks they want to buy are authentic. Swarovski candlesticks make a fine addition to a home, and consumers can find the right pieces when they know what to look for on eBay.