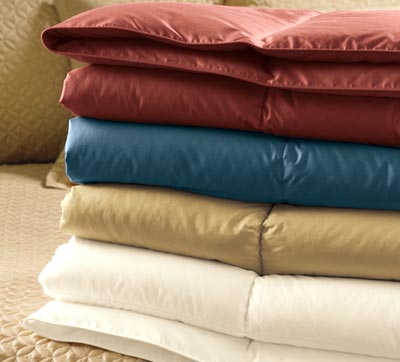 A bed, being an intimate spot in the house, is an important part of people's lives. It is a piece of furniture people use not only to rest their weary bodies but also to serve as a refuge during troubled times. For this reason, people make their beds as comfortable as possible. Aside from stuffing a bed with soft pillows, it is important to give a bed quality bedding, including bedclothes that are comfortable and pleasing to the eyes and mattress fillings that are soft and pressure-relieving.
People should definitely choose the right bedding because they are most of what can be seen and touched on the bed. The fabrics used for bedding in the past were of natural fibres, such as silk, flax, and cotton; however, synthetic bedding made from polyester, nylon, and acrylic are growing in popularity today. Synthetic bedding is in demand because compared to natural or artificial fabrics, the fabrics' colours are more vibrant and the fabrics are less likely to wrinkle. Complete knowledge about synthetic bedding, including the different fabrics and fillings and their benefits, helps a buyer make the right decision when purchasing synthetic bedding.
SyntheticBedding Fabrics
The three most common types of bedding fabrics are polyester, acrylic, and nylon. They provide strong resistance to fading that can occur due to exposure to direct sunlight and regular wear and tear. Synthetic fabrics are hygienic, durable, and have more vibrant colours as opposed to natural fibres.
Polyester Bedding
Polyester is a durable fibre that is highly resistant to fading. This inexpensive type of fibre makes a thin fabric that closely resembles expensive fabrics like cotton and silk. Medium-woven polyester fabric, on the other hand, does not crease easily, so it saves time as ironing becomes unnecessary. Because polyester bedding is cheaper than natural fibre bedding, manufacturers are producing polyester bedding at an incredible rate, and in different colours, sizes, and patterns. Polyester bedding remain warm even in cold temperature, so it is advisable to use in countries with colder climate like the U.K.
Wash the bedding after three months of use or when really soiled. When washing polyester bedding, use a large-capacity washing machine to ensure thorough cleansing, and only wash the bedding with cold water unless the care label does not specify a required water temperature. If a polyester fabric catches stain, simply apply a stain remover, but be sure to test it first in a spot that is not noticeable.
Acrylic Bedding
Acrylic is a soft, lightweight fibre that feels warm to the skin. Despite having a wool-like feel, manufacturers process acrylic fibres to mimic cotton and cashmere. Acrylic fabrics used for bedding are hypoallergenic and resistant to oils, moths, chemicals, and fading. In addition, acrylic bedding has more vibrant colours than bedding made from natural fabrics, allowing the pattern or design to show off vividly. Acrylic bedding, although having many good attributes, is prone to flaking or pilling. Before washing acrylic bedding, turn it inside out to prevent the fibres from pilling. Also, use warm water and add fabric softener when washing acrylic bedding in a washing machine.
Nylon Bedding
A nylon fabric's most endeared attribute is its resistance to creasing even when machine washed. This type of fabric is also soft, durable, and resistant to fading. Manufacturers first use nylon fabric as a cheap alternative to silk because of its water-resistant and anti-wrinkle properties, and today, nylon fabric is not only for clothes but also for bedding. When it comes to caring for nylon bedding, wash the bedding separately in cold water using an all-purpose detergent and non-chlorine bleach unless specified otherwise by the care label. There are people who prefer to wash nylon bedding by hand instead to prevent the fabric from pilling. Squeeze drying nylon bedding is better than using a dryer because it is less likely to pill when dried by hands, but if machine drying is preferred, make sure the dryer is on its lowest setting.
Tips to Avoid Pilling of Bedding
Man-made or synthetic fibres have a tendency to pill or flake due to normal wear and tear. When a synthetic fabric starts to unravel with its loose ends balling up on the surface, it is a sign that the fabric is about to become uncomfortable to the skin. To avoid this from happening, always turn such fabrics inside out before washing. In addition, do not fill the washing machine with too many garments when washing synthetic fabrics to minimise abrasion, and make sure that garments that have the tendency to scrape synthetic fabrics are not included in the wash load. Lastly, use a fabric softener to minimise static and to prevent lint from clinging to the fabric.
Bedding Sizes
Typically, the fabrics for bedding come as a fitted sheet, flat sheet, or a duvet cover. What follows are different measurements in centimetres of the three aforementioned materials relating to common bed sizes in the U.K.
| Bed Type | Fitted Sheet (centimetres) | Flat Sheet (centimetres) | Duvet Cover (centimetres) |
| --- | --- | --- | --- |
| Single | 90 x 190 x 20 | 180 x 260 | 135 x 200 |
| Euro Single IKEA size | 90 x 200 x 20 | 180 x 260 | 150 x 200 |
| Double | 135 x 200 x 20 | 220 x 260 | 200 x 200 |
| Euro Double IKEA size | 140 x 200 x 20 | 220 x 260 | 200 x 200 |
| King | 150 x 200 x 20 | 265 x 275 | 225 x 220 |
| Euro King IKEA Size | 160 x 200 x 20 | 265 x 275 | 240 x 220 |
| Super King | 183 x 200 x 20 | 280 x 290 | 260 x 220 |
The bed measurements above are the usual sizes for beds that can be found in the U.K. A flat sheet is a rectangular fabric that serves as a top cover, while a fitted sheet is a bottom cover fitted with its corners fitted with elastic. A duvet, on the other hand, is a soft, flat bag filled with synthetic fibres.
Synthetic Mattress Fillings
In the U.K. the term bedding often encompasses a mattress, and to make perfect bedding it is also a priority to find the right mattress. The filling determines how comfortable and resilient a mattress is. Synthetic fillings are becoming popular alternatives for natural fillings because they are less expensive and more resilient.
Synthetic Latex
Latex is basically rubber that is suspended in water, which is the reason latex fillings are soft, comfortable, and springy. Out of the two types of latex—natural and synthetic—the latter provides better durability and longer pressure-relieving property. There are mattresses that have both natural and synthetic latex to provide longer-lasting performance.
Memory Foam or Visco Elastic
This type of foam originated from NASA and is now a filling for mattresses because it provides good support to the entire body. When someone lies on memory foam mattress, it follows the contour of the body, providing enough support to the natural shape of the back, neck, and head. For this reason, companies market memory foam beds and pillows as a solution to back and neck pain. Memory foam mattresses vary in density, and the higher the density of the mattress the softer it feels.
Polyurethane
This type of filling for mattresses is petroleum-based and useful either as the sole filling for a mattress or as a blend material for another filling like the memory foam. The price of a polyurethane mattress varies depending on its quality and density, so it is better to test the mattress first to check if the price is worth it.
Polyester
Aside from being an effective fabric for bedclothes, polyester is also used as a filling for mattresses. Polyester mattresses are resilient, durable, non-toxic, and resistant to moths and oils. Another advantage of polyester is it remains warm even in cold temperatures, making it suitable bedding in colder areas but not in warmer ones.
Buying Synthetic Bedding on eBay
When you do not want to drive to a shop and want to avoid wasting time, effort, and gas, you can easily shop for synthetic bedding on eBay. eBay has a wide variety of synthetic bedding for every bed size. There are many colours, sizes, and patterns for a fitted sheet, flat sheet, or duvet cover on eBay. All you have to do is use the search bar that can be found on every page of the website, and it will present you with an array of bedding sets to choose from.
To speed up your search, add specific keywords to your search, such as the size or brand of the bedding. Never overlook the product details when buying in case you need to return a product that is lacking in parts or items when it is a set or a product that is different from the specified details. Remember to buy only from sellers that have good feedback and a verified payment method. Buying on eBay is easy and time-saving, so you can start clicking your way to your preferred synthetic bedding any time.
Conclusion
Bedding is such an integral part of a bed that many people go out of their way to search for the right set. Finding good quality bedding adds to the total enjoyment of sleeping and staying in a bed. Synthetic bedding is gaining in popularity because it is less expensive yet provides the same quality and comfort as natural or artificial bedding. Synthetic bedding comes in a variety of fabrics, including polyester, acrylic, and nylon.
People value synthetic bedding for their durability, resistance against fading, warmth, and anti-crease property. However synthetic bedding is prone to pilling, a tendency of a fabric to unravel and ball up on the surface, so taking precautionary measures is necessary, including turning the fabric inside out before laundering and washing the fabrics separately. Mattresses also have synthetic fillings made from polyester, polyurethane, and memory foam. Synthetic bedding is already not an alternative but a preference for many who want quality bedding with value for money. For this reason, synthetic bedding is fast becoming the leading choice for many people.