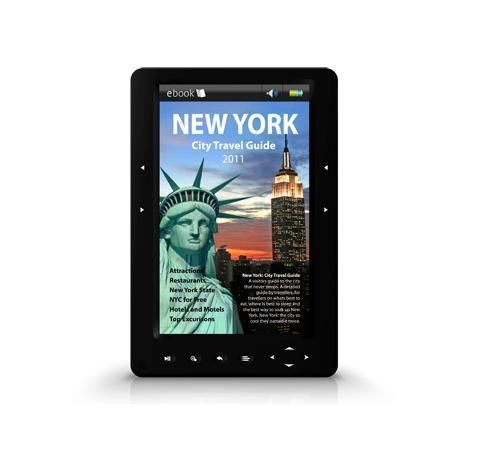 As an inexpensive alternative to traditional notebooks, tablets have slowly evolved into a niche mobile computing market. They offer users convenience in a compact lightweight bundle, with easy access to the Internet, music, and movies, as well as a chance to read their favourite eBooks wherever they are. They are as good for the beach as they are for that long queue at that boutique sale. While a shiny new eBook Reader or iPad is on everyone's Christmas list, consumers should not be quick to turn away from the used tablets market, which is growing steadily. Buying used iPads, tablets, and eBook readers in fine working form saves shoppers a pretty penny and, as grand incentive for Green consumers, helps to keep the environment healthy.
A straightforward method for consumers to pick their way through the used iPad, tablet, and eBook reader market is an outline of the factors they need to consider when shopping and how to demand good value for their money. Also invaluable are handy tips for buying used tablets on eBay.
Factors to Consider when Buying Used iPads, Tablets, and eBook Readers
A well-informed shopper can quickly come up with their ideal used iPad, tablet, or eBook reader with a little planning and care. The most satisfactory purchase is within everyone's hands if they consider while shopping such factors as wear and tear and value of the used tablet, screen size, performance, speed, storage, and weight.
Signs of Wear and Tear
Most of the second-hand tablets, eBook readers, and iPads on the market have a degree of wear and tear from use by the previous owner. Regardless, there are acceptable and unacceptable signs that consumers must look for. Acceptable signs of wear and tear are those that occur over time from daily use and are largely cosmetic issues such as flaking paint, less shine, slight scuffs, and scratches, and they do not affect the tablet's function. Whether slightly or fairly worn, these tablets still work perfectly.
Unacceptable signs of wear, on the other hand, are those that render the item unusable or in need of repair. They are the result of extensive use, negligence, or an accident on the part of the previous owner, and examples include a cracked screen, punctured housing, or control buttons that do not work. The only reason one should buy a used tablet or iPad with serious need of repair is if the buyer wants the item for spare parts and accepts that the item is not in working condition. Otherwise, it will likely be more bother than it is worth.
Value
Shrewd shoppers always do their homework; the lucky ones filch iPads, tablets, and eBook readers priced as used items but in excellent working condition, sometimes barely touched. When a person shops for used iPads, tablets, and eBook readers, they must determine the overall value of the item by weighing the condition of the item against the prevailing market price to come up with an acceptable price range. Those with medium to significant signs of wear might have much lower prices, though a used tablet at a throwaway price and in desperate need of massive repairs might not be the bargain that one thinks it is. As long as the tablet is in good working condition, it offers value for the consumer, sometimes at 90 per cent less than the original price of a new one. Since this is a used items market, a good haggle can net a great steal.
Screen Size
The size of the screen determines the ultimate comfort the user has with their tablet or iPad. While larger screen sizes like the 9.7-inch mean bigger images, they can be difficult to hold with one hand, especially for digital book readers who want to be comfortable when reading in bed. For them, a 7-inch screen size is just right, even for those with small hands. Screen resolution, on the other hand, must be quite high for graphics or watching HD media, and a sharp, bright screen makes for easy reading of text in readers. Some screens also have a protective coating that conceals scratches and makes them easier to clean.
Processor
A consumer's requirements and the type of programs they use often determine the amount of power that their tablet, reader, or iPad needs. Those with hundreds of apps, games, music, and videos on their tablets rely on the processor's performance and speed to keep their tablets working. For faster loading of apps and smoother running of games, at least 512 MB of Random Access Memory (RAM) is sufficient to function. Processors run from dual-core to quad-core designs and many are powerful enough to boost battery life while allowing users to open multiple apps at the same time.
Storage Capacity
Even as content is a core part of tablet use, the storage capacity depends on the tablet or iPad user's requirements and their activities. While a 16 GB or even a 4 GB capacity is good enough for the occasional emailer, surfer, and eBook or magazine reader, this is not sufficient for those who are looking for a replacement for their laptops and want to store music, photos, and movies; a 32 GB or 64 GB storage capacity is more in line with their needs. Many of the tablets, iPads, and eBook readers have memory card slots to expand their storage with up to 32 GB of extra capacity.
Weight
The lightweight attribute of tablets, iPads, and eBook readers is one of their most attractive features, though shoppers still need to look over the weight of individual tablets, as not all tablets weight the same. This is especially true for those who travel constantly, work on the road, or even attend many meetings. The tablets' form factor mostly require that users hold them in their hands for long stretches of time. What feels like a negligible load early on might turn into deadweight hours later. However, extremely light tablets do not last as long as their heavier cousins do, because eventually, tablets and iPads drop.
Bright Uses for iPads, Tablets, and eBook Readers
The joke going around is that tablets are no more than exotic paperweights. Well, besides the obvious uses, there seems to be much more use that people can wring out of these ultra-versatile media consumption devices. Propped anywhere, they can be digital photo frames. Many use them as torches in the dark, and are able to control home theatre systems like TV, DVDs, and receivers, as well as lights, locks, and thermostats. Tablets are ideal tools for people with terrible handwriting because their excellent handwriting recognition software is perfect for pen computing tasks, and musicians agree that reading sheet music from a tablet makes life so much easier. Moreover, when the unpredictable British weather turns nippy, they serve as the toastiest of hand warmers.
Buying Used iPads, Tablets, and eBook Readers on eBay
Used iPads, tablets, and eBook readers are hot-selling items on eBay, so prepare for the most exhaustive variety of styles and brands with a simple keyword search. You can easily filter the results according to storage capacity, brand, operating platform, and even screen size.
Since the items are in used condition, this calls for a careful look at the listing photos and read through the description and seller's feedback to make sure everything is as described. Acceptable signs of wear and tear, as explained above, include small scratches, flaking paint, and slight dents as long as it is in good working condition. On the other hand, a cracked screen, missing or broken control buttons, and a display with a permanent low resolution might be cause for misery when you struggle to repair them later. Any doubts or questions, always enquire. Many sellers are happy to respond and do so quickly. When you opt for local sellers, pickup saves you shipping charges and you can test out the tablet while there.
Top Sellers Plus
On eBay, any search produces listings from Top Sellers Plus, the crème de la crème of all sellers. They have a consistent record of accomplishment for superior service and quality items and ship within one business day, with tracking. The rating these sellers achieve is calculated from thousands of positive feedback from satisfied buyers who evaluate the condition and quality of the item sold, dispatch and shipping speeds, packaging, customer service, and reasonable shipping costs if applicable. With such a record, Top Sellers Plus guarantee satisfaction long before you start to read their listing description.
Conclusion
Shopping for used iPads, tablets, and eBook readers can be thrilling for many people who are delighted that the devices are within their budgets and that they get to recycle at the same time. Besides browsing the internet and listening to music, many users grab their tablets to read the news on the tube, sketch on the screen, and even check up on the weather.
Shoppers need to consider a number of factors when looking for a used tablet, for instance, the degree of wear and tear on the tablet, the screen size and resolution, the processor, and the storage capacity. Weight is another crucial factor for those who are always on the move, and it helps if one determines the overall s value of a tablet or eBook reader before shopping. Though buying second-hand, to save themselves misery, buyers should not settle for signs of wear and tear on their items that are less than satisfactory.