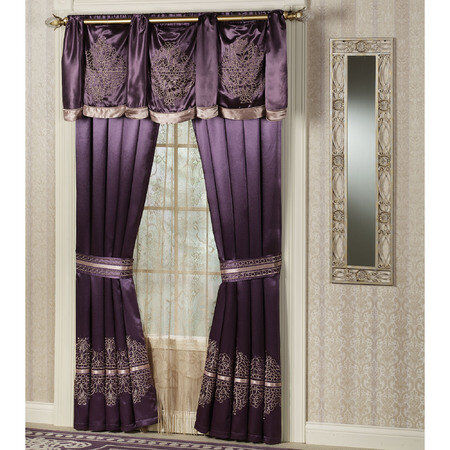 Vintage refers to older styles or older designs that have stood the test of time. Vintage is a style or item that is 30 years or older, but not more than 100 years old. Items that are more than 100 years are considered to be antiques. Vintage clothes and fabrics are rare. Therefore some vintage items appreciate in value. While not all items do appreciate in value, vintage furnishings such as curtains are sought-after because of their nostalgic value and their charm. They are also examples of excellent craftsmanship.
For those in the market for vintage curtains, it is important that they know how to identify vintage curtains, and how to tell the difference between vintage and contemporary curtains and vintage and vintage-inspired curtains. It is also important to keep in mind that vintage curtains do require special care.
Vintage curtains can be had at vintage home stores, but for a wider range, a buyer should consider turning to eBay to find the perfect vintage curtains.
Identifying Vintage Curtains
Vintage designs can be easily imitated nowadays. With the help of the advance technology, vintage patterns can be easily reproduced to create curtains that are classified as being vintage-inspired. As a shopper, knowing how to identify an authentic vintage curtain is very important. One way to identify vintage curtains is to take careful note of the curtain material.
In 1930s to 1960s the most common fabric used in making curtains was called barkwood. It is a loose fabric with huge prints. The prints are either painted floral or abstract designs. These curtains mostly have tanned or beige backgrounds but the backgrounds could also come in a variety of colours. It is advisable to make a careful inspection when buying a vintage barkwood curtain, since the material may have suffered damage from hungry moths eating at the vintage fabric.
Vintage curtains often come with lace. Contemporary lace is commonly made of polyester. Vintage curtains were made using cotton lace, and the best way to identify an authentic vintage lace is by touching it. It should be soft and cottony. Draperies are the type of vintage curtains that are easiest to find. These curtains can be identified by large symmetrical prints and they mostly have earth-toned colours.
Vintage Curtains vs. Modern Curtains
Before purchasing a nice curtain, it is always good to make some comparisons between a vintage curtain and a modern curtain. These comparisons will be the guide in making the right choice. We all know that in terms of value, vintage curtains may be more expensive. However, the value is also tied to good quality. Vintage curtains are often good examples of fine meticulous craftsmanship. In the early to mid 20th century, curtains were usually made of silk velvet or patterned damask material. They have beautiful golden linings and embellishments. These vintage curtains are usually heavier, wider, and thicker compared to curtains made in the latter years. These types of thicker curtains are commonly used to insulate a room and retain heat. These are the rarest and most expensive curtains nowadays.
The evolution of curtains never stops. People learnt how to make curtains using different fabrics such as silks, linen, cotton, and more recently with synthetics like polyester. Curtains made of synthetic such as polyester and nylon are basically cheaper compared to those that are made of damask, cotton, and velvet. Synthetics are manmade fabrics. They are also durable and strong materials. However, the qualities of modern materials just don't compare in how vintage textiles feel to the touch and how they drape. Modern synthetic fabrics still have a long way to go before they can hold a candle to the vintage varieties.
The modern curtain designs are not as detailed as the vintage designs. However, modern designs are more advanced in that modern curtains can be lightweight while still blocking out UV radiation that can fade furniture. Modern curtains are also more colourful and offer a wider variety of patterns and styles, especially since the recent advent of digital printing. The classic or vintage curtain designs are mostly floral and have neutral colours. There are also glass curtains and magnetic curtains. Some modern curtains are fade and stain resistant, while some you never have to iron, ever. There is also a variety of hardware employed today to hang modern curtains.
Taking Care of Vintage Curtains
Vintage curtains may have stood the test of time, but it was primarily because they were well taken care off. Vintage curtains can be very delicate. Thus, they must be properly and carefully maintained. Vintage curtains are not like ordinary curtains that can be easily washed in a machine. It requires knowledge and experience. Before cleaning or washing the curtain, make sure that your hands are washed and free from acid, oil, and soil that might stain the fabric. If the fabric is velvet, avoid scrubbing it, instead try using a vacuum to remove the dirt first. Also, make sure that when the curtain is not hung, it is properly stored away. It is also advisable to consult a conservator before cleaning the textile. Conservators can assess the condition of the fabric and can provide better information on how to maintain vintage curtains.
Washing Vintage Curtains
If a vintage curtain needs to be cleaned, remember not to wash it in a machine. It is advisable to gently hand wash vintage textiles. Avoid using bleach or detergents with strong chemicals. Instead use soap flakes or mild cleaners like Woolite and Dreft. For stained curtains, just soak the curtain in cold water, and then squeeze lemon juice onto the stained part. If the curtain is printed, avoid exposing it to direct sunlight, as the print will fade. After washing the curtains, roll it in two towels and gently squeeze it to remove any excess water. Flat dry the curtain and if the fabric needs to be ironed, use a pressing cloth between the iron and the vintage curtain.
Storing Vintage Curtains
When storing vintage curtains, make sure to store it inside a dark room, roll it and then wrap it. Do not store it in a plastic bag or boxes. Finally, place a dried lavender sachet inside the storage unit. This is a natural insect repellent, and the fabric will be infused with a glorious smell.
How to Buy Vintage Curtains from eBay
One could spend every weekend for a year trawling through vintage shops looking for vintage curtains, or one could just one rainy afternoon on eBay. To begin your search for vintage curtains, start on the site's home page. Here you will find a search bar. Enter a generic search like "vintage curtains" into the search bar. The site's local search engine will populate a results page with all the current listings for vintage curtains. To narrow your search to more vintage-inspired curtains, select 'Curtains' from the menu on the results page. If you are really after the real deal, select 'Fabric' under the antiques category.
Once you have a handful of curtains that pique your interest, you should take the time to read the item descriptions very carefully. This is where the sellers describe the curtains and offer photos of the curtains. Because different computer monitors and cameras capture and display colours differently, you should ask the seller about their returns policy, in the off chance that the curtains that arrive in the mail don't quite look like the photos on the eBay listing. You no doubt will have other questions for the seller. To contact the seller directly, simply go into their profile and click on the contact link. While you're in their profile, you should take note of their feedback score. Ideally, you will want to business with top-seller. A top-seller is an eBay member who has a high feedback score and gets glowing reviews from previous buyers.
Conclusion
There is no mistaking the charm that vintage curtains bring to a room. They evoke a bygone time when quality was valued above efficiency. Done right, a pair of vintage curtains can look exquisite in a contemporary setting. A set of vintage curtains has stood the test of time, and this is down to the quality of the fabric and the attention to fine craftsmanship. When searching for vintage curtains, it is important that the buyer be able to tell the difference between vintage fabrics and modern synthetic fabrics that just look vintage.
Other indicators that give the game away include hardware used to hang the curtains. There are also the mod cons to look out for like curtains that are stain and fade resistant, as well as UV resistant. Vintage curtains in good knick is a sign that they were well cared for. While very hardy, vintage curtains need to be cared for with kid gloves to ensure that vintage curtains continue to charm for years to come. One could spend an age searching for a nice set of vintage curtains the old fashioned way, or one could just hop online and search the hundreds of listings for vintage and vintage-inspired curtains on eBay.