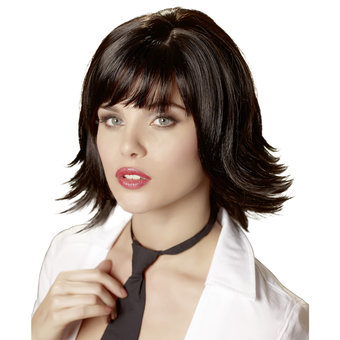 It is no secret that wigs are in fashion. After trendsetting stars like Rihanna and Beyonce were seen donning them on several occasions, including off-stage and at casual events, it became clear that wigs are no longer an exotic item reserved for actors, cabaret performers, and people suffering from hair loss. Today, one does not need a reason to wear a wig; wigs have gone mainstream and they are here to stay.
This guide describes the different kinds of wigs, offering care tips and advice on finding the right wig for each individual's skin tone. Additionally, it offers specific wig-selection tips for people with a medical condition associated with hair loss.
Whether you are looking for a fun wig for Halloween or a more permanent solution for a hair loss problem, this guide will give you everything you need to become an expert at shopping for wigs on eBay.
Different Kinds of Wigs
There are fun wigs that are good to wear once or twice, and natural-looking wigs that can have a long life. Natural hair wigs are more expensive, but they also last longer. Cheaper, low-quality wigs can have a short lifespan, but they may be just perfect if you are looking for a one-time glamorous look or something to wear at a costume party.
Some wigs allow for different styles, while others always look the same. The variety of wigs available on the market can be overwhelming. Therefore, it is always best to make a few decisions before one starts shopping on eBay.
Human Hair vs. Synthetic Wigs
While synthetic hair is easier to maintain and more affordable, it usually cannot be styled, so that it is only good for one particular type of look. While synthetic hair dries much faster than natural hair, it can easily get burnt when exposed to heat, which rules out curling irons and blow dryers. Moreover, poorer quality synthetic wigs can gradually deteriorate with every wash.
Real hair wigs can be Asian, Indonesian or European. Asian hair wigs are the most common. Typically, this is a heavier kind of hair when compared to the European variety, while Indonesian hair is somewhere in the middle. European hair is the most rare and expensive of the three.
Naturally, human hair takes much more work to maintain, and it is best to have a professional style it. While used, short human-hair wigs can be inexpensive on eBay, brand new, top-class long European hair wigs can be pricey.
Party Wigs
From green to rainbow-coloured, and from funky Afro to endless Barbie-style blond, it is possible to find almost anything one can imagine in party wigs nowadays. Whether one wants to look like Batman's Poison Ivy or Cruella De Vil, there is surely a perfect "wig-du-role" for sale somewhere on eBay.
Reasons to Wear a Wig
There are numerous reasons for choosing to wear a wig. Some people do it because they want a new look for a special event. Others just need a quick fix for a "bad hair period", when their hair is at an unflattering length or their roots are showing. Some people just want their hair to look instantly fabulous without all the hassle of hair-styling. On the other hand, chemotherapy patients can use wigs as a way of maintaining their looks when they start losing their hair as a side-effect of radiation.
Tips for Chemotherapy Patients
People looking to buy a wig to prepare for chemotherapy-related hair loss should find out whether the NHS may cover the purchase as this is sometimes the case.
When choosing a wig, a shorter hairstyle can be more convenient, because it can add fullness in case of treatment-related weight loss. As for colour, going one shade lighter than one´s natural hair colour may help offset changes in skin tone that may occur during treatment. .
Finally, it is always advisable to have options. Instead of buying just one very expensive wig, it is more practical to spend one's wig-budget on a hairpiece that can be worn with a hat, a pony-tail-ready wig, and another one with a fancy hairstyle. Alternating is good to prevent getting bored of wearing the same wig every day, plus it helps each individual wig last longer.
Tips for Taking Care of Wigs
All kinds of wigs require some daily care and will last longer when washed and stored properly. The best way to store wigs is on a head form, covered with a hair net, in a dry, cool, dust-free location.
As for washing, it is convenient to wash wigs on a weekly or bi-weekly basis if one is wearing them regularly. While synthetic wigs are easier to wash and style at home, human hair should be handled by a professional.
Synthetic Wig Washing and Styling Tips
Synthetic wigs should be submerged in cool water and washed with baby shampoo or wig soap. It is possible to use conditioner, as long as it is a wig-specific or lanolin-rich product. After rinsing, water must be squeezed out gently, without twisting. Wigs should be left to air-dry before brushing. It is recommended to use a wire wig brush to brush wigs in the upward direction, towards the scalp.
The moulded styles of synthetic wigs can only be maintained by using hot rollers set on medium or low mode, as curling irons and blow dryers must be avoided.
Human Hair Wig Washing and Styling Tips
Human hair wigs must be washed using a mild shampoo and conditioner. It is recommended to swish them and dunk them as opposed to scrubbing.
When it comes to styling a human hair wig, if a professional is not available, it should be blow-dryed on low-heat before using rollers, curling irons, etc. It is important to be careful when styling wigs with heat, as plastic caps may melt or become damaged.
Finding the Right Wig
A wig plays a key role in determining a person's looks. Therefore, especially when selecting a wig for frequent use, it is important to make the right choice. A certain wig may look fabulous on a perfect plastic head or a fashion model, but it might not be perfect for people with a certain head-shape or complexion.
When one is looking for a shocking effect, a silver-coloured Afro might go, but things are very different when one must wear a wig every day at the office. When shopping for a wig, it is essential to choose the right hair-style, colour, and fit.
Hair Colour
Those looking for a harmonious look that will bring out the best of their features should select a hair-colour based on their complexion. For example, darker skin or black eyebrows can look strange when paired with a California-style platinum-blonde wig, unless creating a blondish Frida-style is exactly the plan.
Cool Skin Tones
Cool skin tones are usually olive or pale to medium with undertones of pink. They are commonly accompanied by blue, grey or hazel eyes. People with cool skin tones aiming for a natural, flattering look should stick to cool hair colours. Blondes looking for a darker shade should avoid honey and golden browns, preferring an ashy brown instead. If looking to go red, burgundy and mahogany reds with blue undertones are the safest bet for people with this type of skin.
Warm Skin Tones
Warm skin tones may be pale, but usually with peach and golden undertones. Brown skin tones with undertones of pink and complexions abundant in freckles also fit this category. The most flattering hair colours for people with warm skin tones are commonly rich shades of brown, warm reds and golden highlights.
All that said, people with a unique style and a great personality may be able to pull off the most unusual combinations. Moreover, today's eclectic fashions allow for a lot of experimentation and dramatic hair shades.
Wigs and Cap Sizes
When shopping for a wig online, it is important to make sure that it is likely to fit. There are some average wig sizes that will help you select the appropriate wig, although there may be slight variations between different manufacturers and countries.
| Standard Cap Measurements | Small | Medium | Large |
| --- | --- | --- | --- |
| Circumference | 54.5 cm | 57 cm | 58.5 cm |
| Front to Nape | 34 cm | 38 cm | 38 cm |
| Ear to Ear Across Forehead | 28 cm | 29 cm | 29 cm |
| Ear to Ear over the Top | 30 cm | 32 cm | 33 cm |
| Temple to Temple around Back | 35 cm | 37 cm | 38 cm |
If a person's measurements are larger than those specified for a standard size, he or she should always choose the immediately bigger size. People whose measurements fall outside these size ranges should look for extra-small, extra-large, and, in some cases, custom-made wigs.
How to Buy Wigs on eBay
There are numerous reputable sellers offering excellent quality wigs on eBay. When searching for a wig, if you are not very sure what you want, it is best to look throughout the whole wigs category, to see what is available. If you have decided that you want a human hair wig, you can add the keywords "human hair", and you can do the same if you have decided that synthetic hair is the way to go.
If you know the hair style or colour you are looking for, you can add one or two more keywords to narrow down your search. For example, you may input "long, red, curly, human hair wig".
When you feel like you have found the perfect wig for you, it is time to ask questions. If the size is not listed, you must make sure you get the range of cap sizes that may work with the wig.
It is also very important to check the seller's track record, shipping costs, and return policies as the wig might feel uncomfortable and you may need to ask for a new one. Finally, you should always ask the seller for specific care instructions to maximise your wig's useful life.
Conclusion
Buying wigs online takes a bit of preparation. One must decide on the best colour, style, and type of wig, while making sure the price and the size are also right. The most important aspects to take into account when buying a wig on eBay are: selecting a flattering colour, length, and style; checking the size, deciding on type of hair, and reviewing the seller's track record. People buying a wig for medical reasons usually aim at finding the most practical, natural-looking wig, while those in search of a fun wig to wear on occasion may have more freedom to pick something more extravagant.
eBay boasts an impressive variety of both synthetic and human hair wigs in all colours and sizes to fit every head and every taste. Even when one's motivation for buying a wig are not always all fun and games, there is no reason the search should not be fun and exciting. Whether one is trying to look more like oneself or to play at being someone else for a day, shopping for wigs on eBay can be fun, easy, and safe.