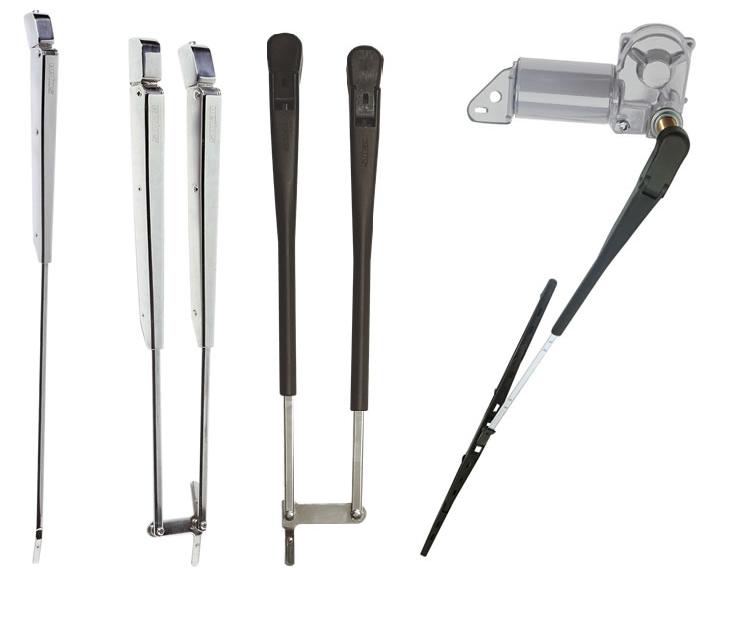 Purchasing the right windscreen wipers for a Chrysler 300C may be frustrating for inexperienced purchasers simple because of the variety of wipers that are available. Consumers can check eBay for a wide selection of all types of windscreen wipers that are made to fit the Chrysler 300C with ease, and there are also different types of wipers for various weather situations. Some common brands of windscreen wipers are Bosch, Champion, and Aero VU.
Windscreen wipers need to be replaced generally two to three times a year, and drivers know it is time to switch them out because the blades become dull. Once it is time for new blades, consumers must determine which type of blades are right for their particular Chrysler 300C, according to the year of the vehicle and the type of blades that are desired. Blades vary in price according to design, brand, and materials, and can usually be purchased in sets of two, though buyers can buy single wipers if only one needs replacing.
Choosing the Right Windscreen Wipers
Picking the correct windscreen wipers mostly depends upon the year of the Chrysler 300C, as well as the buyer's personal preference and budget. The most important factor in buying wipers is that they fit the car properly so that they work well.
Size
Buyers need to ensure they are purchasing wipers that are the correct size. Most standard wipers for a Chrysler 300C are 550 millimetres (22 inches). These provide the proper fit for this particular vehicle. The best way to shop for the right windscreen wipers is by model year. Some wipers fit newer cars, and some only fit older models. The sizes for all Chrysler 300C wipers are the same, but they may fit differently due to the year of the vehicle.
Brand
Some buyers may be partial to a certain brand of windscreen wipers. Different brands may offer various quality and different features, such as the fit of the wiper blades. Popular brands such as Valeo and Bosch offer a variety of standard and specialised blades for all model years of the Chrysler 300C vehicle.
Premium brands are going to be more costly than more affordable brands, but it is really a matter of personal preference for the buyers seeking wipers. For drivers who live in an area where the weather is often inclement, it may be worthwhile to splurge on a high-quality type of wipers to ensure effectiveness.
Deciding on Windscreen Wiper Materials
One of the differences between wipers blades is the material they are made of. While one material is not necessarily better than the other, they may offer different features that the buyers may want to factor into their decision making process when looking for the right wiper blades.
Rubber
Rubber has long been the main component of windscreen wipers. Most standard wipers are still made of rubber, and under normal conditions, they operate fine. However, for drivers who live in regions where the weather becomes very rainy or icy, they may not perform as well as other types of wipers. The only downside to using rubber wipers is that they do make a sound that is similar to a squeaking noise, which some drivers may not like.
Silicone
Newer windscreen wipers are made from a heavy-duty silicone material. This ensures that they last a bit longer and do a more thorough job with keeping the glass spotless. Silicone wipers are a good option for drivers who live in areas where the weather gets very rainy or it snows frequently. Silicone wipers perform better under harsher weather conditions than rubber wipers do. They may cost a bit more, but are worth it for consumers who need to drive in inclement weather.
Choosing Between the Types of Windscreen Wipers
When buyers are looking for the right windscreen wipers, they need to consider the various options available. Drivers can buy wipers according to what type of weather they drive in, or how they want the windscreen wipers to fit.
Winter Wipers
Winter wipers are more adept at handling bad weather situations, such as freezing conditions, snow, and heavy rain. Some winter wipers have a secret component that keeps windscreens from build-up, which is Teflon. This creates a smoother wiping process that eliminates ice and debris from the glass for safer driving, and makes the wiper itself more durable. Some winter wipers also have a built-in heater, which can be turned on and used to melt ice quickly from a frozen windscreen. This is ideal for consumers who need to drive during the coldest days of winter.
Standard/All-Season Wipers
The most common types of windscreen wipers are referred to as standard or all-season wipers. These wipers are good for general use. They are either made of rubber or have silicone components. Standard wipers are the least expensive type of wipers, and they are dependable as long as drivers are not faced with too many heavy-duty situations, such as ice or snow. For drivers who do not need winter wipers but still want to be safe driving in heavy rain, wipers made with silicone instead of rubber are the best bet to purchase.
Frameless or Framed Wipers
Buyers may notice that while some windscreen wipers are referred to as frameless, some are known as framed wipers. There is a slight difference between these two types of wipers. Frameless wipers are a newer innovation that looks more stylish and sleek, as well as perform a bit better than the older, more traditional framed wipers.
Framed wipers are responsible for streaks across the glass left by the frames that encase the wipers, and frameless models do not have that extra part so the finish is streak-free. Though there are still framed wipers available, most new and premium models are made with the frameless design.
Retrofit Wipers
Drivers are also likely to see some wipers described as retrofit wipers. This means that the newer blades can fit on older vehicles without a problem. Since the designs of wiper blades have changed over the years, wipers have adapted to be used in all types of vehicles, no matter what kind of wiper arm the car has. Drivers with older vehicles are given as many choices for wipers as consumers with newer Chrysler 300C cars.
Multi-Fit Wipers
Multi-fit windscreen wipers are available for use in a wide range of vehicles because they come with adapters to ensure a perfect fit for any model. This creates more versatility for drivers to buy blades when they have a harder-to-fit vehicle.
Factors to Weigh When Purchasing Windscreen Wipers
Shopping for windscreen wipers can be confusing, but it does not have to be. There are a few things to consider for buyers who are purchasing windscreen wipers, and keeping these in mind makes for easier and less stressful shopping
| | | | | |
| --- | --- | --- | --- | --- |
| Vehicle Details | Check year of Chrysler 300C | Check body style of car, such as Estate or Saloon | Consider engine type and fuel type, such as petrol or diesel | Check the size of blades needed; standard is 550 mm (22 inches) |
| Brand | Bosch | | Valeo | |
| Weather | All season | Winter wipers, heated wipers | Shaker blades for snow | Standard wipers for everyday use |
| Fit | Flat fit (newer cars) | Conventional fit (older cars) | Retrofit | Multi-fit |
| Materials | Rubber | Silicone | Teflon | Combination of materials for heavy-duty wipers |
Purchasing windscreen wipers requires a bit of decision making, but as long as the wipers fit the vehicle properly and are useful for the type of weather conditions the driver encounters, they should work just fine. Consumers may want to purchase a backup pair so that they have extra wipers on hand if they are needed.
How to Buy Windscreen Wipers for a Chrysler 300C on eBay
For buyers who need replacement windscreen wipers for their Chrysler 300C, eBay is a one-stop shop. Navigate to car parts and select windscreen wipers, and then you are able to select your car make and model, such as Chrysler 300C. You can either shop by wiper brand, such as Aero VU, or select a price range if you are shopping for windscreen wipers on a budget.
The most important factor to keep in mind when purchasing wipers is that you are buying the correct ones for your vehicle, so read the seller's listing carefully to ensure you are getting the right wipers for your car. Only purchase wipers brand new from Top-rated sellers who have excellent feedback from other buyers, and do not hesitate to communicate with the seller if you have questions about the wipers and the way they fit. If you are having a hard time deciding between several sets of wipers, compare the items according to price, brand, and the quality of the seller before making a final decision.
Conclusion
Replacing windscreen wipers is just part of maintaining an automobile. If they are not replaced periodically, they become dull, and may not work. This could end up being dangerous to drivers, so it is best to check them a few times a year and replace them when necessary. They are generally affordable and easy to install. Buyers who live in very cold or rainy climates may want to spring for the additional protection of heavy-duty blades that are created specifically for lower temperatures or have heating components inside.
Various wipers fit differently according to the year of the vehicle, so consumers should shop carefully to ensure they are getting the right type of wipers, whether they are retrofit, flat fit, or a standard wiper fit. When it comes to purchasing windscreen wipers for a Chrysler 300C, there are a wide range of available styles, brands, and designs on eBay.