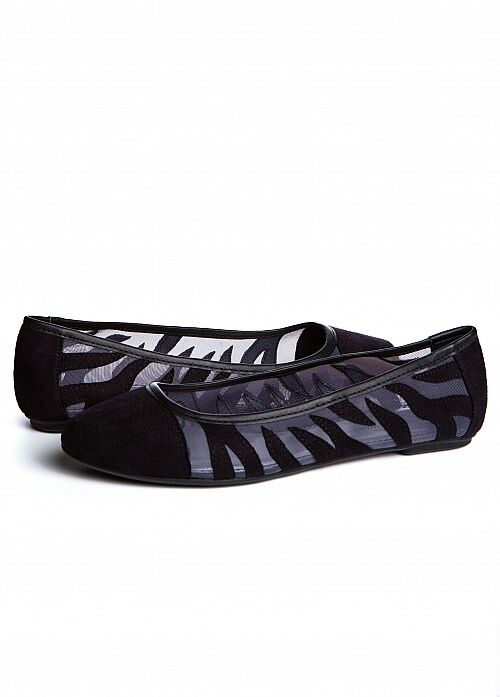 Flats are a staple in every woman's wardrobe. Aside from straining leg muscles when worn for long periods, high-heeled shoes are also known to impede blood circulation in the lower limbs, thereby causing the premature enlargement of the varicose veins. This is just one of the many reasons why many women prefer wearing flat or low-heeled shoes. With the right kind of mixing and matching, wearing flats need not mean dressing down. There are many kinds of flats that can match any given outfit, may it be formal or casual. They can be made from a variety of materials, ranging from the usual leather or natural fabrics to synthetic leather-like alternatives and more exotic choices such as silk.
Unfortunately, many buyers struggle with buying shoes on eBay because they find it difficult to choose the right shoe size and the right kind of shoe design. To address this problem, this guide aims to help buyers choose the best-fitting flats that are not only stylish but also functional and comfortable.
Women's Flats: Finding the Right Size
Choosing the right shoe size is probably the biggest challenge for those who shop for shoes online. Fortunately, finding the right fit for flats is straightforward. If the buyer knows her UK size but the eBay seller only included US or European shoe size in the product's description, the following table can be used as a conversion guide. If, however, the buyer does not know her shoe size, all she needs to do is measure her foot length with a ruler or a tape measurer and then find her corresponding UK, US, or European size in the table below.
| UK Size | US Size | EU Size | Foot Length (mm) |
| --- | --- | --- | --- |
| 2.5 | 4.5 | 35 | 214 |
| 3 | 5 | 35.5 | 218 |
| 3.5 | 5.5 | 36 | 222 |
| 4 | 6 | 37 | 226 |
| 4.5 | 6.5 | 37.5 | 230 |
| 5 | 7 | 38 | 235 |
| 5.5 | 7.5 | 38.5 | 239 |
| 6 | 8 | 39 | 243 |
| 6.5 | 8.5 | 40 | 247 |
| 7 | 9 | 41 | 252 |
| 7.5 | 9.5 | 42 | 256 |
Note that the table includes equivalent UK, US, and European shoe length size classifications in the event that the shopper chooses to buy shoes from an overseas eBay seller. It's important to note, however, that some manufacturers do not adhere to these sizing standards, so it may be a good idea for the buyer to ask the seller specific details about the product's size. It can also be useful to buy shoes from sellers who offer reasonable returns policies, in case the shoes do not fit, even when bought in the right size.
Different Styles of Women's Flats
Flats are comfortable to wear. They preserve the body's natural posture, enabling the legs to support the body properly. Flats also help women tone their calf muscles; this, in turn, improves blood circulation, which is the exact opposite of what high-heeled shoes do.
Flats are not only comfortable, but can also be stylish when matched to the right outfit. Women's flats come in many different shapes, sizes, colours, and designs. However, most of them belong to one of the five basic types: ballet, flat court, Oxfords and brogues, loafers and moccasins, and athletic shoes. This section discusses each of these major classifications in greater detail to help the buyer make an informed choice when buying from eBay.
Ballerina or Ballet Flats
Modelled after women's ballet slippers, ballet flats have very thin heels which make them appear as if they have no heels at all. Also called ballerina shoes or ballet pumps, these shoes can be made from various natural and synthetic fabrics. Once popular in the 1950s, ballet flats are becoming popular again among teenage girls and women of all ages. Ballet flats are a more comfortable and less dressy substitute for high-heeled shoes, but are considered more formal than athletic shoes, so they are appropriate for office outfits.
Flat Court Shoes
Flat court shoes are low-cut footwear usually made from patent leather. Most flat court shoes do not have straps, although there are some designs that feature ankle straps to improve the wearer's balance. Flat court shoes are a common choice for women who regularly wear uniforms at work. Flat court shoes are very versatile. Depending on the material from which they are made, flat court shoes may be a suitable match to both formal and informal attires.
Oxfords and Brogues
Oxfords, or Oxford shoes, are formal, close-toed shoes that feature two parallel arrays of shoelace grommets located beneath the shoe's vamp. A brogue shoe is similar to an Oxford shoe, with the addition of numerous, noticeable, and stylised perforations all over its surface. Oxfords and brogues may be worn in both casual and business occasions, although they are generally considered a formal type of shoe.
Slip-Ons: Loafers and Moccasins
Slip-ons like loafers and moccasins are strapless, low-cut, flat, everyday women's shoes. These shoes are a popular choice for women across all age groups. Most loafers and moccasins are made from either black or brown leather, with some featuring decorative tassels. Depending on the occasion, loafers and moccasins may be worn with or without socks or tights. Because of the lack of unwieldy shoelaces, loafers and moccasins can easily be put on or taken off.
Athletic Shoes
Athletic shoes are intended for use while performing strenuous activities such as sports and gym workouts. However, these shoes have entered mainstream fashion and are often seen worn as part of casual, everyday ensembles. Athletic shoes are also called trainers, plimsolls, daps, or sandshoes.
Materials Used in Making Women's Flats
Leather is the most popular material used in making both men's and women's flats. Although cattle is the most common source of leather for shoes, leather may also come from other sources such as deer, kangaroos, and even certain species of fish. There are several special kinds of leather that are used in women's footwear today.
For example, patent leather is known for its very glossy and almost glass-like appearance. While patent leather is commonly black, it is available in other colours such as tan, white, red, and even exotic neon colours. Because of its complex manufacturing process, high-quality patent leather flats are generally more expensive than those made from regular leather.
For this reason, special types of artificial or synthetic leather are available as cheaper alternatives. There are many types of faux leather such as 'pleather' (a portmanteau of 'plastic' and 'leather'), and PVC (polyvinyl chloride). These synthetic leather materials are not only cheaper but also animal friendly compared to natural leather.
Fabrics, both natural and synthetic, may also be used to make shoes, especially ballet flats. Cotton, silk, and wool are popular choices because of their moisture wicking properties and their breathability. These natural fibres may also be blended with synthetic fibres such as rayon, nylon, polyester, and Lycra, in order to boost the fabric's durability and resistance to stains.
How to Buy Women's Flats on eBay
eBay offers tens of thousands of shoes to choose from, so you can be sure that you'll find the exact pair that you're looking for. To start your search, just type "women's flats" in the search box on eBay's home page to get a complete list of items that you can buy. If you do not have time to browse thousands of items or if you have in mind a particular brand, material, size, or design, just add descriptive keywords to refine the search results. For example, typing "ballet women's flats 4.5" will generate a list of size 4.5 women's ballet flats.
Remember to check the seller's returns policy so you can be sure that you will be able to return or exchange the item should the need arise. The seller's return policy is usually explained in the product's description. However, to know more about the seller's returns policy, just click on the seller's name and then click the 'contact' link as soon as you arrive on his or her personal page.

Superga has a great range of women's flats from trainers to sandals.
Conclusion
Many women prefer wearing flats because they are more comfortable to wear than high-heeled shoes. Some types of flats, such as ballerina shoes or brogues, are also more formal than athletic shoes so they can be matched to any office outfit or even more elegant attires for special occasions, such as weddings. To get the perfect fit, the wearer should measure the length of her foot. The length should be the distance between the tip of the longest toe and the heel.
Women's flats may be ballet flats, flat court shoes, Oxfords and brogues, slip-ons, and athletic shoes. Ballet flats have a very thin sole, making the shoes appear as if they have no sole at all. Oxfords and brogues are the most formal types of flat shoes, although they may also be worn for casual wear. Slip-ons are both comfortable and easy to put on and take off. Lastly, athletic shoes typically have thick rubber soles that help cushion impact on the feet.