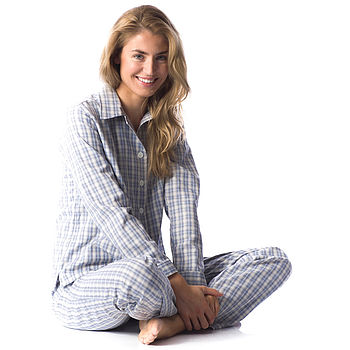 Buying women's pyjama sets, either for oneself or as a gift for a friend, need not be a daunting task. Armed with the right knowledge, any buyer can head out and purchase a great set of women's pyjamas that matches the occasion and is suitable to wear any time of the year. Pyjama sets are designed to offer maximum comfort. They range significantly in price, and finding a good quality set of women's pyjamas takes an understanding of a woman's size and body shape.
Women's pyjama sets are sold at department stores, clothing stores, and specialty sleepwear stores. They are also sold through online retailers such as eBay. This guide offers the information that a buyer might need when purchasing women's pyjama sets. The guide also discusses the different types of sets suitable for summer or winter wear as well as the choice of fabrics available. A potential buyer can also find useful tips on purchasing women's pyjama sets on eBay.
Different Types of Pyjamas
Typically, women's pyjama sets are broadly grouped into three categories: traditional pyjamas, contemporary pyjamas, and pyjamas that are considered to be daywear.
Traditional Women's Pyjama Sets
Traditional pyjama sets for women are very similar to men's pyjamas. They usually consist of soft cotton or flannel fabric, with a button up long-sleeved shirt and matching long pants. This type of pyjama set has been popular with both men and women for many decades.
Contemporary Women's Pyjama Sets
Contemporary women's pyjama sets are loosely based on the traditional pyjama style. They may feature short-sleeved tops, t-shirts, or singlet with long pants, three-quarter pants, or shorts. They may be loose fitting or tight fitting and are often made from cotton material blended with stretchy, elasticised fabric. The range of contemporary women's pyjama sets is popular among women of all ages and sizes.
Daywear Women's Pyjama Sets
Some brands also offer women's pyjama sets that look more like casual clothing and less like sleepwear, but are designed to be comfortable enough to wear to bed. Daywear pyjama sets are ideal for those women who love to spend the day lounging around the home or out in the garden in their pyjamas.
Women's Pyjama Sets for Summer and Winter
There are several different styles of pyjama sets women can choose from. Some are ideal for wearing during the warmer summer months, while others are great for keeping the wearer warm on cold winter nights.
Options for Summer Pyjama Sets
The summer pyjama sets for women are designed to be lightweight, breathable, and comfortable. They are often very cute and sexy, and they are available in various styles to suit any figure.
Shorts and Shirt Pyjama Set
Popular styles of summer pyjamas include simple shorts and shirt sets. Shorts may range in length, from 3/4 length pants, to very short shorts. Shirts may be button up short-sleeved shirts, T-shirts,, or singlet and camisoles.. They range significantly in colours and patterns available. Many summer pyjama sets of this style are made from cotton or cotton blend materials.
Babydoll Pyjama Set
Babydoll pyjama sets are a cute choice for summer. They are often sleeveless and may fit tightly around the bust and hang loosely over the body, down over the buttocks. They can be made of lace, cotton, silk, or stretchy, synthetic fabric. For a very sexy babydoll pyjama set, try one in a sheer fabric. Babydoll sets come with matching pants, usually shaped similarly to underwear.
Chemise Set
A chemise pyjama set is designed to be sexy and feminine. It may be worn as sleepwear and as underwear. A chemise is similar to a babydoll, except it is more fitting around the waist. A babydoll top hangs loosely over the body, whereas a chemise hugs the woman's figure. A chemise set features camisole style top with matching pants. Pants may resemble boyshorts, bikini briefs, or other types of women's knickers.
Options for Winter Pyjama Sets
When it comes to winter pyjama sets for women, the options are fairly limited. The more common type of winter pyjama set is the traditional pyjama set, with button-up long-sleeved,, cuff-less shirt and matching cuff-less long pants. One of the most important things to consider when buying a women's winter pyjama set is to consider what type of fabric the set is made from. Some fabrics offer far more warmth and comfort on cold winter nights than others.
Fabric Options for Women's Pyjama Sets
When buyers take into consideration the vast array of women's pyjama sets to choose from, they should also consider the type of fabric that would best suit their style and taste. Some fabrics are designed with comfort in mind, while other fabrics are designed to look very sensual and sexy.
Cotton
Cotton pyjama sets are ideal for both summer and winter. Cotton is a natural fibre that is comfortable, breathable, durable, and lightweight. Cotton pyjama sets are easy to clean and maintain, and they vary in price. 100 percent cotton pyjama sets tend to be more expensive than those made from cotton blend fabrics.
Polyester
Polyester pyjama sets are inexpensive, comfortable, and durable, and they can be worn any time of the year in any type of weather. Many women find polyester a great choice in fabric because of its comfort and ease of use.
Silk
Silk is a natural fibre that is expensive to produce. Women's silk pyjama sets are luxuriously soft and comfortable, although they can be more expensive than sets in other fabrics. Silk is ideal for wearing in warmer weather as it is very lightweight. As silk is a delicate material, wearers need to take care when washing silk pyjamas.
Satin
Satin may be made from silk fibres or from polyester or nylon fibres. It is a soft, shiny fabric on one side and has a dull finish on its underside. Satin pyjama sets tend to be less expensive than silk sets. The material is thicker than silk, making it a good choice for wearing during cooler weather.
How to Find Comfortable Women's Pyjama Sets
Pyjama sets are designed with comfort in mind. Most pyjamas are made to be worn loosely. However, some pyjama types, such as a chemise set, are designed to be more fitted to the woman's body shape. In order to determine the right size for a pyjama set, a woman should measure her bust, waist, and hip. Knowing her inseam leg measurement is always useful as some brands offer sets in short, regular, and long leg length options.
The following table provides a list of the common pyjama set sizes available for women, and their corresponding measurements in centimetres.
| Pyjama Size | Small | Medium | Large | X-Large |
| --- | --- | --- | --- | --- |
| Dress Size | 8-10 | 12-14 | 16 | 16-18 |
| Bust | 97 | 104 | 112 | 114 |
| Waist | 74 | 81 | 89 | 94 |
| Hip | 102 | 109 | 119 | 122 |
| Leg Length | 74-76 | 74-76 | 74-76 | 74-76 |
When buying women's pyjama sets, it is important to note that there may be slight variations in measurements between different brands. Buyers should always be aware of the specific measurements of a particular pyjama set before making a final purchase decision.
Buying Women's Pyjama Sets on eBay
The auction website eBay makes buying women's pyjama simple and straightforward. To begin the search on eBay, buyers can simply type "women's pyjama sets" into the search bar on eBay's home page to get listings of thousands of items for sale. To further refine their search, buyers have two options. Firstly, buyers can choose to type a specific phrase into the search bar, such as women's size 12 cotton pyjama sets or women's pink pyjama sets.. Secondly, buyers can use the advanced search option to narrow the search. Buyers can search by condition, price, materials, or even the location of the item.
Buy with Confidence Using Reputable eBay Sellers
eBay offers information about how to buy with confidence on eBay. The website provides useful advice about various payment options, how to analyse listing descriptions, safe delivery options, and feedback on sellers. It is recommended that buyers always check a seller's feedback profile. The seller's detailed seller rating provides useful information about his or her reputation. A higher rating means that the seller has received consistently good feedback, shipped items on time, and has successfully transacted a large number of sales on eBay.
Conclusion
Women's pyjama sets refer to two pieces of sleepwear, designed to be worn together. They consist of a top and matching pant and are designed to offer the wearer comfort while sleeping or lounging around the house. There are a range of styles when it comes to choosing women's pyjama sets. Some are more suitable for the summer months, while others are designed to offer comfort and warmth during winter. Buyers also have a range of options when it comes to choosing the fabric they would like their pyjama sets to be made from. Some fabrics are more expensive or durable, while others offer greater comfort. When it comes to comfort, buyers need to ensure that they purchase the right size pyjama set to suit the wearer's body shape and size. With eBay's wide selection of women's pyjama sets for sale at competitive prices, a buyer can have little difficulty in finding the pyjama set that meets the needs.