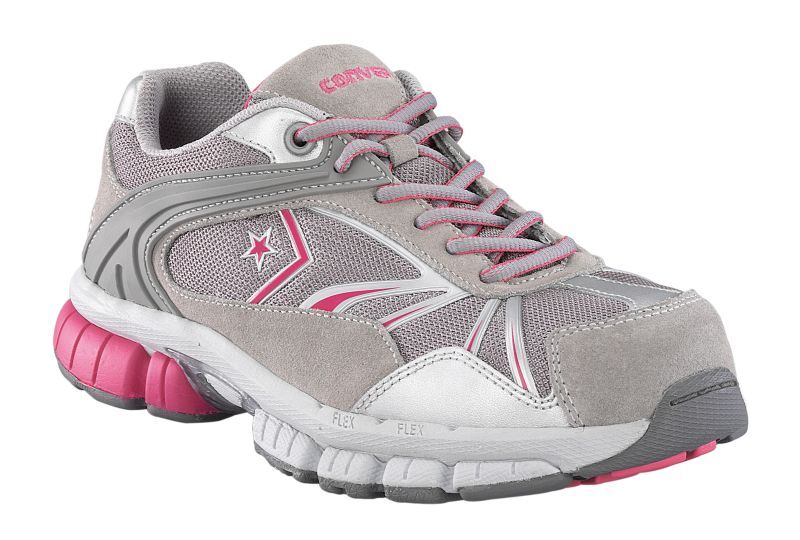 Trainers are lightweight athletic shoes characterised by a springy sole with excellent grip and ankle support. Also known as sneakers, running shoes, gym shoes, rubber shoes, or kicks depending on where one is in the world, trainers have evolved into cool fashion accessories and are worn to casual, non-athletic events year round. A good pair of trainers will do more than give a comfortable fit for workouts; they offer support, prevent injury to the feet and enhance athletic performance.
Unfortunately for many athletes, shopping for trainers is a bewildering experience because of the extensive selection of styles and designs for sale, the many different terms used in descriptions, and suggestions for specific trainers with different types of sports. A savvy buyer knows how to quickly settle on what is ideal for her using the essential features mentioned here. eBay goes a step further with filters such as 'price', 'condition', 'brand' and 'colour' to whittle down the overwhelming array of options to a few functional and stylish trainers, making for a quick, easy, and pleasant shopping experience on eBay.
Shopping for Quality Women's Trainers
When running, the feet hit the ground about 800 times in every mile: that's a lot of impact. Wearing the right trainers for specific sport activities is not about looking good; rather, it is about minimising the risk of injury and damage to the feet while enhancing performance. Additionally, there are different types of foot pronation that determine the ideal type of trainers for each athlete. Further, women are strongly encouraged to buy trainers specifically made for their gender because of the differences between men's and women's feet. For serious athletes, function and protection always come before style, although there are trainers that are both functional and stylish for those who want to train well and look good doing it.
Biomechanics
Pronation is the natural movement of the foot from side to side when the foot hits the ground while running or walking. The foot's inward rolling gait absorbs shock and balances the body. Women who know their pronation can buy proper shoes that will offer comfort and prevent injury by maintaining their foot strike. One can do a simple 'wet foot' test to determine pronation by stepping on a flat tile or sand surface with wet feet. The resulting pattern will identify the foot as one of three distinct shapes: flat feet have a straight footprint showing the full width of the foot; high-arched feet have a narrow curve shape with a gap in the middle of the footprint; and neutral feet are something in between of the other two with a medium-curved shape.
Over Pronation
Also called flat feet or low-arch feet, over pronation is when the foot rolls too far and the arch collapses under the weight of the body. The best trainers for over pronation are straight with solid flat midsoles to control motion and give further support to the feet, such as motion control trainers.
Under Pronation
Those with high-arched feet are under pronated because the foot is inflexible with very little rolling motion. Since the feet do not cushion the heel much from impact, the most ideal trainers are neutral shoes or those that give plenty of support, such as cushioning trainers.
Neutral
With neutral or normal pronation, the body weight is evenly and efficiently distributed over the feet. Women with neutral feet have a great deal of choice when selecting trainers, but will do well in cushioning and light-stability trainers. Normal feet do not need motion control.
Special Trainers for Women
Women are said to have wider forefeet, shorter foot lengths, higher arches, and narrower heels than men. There are also distinct differences in the first toe, heel ball, and general shape of the foot. Thus, it is advisable to buy gender-specific trainers in order to allow for the narrowness in women's feet and overall structure, rather than settle for whatever is on the market. Women's trainers, including those offered by Nike, Asics and Puma brands, make for a more comfortable fit with less chance of injury.
The Construction
The quality of material used in making trainers determines how durable and comfortable they will be. Material choice, in turn, depends on the occasion for which the trainers will be used. Textiles and canvas uppers are breathable and quick-drying, but do not last as long as those made from 100 per cent leather. Synthetics wick the moisture away and do not easily emit odours that are associated with natural materials.
Fastenings hold the trainers snugly in place and include shoe laces and Velcro straps. Some trainers have removable shock-absorbing insoles to provide extra support and a convenient way to clean out the shoes.
Fit
A well-fitting pair of trainers provides more than just comfort: they also prevent the risk of developing calluses and blisters. Rather than look at size, a runner should use foot measurements when buying trainers to ensure a correct fit. Size differs from manufacturer to manufacturer and should not be used as a basis for selecting trainers unless the corresponding measurements are also provided.
It is best to measure feet while standing, and in the late afternoon as they are at their largest then. If one cannot do this in the afternoon, adding an extra inch to measurements taken earlier or later will allow for the swelling of the feet and movement while running. This measurement is then used to select the corresponding size in a seller's chart, if available. For athletes who have extra-wide or extra-narrow feet, the company New Balance caters to a variety of widths with their trainers.
To Each Sport Its Pair of Trainers
Trainers are specially manufactured to fit the demands of each sport and to improve performance. Matching the right trainers to their particular sport is not a marketing gimmick: wrong choices do result in damage to the feet in the form of stress fractures, torn ligaments, and discomfort. Athletes who understand that they are saving themselves frequent trips to a physiotherapist gladly fork out the extra money needed to buy multiple pairs of quality trainers. It is, after all, about health and prevention of injury to the foot.
Straight Movement
Sports that involve movement in a straight line, such as walking and running, are more stable than those that involve movement from side to side. Thus, raised heels do not increase risk of injury, although the trainers do need solid shock-absorbing properties.
Side to Side Movement
High impact sports such as basketball, squash, and tennis need trainers that have a greater surface hold, good ankle support, and a firm, flat sole that is stitched onto the shoe for durability. Shoes without lateral stability can cause injury the ankle ligament, so no high-heeled trainers for these types of sports.
Buying on eBay
There is an array of trainers available on eBay, from sleek fashion trainers or hi tops to plimsolls and ankle boots. This variety is not meant to confuse but to cater to individual tastes and needs by providing just about every shoe under the sun. When a buyer knows exactly what she is looking for and how to find it on eBay, she is most likely to be successful in her search. After all: if it is on anyone's mind, it can be found on eBay.
Top-Rated Sellers
Top-rated sellers on eBay are those who receive a consistently positive feedback rating from buyers. With these sellers, fast delivery and excellent service is guaranteed. To be rated at the top, sellers must receive consistent highest buyer rating, dispatch items quickly, and have a track record of excellent service. Top-rated sellers are trustworthy because they have established themselves as reputable sellers.
Feedback
Feedback is very important for the millions of buyers and sellers on eBay. It can be neutral, positive, or negative, depending on the buyer's experience. The more positive rating a seller receives from buyers, the higher his or her feedback score will be. Of course, the buyers must first give feedback in order for this to work. Feedback provides details on how quickly the seller responded to the buyer's questions, whether the postage paid was acceptable, if the description for the item was accurate and included mention of all defects, and how quickly the seller dispatched the items. This is an excellent indicator of how the seller works and acts as his or her reputation on eBay.
How to Buy Women's Trainers on eBay
To buy women's trainers on eBay, start your search on the eBay homepage. You can either use specific brand names or keywords like women's trainers or browse through using the categories given. The results might be too numerous; if so, you can reduce them to an acceptable number using the filters provided, like 'colour', 'price', 'size', and 'brand'. For example, further filtering of the results through the 'brands' options will pop up these sleek styles for Nike, Reebok, Converse and Vans. If you find an item you fancy but still want to browse through the rest on offer, you can click 'Watch this item' and then easily compare all the items in your Watch List.
Go through the listings carefully to read the seller's description, especially with used items. Many listings have photos that you can zoom into to get a closer look at any defects. If you are not in a hurry, you can bid on the items that are up for auction: it is satisfying to win bids on quality bargains. Remember to try out your trainers the earliest chance you get; wear them with your regular sports socks to get a proper feel about fit and comfort.
Conclusion
Women need high-quality trainers they can depend on during sports. Safety is paramount, so when shopping for the right pair of trainers, superior craftsmanship, comfort, proper fit, and support are essential features to look for. To cut through the confusion of varieties available, one must know her pronation as well as where she intends to use the trainers, as different sports have different requirements from shoes. Nobody should risk foot damage and discomfort by subscribing to the false economy of one type of trainers for all sports: every pence paid for the right shoes is a pence paid towards preventing injury and improving performance.
No matter what a person's budget, eBay offers a selection to suit, from new high-end premier trainers to used ones that are just as good depending on the degree of wear and tear on them. Whatever the shoe, it should fit well on first wear because trainers do not need breaking in. If a trainer doesn't fit immediately, it should be passed up. Browsing around eBay will turn up the ideal pair of trainers for anyone and may even surprise with a few amazing bargains.