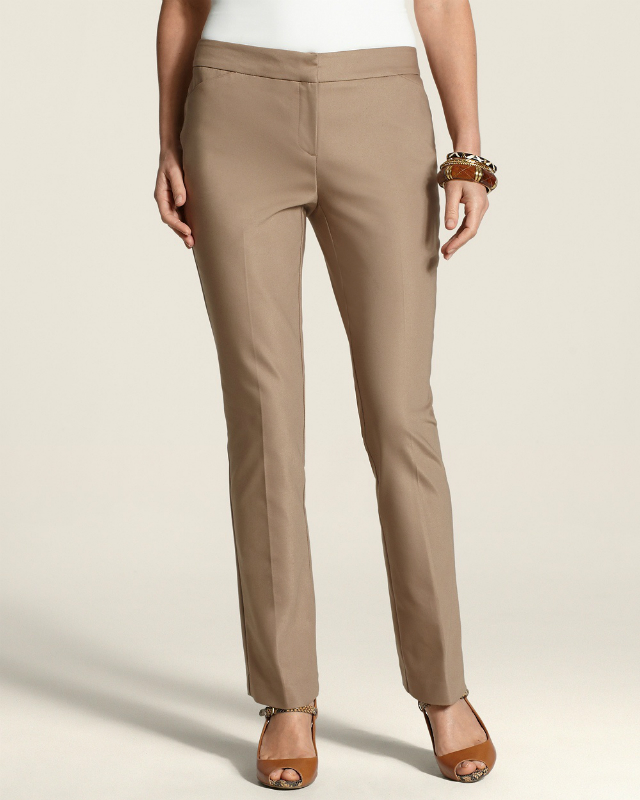 The vast majority of women own multiple pairs of trousers, intended for formal occasions, casual wear, or just lounging around the house. There are a range of styles of trousers: many women wish to wear the most current trend, while others prefer to stick to favourites that they know fit well and work with other items in their wardrobe. There are a number of factors to take into account when buying women's trousers, such as size and fit, length, colour, and fabric. Some of these factors are based on a combination of personal preference and where the trousers will be worn. Budget is another important factor: most shoppers want to get the most from their money. eBay has a vast number of women's trousers for sale, so women of all tastes, styles, and budgets can find a pair of good quality trousers easily. Both new and pre-owned trousers are available.
Factors to Consider When Buying Women's Trousers
When purchasing women's trousers, there are a number of factors to consider. Trousers should be chosen with care, to ensure that they are the right length and fit correctly.
Length of Women's Trousers
Choosing the right length of trousers is an essential part of the buying process. Trousers that are too long can drag and get wet and muddy outdoors, and make the wearer look shabby and unkempt. They also make the wearer's legs appear shorter and cover the shoes, which is not good it they are worn with a pair of attractive heels. Trousers that are too short create an unfinished look and make the wearer appear to be out of proportion and lacking in style. eBay has women's trousers in a variety of lengths, including those designed especially for short, petite women, and tall women, giving buyers the maximum opportunity to find the perfect length.
Sizing for Women's Trousers
Trousers that are too tight can be uncomfortable, restrict movement, and are at risk of splitting at the seams, which can result in an embarrassing mishap. Wearing trousers that are too small can create unsightly bulging and make the lower half appear broader than it is. Trousers that are too loose cannot flatter a shapely waist or hips and make the body look baggy overall. Therefore, it is important to choose the right size of trousers.
The sizing chart below shows the hip and waist measurements that correspond to UK dress sizes and dual sizing. To size the trousers correctly, it is wise to take current measurements of the hips and waist. For an accurate measurement, use a soft tape measure and encircle the hips at their fullest point. Then measure the waist at its narrowest point.
| | | | | | | | | |
| --- | --- | --- | --- | --- | --- | --- | --- | --- |
| UK Size | 8 | 10 | 12 | 14 | 16 | 18 | 20 | 22 |
| Hips (inches) | 24.75 | 26.75 | 28.75 | 30.75 | 32.75 | 35.75 | 49.5 | 53 |
| Waist (inches) | 23.75 | 24.75 | 29 | 30.75 | 33 | 36 | 38 | 40 |
| Dual Size | S | S | M | M | L | L | XL | XL |
The sizing chart above is intended as a guide. Every manufacturer and designer cuts their trousers slightly differently, so there may be some variation. If a buyer is between sizes, then it is wise to purchase the larger size. This will be more comfortable and will result in fewer bulges, and it is also possible to alter most trousers for a better fit, provided they do not have a decorative waistband.
Searching for Women's Trousers on eBay
A simple search from the eBay homepage for "women's trousers" yields many thousands of items for buyers to browse through. This is great for shoppers who have not decided which kind of trousers to buy. To help to narrow down the list of items, eBay provides user-friendly filters. It is also possible to enter a more specific phrase into the search box.
Searching for Women's Trousers by Size
For women who have measured themselves and know which size they require, they can search by size, for example, "black trousers size 12". This enables the buyer to focus on items for a category, thereby eliminating all the trousers that are unlikely to be a good fit. This also saves disappointment, for example, when spotting a fabulous pair of trousers, only to read further and discover that they are not available in a particular size. Buyers can search by standard UK dress sizes, running from size 6 to size 36, as well as by dual sizing, running from XS to XXXL.
Searching for Women's Trousers by Body Type
Every woman has a particular body type, so by using this information it is possible to narrow down the listings to the particular type that is most appropriate. Therefore, women's trousers can be found by searching for a phrase such as, "petite trousers", "trousers tall women", or "plus size trousers". This greatly reduces the general list to the relevant items.
Searching for Women's Trousers by Style
If the buyer has an idea of the style that she is looking for, then eBay allows a search by trouser style, so that she can identify her perfect pair quickly and easily. Choices include the voluminous, yet alluring harem trousers; casual, cropped capris; trendy but practical cargo trousers; and smart, tailored work trousers.
Searching for Women's Trousers by Brand
It is also possible to search by brand. For example, a woman may need some new, casual sports trousers, so, she is able to search the results to show only Adidas, Nike, or Reebok trousers. Alternatively, a woman may have expensive tastes, and require a pair of tailored, designer trousers, in which case, she is able to search by Balmain for H&M, Jasper Conran or Dolce and Gabbana.
Buying Women's Trousers on e Bay
Buyers like to get good value for money, regardless of whether they have a large budget or a small one. For those shopping on a tight budget, eBay offers a fabulous range of used women's trousers. It may be possible to find a pair of top quality pre-owned women's designer trousers in a nearly new condition substantially below the retail price. So, it is not necessary to sacrifice quality to stay within a limited budget.
Item Listing for Women's Trousers
When buying women's trousers on eBay, it is very important to read the item listing thoroughly, and to look at the photos provided closely. This allows buyers to be fully informed about the trousers. Observe any special features, missing embellishments, or signs of wear and tear. If the photos are unclear, or if any further information is required, then contact the seller directly using the "Ask a question" link and ask for further details or photos. As well as a description and photos of the item, the item listing should also include details of the postage and packaging costs, the seller's accepted payment methods, and whether a local collection is permitted.
Seller's Policies for Women's Trousers
When buying women's trousers on eBay, it is strongly advised that shoppers check the refund and exchange policy of the seller before they commit to making a purchase. This ensures that the buyer knows whether they are able to return the trousers and get an exchange or a refund if they do not fit, are damaged, or are otherwise unsuitable on arrival.
Choosing a Seller and Understanding Feedback
To ensure a straightforward transaction and a quality product, buyers are advised to choose a seller carefully. Look at his or her feedback score before buying the trousers. Feedback scores inform the buyer of the reputation of a seller. It is compiled from opinions left by other buyers regarding their experience with the seller. Information includes the quality of the product, the communication and customer service, and the speed with which the item was dispatched. Sellers who have a reputation of providing quality products at great prices in a timely manner with excellent customer service have a high percentage of positive feedback.
Conclusion
Women's trousers are an essential part of every woman's wardrobe. The styles vary to suit every purpose, from funky harem pants for a night on the tiles, to casual trousers for a trip to the shops, and smart, tailored trousers for a formal event or a day at the office. It is important to buy trousers of the correct length and size to ensure a stylish appearance, as well as a comfortable garment that allows for a range of movement.
Understanding eBay's buying process helps shoppers to find just the right pair of trousers. The search phrase can be very general to allow for browsing and finding inspiration. Alternatively, it can be more specific so that trousers can be found based on size, body type, style, and brand. Women on a budget who want high quality trousers should consider searching for used items, as many are available in excellent condition. eBay provides an easy-to-use website packed full of useful tools to help women to navigate through the huge choice in women's trousers, allowing every women to buy her perfect pair without leaving the sofa.