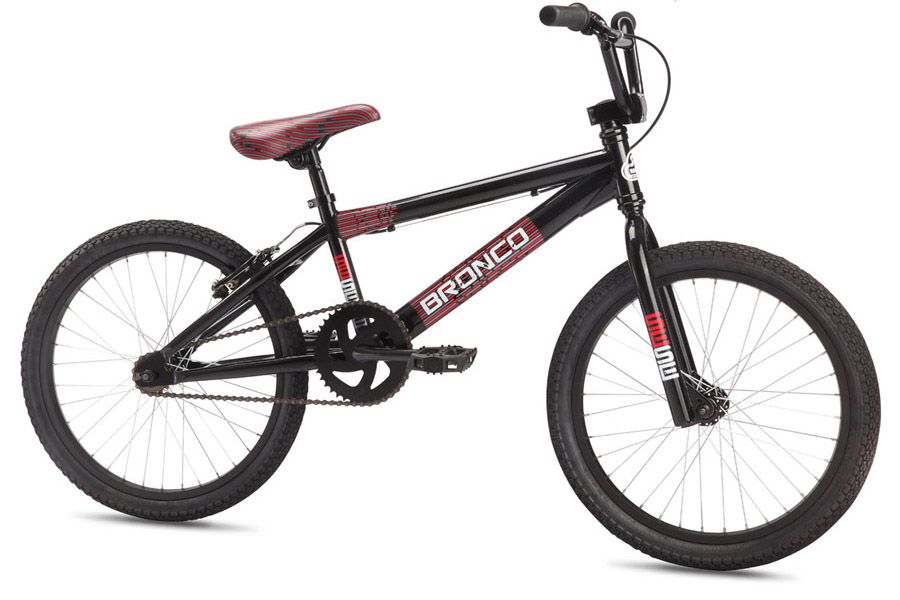 Around the late 1960s people who couldn't afford or were too young for motocross motorcycles began racing push bikes around dirt tracks with bumps and banked corners (berms) in California.
The bikes had high handlebars and frames improvised to emulate motocross frames. The sport became known as Bicycle Motocross, hence BMX. There are three styles – Race, Freestyle and Jump. The choice between those categories might seem confusing.
A quality, standard BMX bike with a single gear and 20 inch wheels should be versatile enough for a beginner to have fun and attempt the different styles.
Remember that in one way, they are just like other bicycles; the more they cost, the lighter and stronger they tend to be. Feel, lightness, strength and compatibility with your riding style are most important when buying a BMX.
A bike to suit the style
Each discipline has its own variations in the specification of the bike and components.
| | | | |
| --- | --- | --- | --- |
| BMX racing | A dirt-ready race bike | Knobby tyres, lightweight frame and parts, strong rear brake | Dirt-track racing, going fast off road for short distances |
| Freestyle | A super-sturdy stunt and trick bike | Ultra-beefy frame and wheels, pavement-ready tyres, cable-detangling headset, axle pegs | Riding at skateparks, learning and performing stunts and tricks |
| Jump | Sometimes called a Dirt Jumper, these are essentially a fusion of BMX and freestyle bikes | Sturdy frame and wheels, rear brake, knobby tyres | Carving local trails, jumping ramps in your friend's garden |
BMX racing
True BMX bikes are still designed for racing, although their light weight, speed and dirt worthiness can be appreciated without racing. They usually have 20-inch wheels, knobby tyres, upright handlebars with crossbars, small saddles, long cranks and rear hand brakes. The frames are light and sturdy; the higher the price, the lighter they are. BMX bikes are generally made of chromoly steel or aluminium. Chromoly frames are a bit heavier and more economical. Aluminium frames are lighter and are often made of oversize or exotically shaped tubing. Aluminium is also rustproof. So, if you scratch your frame, there's no need to rush to touch it up.
Freestyle
This bike's ideal use is for flatland (e.g. car parks, promenades) tricks, street riding and turning stunts at skateparks. It's versatile enough to ride to school or the shops. Sturdy construction is a higher priority than lighter weight.
The wheels are usually either 'mag' wheels made of sturdy nylon or heavy-duty models with 48 wire spokes. The tyres are 20 x 2.125 or wider, with fairly smooth treads. Axle pegs are often included (riders stand on them for stunts). Riders can also choose their own.
Freestyle bikes come with front and rear brakes. The front cable is routed through a 'gyro' or 'de-tangler', which allows the handlebars to be spun completely around without tangling the brake cable.
Dirt Jumper
Dirt jumpers (or jumpers) are designed for taking flight. They also bridge the wide gap between BMX racers and freestyle. They are beefier than the former; lighter than the latter. They don't usually have front brakes and their sturdier wheels normally feature 36 rugged 13-gauge spokes, rather than 48 spokes, as freestyle bikes do. They are occasionally equipped with 24-inch wheels, which are a great choice for larger riders. The tyres are the most heavily treaded of any of the BMX types.
The Anatomy of BMX
The difference is in the detail. Although a bike might be bought as a package, it's advisable to examine each element. Only then can you compare like with like. Often similarly priced machines may differ in the kind and quality of individual components. It's also useful information for anyone custom building their own BMX and selecting the parts to suit their preferences (or choosing the parts and having a professional assemble it).
To make comparison easier, it is convenient to divide a BMX bike into seven separate, logical systems – 1. frame, 2. forks, 3. drivetrain, 4. wheels, 5. steering, 6. seat and 7. brakes. Most of these systems have essential sub-components and important accessories
1. Frame
Good frames tend to be made from chromoly – an alloy of steel, chrome and molybdenum - as opposed to the heavier and weaker high-tensile steel (often called High ti) used in cheaper versions - and there is a general trend towards lighter and stronger frames with each season. Look for 4130 Chromoly or Chro-mo for more strength and less weight.
Aluminium frames are largely in the racing bike category. The top tube length should be chosen for comfort. The most common size for complete bikes is 20.5. This should suit people from 5ft to 6ft in height. Taller people or children should select correspondingly longer or shorter tubes. When choosing for young people, allow for growth.
2. Forks
The same principles for choosing frames also apply to forks. For lightness and resistance to bending, choose Chromoly. There is a choice of 10inch or 12inch versions, sometimes tapered to save weight. Forks should be drilled ready to accept pegs.
Pegs protect both bike and rider from scraping on the ground. Stunt pegs are made from steel for ultimate toughness, and titanium, aluminium, and even plastic for extra lightness. They come in 10mm and 14mm sizes and for front and rear wheels.
3. Drivetrain
This is the set of components that allow the rider to drive the bike forwards. It is made up of; the crankset, bottom bracket, sprocket, pedals, chain and rear hub. Although BMX bikes have no gears to change, the relationship between the sprocket (also known as chain wheel) and the rear hub freewheel determines how fast the rider needs to pedal in order to achieve a given speed.
Cranksets
The crank arm connects the pedal to the bottom bracket and has to be strong enough to withstand a lot of pressure. Look for tubular 3-piece options with splined spindles. These offer protection for the cranks wearing out or coming loose. Remember that cranksets may require a separate purchase of the bottom bracket.
Sprocket
Selecting a bigger sprocket - up to 36 teeth - means it will be harder to pedal, while rings as small as 23 teeth can enable the setting up of a micro drive, saving weight and improving ground clearance. To get the right ratio, think about the size of the smaller cog which fits to the rear hub.
Pedals
Alloy
pedals
last longer; plastic pedals are lighter. Varying levels of grip and profile thickness allow the feet to get just the right feel when pressing down. Both kinds come in many colours. More expensive models typically have replaceable pins for longevity.
Chains
transfer pedal input to power at the back wheel. Freestyle riders who want to tailor their drivetrain can choose coloured half link versions. Lightweight chains will suit trail or dirt jump riders.
Bottom Bracket s (BB)
come in several designs. USA or American found on entry level bikes are the most common, being the largest and having unsealed bearings. Mid BBs and Spanish BBs are smaller and in most cases use sealed bearings which last longer.
4. Wheels
Wheels change the ride characteristics of a bike. Because accelerating is important in BMX, the wheels are lighter than those found on freestyle or jump bikes. However, that 32-spoke light aluminium wheel set designed for BMX racing won't hold up to dirt jumping or ramping.
So, freestyle bikes come almost exclusively with 48-spoke or mag wheels. This makes them ultra-beefy for maximum rim protection. Dirt jumper's wheels tend to be a bit more varied. Some dirt jumpers are equipped with 36 super-meaty 13-gauge spokes. Others come with 48 spokes like freestyle bikes, depending on whether the bike is geared more for jumping or dirt riding.
Fully built wheels are available individually for either the front or rear, or wheel sets can be bought comprising both. Wheels can also be individually built with rims, spokes and front and back hubs. Racing BMX bike wheels vary from 16inch to 26inch diameter with 20inch being the most popular. The various freestyle BMX bike wheel sizes include 16inch and 18inch diameters for smaller riders with 20inch for most other riders. Tyres can be chosen separately.
Front hub Look for sealed bearings for durability. Unsealed bearings will be fine for newcomers while they are learning.
Rear hub There are two types. The regular, or freewheel, hub with anything from 13 to 16 teeth or the more reliable cassette type which use anything from 8 teeth upwards and are built into the hub itself. These are lighter in weight and give more clearance when doing grinding tricks. Traditionally more expensive, cassettes are becoming more affordable.
Tyres Although BMXs are raced mostly off-road, the tracks are often hard-packed earth where low rolling resistance is important. The tread should provide optimum speed and traction when cornering and accelerating. Freestyle tyres are designed for pavement and indoor surfaces. Premium tyres often inflate to higher pressures as well, lowering rolling resistance, increasing rim protection and decreasing tyre deflection when the sidewalls are placed under high loads such as during landings. Dirt jumpers are usually designed for maximum traction.
5. Steering
Handlebars Referred to as 'bars', choose with the same material as the frame and forks. Also look out for heads treated and/or multi-butted tubing for better weight to strength ratio. If possible, try different widths and heights as this can make a big difference to the ride
Grips Having the right pair of bar grips, with the right level of comfort and girth, can improve the feel of the bike, while bar ends protect from any sharp edges at the side of the handlebars.
Stems clamp the bar in place on the forks and come in a variety of textures and colours to provide individuality. All stems are comparable in strength.
Headsets contain the bearings that allow handlebars to be turned for smooth steering. There are two kinds. Threadless (sometimes called Ahead) found on entry level bikes have external cups. The newer integrated style allows the bearings to sit directly against the frame for greater strength whilst saving weight.
6. Seat
The choice is between the traditional railed version and a newer, pivotal style, which uses a single bolt to give adjustability and save weight. Plastic pivotal seats will save some weight. A minimalist option is an integrated seat and post combination.
Seat posts
These vary in design according to whether the seat is the railed version. Pivotal types allow a range of adjustability while keeping the design clean and simple. Aluminium clamps keep the
seat post
in place; they have an anodized finish on chromoly for toughness.
7. Brakes
Freestyle bikes come with front and rear brakes. BMX and jump bikes usually sport only rear brakes. Brake type is also important. BMXers require pure stopping power so they prefer linear-pull brakes, which offer the ultimate grip.
Freestylers are more interested in control than grip and they prefer U-brakes front and rear. Although U-brakes don't offer the stopping power of linear pulls, they offer better modulation, so they work like dimmer switches, where linear pulls are more like on/off switches.
Brake Levers should provide the right response whether to modulate speed for a stunt or pull up hard.
Brake Pads There is a vast choice of different lengths, different colours and different compositions for different weather and ground conditions.
Gyros Doing stunts involving twists can twist the brake cables and inhibit the movement. The gyro is a device that keeps cables straight and braking effective whatever the manoeuvre.
Shopping around
Cheapest is not always best in the long run. Do some research on eBay. Then start looking for the best or cheapest price on the bicycle you are after. Wait for end-of-line or end-of-season bike deals and bargains. Experts would advise you not to buy a bike from a supermarket or a superstore; the mechanical, supplier and replacement parts backup will be poor or non-existent.
How to Buy BMX bikes on eBay
Now that you've worked out which BMX you want, find them quickly on eBay. While you shop, don't forget Cycling Accessories and Trophies. To start shopping, go to the Sports and Leisure category. Click the Sporting Goods portal and click Cycling.
Categories
The Categories list on the left side of each page will help you narrow down your listings by item type. You'll find links for Bike Parts, Bikes, Clothing, Footwear & Helmets and Other Cycling. As you refine your search you'll be able to narrow down your choice by subcategory.
Product Finder
Use the BXM Bike Finder to quickly narrow down item listings by type brand, model and condition. (New or used)
Keyword search
Search eBay listing titles for specific words. For example, if you want to find new BMX bikes, type the keywords "BMX bikes new" (without quotation marks) into the Search box. Click "Search title and description" to expand your results. Visit eBay's Search Tips page for more tips on searching with keywords.
If you can't find exactly what you want, try browsing eBay Stores or tell the eBay Community what you're looking for by creating a post on Want It Now, or save a search on My eBay and eBay will email you when a matching item becomes available.
Buy BMX Bikes with Confidence
Make sure that you know exactly what you're buying and understand how eBay and PayPal protect you.
Know your item
Read the details in the item listing carefully.
Remember to add delivery costs to your final price. If you're buying a high value item, check that the seller will insure it until it is delivered to you.
If you want more information, click the "Ask seller a question" button on the seller's profile or the "Ask a question" link at the bottom of the item listing page.
Always complete your transaction on eBay (with a bid, Buy it Now or Best Offer) otherwise you will not be covered by eBay Buyer Protection.
Never pay for your eBay item using an instant cash wire transfer service like Western Union or Moneygram. These are not safe ways of paying someone you do not know.
Know your seller
Research your seller so that you feel safe and positive about every transaction.
What is the seller's Feedback rating?
How many transactions have they completed?
How many positive responses do they have?
What do buyers say in their Feedback?
Are they positive about the seller?

Most top eBay sellers operate like retail shops and have a returns policy.

Do they offer a money-back guarantee?
What are their terms and conditions?
Buyer protection
In the very unlikely event that you do not receive your item or it is not as described, eBay Buyer Protection your purchase price plus original delivery cost.
Conclusion
With the introduction of BMX into the Olympic Games, the sport has come of age. But there's no danger of it becoming too respectable. The essence of BMX is individuality.
Everyone likes to look different. Everyone likes have their bike set up in a different way.
With enough skill and judicious choice of parts, riders can use their bikes for a variety of disciplines - racing, street, jumping or just taking things as they come.