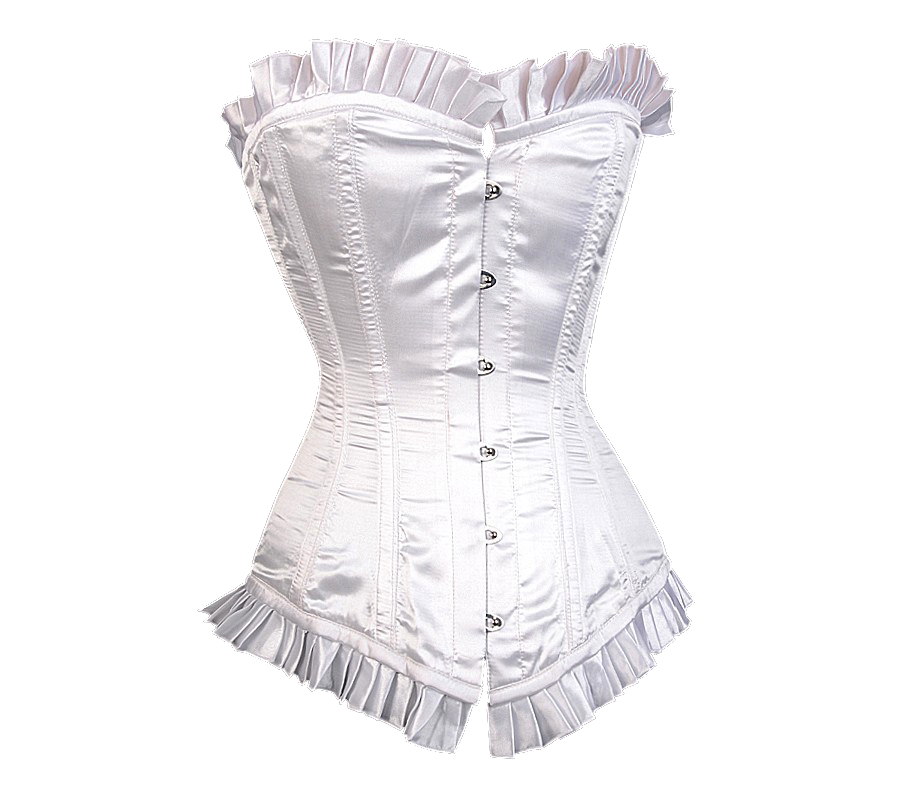 Modern basques typically look like the Victorian-era corset and have similar vintage designs as shapewear. But where the corset was deliberately made to be confining, the basque, at most, is a fitted garment. This piece of lingerie certainly evolved from the corsets of the 19th century and the corselettes that were popular in the mid-20th century. The modern basque is of more delicate design and material, and is merely figure-hugging and not figure-moulding as its ancestors were. It is also called the torsolette.
Basques may still be growing in popularity as everyday undergarments, but they enjoy a certain exclusiveness as exotic lingerie for special occasions. They are particularly popular as bridal lingerie. A good quality basque can be purchased from the leading online auction website, eBay. Before purchasing a basque on eBay, consumers should understand how to use eBay, know the differences between basques and similar garments, and know their options for purchasing a basque.
How to Navigate eBay
Navigating eBay is simple. Just access the eBay homepage and all of the necessary purchasing tools are there. Simply type in some keywords into the easily visible search bar. Typing in the word basque results in all that eBay has to offer of the item. There may be a number of things unrelated to lingerie included, but it is easy to narrow down the search for specific garments by entering more specific search terms. If the customer is looking for bridal lingerie, for instance, then typing in keywords like "white bridal basques" or "satin wedding basques" are more helpful than using a more generic search term.
There are also a number of categories included in the eBay site that can be used to narrow down a selection. They are particularly effective when used in conjunction with the keywords a customer uses.
Acquiring some knowledge of the items wanted from the site is also helpful because then the buyer knows what search terms to type to get the basque she wants. Knowing what kind of selection is available for basques helps the consumer decide what her options are for this type of lingerie. Perusing the extensive collection on eBay can help define a buyer's choices.
Differences Between Basques and Similar Garments
Many people confuse basques with corsets, bustiers, and other similar pieces of lingerie. It is understandable, as all of these have common origins. However, subtle differences are important distinctions in lingerie.
Types of Lingerie

Description

Basque

Form-fitting but does not force a shape to the body

Made from more delicate fabric and does not have bones

Reaches to the hips

May or may not have suspenders or shoulder straps

Always has cups that enhance the bust

More comfortable than corsets

Designed to shape the body and tuck in the waist

Has steel or plastic bones to support a figure

Commonly laces at the back

May or may not cover the bust or have cups

Ends just above the hips, at the natural waistline

May or may not have cups

Has more body-shaping abilities than basques but less than corsets

The shortest type of shapewear

Braselette

Ends at the waist

Longer than the bustier, shorter than the basque

Always has cups

May or may not have shoulder straps

Made of more sturdy fabric than basques

Can shape the torso, but not as much as a corset

Goes past the hips, can even end mid-thigh

May be made of elastic material

May have boning to shape body

A cross between a brassiere and a girdle or corset

Also called control slips

Commonly has shoulder straps
Some categorise braselettes as a type of basque, and they are similar enough. Considering all the lingerie types mentioned, many modern designers do take features of one and incorporate them into another, which makes it difficult to tell one from the other at times. Regardless, the differences mentioned above can make it easier for the eBay buyer to know exactly for what she is looking.
Options for Basques
While a basque can be a rather specific garment, it does not mean a customer does not have options when wanting to purchase one. There are enough designs of basques that a woman can customise her own. Many eBay listings specify the type of material, or styles, used in the basques they offer for sale, and knowing the desired options can expedite the search.
Basque Material
Modern basques are lingerie, and therefore, many materials used in more common lingerie selections are also used in making basques. There are numerous fabrics used in lingerie, but the following are some of the most common.
Silk
Silk is the most popular lingerie material because of its feel. Good quality silk is never scratchy or itchy, but smooth and soft on the skin. Despite being one of the stronger natural fibres, silk can be rather fragile, especially when wet. This fact, added to the costliness of real silk materials, can be unappealing to some.
Satin
This lustrous material is more durable than silk, though traditionally it was made from silk. Satin can be created from silk, nylon, polyester, or a blend of these fabrics. It is comfortable, and like silk, is breathable enough to allow sufficient temperature control.
Many view satin as a more reasonably priced material than silk, which is why it is used extensively in lingerie.
Nylon
Nylon is a versatile material, able to become nearly as soft and smooth as any silken fabric. Many lingerie manufacturers use synthetics, like nylon, or more specifically nylon tricot, in their creations. The flexibility and comfortable feel of nylon tricot is popular with many women. It is not as visually striking as silk or satin, but is a solid material for lingerie just the same.
Lace
The openwork qualities of lace that cast those subtle shadows on the skin, or put together a more feminine look on a garment, make this material popular for women's lingerie. Many lace basques, or other lingerie, are lined with other fabrics like silk; however, lace, particularly handmade lace, can be somewhat less than smooth on skin. Lace is a well-liked choice for those who want lingerie in sheer fabrics.
Rayon
Rayon, or viscose, can be made to look and feel like other lingerie fabrics, like silk, while strengthening the weaker qualities of the particular textile. It can be made to have the ability to stretch and may also have waterproof qualities. Because of this, it is a fabric choice for everything from everyday clothing to swimwear to lingerie.
Cotton
Cotton is generally used for more mundane garments, but has significant presence in shapewear and more exotic lingerie because of its durability and adaptability to any condition or design. Not to mention, it does not need special care to store and clean. Still, when combined with other materials, the garments still need particular attention.
Shoulder Straps
A basque can have shoulder straps, but it depends upon the dress or other clothing worn with it. Basques can be worn with casual clothing, like jeans, and without additional adornment, or can be worn with more formal dresses or skirts. Straps on a basque help prevent the bust of the garment from dropping too low or getting twisted out of place. On the other hand, the lack of straps can be more attractive to the woman who wants her shoulders bare. There are also suspenders and removable straps that can add versatility to the garment.
Bones
Bones are stiff strips of material that shape or support the integrity of the garment. The name comes from the fact that support strips for corsets were made of whalebone. These are generally seen on corsets, which mould the human body to specific shapes. Bones on basques can be decorative, or serve a more practical purpose than visual appeal. They are additions to consider, nonetheless.
Pointers for Purchasing Basques on eBay
Online commercial transactions can be simple or difficult depending on certain factors. There are a number of things to keep in mind in order to make buying basques or any other clothing on eBay more efficient.
Sellers
It is always a good idea to assess sellers and their reputation of dealing and selling the items you want. Comments and feedback for particular sellers are available when viewing their profile pages. A little research can help you decide whether your purchase from a particular seller is a good quality basque or not. In addition, check their shipping policies and return policies before making a purchase, and contact the seller if you have any questions.
Products
Appraise the product as best you can, as it is not possible to assess the basque by feel online. Unless the seller lives close to your location, it is impossible to evaluate the item personally. A comprehensive product description is always helpful, especially those with clear and accurate pictures of the item in question. Read the descriptions carefully.
Conclusion
Basques are lingerie items that are increasingly becoming popular. The vintage look is rather fetching both for casual wear and formal wear. The basque is another way to celebrate the womanly figure, to feel more feminine, and to crest the heights of elegance in lingerie. Basques are not only a way to accentuate the best parts of a woman's figure, but help the wearer feel comfortable and beautiful with the clothing they choose.
There are many materials used in lingerie that are also excellent when used to make basques. The most popular are silk, or silky fabrics. Lace is also used extensively for accents or as a primary material in the garment. The many options on eBay range from the more avant-garde styles to the more typical. There are numerous designs and colours of basques that can be found on eBay. There are many types available, which allow the customer more chances to acquire the specific style of basque that she wants or needs.