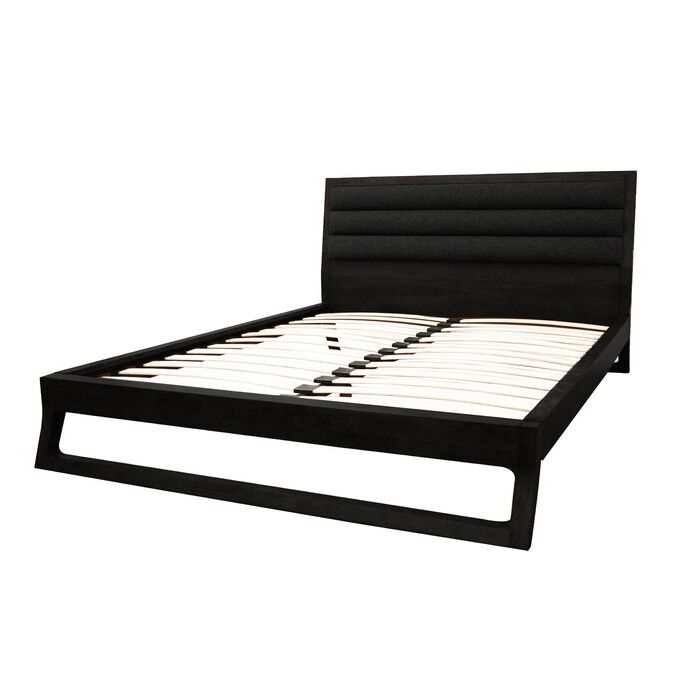 Bed frames are used to support the mattress and box spring, and are made so people do not need to bend down in order to get into bed. The frames do more than just provide support, as many of them serve as the main design statement in the room. Bed frames can have elaborate footboards, headboards, or even canopies that decorate the room and bring it to life. Most online retailers offer free shipping on their furniture in order to encourage people to shop online. Since no extra costs for shipping are involved, people can bargain shop and compare prices at home, instead of travelling to different cities looking for furniture stores. Even if the bed is priced the same, buyers save money simply by not spending it on gas. Websites like eBay have thousands of sellers with bedroom items which makes it easy for people to find a bed they like at competitive prices.
When selecting a bed frame, there are several steps involved. Before shopping, people need to consider what room the frame and bed is going into, the space that is available in that room, the decor of the room, the movability of the frame, and the budget. Then buyers have to choose the type of bed frame they want so that they can begin shopping. This buyer's guide will assist people in finding the right bed frame by discussing the things they should consider before shopping, the types of bed frames that are available, and where to shop for them.
Things to Consider Before Shopping for a Bed Frame
Choosing a bed frame is important because about one third of everyone's time is spent in bed sleeping. Since this is the case, great care should be taken in the selection of one. Before the shopping process can begin, there are some things that buyers need to consider.
Selecting a Room for the Bed Frame to Go Into
Shop for a bed frame that suits the room. If the frame is going into a guest room, then a less fancy frame can be purchased. For children's rooms, bunk beds or day beds save space and kids typically enjoy them. The master bedroom bed frame is usually the one people spend the most money on. A bedroom should be set up as a calming environment that people can retreat to, so consider getting a nicer bed frame for the master bedroom.
FIgure Out How Much Space is Available for the Bed Frame
Beds take up a lot of space in a room. Many modern homes are built with smaller bedrooms in order to make them more affordable. If purchasing a bed for a new room, or upgrading the size of the mattress, be sure to map out the space.
First, determine the mattress size. Below are the standard mattress measurements.
| | |
| --- | --- |
| Bed Type | Mattress Measurement (centimetres) |
| | 75 x 190 |
| Single | 90 x 190 |
| | 120 x 190 |
| Double | 135 x 190 |
| | 150 x 200 |
| Super King | 180 x 200 |
To map out the room, use painters tape on the carpet or flooring to measure out the size and location of the bed. Allow extra space if purchasing a frame with headboards or footboards. Check to ensure that the bed and frame will leave a comfortable amount of space in the room.
Understanding the Decor of the Room
Bed frames come in all sorts of styles and materials. Select a style and material that fits in well with the existing room decor. For example, metal and platform bed frames usually complement a contemporary decor, while wood frames give warmth to a room. A canopy or sleigh bed frame will add elegance to the space.
Select a Movable Bed Frame
Many bed frames are very large and do not disassemble into smaller pieces. It is important to measure hallways and doorways to make sure that the frame can be moved into the bedroom. If living in a smaller home, shop for frames that can be completely taken apart and avoid large head and footboards. Also consider if the frame has casters for easy moving once it is in the room.
Determine a Budget for the Bed Frame
Bed frames range from very inexpensive to quite expensive depending on the design. The larger and fancier the bed frame is, the more it will cost. Decide on a budget before shopping.
Types of Bed Frames
Bed frames vary greatly in design and style. They can have a footboard and headboard, one or the other, or neither. Frames can be built with nearly any material and come in a variety of colours and styles. To start out, shoppers should decide on the shape of the bed frame that they want.
| | |
| --- | --- |
| Type of Bed Frame | Description |
| | The adjustable metal frames are the most common because they are easily moved and they are the least expensive; consists of metal supports on caster wheels; once the mattress and box springs are on the frame, it is no longer visible |
| Bunk Bed frame | Bunk beds have two single or full beds that are stacked on top of each other; to get to the mattress on top, kids have to use a ladder; the mattresses are typically the same size but some bunk beds have a single bed on top, with a double underneath |
| Canopy Bed Frame | Canopy beds have four extra-tall posts, one on each corner, and they are framed at the very top; the canopy fits over the top that surrounds the entire bed; the sides of the canopy move like curtains to allow people in and out; very decorative; helps keep the sleeping area warm |
| | A captain's bed frame has drawers for storage space underneath the mattress; great for saving space in the bedroom because of under-the-bed storage; usually come in twin or full sizes; mainly intended for children and teenagers |
| Four Post Bed Frame | These classic bed frames have a post on each corner; available in wood or metal and may have elaborate designs and elegant headboards; there are nearly unlimited versions of four post beds |
| | Mission style bed frames are characterised by headboards or footboards with vertical wooden slats; the lines give them a clean, simple look |
| Platform Bed Frame | Platform beds are low to the ground and are designed to eliminate the need for a boxspring; money-saving design; can have a contemporary look; some people do not like the bed being so low to the ground |
| Sleigh Bed Frame | Sleigh bed frames are both sleek and elegant; feature carved headboards and footboards that resemble the shape of horse-drawn sleighs; usually found in solid wood but some metal ones are made as well |
Things like large head and footboards will add to the cost of the bed frame and so will the extra embellishments that give the frame character. Often, a fancier frame can be purchased in pieces. For example, the base, headboard, and footboard will be sold separately. This allows people to buy the base and then get the other parts later when the budget allows. The only problem with doing this is that the frame could get discontinued before the other parts are purchased.
Buying Bed Frames on eBay
While experts recommend visiting a bedding store to find and test the right mattress, there is no need to do so for bed frames. Customers can certainly visit furniture stores to get design ideas, but there is no reason to pay premium prices at a retail store when eBay is available. Smart, budget-conscious shoppers love eBay for its extensive selection and fabulous deals. In fact, in many cases a customer can find the same bed frame they saw in a store on eBay for a much lower price. Furthermore, the bed frames sold on eBay come from sellers all over the world, allowing for an unmatched selection of styles.
Finding Bed Frames on eBay
Start finding bed frames on eBay by using the search engine. If you want to browse through different styles, then use search terms like "wooden platform bed" or "iron canopy bed", to get the widest results. Once you find a style you prefer, then start searching by size. For example, if you want an oak sleigh bed in a King size for the bedroom, then search using the terms "oak sleigh bed king" to find exactly what you are searching for. If a search comes back bare, one might consider revising the search criteria return better results. Remove some of the search terms, and substitute them with broader terms before trying again. Practice makes perfect with eBay's search engine, and once you feel comfortable using it, you can quickly find all of the best auctions that are available.
Conclusion
The purpose of this guide was to help buyers find and purchase a bed frame that is perfect for their living space and their budget. Buyers can shop more efficiently when they know what is available, what to look for, and how to find it. Bed frames can be the centrepiece of a room or they can be a simple accessory to it. Regardless of what style, shape, and size people choose, the bed frame should be chosen with care because they can make or break the feel of the room and they are not easily replaced.
Before making a purchase, buyers should spend time considering the room where the frame will be used as well as the space available in that room. It's also important to consider how a particular style of frame will fit in with the decor already in the space as well. Then buyers should consider how easy it will be to get a certain type of frame into the room, and how well the different styles will fit in their budget. All of these considerations will make the buying process a lot easier.