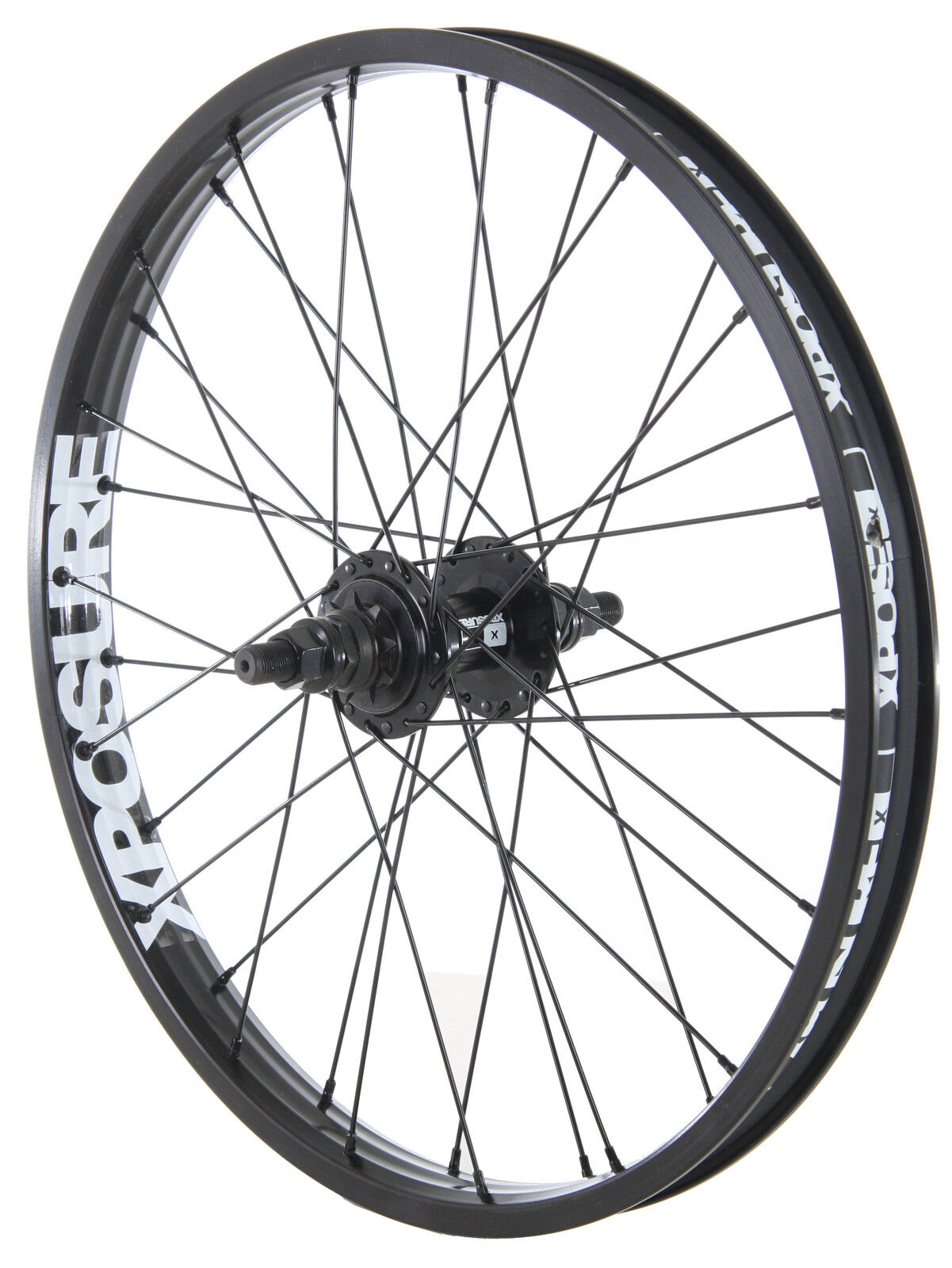 If you are thinking about spending some money to upgrade your bike, a set of wheels is a great place to start for maximum return on investment.
Lighter and more aerodynamic wheels can have a positive effect on speed and performance. In some cases, a bike that feels a bit like hard work can be transformed into one that feels stiff and fast.

The range of options may seem confusing but this guide aims to help you narrow down the choices.
Start by matching expectations in terms of performance gain with your:
riding style
body weight
budget.
Super light wheels with deep rims made from carbon, very few spokes and minimalist hubs, can deliver fast acceleration, climbing performance and aerodynamics for maximum speed, but will be costly.
Equally, a wheel like this would not suit the daily commute.
There is a wide range to help you optimise the balance between practicality and performance.
If you are upgrading your existing wheels, the first step is to identify and then choose wheels with a similar specification:
Identify the existing brand of components
Identify the rim size
Count the number of cogs on the rear wheel. Road wheels can have anywhere from 6 to 10 cogs. If more than eight they will be hub/cassette style wheels.
Alternatively, you may be aiming for an easier ride from some lighter, better-designed wheels than those you have used before.
Or, it could be a second set of "event" wheels to give an advantage on certain types of courses, or race wheels to replace heavier, slower training wheels on the big day.
Or wheels that make the daily commute more of a pleasure.
Options and Tips on Deciding
Here are some common features of today's road wheels with some guidelines to help you work out what's best for your bike.
Wheel Types
There are all-round models of wheels made to deliver first rate ride quality and durability that are the solution for upgrading an old pair.
There are also models designed to give some free speed according to how they are used, for example:
| Wheel | Benefit |
| --- | --- |
| Climbing | Light weight, easier to pedal |
| | Low wind resistance |
| All-round | Combine light weight with aerodynamics |
Tube or Tubeless
Another choice is whether to buy dedicated 'tubeless' wheels or standard models.
| Tube | Tubeless |
| --- | --- |
| Comfort | Lightest |
| Control | No inner tube to puncture |
| Traction | Good off road |
Tubeless means that the rim is built to provide an airtight seal for use with tubeless tyres.
Their advantages are:
allowing running lower pressures for a smoother ride
more traction and control.
Getting the dedicated wheels for tubeless means:
easier tyre fitting
no need for the special conversion kit or rim strips.
Road racers may want to consider 'tubular' wheels, which are the lightest available and most unusual. They require special tyres called 'tubulars' or 'sew-ups' because the tyre is actually sewn together around the tube. These tyres have truly round profiles. They are installed by gluing them to the rim.
Rims
Rim Material
Steel wheels are not often used on quality bicycles these days because they are relatively heavy. More importantly, they become slick in the wet, which compromises their braking power. Today's wheels feature tough, light aluminium rims. At the top end are carbon rims. Carbon can save weight and match full-carbon bicycles. Please remember that carbon rims with carbon braking surfaces require carbon-compatible brake pads.
Shape The shape of the rim affects how the wheel rides.
The stiffer the rim, the more the rider feels the road or trail.
The more triangulated and deep (tall) a rim is, the more rigid the ride.
Stiffness is good for racing because more of the torque that the rider develops is transferred to the road. Width makes a difference too.
| Feature | Width | Benefits |
| --- | --- | --- |
| Wide | 23mm | Comfort / durability |
| Narrow | 19mm | Light / aerodynamic |
Wider rims (about 23mm) tend to offer a more comfortable ride and more durability since they spread the tyre sides allowing more air and flotation. Meanwhile, narrower (usually 19mm) means more aero advantages and lighter weight.
Spoke Count
This is the number of spokes used in the wheels.
Modern wheel sets mostly use the minimum number required to suit the wheel design; more for heavier uses, fewer when the wheels are not pushed so hard.
Bigger, heavier riders who cycle frequently should use more spokes. Lighter cyclists on smoother surfaces can get away with fewer spokes.
These tables make it easier to match the number of spokes to one's weight, to usage and terrain.
Light Riders (under 130 lbs)
| | Gravel and Rough Roads | Moderate Roads | Smooth Roads |
| --- | --- | --- | --- |
| Loaded Touring | 32 or more | 32 or more | 32 |
| Touring / Sport Riding | 32 or more | 24 to 32 | 20 to 28 |
| Club Riding / Centuries | 24 to 32 | 20 to 28 | any |
| Club Racing / Racing | 20 to 28 | Any | any |
Average Weight Riders (130 to 190 lbs)
| | Gravel and Rough Roads | Moderate Roads | Smooth Roads |
| --- | --- | --- | --- |
| Loaded Touring | 36 or more | 32 or more | 32 |
| Touring / Sport riding | 32 | 32 | 28 to 32 |
| Club Riding / Centuries | 28 to 32 | 24 to 32 | 20 to 28 |
| Club Racing / Racing | 24 to 28 | 20 to 28 | any |
Heavy Riders (190 lbs +)
| | Gravel and Rough Roads | Moderate Roads | Smooth Roads |
| --- | --- | --- | --- |
| Loaded Touring | More than 36 | 36 or more | 36 |
| Touring / Sport riding | 36 | 32 to 36 | 32 to 36 |
| Club Riding / Centuries | 32 | 32 | 32 |
| Club Racing / Racing | 32 | 24 to 32 | 24 to 32 |
Hubs
Wheels spin on the hubs, which are the component at the centre of the wheel, where the spokes originate.
They have bearings and axles inside them. On the drivetrain side they either have threads for cogs or a 'freehub', on which the cluster of gears (called the 'cassette') is mounted.
Cassettes are sold separately.
Quality hubs are:
built to last
easy to service
smooth to ride.
As you go up the range in wheel quality and price, the hubs get lighter with better alloys, or carbon. Your range of options also improves, with superior bearings, axle parts and seals. Since the cassette drives the wheels, the freehub often improves too.
Mountain Bike Wheels
A new set wheels of is one of the best upgrades you can treat your bike to. There's a wide variety of different wheel sets on eBay. It is important to consider what you expect from the wheels. This will help to narrow down the options when you search on eBay.
Weight
If saving weight is your aim, a lighter set of wheels can transform your bike; less rotational weight enhances acceleration and climbing. This is often the key for cross-country racers.
It's worth bearing in mind what sort of riding you do alongside your weight. A skinny racer might suit a refined set of wheels; but for a weekend trail rider, carrying a bit more around the middle, or a rider regularly pushing their technical limits, more durable wheels will be the sensible choice.
Tyres
If you intend to use tubeless tyres then check that the rims are suitable. Also make sure whether or not the tubeless valves are included.
Brakes
Select your wheels according to the brake system on your bike.
'Disc specific' rims do not have a braking surface so cannot be used with other styles of brakes such as V-brakes or cantilevers. For disc brakes the hub will need to be compatible, either directly or via an adaptor, with the disc rotors, for example a centre-lock mount or 6-bolt mounting.
Fit It is important to buy the right wheels for a bike, both in terms of diameter – 26in, 27.5in (650b) or 29in – and axle compatibility. Gone are the days when all mountain bikes had 9mm quick-release skewers front and rear. At the front, 15mm and 20mm through-axles are now common, along with 135 x 12mm or 142 x 12mm setups out back.
Reliability
You should aim for top quality bearings; either replaceable cartridge or serviceable cup-and-cone style, tucked away behind the best seals possible.
High-mileage or powerful riders also need to prioritise freehub quality and durability. Easy to replace spokes are generally a shrewd move.
Weight saving
If the current wheel set has been fine, it should just be a case of finding something similarly tough and durable that offers extra advantages.
The obvious performance boost comes from reducing weight. Saving weight in the rims gives a far more noticeable payback in terms of acceleration and agility than anywhere else on a bike.
Ease of operation
The speed with which the freehub engages and reacts also makes a big difference for racers or anyone who needs to get back on the power as soon as possible between corners, jumps and the like.
How to Buy Bike Wheels on eBay
Now that you've worked out which bike wheels you want, find them quickly on eBay. While you shop, don't forget Tyres & Wheels, Handlebars & Stems, Headsets, Drive, Brake Components and Saddles & Seatposts. To start shopping, go to the Sports and Leisure category. Click the Sporting Goods portal and click Cycling.
Categories
The Categories list on the left side of each page will help you narrow down your listings by item type. You'll find links for Bikes, Bike Parts, Clothing, Footwear & Helmets, Cycling Accessories, Trophies and Other Cycling. As you refine your search you'll be able to narrow down your choice by subcategory.
Product Finder
Use the Bike Parts Finder to quickly narrow down item listings by brand, model and condition (new or used).
Keyword search
Search eBay listing titles for specific words. For example, if you want to find new bike wheels, type the keywords "bike wheels new" (without quotation marks) into the Search box. Click "Search title and description" to expand your results. Visit eBay's Search Tips page for more tips on searching with keywords.
If you can't find exactly what you want, try browsing eBay Stores or tell the eBay Community what you're looking for by creating a post on Want It Now, or save a search on My eBay and eBay will email you when a matching item becomes available.
Buy Bike Wheels with Confidence
Make sure that you know exactly what you're buying and understand how eBay and PayPal protect you.
Know your item
Read the details in the item listing carefully.
Remember to add delivery costs to your final price. If you're buying a high value item, check that the seller will insure it until it is delivered to you.
If you want more information, click the "Ask seller a question" button on the seller's profile or the "Ask a question" link at the bottom of the item listing page.
Always complete your transaction on eBay (with a bid, Buy it Now or Best Offer) otherwise you will not be covered by eBay Buyer Protection.
Never pay for your eBay item using an instant cash wire transfer service like Western Union or Moneygram. These are not safe ways of paying someone you do not know.
Know your seller
Research your seller so that you feel safe and positive about every transaction.
What is the seller's Feedback rating?
How many transactions have they completed?
How many positive responses do they have?
What do buyers say in their Feedback?
Are they positive about the seller?
Most top eBay sellers operate like retail shops and have a returns policy.
Do they offer a money-back guarantee?
What are their terms and conditions?
Buyer protection
In the very unlikely event that you do not receive your item or it is not as described, eBay Buyer Protection your purchase price plus original delivery cost.
Conclusion
Price comes first, but some of the cheapest wheels perform superbly. If you are spending more, make sure the investment delivers noticeable benefits.
The more scrutiny given to the wide choice available on eBay, the more questions addressed to sellers, the more likely it is that the elusive balance between quality and value is achieved.
A more expensive set of wheels can offer even better value in the long run.