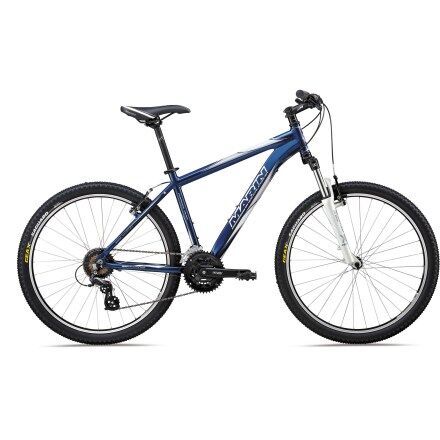 Bicycles were originally invented in 1817 and have liberated independent travel. eBay has a wide variety of bikes available to buy, covering a ranges of purposes to which the bike can be put, for example exercise, commuting, sport or recreation and leisure. The use of the bike and who it is for really determines the choice of bike and frame that would be most suitable to buy.
Choosing the right bike whether for a child or an adult means assessing:-
How far is travel intended?
What sort of terrain is to be covered?
How large the size of frame should be?
What wheel size is necessary?
Are gears required?
How should the bike look?
What is the budget to spend?
How easy it is to get on and off?
What level of comfort is required?
eBay offers a vast array of different frames, sizes, styles, prices and choices of bike and bike frame to suit these needs.
When looking to buy a bike there are a number of key factors to consider whether it is new or used. It is important to understand what type of bicycle is needed as there is a huge variety of choice and different search options available. The best place to start may be to understand what the use is first and then find one that fits and suits the cyclist. Certain questions and information must be determined before a bike can be chosen. A 'new' bike may never been used before and a 'used' bike may have had more than one previous owner.
Buying the Right Type of Bike
Bikes now come in a variety of brands, sizes and styles on eBay and the use of the bike is of paramount importance to choosing the type of bike which would be most suitable. Reviews and background information should also be checked before making a final choice.
Is the bike to be used for long or short-distance travel? Trail riding? Road riding? Touring or cycling for fun around the neighbourhood?
There are a number of different types of bikes, as shown in the table below.
| Type of bike | Description |
| --- | --- |
| | Tend to be used for all-terrain riding with multiple gears and 26-29" wheel to absorb shocks |
| | Cyclist sit up straight with a variation between a 'comfort' bike with wide tyres and small wheels or a 'hybrid' bike which is usually lighter with a skinny tyre and big wheel |
| | For aerodynamic posture and speed with drop handlebars |
| | Usually with 20" wheels and single speed for cycling on ramps and dirt tracks |
| | Fashion, colours and nostalgia reminiscent of childhood for lifestyle bikes or road bikes have finer frames, no gears and more simple needs |
| | For easy portability and commuting advantages |
Choosing the Right Size Bike
The frame and wheel size are key to the height of the bicycle and any variations in wheel size denote whether it is more suitable to a child, lady or male cyclist.
When standing astride the frame of a bicycle with the feet flat on the ground there should be approximately 1" between the body and the top of the top tube. Children need to be able to stand with their balls of the feet on the ground and be able to reach the handlebars and the brakes for both comfort and safety. The size of the bike frame on eBay needs to be assessed in order to avoid any discomfort and to allow full leg rotation with the use of the pedals.
The cross bar is usually slanted forward diagonally for ladies to be able to mount and dismount the bike easily, particularly if wearing a skirt. A man's bicycle is generally with a straight bar adjoining between the frame of the handlebars and the saddle.
The saddle or seat should be able to increase or reduce in height and be placed either level or tilted forwards or backwards for maximum comfort. The adjustment can be done fairly simply with an adjustable spanner. The saddle seat height must only be raised until the safety grooves appear to avoid weakening the shaft for the saddle.
An approximate guide to the size suitability of a bike is considered to be generally measured by the wheel size for children and the frame size for adults. For instance a child's bike may vary from a 3 year old starting with a 12" wheel to an 8-10 year old with a 24" wheel. An on-road bicycle for an adult may vary from an approximate frame size of 13-15" for an adult of around 5ft, to a 21-23" frame for a 6ft adult with a measurement taken from the bottom bracket to the top of the seat.
Choosing Whether to Buy a Bike with Gears
Some bicycles can include low gears which can be changed to assist in reducing the physical effort involved in climbing hills or mountains or general comfort whilst cycling downhill in higher gear. The gears can vary from a road bike with no gears at all for cycling on level roads or mainly flat terrain to 8 or 9 gears or so for more challenging landscapes. It is generally preferable to change gears whilst the pedals are rotating so that they change smoothly and effectively for the cycling to become less strenuous and the pedal speed 'cadence' to remain fairly constant.
Testing the Brakes
The front and rear brakes should be tested before venturing on a trip in order to stop the bicycle and to maintain safety at all times.
Bike Handlebars
Handlebars vary in width and height with raised or dropped handlebars to change aerodynamics and to lower the centre of gravity, but most handlebars are slightly adjustable in terms of height and position.
Bike Accessories
A bicycle pump should always be carried in order to maintain the air in the tyres for maximum comfort and suitability for the terrain. It is also a good precaution to carry a puncture repair kit.
Safety Equipment
A bike safety helmet with adjustable chin strap is encouraged to be worn at all times for adults and children to protect the head from unforeseen accidents or impact. This protection is extremely important with young children and inexperienced cyclists. The wearing of a helmet is law in some countries if out on public roads or highways and should always be assessed prior to any journey. Similarly cycling proficiency and road safety rules must be adhered to and children should be supervised.
Lights and bike reflectors can be purchased separately which are essential for travelling at dusk and in poor light or when darkness is descending. High visibility waistcoats and armbands are encouraged to be seen by passing motorists. Reflectors are different from lights in that they do not illuminate but are reflected from car headlights as they approach.
Bike Repair Costs
It is important to review the information listed from a used bike seller carefully and with particular reference to
frame damage
rusting chains
frozen posts
These may involve repair work either by the buyer through an independent repair shop at additional cost. It may also be a good idea to check whether a used bike has ever been involved in a crash, if the gears shift adequately through each gear change and how old the tyres and tubes may be. Similarly a new bike could come with a replacement or repair guarantee and this should be checked before purchase.
Buying a Bike of eBay
eBay offers a wide variety of styles, prices and choices of bicycles including new and used bikes for different uses of racing, commuting, leisure, sport and exercise or fun. The advantage of buying on eBay is the range of prices from a used bicycle (which may have been outgrown or no longer required) to new bike options.
Are Bike Accessories Included
Sometimes additional accessories are bundled and included within the sale price at no extra value.
Any components should be checked to assess whether they are missing or would need to be purchased separately.
Examples of these may include:
Before making a purchase, it is important to find out what else may be needed to purchase for the bike if it is not included.
Budget Considerations
Before setting out to buy a bike, it is important to consider the affordable budget. Generally a more expensive bike may be of better quality and durability, lasting beyond the average lifetime of a bicycle. Reviewing the budget carefully and buying a bike up to the maximum that is affordable could guarantee years of enjoyment leisure and practical travel.
eBay Payment and Search Options
To search for bikes, visit the Cycling portal. Alternatively the search box provided allows the ability to type in specific information relating to the bike requirements. Using the search box enables an accurate search for a specific type of bike. It is important to look at the photographs from all angles of the bike or ask questions about any parts of the bicycle that cannot be seen.
Once comfortable with the bike product information it is time to consider how to pay for the bike and proceed to purchase. The choices are:
Place a bid in order to buy at auction subject to offering the winning bid
Buy It Now for immediate purchase at a specified price
Best Offer, where the buyer is open to accepting best offers which may be lower than the Buy It Now price.
Buying through PayPal will ensure the transaction proceeds directly between the seller and buyer. eBay users are protected by the Buyer Protection Programme.
The eBay Shopping Experience
Delivery and shipping of the bicycle is free and included within the purchase price (subject to conditions within agreed distances and countries)
It is recommended that purchases are made from sellers which are authorised through eBay. It can be convenient for both the seller and the purchaser if they are local to each other in proximity so that the goods can be collected easily).
Bundles are sometimes offered where the listing on eBay may include the specific main core product such as the bike with one or two accessories offered to be included and built-in to the purchase price
Conclusion on Buying a Bike
When choosing how to buy a bike on the buyer must consider their individual needs for the use of the bicycle, the size to fit them whilst cycling, the image, brand and colours that they prefer and to ensure that it will be safe. If any repairs are necessary after purchase you need to be are fully aware of any costs for used bikes. If a new bicycle is to be purchased then any warranties and guarantees should be checked in addition to the methods of delivery and collection of the bike.
Racing bikes are more suitable to riding very fast in a sporting or competitive sporting way of cycling
Folding bikes would be able to be carried easily and transported in a car or on a train if they are necessary in order to commute between leaving home to reach a train or bus and when reaching the ultimate destination such as the office or meeting point
Road bikes whether hybrid or comfort are for upright road riding and cycling at leisure but they can still be used to travel some distance comfortably if required
Mountain bikes are for all-terrains including sand, dirt or brick roads and paths and for ascending and descending mountains or hills more easily
BMX bikes are generally for ramps and dirt tracks at speed
Lifestyle bikes are an image associated fashion item to reflect the cyclist's personality through the bike that is being ridden, including the bikes that children ride, which may reflect the nostalgia of a bike that was ridden when the parent was a child.