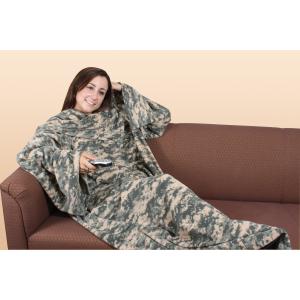 Come winter, people wrap themselves in sweaters, coats, and all kinds of warm clothing to stay cosy and snug. Regular blankets keep people warm in bed but for wearing around the house they are awkward and restrict movement of the hands. A blanket with sleeves, however, is a wearable blanket: a garment that can be best described as an oversized robe worn backwards. Wearing blankets with sleeves allows people to use their hands freely, move just about anywhere, and perform routine tasks around the house.
This innovative idea combines the best features of a blanket and a robe to keep people warm even as they go about their work, not just while resting. Blankets with sleeves have been available for about a decade now, and the simple convenience they offer made the product an immediate hit. Somewhere along the way, blanket with sleeves also came to be known as the slanket, combining the words blanket and sleeves; others call it the Freedom Blanket by others. Regardless of the name, however, consumers today have a great product and enjoy the warmth of a blanket even when they are not in bed.
Available in a variety of fabrics such as cotton, wool, fleece, and other synthetic materials, these blankets are for men, women, and kids as well. A similar product, the electric blankets with sleeves, is worthy of mention for its function as a money-saver. The temperatures of one's climate, budget, and number of units needed for the family are factors to consider before choosing either blankets with sleeves or fabrics needed for making them. Online shops such as eBay are a great place to look for blankets with sleeves, with many pages of listings offering fine products at competitive prices.
Fleece Fabrics Used to Make Blankets With Sleeves
Fabrics used to manufacture blankets are densely woven to hold air that is warmed by body heat. Natural fabrics hold warm air and allow the skin to breathe as well, despite the tight weave. Wool is one such natural fabric, while several synthetic fabrics, modelled on these properties of wool, give much the same degree of fuzziness and warmth. While fleece blankets with sleeves and electric blankets with sleeves are readily available, shoppers looking for them in other materials can have them tailored.
Fleece Blankets with Sleeves
An excellent alternative to wool, fleece is a synthetic material that is light, durable, and offers very good insulation while wicking away moisture from the body. Synthetic fleece blended with other natural fabrics such as cotton, wool, silk, or even with man-made rayon or spandex, creates fabrics of different textures, degrees of insulation, and strengths.
Made using polyester fibres, breathable plush fleece is fuzzy with two-sided pile, which means that the fabric has a layer of evenly cut fibre on either side. It is this feature in fleece that traps air, making the blanket warm and snug. Fleece blankets with sleeves are lightweight, dry very quickly after being washed, and are hypoallergenic. Available in several colours and vivid prints, fleece blankets with sleeves can be worn by adults and kids alike. Some blankets with come with a large front pocket for tucking away items such as keys, reading glasses, pens, mobile phones, or any item one uses regularly. The blanket also has sufficient length to cover the feet as the wearer curls up on the couch to watch television, use the laptop, or to read a book.
Fleece, like wool, is available in varying weights, ranging from 100 for a thin base layer through to a thick layer at 300. Its various finishes create fleece fabrics with different textures.
Polar Fleece
Polar fleece fabric is regular fleece with a brushed finish and the 'right' side appears flat and smooth. Polar fleece fabrics may be plain or printed, with the print appearing on both sides, the brighter prints indicating the right side.
Anti-Pill Finish
The anti-pill fabric is a better-quality brushed finish. The surface of this fabric does not ball up even after numerous wash cycles; it retains its beauty.
Microfleece
Microfleece fabrics are similar to the regular fleece but is a lighter fabric. Microfleece fabrics are ideal to line jackets, baby blankets, and other garments.
Sherpa
The curly, nubby texture of the Sherpa fleece fabric simulates the genuine sheep wool. Ultra-soft and warm, sherpa fleece has a thick pile and knit backing on the lower side.
Electric Blankets with Sleeves
Winter brings with it soaring energy bills, which pushes most people to look for ways to conserve energy and reduce bills. Moving around the house wearing electric blankets with sleeves allows users to lower the thermostat by a few degrees, thus achieving both goals, saving money on power bills in the long run and conserving energy.
These electric blankets with sleeves keep the body warm and, as do all blankets with sleeves, allow the user the freedom to move about and perform any household tasks. The discreetly located heating elements of the electric blanket provide continuous heat, which the user can regulate in terms of temperature and duration of use. Most heated blankets with sleeves have self-timers that shut off after a set period, as a safety measure.
Sizing for Blanket with Sleeves
As this unisex garment is simply a loose blanket with large sleeves, there is just one size of blankets with sleeves available for adults: one size fits all. However, kids' blankets with sleeves have the sleeves and lengths in appropriate proportions to fit children ages approximately ages three to ten, generally measuring 90 cm x 120 cm.
Wash and Care Instructions for Blankets with Sleeves
Fleece blankets with sleeves should be washed just like other fleece blankets, with either cold or lukewarm water and a mild detergent. They are machine-washable, but a gentle cycle is recommended as excess friction tends to damage the piling on the fabric. Fleece blankets should preferably be dried on the clothesline, but in case of tumble drying, a gentle cycle with lowest heat settings is recommended as heat affects the fuzzy texture of the blankets. Fleece blankets should never be dry cleaned
Electric blankets can be machine washed just as regular blankets, following all instructions listed on the care tag for best results and prolonged life of the blanket.
Brushing Blankets
Gentle brush-down with a garment brush, an adhesive lint remover, or a lint brush effectively removes dust and other particles on the blanket. Brushing in the direction of the weave helps avoid snags.
Storage of Blankets
Cleaned blankets should be stored in airtight storage boxes or space-saving storage bags. The blanket should be folded gently to avoid crushing the fabric and any natural, herbal repellents such as cedar products and mothballs should be placed inside the container or bag.
How to Buy Blankets with Sleeves on eBay
eBay has a wide array of blankets with sleeves for everyone: men, women, and children. Typing "blankets with sleeves" in to the search bar brings forth numerous pages of listings for blankets with sleeves in a variety of colours. One can find blankets with sleeves that are either plain or printed or that have a pocket, as well as heated blankets with sleeves. Clicking on an individual listing provides detailed descriptions and numerous images of the product taken from various angles. This, along with the zoom feature, enlarges images to give the shopper a fair idea about the product.
Sometimes listings for quality products also include free shipping, which fetches some savings. Participating in auctions also enables shoppers to get products at reasonable, often reduced, prices. eBay offers numerous easy and secure payment options from which shoppers can select the most convenient one in order to complete the purchase and check out.
Conclusion
Blankets with sleeveless are convenient for people who wants to stay snug and warm even when out of bed, who wish to move around the house and go about their daily routines in comfort. Curled up on the sofa with a cup of coffee and a favourite book is great during winter, but ordinary blankets do not allow the wearer the convenience of holding the cup and the book without exposing the arms. Wearing a blanket with sleeves eliminates this problem, creating a pocket of warmth for the wearer. Blankets with sleeves are generally made of fleece and are available in standard sizes that fit men and women. Kids' sizes are also standard, and all blankets with sleeves are available in several colours, shades, and designs.
Electric blankets with sleeves offer another option for staying warm indoors during winter. Heated blankets conserve energy and reduce the energy bills as the heating in the house can be set lower while the person in the electric blanket with sleeves is cocooned in warmth. Buying a couple of blankets with sleeves for all the members in the family, provided the blankets with sleeves are well maintained and reused every winter, is a great investment, as the household sees reduced energy bills year after year.