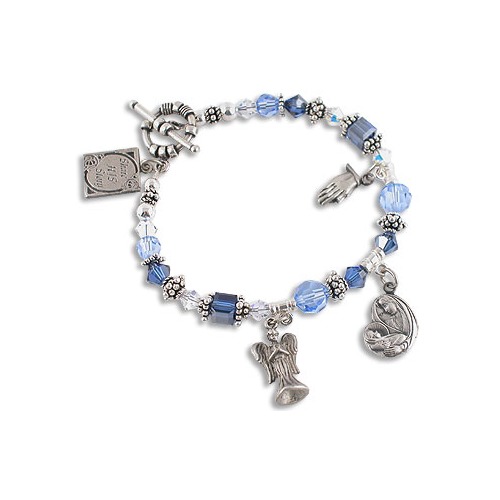 Bracelets are pieces of jewellery that are worn around the wrist by both men and women. They come in a huge range of styles and designs to work for all outfits and all occasions. Bracelets can be made from all types of materials, including precious metals, precious gemstones, leather, beads, and more. Depending on the design, bracelets can be worn to accessorise a single outfit or be worn on a daily basis. They are versatile enough to work with just about anything. Shoppers can find a large selection of bracelets for men and women on eBay.
Searching for and buying bracelets is simple. When buying bracelets on eBay, shoppers can quickly search for what they are looking for or browse the entire selection to see what is currently available. To get a better idea of what eBay has available, shoppers should explore the selections in costume jewellery, fine jewellery, and men's jewellery.
Costume Jewellery
Costume jewellery is a type of jewellery that is made from inexpensive materials. Bracelets that are classified as costume jewellery are often made from stainless steel, leather, thread, beads, or other materials. While some costume jewellery is designed to be flashy, some pieces are made to resemble fine jewellery. Costume jewellery is very common among women who want colourful accessories to go along with their outfits. Additionally, some bracelets are designed to mimic the appearance of fine jewellery. Because these pieces are made from less expensive materials, women can have the same look for a much lower cost.
Styles
Several styles of costume jewellery bracelets are available. There are more styles for costume jewellery than fine jewellery, simply because of the versatility of the materials used to manufacture costume jewellery. Many of the styles are similar though. The table below lists and describes four of the most popular bracelet styles classified as costume jewellery.
| Style | Description |
| --- | --- |
| | Made from a single band; has no opening or closing; slides over the hand around the wrist |
| | Type of bangle; made from a single wide band |
| | Beaded or braided bracelet made from thread; usually colourful |
| | Colourful beaded bracelets made from crystal beads |
Bangle and cuff bracelets are made from a solid piece of metal and do not have clasps to make it easier to get them on and off. The friendship and shamballa bracelets are made from string and thread, so they can be tied on for easier removal later. Shoppers can search the listings for bracelets on eBay based on the style of bracelet.
Materials
On eBay, shoppers can also shop for bracelets based on the type of material they are made from. This makes it easy to narrow down the selections to find a certain bracelet. Some of the most common materials used in the manufacture of costume jewellery bracelets include stainless steel, metal alloy, and leather.. The bracelets might also be decorated with gemstones, rhinestones, and crystals.
Fine Jewellery
Fine jewellery bracelets have a classier appearance and are made from finer, more precious materials. These pieces are crafted from precious metals and carry a higher price tag than costume pieces. Fine jewellery pieces are not mass produced, and instead are hand-crafted in smaller quantities. Precious gemstones are often incorporated into the designs of the bracelets. While costume jewellery can have designs that are the same as fine jewellery, it is the quality of the materials used in fine jewellery that sets it apart.
Precious Metals
In order to be classified as fine jewellery, the bracelets must be crafted from precious metals. This includes gold, silver,white gold, and platinum. The purity of the metal also plays an important role in determining its value. On eBay, shoppers can find 9ct, 18ct, and 24ct purities for precious metals used to make bracelets.
Gemstones
The gemstones used in fine jewellery bracelets are more valuable than the rhinestones, crystals, or man-made gems used in costume jewellery. Fine jewellery designs often incorporate precious gemstones like diamonds, pearls, amethyst, and sapphires. The bracelet may have just a few gemstones as an embellishment or be made entirely of gemstones. The size and the quantity affect the price. eBay shoppers can sort bracelets based on the total carat weight of the gemstones and also specify a price range to shop in.
Men's Jewellery
Men can wear bracelets too. eBay has a huge selection of men's bracelets for sale in both fine and casual designs. As with women's jewellery, men can shop for bracelets based on the style of the bracelets and materials used to craft them. Some men's bracelets even incorporate gemstones, though the designs tend to be a bit simpler and less flashy. When shopping for bracelets, men should decide how much they want to spend and then choose the style and materials that best fit within their specifications.
Styles
The styles for men's bracelets are different than those for women. Men's bracelets tend to be thicker, bulkier, and less delicate than women's bracelets. Some styles are designed for casual wear, whereas others work for more formal occasions. The table below lists and describes the main styles of bracelets for men that are found on eBay.
| Style | Description |
| --- | --- |
| | Made from large beads of all shapes, sizes, and colours |
| | Shiny chain bracelets, commonly made from non-precious metals |
| | Constructed of links of precious metals |
| | Made from magnetised stainless steel; believed to promote blood flow to boost immunity and healing |
Men's bracelets tend to have simpler designs than women's bracelets. Cuffs and chains are the most popular designs for men's bracelets. They may have gemstones, but the plain metal is usually all that is used to construct the bracelet. Magnetic bracelets can actually come in many different styles.
Materials
Stainless steel is used more often in men's bracelets than in bracelets made for women. This shiny metal is durable and can resist corrosion. Additionally, stainless steel does not tarnish, so men do not have to worry about polishing their bracelets. Precious metals like gold, white gold, titanium, copper, and silver are frequently used for fine jewellery bracelets. Braided leather is popular choice for casual bracelets.
Searching for Bracelets on eBay
Shoppers can search for bracelets on eBay using the basic keyword search or the Advanced Search feature. A search for 'women's silver bangle' returns listings that contain those keywords. It is important that shoppers are not too general with their search terms or the local search engine may return hundreds, if not thousands of results. Likewise, by being too specific in the search query, the site's search engine returns too few results, and a shopper might miss out on some great deals. Once the initial search has been performed, shoppers have the ability to narrow down the options to find a better match. It is better to have too many results to sort through than too few.
Delivery Options
When shopping on eBay, shoppers have to choose a method for having the item delivered to their homes. Since bracelets are generally small and lightweight, the cost for postage and packaging is usually minimal. Still shoppers must decide how much they are willing to spend on top of the cost of the bracelet and also decide if they are comfortable having a valuable bracelet sent to them via post. Shoppers can narrow down selections to show only those that offer free postage and packaging or local pickup.
Free Postage and Packaging
A lot of eBay sellers cover the costs of postage and packaging to entice buyers to purchase their jewellery. Shoppers should be sure to compare the overall price of the item, including postage costs before making a decision. Some sellers may increase the price slightly to cover the cost of postage. In many instances, shoppers can save a few pounds by not having to cover the postage costs.
Local Pickup
A shopper can find items that are being sold locally, by entering their postcode on the results page and specifying a search radius. Rather than having the item sent via post, shoppers may be able to contact the seller to arrange to meet. This not only saves the cost of postage, but also ensures that the valuable item is not lost in the post.
Choosing a Seller
Once shoppers have narrowed down the results to just a few bracelets they are interested in, they can base the final decision on the seller. eBay has a very accurate feedback system that allows buyers to rate sellers they have done business with. Each listing contains the score from the feedback that the seller has received. Shoppers can see the seller's username, total number of completed sales, and percentage of positive feedback.
Conclusion
Bracelets are great pieces of jewellery for accessorising just about any outfit. Men and women alike wear bracelets to spice up an everyday outfit and show off their personal styles. Bracelets are worn around the wrist and can be made from just about any material imaginable. Costume and casual pieces are made from materials such as stainless steel, leather, beads, and man-made gemstones. Fine jewellery pieces are made from precious metals, like gold, white gold, platinum, and titanium, and precious metals like diamonds and pearls.
eBay gives shoppers a large selection of bracelets to choose from and gives shoppers easy to use search tools to find listings for bracelets. When shopping for the perfect bracelet, shoppers should consider the styles, choose between costume, fine, and men's jewellery, and take the time to evaluate all options before committing to a purchase. Whether shoppers are looking for a sparkly diamond bracelet or a simple beaded bracelet, there are many great deals to be found on eBay.