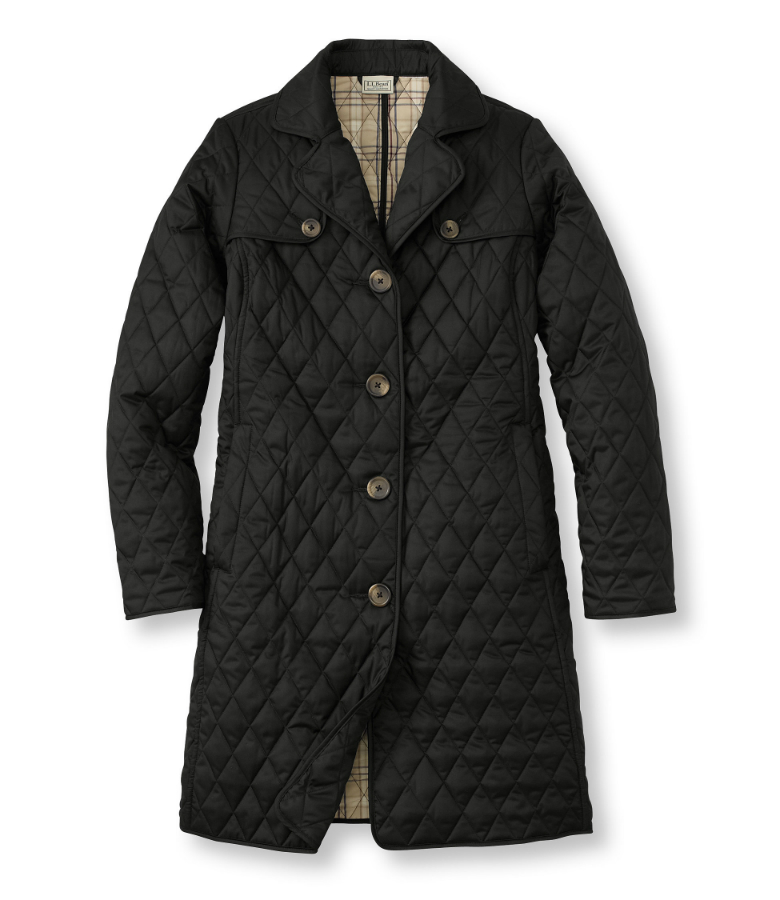 The coat is one of the most popular pieces of outerwear today. A coat can be protection against wind and rain, insulation against cold, or the final piece to a person's fashionable ensemble. The coat has a long history that goes back to medieval times. However, women's coats have only been considered fashionable outerwear since the 19th century.
Coats are versatile; they can be paired with almost any other kind of clothing, whether these are trousers or skirts. Even a colour as hard to manage as red can be matched well by a black coat. These reasons are why the coat should be an indispensable part of a woman's everyday wardrobe.
The following contains helpful information for the individual wanting to buy a coat on eBay. Knowing the styles of coats, how to size a coat, and how to make the most out of the eBay purchasing experience should assist any customer who desires to make an informed decision.
Pointers for Buying on eBay
The eBay online marketplace is one of the most visited worldwide. This does not only means that there are more buyers, it also means that there is a better chance that somewhere there is a seller carrying exactly the item a customer wants. Purchasing an item on eBay is relatively simple, still, here are some reminders of which to take note.
Site Familiarity
With every online purchase it is a good idea to familiarise oneself with the ins and outs of the site. Many sites are intuitive, but knowing how to use their many features makes a purchasing experience more satisfactory. Performing a little reconnaissance of a site is always a good idea.
Preparation
Even when looking for something as simple as a coat on eBay, there are still many types of coats that can result from a single search. It is possible to narrow down these results by specifying some preferences, but it is better still that a buyer heads to eBay with a firm idea of exactly what coat she wants, what features or colours, and a budget.
Evaluate
There are many advertised products, but eBay has no way of evaluating them in depth, so it is up to the buyer. Do a little research on both product and seller to determine whether they are a good investment. The feedback from other buyers regarding sellers can be particularly informative.
Read product descriptions carefully to make sure that the product you want is the product you get. Also, check that the seller has a return policy.
Shipping and Handling
Make certain of the shipping charges and which courier is being used before checkout. Many couriers offer package tracking services, which are useful for determining when a package is delivered, especially when the door-to-door service option has not been taken.
Types of Coats
There are a number of coat types available on the market today, each with distinctive and unique features that make the item what it is. Some of these styles may overlap with another in modern fashion, however, knowing the basic types is still useful knowledge for any type of shopper on eBay.
The Trench Coat
The trench coat is one of the better known coats and one of the most popular. This classic design is traditionally made of heavy-duty cotton and used as a raincoat. The distinguishing characteristics of the trench coat are: double-breasted style, wide lapels that can be turned up to protect the neck and face, belted at the waist, and buckled straps around the wrist.
Most trench coats have been treated to be water-repellent. The prepared individual ought to have at least one good coat for days with wind, cold, and showers. Choose one that is at knee length or at least thigh length.
The Parka or Anorak
This heavy coat often comes with a hood lined with fur, though many do not. Like the trench coat, its primary role is protection against the elements, like wind and cold. Many parkas are down-filled for better insulation against freezing temperatures.
The puffed look of the parka can be hard to match with certain clothes or body shapes, which deters many buyers, but for warm outerwear there is nothing quite like it.
The Pea Coat
The pea coat, like the trench coat, evolved from military wear; though the trench coat originates from the army and the pea coat originates from sailors and navies. The double-breasted front is normal to the pea coat, as are broad lapel and collar styles. The hem usually falls below the waist and can be as long as mid-thigh, but never knee length.
It is a light jacket that can also be waterproof and durable, and makes for a good wardrobe addition that can be worn everywhere. It is possible to acquire pea coats with hoods as well.
The Wrap Coat
This is a simple light coat that may or may not have buttons or zips; rather, it is closed by a belt or allowed to hang unfastened from the shoulders. There are many variations to the wrap coat but the basic style looks very much like a short robe made with different material and a more tailored approach. The lack of difficult buttons makes the wrap a good choice to satisfy a need for light outerwear that can be used for a quick dash outdoors.
The Chesterfield Coat
The Chesterfield has been a staple of men's coats for nearly a century, but more recently has been a popular style for women's coats as well. The Chesterfield coat is an overcoat that can be worn with formal or semi-formal suits, as well as casual clothing. It does not come with a belt, but allows the fabric to fall freely down the body. Still, some Chesterfield coats are available in structured styles, with seams nipping the coat in at the waist. The Chesterfield is a lighter option to the trench coat, but is still long enough to include a modicum of protection.
The Car Coat
These, as the name implies, were originally designed for the savvy motorist, though today it is more of a fashion style than practical car gear. The car coat generally comes to mid-length, with a plain, flat front that used to prevent the coat from interfering with driving actions. Many are also designed in the A-line style, and therefore, are loose in the area of the hips, which can be attractive to many people.
The Cocoon Coat
The original cocoon coats were puffy, voluminous coats that wrapped around a woman. These days, they are slimmer versions, but are still made in deliberately roomy designs. Many have half-length to three-quarter length sleeves. These coats are made in heavy and lightweight styles, and the baggy style adds an interesting look to many stylish ensembles.
Coats for Different Body Shapes
Different women are built differently. It makes sense that there are coats and coat features that are flattering to different types of bodies. The following chart includes common female body types and their characteristics.
Apple

Pear

Boyish/Angular

Hourglass

Large bust

Wide shoulders

Narrow hips

Less defined waist

Wide hips and thighs

Narrow shoulders

Full bottom

Small bust

Undefined waist

Narrow hips

Small bust

Fewer curves

Full bust and hips

Waist is at least 23 cm smaller than bust

Well-shaped legs
No matter what shape or size a woman may be, she should always be able to find a coat that fits well as long as she takes her figure into consideration when making a final purchase.
The Apple Body Shape
Coats that are mid-length or longer help to balance the wide upper half and narrow bottom half of the body. Choose coats that have simple upper designs to minimise the bust. Belted designs work well to better define the waist. Because of the wide shoulders, coats with shoulder pads or pleats are not the best options.
Big busts do very well with V-shaped necklines, but not those with heavy collars and lapels. Sleeves with buttons, or puffed, or slightly bulked up designs on the lower halves are good because they help balance waist and shoulder widths. Nearly any colour complements apple-shaped women, so they are provided with many options.
The Pear Body Shape
Coats that end at the waist or the middle of the gluteus draw attention to wide hips and thighs, so look for coats that are mid-thigh length or three-quarter length. Coats that have breast pockets add bulk to the upper half of the body, and as much as possible, try to avoid hip pockets.
Shoulder pads and shoulder designs are helpful to bulk up the upper area and enhance sloped and narrow shoulders. Detailed lapel styles and heavy collars can also enhance shoulders. A valuable colour strategy for this body type is to contrast lightly-coloured tops with darker bottoms.
The Boyish Body Shape
Find coats that end at the widest part of the hips; flared hems with a belt to tuck in the waist add curves to the angular figure. Structured coats are better than straight cut coats and tops. Achieve a more feminine look by pairing scarves with coats. Coats with padded shoulders and belts help to add to the illusion of curves. Double-breasted coats look particularly good on angular shapes, but be sure to choose coats that cinch tight at the waist. Wide collars or detailed lapels are good choices that add softer lines to a boyish body.
The Hourglass Body Shape
Any length of coat does the hourglass shape justice, though it is better to choose coats that are tailored to nip in at the waist, or that are belted, in order to fully enhance the figure. Coats that fit close to the body also enhance the hourglass body shape.
Be aware that too much detail on lapels, collars, or on chest designs emphasise an already full bust. Small and simple sleeves slim down the arms. Asymmetrical necklines and long lapel styles give the hourglass figure's curves more visual appeal.
Sizing a Coat
Knowing the right size is imperative to being able to buy the most suitable coat. The table below charts the standard sizes and measurements for women's coats.
| | | | | | |
| --- | --- | --- | --- | --- | --- |
| Size | XS (0 to 2) | S (4 to 6) | M (8 to 10) | L (12 to 14) | XL (16 to 18) |
| Bust (cm) | 84 | 86.5 to 89 | 91.5 to 94 | 98 to 102 | 105.5 |
| Waist (cm) | 61 to 63.5 | 66 to 69 | 71.5 to 74 | 79 to 81.5 | 84 to 89 |
| Hip (cm) | 86.5 to 89 | 91.5 to 94 | 96.5 to 99 | 104.5 to 107 | 112 |
When taking measurements, always measure over underwear to get accurate sizes that are not too tight. For outerwear, like coats, it is advisable to measure larger or looser to take into account the clothes the individual is to wear underneath.
When taking the bust, measure over the fullest part of the chest and the widest part of the upper back. Take waist measurements at the natural waist, which is a few centimetres above the belly button. Hip measurements should be taken at the fullest part of the bottom.
How to Buy a Coat on eBay
While coats are readily available in many stores, online and off, sites like eBay are likely to have a more varied selection; this alone makes the site worth visiting. Searching for items you want on the site is simplicity itself. Once you navigate to eBay, just enter what you are looking for in the search bar and you are good to go, with hundreds of items ready for your perusal. Narrow down your choices using the options that eBay offers and you do not have to navigate through all of them.
It saves time to type in a specific description of an item, rather than a broad search term. For instance, typing in 'black double-breasted women's coats', instead of simply 'coats' or 'women's coats' populates more specific search results. It fine tunes your selection by a good deal, cutting out the items in which you are not interested. Many times, these searches also include a number of accessories that go well with women's coats. It is possible to filter these out as well with the tools provided on the site.
Conclusion
A coat should be a staple in a woman's wardrobe. When initially purchasing a coat, stick with solid colours and relatively simple designs because these are more likely to go with a majority of clothes already in a woman's wardrobe. Branch out into the more detailed designs later when you have sussed out which type of coat looks and feels best.
When you shop for outerwear, do not skimp on quality. Coats can be worn in any weather and to most occasions, from formal to casual to everything in between and beyond. Good coats can last a lifetime of fulfilling wear with little damage.
There are many materials that are available for women's coats: leather is durable, wool is warm, cotton provides breathability, suede for casual wear, faux fur for a vintage look, and more. With the variety of coats available, it is certain that the stylish woman can find the right coat to wear for all the right occasions.