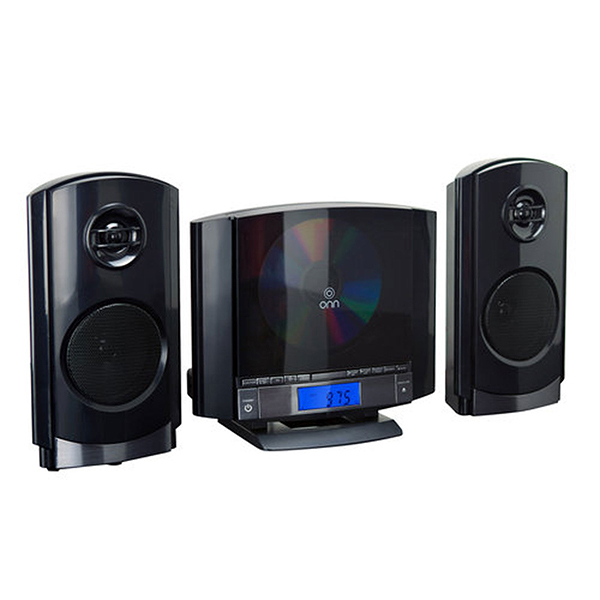 In spite of the incredible range of options for listening to music, there is a lot to be said for the old-fashioned compact stereo. The fact that they are compact makes them very suitable for use in modern homes and they offer an attractive combination of sound quality and an affordable price. They are also much simpler to use than computer-based media systems and less fussy than speaker docks.
What Is a Compact Stereo?
At its most basic level, a compact stereo consists of some sort of music-playing device (these days typically a CD player), along with speakers and a power source. One of the reasons why eBay is such a good place to buy compact stereos is that it has a range of search options available to enable buyers to find the perfect compact stereo for their needs, without having to trawl through the product descriptions on numerous adverts. For example, eBay has an option to allow users to search for a compact stereo which still plays cassettes. This could be very useful if buying a compact stereo for an older person, who simply wishes to carry on enjoying the tapes they have owned for years. People with large music collections might appreciate the fact that eBay allows users to search on supported file formats. That way they can ensure that their purchase will be able to play all the music they own.
What Does Compact Mean in Real Terms?
There is no formal definition of the term compact stereo; however, it is generally understood to mean a stereo system which can feasibly sit on a shelf. Beyond this, compact stereos do vary in size. On eBay, sellers are encouraged to give all details of product dimensions as well as a photograph so buyers can ensure that they buy a product which will fit wherever they want to put it. Most sellers will also include a photograph and many will include other items as a point of comparison. As a rule of thumb, compact stereos with a wider range of features tend to be larger than more basic ones. It is also worth checking whether a compact stereo has two speakers or three. If it has three the third will be a subwoofer (for improved bass), these are large speakers and so best avoided if space is tight.
What Is Available for Buyers on a Tight Budget?
There are two reasons why eBay is a good shopping place for buyers looking to make an affordable purchase. The first reason is that many retailers use eBay as a convenient location to sell near-new equipment. This would typically be stock from the previous season, ex-display stock and stock which has been refurbished either by the manufacturer or by the seller . These goods are all sold in perfect working order and many of them are the exact equivalent of new products for all practical purposes.
For legal reasons, however, they are not sold as new and are usually heavily discounted. The other reason why eBay is a good place for bargain-hunters is that there is a thriving second-hand market (eBay calls it Used). Obviously, the items for sale here are in varying conditions. Some are simply old stereos, which are being cleared out, while others are good-quality items, which are being upgraded. The key point is that the condition and features of any item must be clearly described in the listing so buyers can make informed decisions. All used stereos will be in full working order unless they are explicitly advertised as being for spares or repair. There are some excellent deals to be found here, particularly for buyers who need to find compact stereos which still play cassettes.
What Are the Key Features to Look For?
Buyers can use eBay filters to identify products which meet their requirements. Here is a quick list of some of the filters available on eBay and what they mean.
| | |
| --- | --- |
| Cassette Recording | Although cassettes have largely fallen out of favour for music, they are still an affordable and convenient way of recording the spoken word, for example for people who are learning a language. |
| CD Changer | This is useful for people who like to have music running continuously without having to keep changing CDs. It is a handy feature for parties as it leaves the host free to circulate. |
| iPod Dock | Increasingly compact stereos are offering buyers the best of both worlds by incorporating docks for iPods (and other MP3 players). This allows buyers to move seamlessly between CDs and MP3s. |
| Line-In Jack | Having a line-in jack means that buyers can use their compact stereo to record from another source, such as a microphone. |
| USB Port | This is a more modern feature, which allow buyers to attach USB devices such as musical instruments and microphones. |
What Types of Media Can Be Played on Compact Stereos?
In days gone by, compact stereos only played cassettes. Then they introduced audio CDs. These days, compact stereos can often play all sorts of media, including CD-RWs and DVDs in many different formats. The easiest way to check whether a compact stereo plays any given media is to use the eBay filters to check for it.
What Is the Easiest Way to Find the Very Best Deal?
Buyers will usually find that eBay has several listings which match their requirements (for both features and price). The next step is to find the very best deal from all of those on offer. While price is obviously a consideration for most people, good customer service is also important. It is therefore strongly recommended that buyers check a seller's feedback rating. Generally speaking the more positive feedback a seller has, the more likely they are to be professional and efficient in their dealings with buyers.
Sellers who consistently generate high feedback and satisfy other quality-monitoring criteria are rewarded by eBay with a Top Seller icon, which is easily visible on their listings. Of course, every seller can have a few transactions which go wrong and so occasional negative feedback should not be of too great a concern, but buyers are better to avoid transacting with sellers who regularly receive negative feedback. Similarly all eBay sellers have to start somewhere and so lack of feedback may simply indicate that the seller is still establishing themselves. Buyers may wish to contact these sellers via eBay's messaging system to reassure themselves that the seller will take the transaction seriously.
What Happens When There Is a Problem?
Most problems on eBay are caused by misunderstandings rather than malice, which is why it is recommended that buyers read listings fully and contact the seller with any questions they may have. In particular, buyers should pay attention to the postage options available. Sellers may dispatch an item quickly; however, the speed at which it is delivered will also depend on the postage method used. Some sellers offer different postage rates depending on how quickly buyers need or want an item. When problems do happen, often they can be resolved amicably between buyer and seller, through the eBay messaging system. On the rare occasions where this is not possible, buyers can contact eBay for assistance. Although transactions on eBay are between buyer and seller, eBay ensures that buyers receive exactly the same sort of protection as they would if they were buying in an (online) shop.
Finding a Compact Stereo on eBay
The easiest way to find a compact stereo on eBay is to click on Electronics & Technology (from the side menu bar), then click on Sound & Vision. Choose Home Audio & HiFi Separates and then Compact/Shelf Stereos . From here, buyers can either scroll down the adverts or use eBay's filters to focus on products with the features they particularly need.
Conclusion
As technology becomes ever more advanced, people are becoming increasingly aware that the simplest solutions are often the best. Compact stereos are good for areas where space is tight and provide a simple and affordable way of enjoying music. The breadth of choice and numerous bargains available on eBay make it the perfect place to look for one.