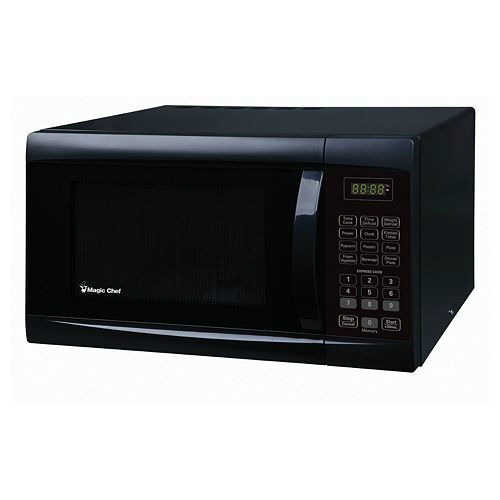 Once considered a luxury item, the countertop microwave is now a kitchen essential. These simple and efficient small kitchen appliances make light work of reheating food, warming soup and even cooking an entire meal. As with so many modern kitchen appliances, they come in many different variations and in different styles, so it is a good idea to assess what is required from the microwave, what design best suits the kitchen and the budget before starting to look for the perfect item.
About Countertop Microwaves
Microwaves can be built into kitchen units, but most people choose countertop versions, which sit on a surface in the kitchen or utility room. Basic or solo microwave ovens use only microwaves to heat food and usually only have heating and defrosting settings. Microwave ovens with grills use both microwaves and a heating element, meaning that they can be used in the conventional way to heat food, but can also grill food like a standard grill in an oven would. These microwave grills are able to grill food much quicker than a standard oven grill. Combination microwave ovens are a good substitute for a floor standing oven if space is tight. They use microwaves, a grill element and a fan-assisted convection element to heat food in the same way as a standard oven. The controls on countertop microwaves can be either manual or digital. Manual dials to control the time are not as accurate as digital controls. Digital controls allow precise times to be inputted, right down to seconds, and some models will have preset times such as 1 minute or 10 minutes. Basic models of microwaves will just have full power and defrost settings, but more advanced models will have a range of power settings, allowing accurate cooking times and heat. Microwave ovens, like many other appliances come with power ratings. In microwaves, these ratings are measured in watts, and they range from 600 to 1100. Each power rating is given a letter from A to E, with A being the least powerful and E being the most. The main implication of the power ratings is how long it takes for food to be cooked. A lower powered microwave will take longer to complete the same task as a higher powered one. The rating of the microwave will be clearly displayed on the appliance, usually on the door. Microwave meals will use these letter ratings on their packaging to state how long the food has to be heated in different powered appliances. Generally, the larger the microwave, the higher the power rating. E is the most common rating for modern microwaves. Countertop microwaves also have a variety of capacities. Generally, they will range from 20 litres to 30 litres. The capacity of the microwave will have no bearing on its function; it is down to personal preference, desired use, and space available. A large family may benefit from a 30 litre model, especially because these versions tend to have greater height, allowing for larger items to be cooked in them. Microwaves now come in a variety of colours and finishes to suit all personal preferences and styles. Below is a summary of the available types of countertop microwave ovens.
| Type of countertop microwave | Heating element | Features |
| --- | --- | --- |
| Solo/basic | Microwaves | Heats and defrost food |
| Grill | Microwaves and grill element | Can be used as a standard microwave oven and a grill |
| Combination | Microwaves, grill and convection heating | Functions as a standard microwave, grill and a conventional oven |
Functions of Countertop Microwaves
While solo microwaves are only capable of heating and defrosting food, there are budget and luxury versions available. High-end varieties will have automated settings, such as auto-reheat and auto-defrost. In some models, pressing this button will cause the microwave to switch on for a predetermined amount of time, irrespective of the type of food and amount. However, some models will calculate the weight of the food, and others will do this and allow the type of food to be selected from a list so that accurate heating can be carried out. Food must always be piping hot throughout before consumption. Microwaves can also be used to steam food. Steaming is a very healthy way of cooking food, especially vegetables, as it is far gentler than boiling and more of the vitamins and minerals are retained. Some microwaves will come with steamers, however, they can be bought separately. All microwaves are capable of steaming vegetables if the correct container is used. Due to its popularity, pizza-heating functions are available on some models of microwaves. This function works best in grill microwaves rather than solo microwaves, as they allow a crunchy base to be maintained, rather than them going soggy. Some of these microwaves will contain crisping plates, especially designed for heating foods such as pizza and quiche, which benefit from having crisp bases. Some models of countertop microwaves will have two shelves within them, especially for heating multiple meals at once. Because the cooking time of food is based on its weight as well as type, cooking two meals at once will double the weight, therefore, the cooking time must be doubled too. High-end models of all types of microwaves may come with sensor cooking functions. The microwave is capable of automatically detecting the moisture levels within the food, and uses this to adjust the cooking time and power level. A popular feature with families is the child-lock function, which prevents small children from opening the microwave door and possibly harming themselves. Many microwaves also come with fingerprint protection, which stops it from being marked and stained by fingers. This is also popular with families. Below is a summary of the functions available in countertop microwave ovens.
| Function | Best for | Uses |
| --- | --- | --- |
| Auto-heat | People who cook a variety of foods that do not come in packaging with cooking guidelines | At the press of a button, food can be quickly heated for either a set amount time, or the weight can be calculated by the microwave and they type of food inputted to allow accurate heating. |
| Auto-defrost | People who need food to be safely and rapidly defrosted | As above, but the food is simply defrosted, rather than cooked. |
| Steaming | Health conscious people | Vegetables can be placed in specially designed steamers and gently cooked without the loss of nutrients. |
| Pizza heating | Pizza-lovers | Best used in grill microwaves, pizzas can be crisped without becoming soggy |
| Multiple shelves | Families | Two shelf versions allow multiple foods to be cooked at once |
| Sensor cooking | All | These microwave use the moisture levels in the food to automatically determine the correct cooking time and power. |
| Child-lock | Families with small children | Prevents children from opening the microwave. |
Buying a Countertop Microwave on eBay
From the eBay homepage, hover the cursor over the All Categories icon on the left hand side of the page. From the list that appears, select Home & Garden. From this new page, hover over Furniture & Living, then select Cookware, Dining & Bar from the list. On this page, select Small Appliances from the left, then Microwaves. Once within the microwave section, select Countertop from the list on the left hand side. Once the countertop microwave page is up, use the menus on the left to select specific criteria, such as colour, brand and budget. Alternatively, from the homepage, use the search function on the top of the page to search for specific items. For example, if a 30 litre grill microwave is required, search for "30l grill microwave." Once this search has been carried out, it can be refined by using the categories on the left to narrow down the search and find the perfect item.
Conclusion
With a wide variety of countertop microwaves on the market, it is important to first access what needs must be met. How much use it will get, how many people will be being cooked for and what sort of cooking it to be done are all essential considerations, along with budget and style. eBay is the ideal place to find a microwave as it lists far more products than any bricks and mortar store, and the search functions make it easy for the specific item to be found.