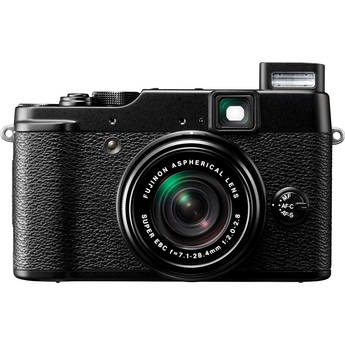 In spite of the fact the mobile phone cameras have improved tremendously over the years, most people still have at least one dedicated digital camera. The reason for this is that photographs are a crucial way of capturing memories, and dedicated cameras still do a better job of capturing them than even the best smartphones.
Before looking in more detail about the sort of questions buyers need to ask before choosing their camera, there are a few general points it's important to understand.
What Megapixels Really Mean
These days the headline megapixel count of digital cameras is going continually upwards. The reason for this is that many people associate a high megapixel-count with a high-quality image. In fact, the megapixel count is really an indicator of the maximum size at which the image can be printed and still look good. As a guideline, 8 megapixels is more than comfortable to print out images at anything up to and including A4. The problem is that increasing the megapixel count means either that the camera itself has to become bigger (making it heavier and more difficult to carry) or the pixels have to be made smaller, which can actually make the quality of the final image worse instead of better. eBay allows buyers to search for cameras of a certain Megapixel count. Probably the most useful aspect of this function is the ability to deselect cameras of less than 8 megapixels. These cameras are still perfectly useful for taking quick snaps and so forth, but people looking for cameras to capture lasting images, which can be displayed at a larger size, are going to need a higher pixel count.
Optical Zoom Is the Only Zoom That Matters
There are two types of zoom on digital cameras. Optical zoom essentially uses the power of the lens to make the image bigger before capturing it (it's like using a telescope to take a picture). Digital zoom means that the camera takes a picture as normal and then uses its software to enlarge the pixels. The resulting image is usually terrible. Many cameras have a combination of optical and digital zooms. The optical zoom is used first and then the digital zoom will pick up after the optical zoom reaches its maximum capacity. Manufacturers often quote the combined zoom capability as the headline figure and will then split this out into X times optical zoom and Y times digital zoom. Ignore the digital zoom completely when making a buying choice. eBay allows buyers to filter to the strength of the optical zoom. This can be a very effective way of ensuring that buyers can get enough zoom strength without resorting to digital zoom.
The Lens Is the Most Important Part of the Camera
For those who've wondered why cameras with similar headline specifications can have widely differing prices, the answer is the lens. The lens is the most crucial part of the camera. Be very wary of cameras with impressive specifications at budget prices. There is a very good chance that the manufacturer has kept the cost down by compromising on the lens. If in doubt, there are many photography sites with camera reviews, where buyers can check how a camera stands up against the competition. If an impressive-looking camera isn't mentioned on these sites, it's probably a lot less impressive than it sounds, and that's probably because of a poor lens. It can be convenient to use eBay's filter function to look for manufacturers who are known to produce cameras with high-quality lenses.
Understanding Camera Types
eBay offers buyers the option to filter by camera type. Although they have a wide range of options, for many amateur photographers, the buying choice is essentially between compact cameras, compact bridge cameras, and Digital Single Lens Reflex Cameras (DSLRs).
Compact Cameras
Compact cameras are small, cheap and convenient. They are the first choice of most everyday photographers. Most serious photographers also have at least one so they always have a camera to hand for impromptu shots and for taking visual notes. Those who are keen to start taking photography more seriously should give strong consideration to starting with a good compact. Many of today's compacts have a lot more in the way of manual settings than most people notice. Even basic models generally have options including: flash modes, face-detection, choice of ISO, white balance, exposure value, metering type, sharpness, saturation, and contrast. For those who don't know what these are, compacts are likely to be the perfect way to start learning.
Compact Bridge Cameras
Compact Bridge Cameras bridge the gap between compacts and DSLRs. They are larger than compacts but smaller than DSLRs. Some of them allow users to change lenses. Their larger bodies are designed to house bigger sensors and better lenses, which means that they usually perform better in more challenging conditions (such as low light) and offer greater depth of field.
Digital Single Lens Reflex Cameras (DSLRs)
DSLRs have the widest range of manual controls and the best-quality components to produce professional-standard images. Manufacturers have worked hard on bringing down the price and making them easier to use, to bring entry-level models within the reach of keen amateurs. Although this may encourage newcomers to serious photography to start as they mean to go on and buy a DSLR, there are actually good reasons to be cautious. Firstly DSLRs are bigger and heavier than either compacts or bridges. Secondly, they are only worth the money and effort needed to carry them if their capabilities are actually going to be used. For new photographers who are still getting to grips with understanding manual controls, it is often better to put in lots of practice with a cheap and easily portable compact than to have to make the effort required to carry and set up a DSLR.
Questions to Consider
Here are some questions to consider when buying a new camera.
What Is the available budget?
A useful feature of buying on eBay is the ability to search on price. Many customers use this feature to ensure that they stay within their budget; however, it can also be used to filter out cheaper cameras which are unlikely to be of the sort of standard a keen photographer would require. One of the reasons why eBay is such a good place to find digital camera bargains is that many retailers use it to sell their end-of-line stock after the most recent camera models are released. These cameras are usually heavily discounted and are excellent value. Likewise eBay is also a popular place to sell ex-display cameras and refurbished cameras. These items may have some cosmetic damage (which will be described), but will be in perfect working order. They may well come with a warranty. The most affordable cameras of all are often the used ones sold by private sellers who have upgraded. Many of the cameras sold on eBay come with useful accessories such as memory cards, and eBay is also a good place to stock up on extras.
How Portable Does the Camera Need to Be?
A compact camera will fit into a pocket, a compact bridge will fit into a rucksack, a DSLR usually needs its own bag. If air travel is going to be a factor, then a DSLR will take a noticeable bite out of even the most generous hand luggage allowance. They can be put in hold luggage in a hard-shell case, but there is always the risk of damage or of the camera disappearing in transit. There are different sizes within each of these categories, so eBay allows sellers to display the camera's size and weight as part of the quick overview of the product. Many sellers do this, and others list these details in the main description.
What Sort of Conditions Is the Camera Going to Face?
More challenging conditions demand heavier-duty cameras. Compacts are likely to struggle in low light and with fast-moving subjects. Low-light conditions need longer exposures than most compacts can manage while action shots need high-quality autofocus tracking and the ability to shoot in continuous bursts. This means bridge cameras or better. If using a camera anywhere near water, then it needs to be protected. A plastic bag can be used in an emergency, but ideally, a proper waterproof case should be used as water can easily destroy a good camera. For those who are seriously interested in underwater photography, eBay does have a category for underwater cameras.
Conclusion
All eBay buyers can rest assured that the items they buy will be as described on the listing. If anything on the listing is unclear, eBay has a secure messaging system, which allows buyers and sellers to communicate without them having to give out their personal details. In case of disputes, buyers can refer to eBay's buyer-protection policies.