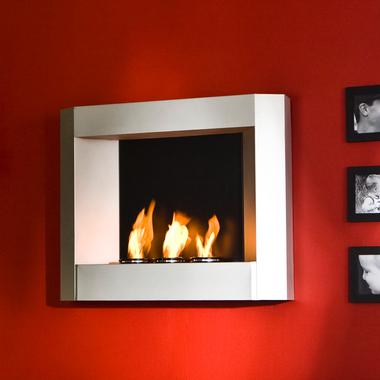 As the focal point of any room, a fireplace can enhance the look and feel of a lounge, dining area, or bedroom. There are many options available to the would-be buyer, ranging from vintage styles to modern stoves and gas fires. The key to making a successful purchase of such a fireplace on eBay lies in researching the most suitable product type, before taking advantage of the search and listings functions provided.
About Fireplaces
Fireplaces have been used as a source of traditional warmth in homes for centuries. The archaeological record shows that ancient man used fire pits that were hollowed out of the ground in caves or other dwelling areas. Over the years the development of efficient chimneys addressed the problem of getting rid of the smoke, leading to the birth of modern fireplace design in the late 18th century.
Which Flue?
Before starting the process of purchasing a fireplace, it is important to check the type of flue present in the house. Flues are divided into a number of classes and can limit a shopper's choice depending on which type is already installed.
Class One Flue
Class one flues are the most flexible option and are easily identified by the classic brick construction chimney found on many pre-1960s houses. These chimneys are deep enough to accommodate full-depth gas fires and electric products as well as providing enough diameter to safely expel waste gases from burning most types of fuel.
Class 2 Pre-Fabricated Flue
This is a metal box that is positioned behind the fire. It is connected to a network of pipes that funnel smoke to a pre-fabricated chimney positioned on the roof. Ideal for full depth gas fires, these flues also work well with slimline gas and electric fires.
Class 2 Pre-Cast Flue
These flues are commonly found on contemporary builds. They are constructed using concrete flue blocks that terminate with a ridge vent in the roof. Characteristically shallow in depth, they are usually only suitable for slimline fires; although in some cases deeper appliances may be a possibility with the addition of a spacer kit.
Power Flue
Perfect for people looking for a gas fireplace with access to an exterior wall, a power flue is comprised of an electronically controlled fan system, which can either be semi-recessed or mounted on the outside wall. Power flues come in two distinct types; rear or side flue. Side flues are usually only used when it is not possible to flue through behind the fireplace.
Balanced Flue
These sealed units vent waste gases directly to the outside wall. The air for combustion is drawn from outside, whilst the gases are piped safely away outside the property. Noise levels are kept to a bare minimum, because the unit does not require a mains electrical supply.
No Flue
For houses with no chimneys, flueless fires are readily available that completely remove the need for directing fumes away from the room in which the fire is situated. The on-board catalytic converter changes the carbon monoxide output to carbon dioxide, resulting in local air purification. It is important to remember, however, that flueless fires require a minimum room size and some additional ventilation.
Choosing a Fireplace
Once the correct kind of fireplace for a property has been established, the next step is to choose the kind of fire that fits most suitably with the decor and fuel type.
Solid fuel Fires
These are the kind of fires that often adorn Christmas cards. They burn with either wood or coal and are famous for pumping out heat from crackling logs and glowing coals. They require an appropriate depth of flue to safely transport smoke away from living areas, but the variety of units on offer - from period Georgian or Victorian iron fireplaces with ornate surrounds to more modern stylings - mean that there is something suitable for most situations. Remember that if the property is in a designated smokeless area there will be restrictions on the type of fuel that can be burnt. In these cases, smokeless fuel can still give the appropriate result but cleaning out the grate between each fire is imperative.
Gas Fires
Gas fires offer the flexibility of a comfortable fit into most types of existing fireplace. They suit modern homes, but raising the fire from the floor can also have a pleasing effect in period properties. In recent years they have become more efficient, but really cold conditions may preclude their use as an exclusive source of heat in a room.
Electric Fires
Electric fires have made increases in efficiency in recent years and they now present a cost-effective, elegant alternative to other fire types. Some are wall mounted where others can be neatly inset. The inset type can require additional building work in a standard cavity wall in order to be fitted. Whilst electric fires offer high efficiency levels, they are also more expensive to run than gas equivalents and their standard output usually mitigates against them being considered sufficient as the sole source of heat in a room.
Stoves
A good choice for people wishing to recreate the vintage look commonly found in rural farmhouses, stoves are becoming increasingly popular in modern homes thanks to innovative, eco-friendly designs. One singular advantage they have over other fires is that they are not limited to just burning one type of fuel – some models can run on electricity, gas, and coal. When choosing a stove, it's important to select one that is powerful enough to meet the needs of the room in which it will be installed, in case of a prolonged bout of cold weather.
Choosing a Surround
Surrounds are very much a personal choice, but a general recommendation is to choose something that reflects the ambience of the room. The fireplace will be a focal point of attention; so making tasteful choices to ensure that burning a fire becomes a source of aesthetic pleasure as well as a source of heat is the best way to proceed. Bidders are not limited to a small number of surrounds; marble, cast iron, and limestone designs are all available. Some fireplace "kits" include the surround, hearth, mantel, and fire unit as part of the deal.
Buying a Fireplace on eBay with Confidence
eBay offers bidders many tools to enable them to make a purchase with confidence. The first step is to register for an eBay account. The sign-up process is quick and easy and can be accessed from the 'register' link on the home page.
Research the Product
Researching the product is an essential part of the process for any would be bidder. Drawing up a checklist of desired features that may include, but are not limited to, style of fireplace, condition of fireplace, and the colour and material used can prove a useful strategy. Once the desired product category has been established, eBay has powerful search tools that enable bidders to quickly and efficiently carry out generic searches for items or to search within specified categories. A search for "fireplaces" generates a list of options on the left hand side of the page, allowing bidders to quickly go down and explore categories that are more specific to the kind of purchase they have in mind. Once suitable listings have been located, checking to see whether they reflect the current market price for fireplaces of that type is a useful way of gauging whether the item is worth bidding for.
Ask Questions
Using eBay's "ask a question" feature on the listing page can help establish answers to any questions. Bidders should use this to contact the seller in order to get as much of an informed opinion as possible before bidding on an item. Asking for extra information or detailed photographs is standard practice and helps ensure that goods are sold as described.
Check Seller's Feedback
The listing page will display the seller's user id. Clicking on the numbers in parentheses next to the seller's ID will open up a feedback list. From this it is easy to get a snapshot of how other buyers view their transactions with a particular seller.
Look For Top-Rated Sellers
Top-rated sellers are eBay's equivalent of the quality kite mark. Purchasing from them means that they have made many successful transactions and have earned a good reputation for resolving issues quickly.
Make Realistic Bids
Sellers will often enter a reserve price on an item. This means that there is a minimum amount that will be accepted. Some top of the range modern fireplaces or genuine antiques may attract higher reserves than others so making realistic bids is essential. Entering a bid that is higher than the reserve price is no guarantee of winning the item but does maintain the bidder's interest until the end of the auction. Some items may also be listed with Buy it Now or Best Offer options, so it is always worth investigating these if the fireplace is the perfect fit. Working out the highest bid price in advance is also important. Consider how essential the item is and how quickly it is needed. Fireplaces of most varieties are bulky items that could mean elevated carriage costs or expensive pick up arrangements, so these considerations should be factored into any calculation of a maximum bid. To simplify the bidding process, eBay allows bidders to set their highest bids automatically. This means the system automatically increases the value of a bid up to the specified maximum, in order to make sure that the bid remains the highest entered on a given item. This situation only changes when another bidder supersedes the maximum bid.
Find Fireplaces On eBay
The search box on the eBay home page makes finding fireplaces simple. Getting to the most relevant listings can either be achieved though a generic search or opening the All Categories dropdown next to the search box, selecting Home, Furniture & DIY, and clicking on the Fireplaces & Accessories link in the left-hand bar. Tick different subcategories from here, or, alternatively, simply enter the desired product name, type, or style of fireplace in the search bar at the top of the homepage.
Conclusion
Choosing a fireplace is highly personal decision based on the room in which it will be housed, the physical constraints of the building and the style of fire required. eBay lists a wealth of different types of fireplace - from Georgian and Victorian to ultra-modern hanging electric fires - and allows bidders to research sellers and individual items in order to explore the most suitable options.