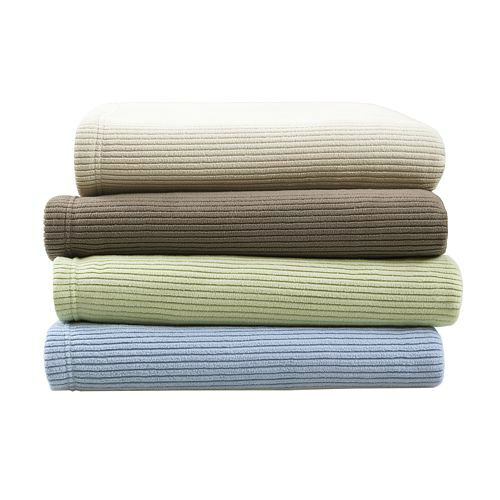 Fleece blankets are used for warmth, especially while sleeping. They are made from a synthetic polyester blend. The polyester material helps the blanket to wick away moisture, keeping the area dry. Fleece is available in three different weights: microfleece, hundredweight, and medium weight, and has an excellent weight-to-insulation ratio, making the material ideal for blankets. Fleece blankets are known for their insulating properties and come in various types and textures, including polar fleece. The top of the blanket usually has a velvety feel, while the opposite side is smoother and resembles felt. The softness and level of comfort make fleece blankets much sought after items. Fleece is lightweight, making it easy to carry. Storage of a fleece blanket is effortless. Fleece blankets can be found in a wide array of colours and patterns.
Fleece blankets are relatively inexpensive. They can be found in homeware shops and department stores. When purchasing a fleece blanket at retailers such as eBay, buyers should understand the three types of fleece weight and familiarise themselves with the various types of fleece finishes. Buyers should also consider the advantages and disadvantages of fleece blankets, learn how to care for them properly, and even learn to make their own blanket.
Weights of Fleece Blankets
There are three main weight categories for fleece which can be used in the creation of a fleece blanket. Each category differs in the warmth that it provides. Microfleece is the lightest type of fleece and is best suited for use under a heavier blanket. Hundredweight fleece is heavier than microfleece, and medium weight fleece is known for providing maximum warmth and is ideal for use in cold conditions.
Types of Fleece Blanket Finish
Fleece can be found in a variety of finishes, giving the blanket a unique texture. Each side of the fleece blanket usually has a different type of finish. Knowing the types of fleece finish can help buyers to choose the right type of blanket.
Brushed Finish Fleece Blankets
Fleece blankets that have a brushed finish have a surface texture similar to felt. Most printed fleece blankets have a brushed finish, with the design visible on both sides. However, one side may be preferred over the other. The brushed finish is the most common type and is known for its flat and smooth feel. Fleece blankets with a brushed finish may also be known as regular fleece, glacier fleece, or blizzard fleece.
Anti-Pill Finish Fleece Blankets
Anti-pill fleece blankets are characterised by their plush sheared, short, and knobbly texture. The design on one side of the fleece is visibly crisper and clearer than the other side. Anti-pill finish fleece blankets are generally heavier in gram weight and more expensive than brushed finish fleece. Fleece blankets that have an anti-pill finish may also be known as premium fleece and velour fleece.
Micro Chamois Fleece Blankets
Micro chamois fleece is characterised by its buttery, soft textured, chamois-like feel. This fleece is extremely lightweight.
Berber Fleece Blankets
Berber fleece is known for its short curled fibres which give the material its coarse appearance. One side of berber fleece has a flat knit backing. This fleece is the least warm of all types. It is medium pile and typically reserved for use as a lining.
Sherpa Fleece Blankets
Sherpa fleece has a bumpy, curly texture, like lamb's wool. One side of this fleece has a flat knit backing.
Advantages of Fleece Blankets
Fleece blankets are made of polyester, so they are extremely easy to care for. Fleece maintains its colour with repeated washing and does not shrink, unravel, or run. The material is hydrophobic, holding less than one percent of its weight in water. The insulating ability of fleece, even when wet, makes fleece blankets an excellent choice for adverse conditions. The material's softness, light weight, and warmth make it a versatile accessory.
Disadvantages of Fleece Blankets
Fleece blankets are not windproof and are unable to absorb moisture. The fleece is a high conductor of static electricity, which tends to accumulate pet hair, lint, and debris. If not treated with a flame retardant, fleece blankets are highly flammable. Although easy to care for, fleece can be damaged by washing and drying at high temperatures. Fleece blankets are not environmentally friendly: they are made from non-renewable petroleum derivatives. However, some may be made from recycled fleece. Lower quality fleece blankets are susceptible to pilling.
Caring for a Fleece Blanket
Fleece blankets can be made from various materials. However, most use polyester as a common component. Proper care of a fleece blanket keeps the material smooth and soft, while improper care causes the polyester fibres to break down. This may lead to pilling or a bumpy texture. In order to increase the longevity of the blanket, buyers should always follow the manufacturer's care instructions. This usually entails washing the blanket on the delicate or gentle cycle. Fleece blankets should be washed separately or with other fleece items of a similar colour. When drying the fleece blanket, buyers should use a low temperature. Halfway through the cycle, it is a good idea to remove the blanket from the dryer and shake it, before putting it back. This helps the blanket to dry evenly.
Making a Fleece Blanket
Fleece blankets come in a wide array of designs and make a great gift for people of any age. Fleece can be found in various block colours and floral patterns, or containing sports team logos or cartoon characters. Buyers can make a fleece blanket without having to sew a stitch. Take two pieces of fleece of the same size, and lay them on top of each other with their right sides facing outward. The two pieces can have the same design, or complement each other. Pin both pieces together, at least four inches from their outer edges. Then cut off the selvage edges with sharp fabric scissors. A four inch square should then be cut away from each corner. Cut four-inch long strips into perimeter of the blanket from the edge, leaving an inch between each cut. Once all cuts have been made, tie each strip from the top fleece with its corresponding strip from the bottom fleece. This creates a fringed edge and joins the two pieces of fleece without a single stitch.
Where to Buy a Fleece Blanket
Fleece blankets of any type can be found at many different bricks and mortar homeware shops and department stores. They can also be bought online. An excellent option for finding all sorts of fleece blankets at good prices is to shop at eBay, where the buyer has a chance to browse hundreds of different blankets.
How to Find and Buy a Fleece Blanket on eBay
After determining the specific type of fleece blanket that you need, visit eBay's home page. When searching for an item, simply type the keywords in the search field. For example, if looking for blankets, simply type in "fleece blanket" and this takes you directly to a page of listings for this product. Check eBay's search tips for other suggestions on the keyword search function. Alternatively, buyers can use eBay's advanced search feature to narrow down fleece blanket listings by category or price. Searching using this method is a good idea for buyers looking for a particular type of delivery option or who want to limit their search to a specific location.
Buyers can also use the advanced search to sort listings in order of lowest price or by a specific condition. While a used fleece blanket may be found with limited wear and tear, new fleece blankets are relatively inexpensive. When buying a fleece blanket, it may be a good idea to limit the search to Top-rated sellers. This gives buyers the confidence that they are purchasing from a reputable seller. Top-rated sellers are recognised by the eBay community for their continual high levels of customer satisfaction. If there are any questions for the seller, they can be contacted directly using the "Ask a question" link.
Conclusion
Fleece blankets provide softness and warmth. They are lightweight, water-resistant, and easy to care for, making them ideal for travelling and outdoor use, as well as use in the home. Buyers should consider the weight of the fleece before committing to a bid on eBay. Microfleece offers the least amount of warmth, while medium weight fleece is better suited for colder conditions.
Buyers should also account for the various types of fleece finishes. The texture of each finish influences the way that the fleece blanket feels against the skin. For a maximum lifespan, buyers should always follow the blanket's care instructions in order to preserve its softness and smooth surface. Many fleece blankets are available, but buyers can also take simple sheets of fleece material and transform them into their own creation. Making a fleece blanket is a straightforward process and requires no sewing. By becoming familiar with the various components of fleece blankets, buyers can ensure a positive shopping experience on eBay.