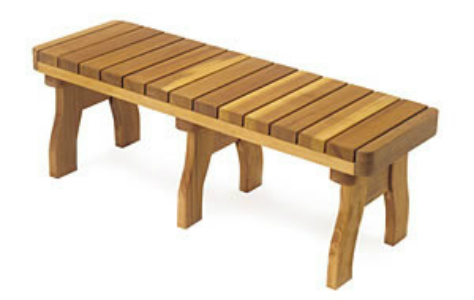 Being outdoors is a relaxing and healthy way to spend time, which for most people involves kicking back after a long day in their back garden. Many aren't lucky enough to live in a country which is always dry and warm, making lying on the grass an impractical exercise. Outdoor furniture and seating has evolved to accommodate leisure in the garden, with garden benches in particular becoming so popular to be almost a staple piece of furniture in the modern home garden.
About Garden Benches
Garden benches can be traced back to the seats carved into stone walls and plinths of the Greek and Roman era. The garden benches that are so common today have been popular for some decades, especially since the industrial revolution when manufacturing took a great leap and metalwork benefitted. Garden benches come in a variety of shapes, sizes, and materials to suit the needs of any household. A bench for a family of six who like to eat outdoors will have to accommodate very different needs to that of an elderly couple who like five minutes in the sunshine. eBay has hundreds of garden benches for sale to suit any occasion or function.
Choosing A Garden Bench
Selecting a garden bench depends upon a variety of factors, including the type of bench, the material, style, and more. Using eBay is a great way to filter through the vast selection and find the perfect garden bench.
Type of Garden Bench
There are a few different types of garden benches, all designed as solutions to problems. Identifying how many people a bench must seat, in what position, for how long and other circumstances is necessary to choosing the right type.
| | |
| --- | --- |
| Traditional | The traditional garden bench is defined as that with legs, a seat, and a back. The most common garden benches are built in this style and are very functional for two to three people, depending upon the length. Traditional garden benches are normally raised a few feet from the ground, with a back that supports the back of the persons seated upon it. Not all traditional benches will have arms. These benches are very easy to assemble and dismantle, along with being cheap because of the low cost of transport and packing. |
| Storage | Storage benches are built in a similar fashion to traditional benches, though instead of being raised from the ground, the seating is on top of a hollow construction. These benches normally have seats which double as a lid for a storage compartment below and in between the legs. These are great for families who want to store outdoor items like toys, tools, hosepipes etc. These benches are normally more expensive as they are larger and heavier. |
| Companion | Companion benches are benches that have a small table built into the centre of them. On either side of this small table, there is a seating area which is almost always designed to sit one person on either side. Some of the benches will feature a parasol hole in the middle of the table. |
| Picnic | Picnic benches, picnic tables or pub benches are very common in public areas. The most common type is the A-frame picnic bench which is a table flanked by two short benches, normally seating two to three people on either side facing inwards, to the table and toward each other. Other variants opt to give four single seats around a circular table. These benches are almost always provided with holes in the centre for a parasol to protect form strong sun and bad weather. |
| Folding | Folding garden benches are becoming very popular, as they offer a compact and custom solution to outdoor seating arrangements. Those who don't want their space taken up by benches can pack them away when not in use, or store them during winter to avoid damage and save space. |
| Bespoke | Bespoke garden benches can often be found on eBay, like those which are designed as two semi-circular seats which can be placed together to completely surround the trunk of a tree. Other examples might include corner benches, curved benches or those built to scale different levels of terrain. These are rarer and inevitably more expensive, but are sometimes the only option for some garden arrangements. |
Material of Garden Bench
The material of a garden bench will determine its comfort level, where it can be used, and often how it has to be treated and stored. Choosing the right material for a garden bench is imperative to being able to glean the most enjoyment and function from it.
| | |
| --- | --- |
| Wood | The overwhelming majority of garden benches are made from wood. The ready availability and low cost of wood makes it the perfect material, along with its ability to accept stain and paint and withstand outdoor conditions. The most popular types of wood for use in the garden are those which can last for years like teak and oak. The low maintenance and natural resistance to moisture and rot make them perfect materials for garden benches. |
| Metal | Metal is often used in conjunction with timber, to form the legs and frame of a garden bench. Metal is heavier and less comfortable than wood, but if treated well, can be much stronger and last far longer. Cast iron was once a popular choice for garden benches, but steel and aluminium are fast becoming cheaper, more common and more durable solutions. |
| Stone | The earliest garden benches were most likely stone, but they are rare to see in a modern scenario unless as a very expensive bespoke piece or for ornamental use. Public parks may sometimes feature stone benches, but they are rare to see in domestic use. The tendency for erosion and to harbour plant growth makes them high maintenance. |
| Plastic | Plastic is one of the cheapest materials today and is becoming a popular choice, as plastic becomes a more reliable material. The strength in plastic in comparison to its weight and size is making it a very suitable material; especially for novelty benches which require high gloss finishes and bright colours. |
Style of Garden Bench
The style of a garden bench should be selected based upon who will be using it and where it will be positioned.
| | |
| --- | --- |
| Functional | Most benches are bought for their functionality; to offer a place to sit when outdoors. Functional benches are very popular because they are designed to be interchangeable, fitting into all manner of gardens and appealing to as wide a market as possible. Choosing a functional bench is a good long term solution, as it can be transferred from location to location with little stylistic impact. |
| Decorative | Decorative or ornamental garden benches, whilst still fulfilling a functional need, are used to contribute to the decor of a garden or home. Decorative garden benches are often more expensive because of ornate design, and may not be suitable in all scenarios. Be aware that buying a specific theme of garden bench might be great in the current location, but it could look out of place in a new home. |
| Novelty | Novelty benches are primarily those bought for children. There are a wide variety of plastic benches built in bright colours which often feature favourite characters from television shows. These benches are great for encouraging children to spend time outdoors, but care should be taken to watch the costs involved as these are unlikely to last for a long time; whether through becoming too small for growing children or from children's taste changing often. |
Finding a Garden Bench on eBay
To find a garden bench on eBay, click the All Categories link on the eBay Home Page to open a page with every category on the website. Clicking Garden & Patio will open a list of relevant links, open the Garden & Patio Furniture category and then click Benches. From here, the filters on the left can sort the results by Type, Material, Condition, Price and more. Garden benches can also be found in the Furniture section of Home, Furniture & DIY. The Antiques category will also feature some older, more expensive garden benches.
Conclusion
Garden benches offer a fantastic way to get outdoors, a great solution for when the grass is a little damp or when wanting to eat in the fresh air. Selecting the right garden bench can mean the difference between neglecting the outdoor space or embracing it as an extension of the home. On eBay, there are hundreds of garden benches to suit everything from the bachelor to the family of four, from the retired couple to the excited children.