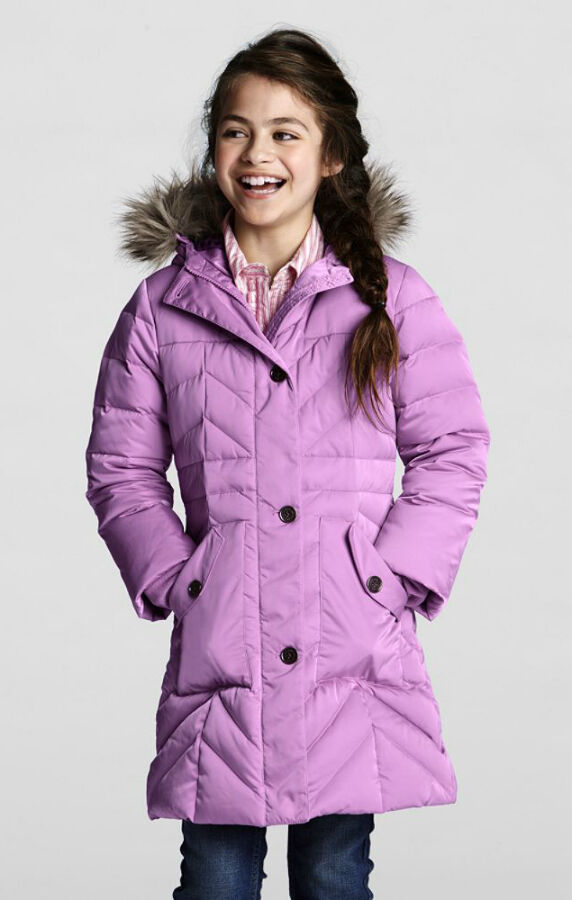 A trendy parka, a formal swing coat, or a practical multifunctional coat: there are many types of girls' coats, each in a different colour, pattern, and fabric. When buying girls' coats, buyers should consider the purpose of the coat, and the features that the girl favours, such as a particular colour or style. For practical, hard wearing durability, a multifunctional or quilted coat is likely to be the best choice. For a combination of trendiness and practicality, a parka is ideal. Formal occasions may require a smarter appearance, and this extends to the girl's coat. Formal coats include duffle and swing coats, designed with style and warmth in mind.
Understanding each style of coat, its fabric construction, the seasons that it is best suited for, and how to select the correct size, helps a buyer to make a good purchasing decision. Girls' coats can be bought from children's clothing shops, department stores, and online retailers, such as eBay.
Everyday Girls' Coats
Girls need coats for everyday wear, such as general outdoor activities like break time in the school playground. Everyday coats need to be appropriate for the season and made of durable, easy to clean materials so that girls do not have to worry about getting them dirty. A coat worn everyday can be exposed to rain, wind, snow, sun, mud, blood from cuts and scrapes, and maybe even food and drink stains. Therefore, it is necessary to purchase a coat that will stand up to these conditions.
Girls' Raincoat
A raincoat can be either light and thin, or have some measure of insulation. Girls' raincoats typically have a hood and some have drawstrings at the cuffs and hem that can be pulled to protect the wearer further from the rain. Good quality raincoats also work as wind breaks, preventing the wind from cutting through. This makes them an excellent top layer. Raincoats can be worn on top of multiple layers in cold weather to keep the wearer dry and warm. In warmer weather, the rain coat can be worn with fewer layers, simply as a waterproof covering.
Girls' Insulated Coat
An insulated coat has an interior lining filled with either down, made from duck or goose feathers, or a synthetic fibre. When purchasing an insulated coat, it is advisable to take note of the insulation, and select a garment that offers the correct level of warmth for the season. Insulation is measured in grams, with 30 grams being the lowest, suitable for fairly mild autumn and winter weather, and 80 grams being the highest, suited to arctic conditions.
Girls' Quilted Coat
A quilted coat is a type of insulated coat. The coat is covered in large pockets of insulation that are separated by heavy stitching. Quilted coats have a long life span as the insulation is fixed inside the pockets and cannot fall to the hem of the coat with age and long use.
Girls' Parka
A parka is a common type of girl's coat for everyday use. It has a thick, insulated body and fur edging around the hood that helps to keep the face and head warm. Some parkas have evenly spaced rows of stitching that help to prevent the insulation from slipping downward. Like a quilted jacket, this increases that longevity of the coat because the insulation will not be dislodged after prolonged wear.
Girl's Multifunctional Coat
Multifunctional girls' coats are casual and offer a variety of outer garments in one. Three, four, and five-in-one girls' coats are available. They often have a waterproof outer layer in the form of a thin rain coat. Beneath this is usually an insulated, full sleeve layer. This layer can be removed and worn as an individual coat. It is usually made from either polar fleece or a quilted jacket. The third option is often in the form of a gilet: a warm, padded, sleeveless jacket. Some multifunctional coats have both a waterproof gilet and a padded or fleece gilet. Some multifunctional coats also have sleeves that can be detached and reattached easily.
Girls' Smart Coats
For parties and special occasions, every girl needs a special smart or formal coat. These coats are often designed more for appearance than practicality, although they still offer some warmth. Smart coats are not always designed to withstand the rigours of daily activity, and some types are prone to staining easily, so should be avoided for everyday play and activity and reserved for fabulous special occasions.
Girls' Duffle Coat
A duffle coat is a very traditional coat made from wool and often comes with a silk lining. Duffle coats are loosely hooded woollen coats that close using large toggles that fit through large loops. Duffle coats are ideal for younger children because the toggles are very easy to manipulate and can also be used while wearing thick winter gloves. Duffle coats usually hang straight with no tailoring or definition at the waist. Duffle coats continue to be popular as retro styling is very fashionable.
Girls' Swing Coat
Swing coats can be made of a range of fabrics from wool to silk. They have large, flat collars, and are tailored to create a slightly flared effect. Swing coats are perfect for formal occasions for girls of all ages. The classic swing coat has a contrasting collar, elaborate buttons, and decorative pocket tops.
Sizing a Girl's Coat
It is important to size a girl's coat correctly. It is acceptable to buy the coat slightly larger that the girl's size to get the maximum wear before she grows out of it, but it shouldn't swamp the girl and make it difficult for her to move comfortably. Also, a winter coat should be large enough to fit a few layers underneath, and should not be too tight or gape when it is fastened. The chart below can be used to identify the most appropriate size for a girl's coat.
| Age (years) | Height (inches) | Chest (inches) | Waist (inches) | Hips (inches) |
| --- | --- | --- | --- | --- |
| 3 | 38.5 | 21.25 | 20.5 | 21.5 |
| 4 | 41 | 22 | 21 | 22.75 |
| 5 | 43.5 | 22.75 | 21.75 | 24 |
| 6 | 45.5 | 24 | 22 | 25.25 |
| 7 | 48 | 24.75 | 22.5 | 26.5 |
| 8 | 50.5 | 26 | 23 | 27.5 |
| 9 | 52.75 | 27.25 | 23.5 | 29 |
| 10 | 55 | 28.5 | 24.5 | 30.5 |
| 11 | 55.75 | 29.5 | 24.75 | 31.5 |
| 12 | 60 | 30.75 | 25.25 | 33 |
| 13 | 62 | 32.75 | 25.75 | 34.75 |
| 14 | 64.5 | 34.25 | 26.5 | 36.25 |
| 15 | 67 | 36 | 27.75 | 37.75 |
| 16 | 69.5 | 37 | 29.5 | 39.5 |
Using the chart above, buyers should be able to identify quickly which size of coat they need to purchase. If the child is in between sizes, it is advisable to purchase the larger size to get a comfortable fit.
Buying a Girls' Coat on eBay
Buyers can find a girls' coat online at eBay. eBay is a consumer-friendly site that offers a range of kidswear. Shoppers can start to look for girls' coats by searching from the eBay home page. Buyers who are unsure of the type of coat that they want can use a generic search term, such as "girls' coats", to browse through thousands of different results. Alternatively, if buyers have a particular style, colour, or any other item specifics in mind, they should include this in their search, resulting in fewer products to look through.
For buyers on a tight budget, eBay has used girls' coats. Children grow so quickly, so many coats are still in immaculate condition, meaning that buyers can find a good quality coat while making substantial savings. Buyers must read the item description thoroughly so that they know the exact condition, size, and materials of the coat. Always contact the seller before you buy if there are any concerns by using the "Ask a question" link.
A vitally important part of the eBay process is the feedback score of a seller. Good sellers have a high percentage of positive feedback and lots of positive comments left by previous buyers. Sellers with good feedback scores are known for providing good products and excellent customer service.
Conclusion
Every girl needs at least one coat in her wardrobe. Many girls have a coat for everyday use and another for special occasions. Girls' coats range from brightly coloured raincoats covered in hearts and bows, to formal swing coats in deep red wool trimmed with black velvet. Buyers should consider how the coat is to be used. While a beautiful swing coat may be appropriate for a special occasion, a different style will be required for the school playground. In this case, a more practical coat, such as a multifunctional coat or a quilted jacket would be a good choice. Understanding the differences between the styles of coats, their levels of warmth, and their construction materials allows the buyer to make the right choice. A size chart enables the buyer to see the range of sizes appropriate to the girl, with the view to buying a slightly larger size to allow for growth. eBay offers a wide range of coats to keep girls warm and comfortable in all weathers and for all occasions.