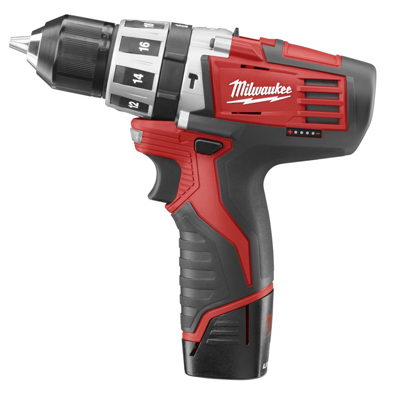 A hammer drill combines rotating movement with a concurrent hammering force. This blend of rotation and impact allows users to drill faster through certain materials. The hammering motion of the drill is extremely fast. It is usually measured in thousands of impacts per minute (IPM) or blows per minute (BPM). Hammer drills are sometimes used to break apart bricks or concrete into small chunks so that they can be removed more easily. Most of these drills include a switch that lets users turn off the hammering motion and just use the drill.
If one is searching for an affordable hammer drill, then eBay is an excellent place to begin the search. eBay's vast array of products makes it easy for buyers to find exactly what they need. To enjoy the eBay experience more fully, users should understand some of the useful features of the website, including search filters, quick searches, and buyer-seller communication.
Conducting a Search for Hammer Drills on eBay
Searching eBay is easy, even for first-time users. One should start on the home page and type the name of the desired item into the search bar. In this case, a basic term such as "hammer drill" may be entered to begin the search.
eBay's search engine typically populates the results page within just a few seconds. If at any point buyers decide to change the search terms, they do not need to go back to the home page, since the search bar shows up on every page of the website. A buyer can tweak the query at any time, either changing it completely or adding another descriptive word or two.
Saving an eBay Search
On many occasions, eBay shoppers find what they are looking for very quickly. However, sometimes the item is not available in the quantity or variety that buyers want. In such cases, buyers can save their search, and eBay emails them if a new listing for the item appears. Upon receipt of an email, a prospective buyer can go online and look at the new hammer drills or other items that were just posted for sale.
Using Search Filters when Buying a Hammer Drill on eBay
The expansive nature of the eBay marketplace means that a single search can yield several hundred or even several thousand results. Buyers who search for hammer drills are likely to see innumerable listings that may be far too many to comb through in an average shopping session.
Instead of looking at each listing, buyers can use eBay's convenient search filters. Shoppers simply choose from the available options, selecting the features that fit their needs and preferences. eBay immediately narrows the search results to match those requirements, creating a much short, more tailored list of results.
The filter options that are available differ depending on the item. A search for a hammer drill might allow users to filter their choices by brand, cord type, power, and voltage. Other search filters let shoppers search by condition, seller, item location, and shipping options.
Narrowing Search Results by Cord Type
A corded drill is easy to power up whenever users need to do so. However, the cord can get in the way during the project. A cordless drill has limited battery life, but there is no cord to worry about. eBay has a filter that allows buyers to look for corded hammer drills, corded hammer drills, or both options.
Narrowing Search Results by Brand
When selecting a new hammer drill, it is advisable that the buyer purchase a model from a reputable company. One of eBay's search filters allows buyers to search by brand. They can choose hammer drills from brands such as Bosch, DeWalt, Makita, Hitachi, Draper, Black and Decker, among others. Availability of certain brands depends on the number and variety of the current listings for hammer drills.
Narrowing Search Results by Power
The power of a hammer drill is measured in watts. Some buyers may need a powerful drill for heavy-duty work, while others need a simple, basic model without too much power. Users can filter the search by the amount of power they need, choosing hammer drills that have 250-500 watts, 501-750 watts, 751-1000 watts, 1001-2000 watts, more than 2000 watts, or under 250 watts.
Narrowing Search Results by Voltage
Voltage is another key factor in the choice of a hammer drill. Buyers can click on the "Voltage" filter and check the box besides the desired voltage level to see all the hammer drills that match the requirement. Lower voltages include 2.4, 4.8, 9.6, 12.0, and 14.4 volts. Medium range voltages include 15.6, 18.0, 24.0, and 28.0 volts. Beyond that, the higher voltage levels are 110, 230, and 240 volts.
Narrowing Search Results by Condition
Some buyers may want a brand-new hammer drill, while others do not mind purchasing a pre-owned one as long as it is cheaper and functions well. eBay provides a "Condition" filter so that buyers can narrow the choices as they prefer. The chart below describes the meaning of each term under the "Condition" filter.
| Condition | Meaning |
| --- | --- |
| New | Brand-new, never used |
| New Other | Brand-new and unused, but may be missing packaging or tags |
| Manufacturer Refurbished | Repaired to like-new condition by the original manufacturer |
| Seller Refurbished | Repaired to excellent condition by the seller |
| Used | Pre-owned, as-is |
| For Parts/Not Working | Damaged or dysfunctional, sold as-is |
In each case, buyers should read the description in the product listing to determine the item's condition. If they have additional questions, then it is recommended they communicate with the sellers to make sure their questions are answered.
Narrowing Search Results by Seller
Under the "Seller" filter, eBay customers can click the box next to "My Saved Sellers" to see listings from favourite sellers that they previously included in their "My Saved Sellers" list. They can also search for a specific seller if they know that seller's eBay user ID.
If buyers choose "Sellers with eBay Shops", eBay shows listings from only those sellers that have opened shops on eBay. This is a separate area of the website, where search results are listed as shop links rather than links to product pages.
Another option in the "Seller" filter is "eBay Top-rated Sellers". These sellers have a special seal that appears on each of the listings, notifying buyers that they are reputable sellers with good feedback scores from most of their previous customers. Buyers who want the guarantee of professional service and prompt shipping can opt to see products only from these sellers.
Narrowing Search Results by Price
Power tools can be very expensive. To make it easier for shoppers to stay within the budget, eBay supplies a price filter. This filter allows buyers to choose the minimum and maximum amount that they want to pay for a hammer drill.
Narrowing Search Results by Shipping Options
Free postage and packing (P&P) is a big incentive for many eBay shoppers, since it eliminates the extra shipping fees. Choosing free P&P shows only the listings that have no extra shipping costs. Some eBay shoppers may need their items quickly, in which case they should look for sellers who offer express delivery services.
Narrowing Search Results by Location
Another way a buyer can avoid paying P&P is by purchasing a hammer drill from a local seller and picking it up in person. The buyer must type in the postcode under the "Item Location" filter and then select the preferred distance radius. Listings that appear are those posted by sellers within that specified area.
Buyers should not assume that a local seller is willing to agree to an in-person pickup. Some sellers are very private and do not want face-to-face interaction with customers. However, a buyer can message the seller to inquire if it is acceptable to pick up the hammer drill in person. There are many eBay sellers who are happy to come to an arrangement that is agreeable to both parties.
Contacting eBay Sellers
On occasion, buyers may need to communicate with sellers about a potential pickup arrangement. They may also need more details about a product, or they may want a few digital photos of the item. For such requests, eBay provides a few ways in which buyers and sellers can get in touch with each other. The website allows messages to be private and secure, protecting the anonymity of both parties while still enabling open communication.
Conclusion
A hammer drill is a powerful, dual-function tool for professionals and do-it-yourselfers. It offers basic drilling action as needed, just like a regular drill. However, when the hammer switch or lever is activated, the drill can also pound the material at a rate of thousands of impacts per minute. The combination of the hammering force with the drilling rotation enables users to get through different materials, including wood, brick, and concrete.
When buyers shop for a hammer drill on eBay, they can choose to see listings from their favourite sellers or from the website's Top-rated sellers. They can select the power, voltage, power source, and other features that they want in a drill. All these search filters and options speed up the shopping process, enabling buyers to locate the right hammer drills with ease. Buyers can also get free shipping or express delivery, depending on the seller. Thus, eBay makes it relatively easy to find just the right hammer drill that one can utilise in projects.