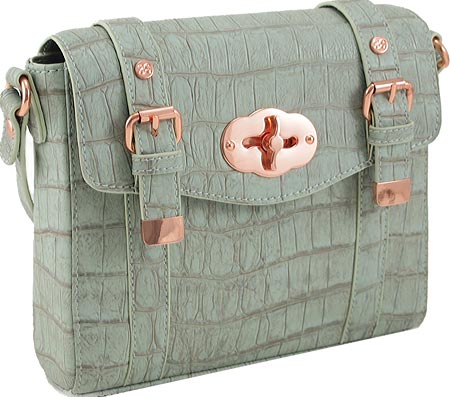 A handbag is an essential item in most women's arsenal of accessories. Most women have more than one bag for different outfits and occasions. eBay provides an easy to use marketplace full of exciting, on trend handbags, as well as beautiful classics. eBay offers such exceptional value for money that it may even be possible to buy a second glorious handbag with the money remaining from the original budget. This guide provides consumers with information about the eBay buying process, which is straightforward and results in a pleasurable shopping experience; all conducted from the comfort of home. The guide also describes many of the different types of handbag, and the materials used to make them, as well as what each bag is best suited for. After all, gliding into a sophisticated cocktail party with an enormous tote will not create the right impression.
Shopping for a Handbag on eBay
Shopping for a handbag on eBay is much easier than wandering from one high street shop to the next to find that perfect bag. Instead, shoppers can sit and browse through the hundreds of handbags that eBay has to offer. eBay is user friendly, and well suited to even novice internet shoppers. The site offers a vast choice, and buyers may well find a spectacular handbag that is unobtainable on their local high street. Shop the look on eBay for inspiration on ways to wear.
Different Ways of Shopping for Handbags on eBay
When shopping on eBay, there are a variety of different tools and options available to the consumer. This enables the buyer to quickly and easily find their perfect handbag with minimal time and effort, creating a simple and enjoyable shopping experience.
General Handbag Search
A general handbag search can be performed from the eBay homepage. This produces many thousands of results, and is an ideal search method for those that are unsure of the handbag they are looking for. Potential buyers are then able to look through all of the listings, covering every imaginable type of handbag, from a clutch to a tote.
Narrowing the Search
If the number of listings from the general search is too large, apply filters to narrow the search, still leaving a good range of different handbags to choose from. Buyers can narrow their search by including only new or used items. Choosing a used item which is in good condition is an excellent way of securing a high quality handbag at an affordable price. Buyers are also able to dictate the price range by filtering the results to only present the handbags that fall within their budget. They can also narrow the results by location, which is a popular choice with those looking to save money on postage costs by collecting the handbag themselves.
Specific Handbag Search
Those consumers who have already made up their minds about one or more of the handbag's features can conduct a more detailed search. Using specific terms, such as "gold sequined clutch bag", or "black hobo bag", provides far fewer search results than a general handbag search. This saves time by focusing on the most relevant items. Performing a specific search is perfect for those decisive buyer who know exactly what they are looking for.
Types of Handbags
eBay has a wide range of handbags, suited to a variety of occasions and tastes. Consumers will find handbags for evening wear, such as a classy clutch for a dinner and dance, or a large tote to wear over the shoulder for a day out shopping with friends.
Clutch
A clutch is a small, usually rectangular handbag, predominantly used as an evening bag. It is made to hold essential items, such as money, keys, and a mobile phone. A clutch commonly has no strap or handle and is held in the hand. There are a range of styles and colours available, from flamboyant neons to glamorous gold sequined models, as well as plain, understated versions in black or muted tones.
Tote
A tote is an open bag that is fairly large and suitable for carrying shopping, books, or essentials for a day out. They offer a classic day wear look, popular with all generations. A typical tote has one large compartment, although some have a separate zip or velcro sealed section for valuables or small items that get lost in a large bag. A tote often has two sets of handles of differing lengths. The longer handle enables the bag to be carried over the shoulder, whilst the shorter handle allows the bag to be held in the hand. Totes are made of a variety of materials, from canvas to leather, so they are very strong. Bright colours or a striped pattern are common for the summer months, but warm or dark colours are popular for the winter.
Satchel
Satchels are rectangular, soft sided, and have a flap over the front of the bag. They were originally used as messenger bags or book bags. They are now a common bag for casual day wear. Their large size and shoulder strap makes them perfect for shopping or for carrying bulky items. The traditional closure mechanism is a snapper, which leaves the bag fairly insecure. However, many are now available with a zip closure underneath the flap, providing a separate, secure compartment. Many satchels have pockets for small items, such as mobile phones or pens on the front of the bag, underneath the flap, or on the inside. They are generally either made from leather or canvas.
Hobo
Hobo bags are crescent shaped, with an adjustable shoulder strap. They are fairly large, although most models are smaller than a tote. They are made from soft and flexible materials, which give the bag a slouchy appearance when slung over the shoulder. The larger models are worn as casual day wear, whilst smaller, decorative versions are available for evening wear.
Wristlets
A wristlet is a very small bag, usually measuring between 10 and 17 centimetres. These bags are worn hooked over the wrist, and are designed to carry small, but essential items, such as money, or a lipstick. Alternatively, wristlets are put inside a larger bag to hold small, easily misplaced items.
Types of Material
Handbags are available in different materials, and the most appropriate is determined by the type of bag, its purpose, the preference of the buyer, and importantly, their budget. The chart below gives buyers an easy way to assess the advantages and disadvantages of many of the common materials used to make handbags.
Type of Material

Advantages

Disadvantages

Easy to clean

Light to carry

Looks good with casual wear

Inexpensive

Material can rip easily

Strong

Water resistant

Long lifespan

Difficult to clean

Expensive

Strong

Long lifespan

Difficult to clean

Becomes dirty easily

Strong

Elegant

Light to carry

Flame retardant

Hard to clean

Stains easily

Expensive
The chart above helps buyers to choose the type of handbag material that best suits their needs. For example, someone who wants a bag that is light, but also inexpensive and easy to maintain should consider a canvas bag.
Buying a Handbag on eBay
When choosing a handbag to purchase on eBay, it is important that it is in good condition. Buyers should make sure that the item comes from a smoke and pet free home as most handbags cannot be easily cleaned to remove stains and odours. Before confirming a purchase, buyers should carefully examine the item description and the photos provided, to make sure the item meets all of their requirements. If anything is unclear, or if there are areas of concern on the photos, buyers are able to contact the seller and ask for more information. A good seller will provide a prompt response and further pictures, if required.
Feedback
Before committing to a purchase, buyers should look at the feedback score of a seller to ensure that they are purchasing from one who has a high percentage of positive feedback. Feedback is information left by buyers after a transaction is complete. It provides details about the seller's performance, product, and service. Positive feedback is a strong indicator that a seller has a good eBay reputation and that the transaction will be smooth and result in the arrival of a quality handbag in a timely manner.
Postage
Potential buyers must take into consideration the postage fees when setting an item budget. For expensive handbags, it is worth asking the seller if they will post it using a special delivery service, which insures the handbag against loss or damage while in transit. It should be noted that the buyer may have to cover the additional cost associated with this service.
Conclusion
Many women find themselves lost without a handbag. A handbag doubles up as a medicine cabinet, a pen pot, the family bank, and the place that holds all other kinds of items, much in the same way as the magic carpet bag belonging to Mary Poppins. Handbags vary considerably in size, style, and purpose. They are available in different shapes, materials, patterns and colours. Some are suited to formal evening wear, while others are more suited to casual day wear, shopping with friends, or a day at the beach. Using this guide, buyers can find all the information that they need to select a bag which is right for them and for the occasion. Buyers can also use this guide to help to decide which material they prefer. The guide also provides all the key information regarding how to find the best handbag on eBay and how to have a pleasurable shopping experience at the same time.