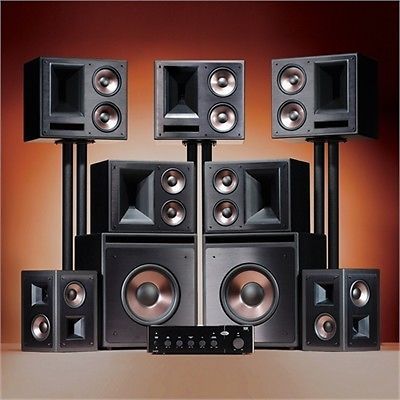 A home cinema system generally comprises of a few key components that function as a unified whole to bring the experience of big-screen entertainment from the cinema into one's own home. These components usually include a stereo system for audio output and either a large television set or projection system. The latter is particularly useful if trying to emulate the cinema experience as closely as possible. Whatever the decision made, all of these products are sold on eBay by a wide range of sellers and can be found at very competitive prices.
Purchasing a Home Cinema System on eBay
Buyers have the option of creating a personalised, custom setup using a wide range of separate components or purchasing a predetermined setup, which contains all of the necessary components and cables to create a full home cinema setup. There are benefits to each kind of decision, which will be highlighted in the below sections, along with a description of the different equipment that can be found on eBay.
Which Home Cinema System to Choose
When deciding whether to purchase a pre-packaged system or create a personalised setup out of individual components, it is usual to know the full details and benefits of each type of system. The below table provides information on these.
| | |
| --- | --- |
| System Type | Description |
| | For those who do not know a lot about technology in the home cinema system area, the option to buy an all-in-one system can be very useful. It takes the stress out of making a decision on numerous individual parts so that buyers only need consider the specifications as a whole and view customer reviews on the entire system. All-in-one systems include the cables necessary to connect external devices, such as media players or games console, as well as including a predetermined number of speakers and an amplifier. Different packages come with different numbers of speakers. |
| Separates | Separates is the term given to a range of individual home cinema components that make up a complete system when combined. These include speakers, amplifiers, and soundbars. For buyers with more confidence in their technical knowledge or who are looking to personalise their system, purchasing separates to make a home cinema system is another option. However, it is worth keeping in mind that this approach is often more expensive. |
| Soundbars | Soundbars are long bars that contain multiple speakers in a horizontal or vertical arrangement. These are beneficial for saving space as they can be layered beneath other soundbars or a television set. |
What Number of Speakers to Use
Depending upon personal preference, space available, and budget, home cinema systems offer different numbers of speakers in each package. The most commonly offered speaker setups available are 2.1, 3.1, 5.1 and 7.1. This number depicts the number of speakers that are used by each system, as 2, 3, 5 and 7, respectively.
| | |
| --- | --- |
| Configuration | Description |
| | These speaker systems offer the most basic arrangement for a home cinema system, with the 2 or 3 included speakers being positioned at the front of the room along with the television or projector screen. The subwoofer is placed elsewhere in the room. The drawback to having 2 or 3 speakers as a maximum is that surround sound is not possible. |
| 5.1 | These systems use 5 speakers in their setup, with 3 at the front of the room and 2 in the rear. Due to this setup, surround sound is achieved, which provides a greater audio experience similar to that of a cinema. The subwoofer is also positioned at the rear. |
| 7.1 | These systems are not unlike 5.1 setups, using just two additional speakers. However, there is not a great deal of media that fully utilises 7.1 setups. The additional speakers are also positioned at the rear. |
Further Accessories
Buying an all-in-one system generally means that all necessary cables will be included for connecting the individual components together. However, when purchasing separates, ensure also that the necessary cables are bought to avoid delays in completing their installation. Another consideration to make is the available space in which to install a home cinema system. If purchasing a complete system, include a television set or projection device, then further considerations come into the equation too, such as the distance needed between a projector and a screen.
Choosing a Seller
The number of sellers operating on eBay is vast, with many offering the same products; therefore, it can often be difficult to make a decision on which seller to use. Fortunately, buyers are afforded a number of tools to help decide which sellers are the most reliable and trustworthy.
Positive, Neutral, and Negative Feedback
Every user on the eBay website who has successfully completed a transaction will have a feedback score beside their username. This number is representative of the number of sales that they have taken part in as either a buyer or a seller. After a sale, the other party involved leaves a positive, neutral, or negative feedback score, along with a comment if desired. By clicking on a member's feedback score, it is possible to view their historical feedback record in detail and see the positive and negative feedback broken down into periods of 30, 60, and 90 days. This makes it possible to examine any instances in which a seller or buyer has received a negative comment. Overall, the feedback feature helps buyers to avoid sellers who have a bad track record in completing sales and choose those who are well-reputed.
Questioning a Seller
The eBay website allows sellers to create very detailed descriptions of an item by using html formatting in an extensive text box. In addition to this, when choosing a category to list the item in, selecting the item in question from the eBay catalogue will provide a range of preset specifications about the product. However, in the case that an item listing does not provide sufficient information to make an informed purchase, it is possible to send a question to the seller about the product listing. Upon receipt of this, the seller can then reply directly to the query as well as choosing to post the answer on the item listing should they so wish. This helps buyers to verify the legitimacy of an item and get all of the information before making a purchase in order to ensure that the product is as expected.
Seller Spaces
Much like an online website has a product catalogue, eBay allows sellers to have their own space on the website in which to operate a personal shop. This is beneficial to sellers in allowing buyers to find all of their related products easily and encourage more custom, but can also benefit buyers because it proves that the seller is a legitimate trader.
Finding Home Cinema Systems on eBay
The eBay catalogue is conveniently split into sections in order to allow buyers to easily locate products in related categories. All of these main sections can be accessed from the initial eBay website homepage. Within each of these sections are further categories, including Sound & Vision,, which is within the Electronics & Technology section and contains all of the subcategories relevant to home cinema systems and related accessories. Home cinema systems are specifically located under the home cinema systems subcategory, which mostly contains a range of full systems that are ready to purchase and install as an all-in-one package. For buyers looking to set up their own system, the Home Audio & HiFi Separates subcategory contains a range of individual components such as speakers, amplifiers, and subwoofers. Should storage units be needed, TV & Home Audio Accessories contains a range of TV stands and wall brackets.
Conclusion
Home cinema systems predominantly consist of a varying number of speakers, a subwoofer, and amplifier, and many buyers also purchase a projection system to complement the new audio equipment. The combination of this equipment results in a full cinema experience in the comfort of one's own home. Buyers can either choose to purchase separates in order to create their own personalised, customer setup or purchase an all-in-one system as a more efficient means. The latter is cheaper option for those who do not know a great deal about home cinema systems and the associated equipment. All of the needed equipment can be found on the eBay website under the Electronic & Technology section of the website by searching in the various subcategories of the Sound & Vision main category. A range of product filters allow buyers to narrow down search results by parameters including item condition, brand, and price.