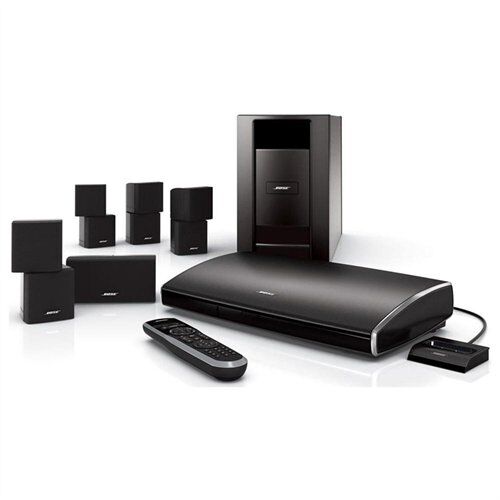 The experience of watching movies on a big screen with high-quality audio and dialogue can be brought to the comfort of a home with the purchase of a home theatre system. These systems incorporate numerous powerful speakers positioned strategically throughout a room in order to increase the audio quality beyond what can be achieved with a television's inbuilt speakers. Home theatre systems can be found on the eBay marketplace as either full setups or individual components. The latter can be used to create a unique setup through the purchase of complementary components.
Surround Sound
Surround sound is the technology used by cinemas to create sound output from different points and directions within a room. This is achieved by the strategic positioning of speakers as part of the system, and requires a certain number of speakers as a minimum, which is explained further in the below tables.
Choosing a Home Theatre System on eBay
One of the initial considerations to make before buying a home theatre system is whether to purchase a complete setup, known as a Home Theatre in a Box, or HTIB, or whether to purchase all of the necessary components separately in order to construct a unique and personal system.
The Different Types of System
The below table illustrates the different options available for setting up a home theatre system.
| | |
| --- | --- |
| Home Theatre in a Box | The quickest method of purchasing and installing a home theatre system, and one that requires little knowledge of the technology, is to purchase an all-in-one system, or Home Theatre in a Box. These setups generally come packaged with all of the necessary components and accessories needed to achieve a full setup, including the speakers, which may vary in number between packages, the amplifier, and any necessary cables to complete the connection. Instructions for easy installation are also provided. These complete setups can be found on the eBay website. |
| Separates | Separates are the individual components that make up a home theatre system, albeit sold separately rather than in a package as listed above. When purchasing separates, it is easier to customise a system and mix different components, perhaps of different brands. It is also easier to upgrade and replace the components due to less stringent compatibility issues. |
| | These components are essentially long bars that contain several speakers. Due to their convenient design, they may be mounted underneath or alongside a television or on a number of surfaces and furniture units around the room. |
Choosing the Number of Speakers
Buyers have an option of choosing how many speakers to include in a home theatre system. It is important to know the benefits of choosing more or less speakers and these are highlighted in the below table. The numbers used to refer to each system directly correspond to the number of speakers used in the system.
| | |
| --- | --- |
| 2.1 and 3.1 speaker systems | 2.1 systems are the most simple, having just two speakers. These are positioned on either side of the television and serve to enhance the audio of the set beyond what is possible from its inbuilt speakers. A subwoofer is also hosted in another area of the same room. A 3.1 system simply adds another, third speaker to the front of the system. These systems are incapable of providing surround sound; further speakers are required to achieve this setup. |
| 5.1 speaker systems | 5.1 systems utilise 5 speakers and can thus provide full surround sound to a room in which they are installed. As with more basic models, three speakers are hosted in front of the set and the remaining two are installed in the back of the room along with a subwoofer. |
| 7.1 speaker systems | 7.1 systems carry two further speakers, which are also hosted at the back of a room. This does not necessarily boost the audio experience, as not all disc media can support 7.1 setups. |
Essential Extras
Before purchasing any home theatre system, the primary concern should be whether or not the intended room for installation realistically has the necessary space to warrant a system. If the answer is yes, then it is important to remember the essential extras, namely cables and mounts. If buying an all-in-one system, cables will already likely be packaged within. However, if buying separates, it is important to ensure that one has all the necessary cables to complete the setup. Mounts or television stands are another important consideration. Though perhaps already possessing a television unit, it must be realised that the new speakers will take up a considerable amount of space; therefore, new units may be required.
Choosing Whom to Purchase From
When purchasing a home theatre system on eBay, buyers have the choice of thousands of sellers, depending on how many offer those kinds of products. This can often make it difficult to decide the best trader to buy from. The eBay website does have a number of features in place, however, that function to guide buyers on which sellers are trustworthy and have a good track record of sales.
Positive, Neutral and Negative Feedback
Following each successfully completed sale on the eBay website, both the buyer and seller may leave feedback regarding the transaction. This can be left in the form of positive or neutral feedback on the seller's behalf, and positive, neutral, or negative on the buyer's behalf. These ratings can be viewed at any time and can be accessed by clicking on the representative number beside the member's username. This feature can provide some guidance as to which sellers are trustworthy and complete sales quickly and efficiently.
Posing a Question
In the case that an item description does not provide sufficient information to make a purchase, or the pictures do not fully depict all angles of the product in question, then it is possible to seek further information by posing a question to the seller. Following receipt of this question, the seller responsible for the listing may opt to host the question on the item listing so that any future prospective buyers who have the same query can benefit from the answer. A copy of the reply is also transmitted to the mailbox of the buyer who posed the question.
Virtual eBay Shops
Sellers on eBay have the option of hosting a virtual eBay shop space, which is a specific area of the website dedicated to their own personal sales. This is particularly useful to those sellers who trade large amounts of items on eBay or who specialise in one area, such as electrical goods. Buyers can browse these shopping spaces easily and locate relates products quickly. Furthermore, the virtual shopping spaces assure customers that the seller is reputable and trusted by eBay. These particular sellers are amongst the most longstanding and reliable sellers and can be trusted to provide a good service,
Finding Home Theatre Systems on eBay
Home theatre systems are available to purchase on eBay and can be found in their own respective categories on the website; all products are listed under specific sections in order to make locating them quick and easy. These can all be accessed from the eBay website homepage and are located on the left side of the screen. These specific products are listed under various subcategories, which fall under the category of Sound & Vision. This section is found under the broader area of Electronics. Each of the aforementioned subcategories hosts different kinds of home theatre system products. Home theatre and home cinema systems are essentially the same thing, and thus buyers should search for home cinema systems under the DVD, Blu-ray & Home Cinema subcategory, if seeking an all-in-one system. However, for separates, which are used to construct a unique, personal system setup, the Home Audio & HiFi Separates subcategory should be browsed. The TV & Home Audio Accessories subcategory is also useful for those who need cables, or wall brackets and television units.
Conclusion
Home theatre systems bring the audio quality of a cinema experience to one's own home in the form of a multi-speaker setup with a media input player. This is particularly evident when using a sufficient number of speakers to achieve a surround sound setup. A 2.1 or 3.1 system is enough to enhance the audio production of a television set, with a 5.1 or 7.1 setup being suited to a surround sound experience. The eBay website is an ideal place to find home theatre systems in both all-in-one systems or as individual components, which can be used to create a customised system. These products can be found under the Sound & Vision area of the marketplace.