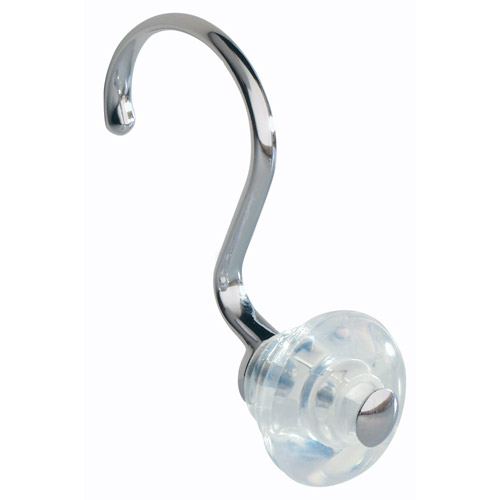 Although small, hooks are hugely versatile items that offer a large range of uses throughout the home. From a single one located behind a door for a coat, to a row of small ones for holding keys, to a set hung over a bathroom door holding bathrobes - these small pieces of metal or wood can be found all around the home, helping to keep things neat, tidy, and organised. While originally in use as a purely practical item, over the years the design of hooks has moved on from being simply functional and utilitarian, and they are now available in a wide range of design styles to suit all tastes. Hooks are found in every location in the home in a variety of guises, and they can be produced either as a single 'standalone' hook or, alternatively, can be integrated into a piece of furniture. This guide is designed to explain the main types of hooks used in home decor and how they can be found on eBay.
About Hooks
Anyone looking carefully around any home will quickly be able to find a wide variety of different hooks. They can be found in virtually every room in the home serving a wide range of functions, from a purely practical storage solution to being a more frivolous design feature. Hooks are available in almost every size and colour and for almost any purpose imaginable, with prices ranging from everyday affordable to more expensive designer items.
Some Notable Styles of Hooks
Hooks are now available for almost any purpose around the home. Here are a few examples of some styles of hooks available today.
Coat hook
Available in a wide range of shapes, material and design, the simple coat hook enables coats and other outdoor clothing to be stored hanging up. Coat hooks can be placed individually or, in houses with a large number of occupants, multiple hooks can be hung to store a larger number of items.
Cup hook
Cup hooks allow cups and mugs to be stored in spaces that might otherwise be unusable – for example, the underside of wall units in a kitchen. They can be very simple, practical hooks that can be placed individually where required. Alternatively, the hooks can form part of a larger, more design-led, item designed to be hung on a wall and form part of the decor of a kitchen - for example, a blackboard for writing notes, with cup hooks along the bottom.
Storage hook
General purpose storage hooks come in a wide range of sizes and styles and are usually very practical in their design. They are suitable for use around the home or garage for a variety of hanging requirements.
Key hook
Key hooks can be small individual hooks that can be placed on a wall. Alternatively, like cup hooks, a more popular format for key hooks is for them to form part of a more design-led item that incorporates some kind of practical feature such as a mirror or memo board with a set of small hooks below for keys.
Curtain hook
A curtain hook is an item that will either be used to hold a curtain back from the window when the curtain is drawn, or to secure curtain tie-backs serving the same purpose. As these hooks are usually found in the 'public' rooms of a home, they are generally much more decorative and ostentatious in their design than other more practical hooks in other locations.
Picture hooks
A purely practical item, picture hooks are used to hang pictures or mirrors on walls. They are generally fixed directly to the wall, and the pictures are then hooked onto them.
Popular Uses for Hooks Around the Home
Hooks can be found in use in virtually every room in the house. Here are some examples of how the different types of hook types can be used in different areas of a home.
Kitchen
A kitchen can contain many different kinds of hooks, all serving different purposes. Some people hang pans, dishes,, and other utensils by hooks from a rack suspended by the ceiling or from a rail on the wall. Kitchens also often contain a row of small hooks designed to hold all the different household keys.
Hallway
Most hallways will contain coat hooks in some shape or form. This could be either in a row along a wall, either fixed directly to the wall, or on a wooden baton. Alternatively, the hooks could be part of a larger coat stand or dresser.
Bathroom
A bathroom may contain hooks for hanging towels or dressing gowns. These may be fixed to the walls or may be a special kind of hook that fits over the top of a door. Hooks may also be found fixed to the wall in a shower or on a shower caddy for holding brushes, loofahs, or other shower accessories.
Living rooms
Heavy curtains may be held back by tie backs which fasten onto hooks. These types of hooks are often very decorative in design. Depending on the size and layout of the home, the living room may also contain decorative coat hooks and key hooks.
Bedrooms
Hooks are often found in wardrobes for hanging clothes or sometimes on the back of bedroom doors for hanging coats or other clothes. In children's bedrooms, brightly coloured decorative hooks are often used to hang up clothes or sometimes toys.
Garages
Hooks of all shapes and forms can be found in use in garages, hanging something as small as a spanner or as big as a bike. Hooks used in garages are generally of a very plain, robust and practical design.
Things to Consider When Buying a Hook
When buying any kind of hook, the choice should be driven by what the hook will be used for. If it is for a very practical and utilitarian purpose, then the primary requirement should be whether it does the job it is required to do. Is it strong enough, is it the right size for the item to be hung, will it fit in the space required? These are the sort of questions that should be asked when buying a hook for a purely practical reason. If, however, the purchase is for a more decorative reason, then the search process can become more fun and design-led, instead of being driven by practicalities. The look and feel of the hook will be more important when a design choice is being made – so the first thing to consider is whether it will fit in with the design or colour scheme it is being bought for. For example, a very modern metal hook might work in a sleek and modern bathroom, but will be very out of place in a farmhouse-style kitchen. There are also a lot of small pieces of multi-functional furniture that incorporate hooks into their design that can be considered when planning a purchase of hooks. There are so many different styles of hooks available on eBay that it should be possible to find the exact item required without too much difficulty.
Conclusion
Hooks are a practical solution to a wide variety of storage issues and they are an easily affordable way to get organised. No matter what kind of hook is required – from cup hook to bike hook, key hook to picture hook, there are a huge variety are available on eBay and there's sure to be one to suit every need.