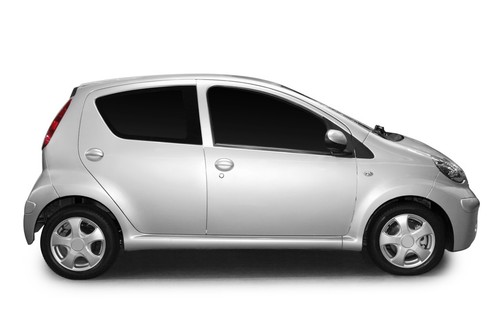 In the world of small cars, they don't come much smaller than the unique Hyundai Getz . Despite its tiny size, this supermini vehicle packs a powerful punch. During its production run this vehicle won several awards, including UK's What? Magazine's Budget Car of the Year for 2003. While its tiny size is sure to turn off some buyers, especially those with larger families who need considerable space, its overall affordability makes it worth taking a second look.
The Hyundai Getz offers excellent fuel economy combined with high safety ratings all in an affordable package. Buyers who want a Hyundai Getz need to examine several factors, including the differences in model years as well as the condition of the vehicle itself. Since this model is no longer being produced, used car dealerships, and websites like eBay, are a few places where a consumer can find one. Consumers should learn about the Hyundai Getz to see if it is the right model for them.
Hyundai Getz Overview
Hyundai is a South Korean car company, and together with Kia Motors, which the company bought, it is the 4th largest automaker in the world. Hyundai makes many different classes of cars, including compact models of which the Getz is one. In fact, the small size of the Getz earns it the classification of the supermini, the smallest classification of cars. Superminis are defined by their tiny size, low-powered engines and excellent fuel economy. Because of these reasons, superminis make for decent daily drivers since they can be operated at a low cost to the consumer.
Development of the Getz
Hyundai debuted the Getz at the 2002 Geneva Motor Show. Though Hyundai is an Asian company, the Getz was designed in Germany primarily geared for the European market, though it also found success in Asia and India. Because very compact cars are not desired in the United States, the Getz was never marketed there throughout its entire production run.
Hyundai's aim with the Getz was to create a super compact car that provided excellent fuel economy, reasonable safety standards, and a stylish design. The main goal, however, was to create a car that anyone could afford. While the Getz may not wow anyone who is used to driving luxury vehicles or large cars, it was primarily aimed at first-time car buyers who needed a vehicle to get them to work and back. Thus the Getz found a place among young and middle-age consumers who were more concerned about affordability than luxury features.
Hyundai Getz Specifications
The Hyundai Getz was made during the years of 2002 to 2011. It went through a major design overhaul in 2005, so models before and after this year appear different from one another. No matter the year, however, several things remained the same. The car was always offered as either a three-door or a five-door hatchback. This design allowed the interior of the car to appear larger than it truly was, making this supermini car feel somewhat spacious on the inside. Models were also offered in either manual or automatic transmission, though the automatic transmission version was more expensive.
Engine
Depending on the year and the subtype, the Hyundai Getz used several different engines. The smallest and least powerful engine was found in the 1.1 model manufactured from 2002 to 2005. Diesel engines came on the 1.5 CRDi model.
| | | | |
| --- | --- | --- | --- |
| Model | Engine | Cylinder Volume | Gas or Diesel |
| | | 1086 cc | Gas |
| 1.3 | | 1341 cc | Gas |
| 1.4 | | 1399 cc | Gas |
| 1.6 | | 1594 cc | Gas |
| 1.5 CRDi (2004-2005) | | 1493 cc | Diesel |
| 1.5 CRDi (2006-2009) | | 1493 cc | Diesel |
It is also worth mentioning that an all-electric Getz appeared in 2008 as well. This model was only sold in New Zealand and Australia.
Engine Differences
The main difference between the different models was the engine size or type. Early models before 2005 used either a 1.1 litre, 1.3 litre, or 1.6 litre engine. As the size of the engine is increased, so too is the power of the vehicle although even the largest Getz engine was tiny compared to mid-range vehicles. A 1.5 three cylinder diesel engine was also offered on the CRDi before 2005. After 2005, Hyundai replaced the three cylinder diesel engine with a four cylinder one, although the cc amount remained the same. Hyundai likewise replaced the 1.3 litre gas engine with a 1.4 litre gas engine after the 2005 upgrade. This made the 1.4 Getz slightly more power than its 1.3 predecessor. 1.3 models are found up to 2005, and 1.4 models are found afterwards.
Interior Design
There were several interior design features that came standard on all Getz models. These included front and side airbags for safety reasons along with anti-lock brakes. Air conditioning was also standard as was the heated electric door mirrors that allowed drivers to see outside even under frigid conditions. A CD player is also available as well as a small onboard trip computer that could display average speed and average fuel consumption for those drivers who wanted to keep fuel efficiency as low as possible.
Getz Cross
A special design model was also offered call the Getz Cross. This model incorporated several SUV design elements into the supermini car, including a roof rack and larger tyres. Its suspension was also raised to accommodate the larger wheels. The Getz Cross was only offered on the 1.4, 1.6, and 1.5 CRDi models.
Luxury Features
Consumers who were able to pay a bit more could get a Getz decked out with several luxury features. These included electronic stability control (ESC) and traction control (TSC) for better handling. A MP3 player with USB connectivity replaced the CD player and Bluetooth connectivity was also included.
Safety Ratings
There are several things to consider when it comes to the safety features of the Getz. As far as supermini cars go, it performs superbly and even earned four out of five stars for child and adult occupant safety from the EURO NCAP, the group that conducts safety ratings. The model was lauded for its extensive airbag protection system that included seat-mounted airbags. It also provided good protection to children sitting in the rear of the vehicle.
However, the Getz scored poorly on its ability to protect pedestrians. This was largely due to the exterior design. Also, buyers need to keep in mind that just because the Getz scored high marks as a supermini vehicle, its ability to protect passengers suffers when compared to other, larger cars. This is chiefly due to the small size of the Getz. If it is struck by a larger vehicle, the Getz is often the one that sustains more damage.
Used Vehicle Concerns
Hyundai quit manufacturing the Getz in 2011, replacing it with the i20. A buyer may get extremely lucky and find a new model hidden in a dealership or obscure eBay listing, but chances are that most Getz models listed for sale today are used. When buying a used car, consumers must always examine the motor vehicle report. Each car has one, and this report states if the vehicle was ever involved in a serious accident. Consumers should never buy a car that was in a serious automobile accident, even if the vehicle appears to be in good condition. Some dealers and sellers may not offer a motor vehicle report upfront, so it is the buyer's responsibility to ask for one before purchasing the car.
How to Buy the Hyundai Getz on eBay
Since the Hyundai Getz is often sold as a used car, there is no better online venue to purchase it from than eBay. eBay allows both commercial dealerships and private sellers to list their vehicles on its intuitive website, allowing them to directly compete against one another. This passes the savings onto the buyer who can then choose which model represents the best value.
Keyword Searching on eBay
The best place to begin is by typing ' Hyundai Getz ' into the search engine. This returns all relevant results for the correct make and model of the car. However, in most cases you are going to get thousands of different listings, and this makes it difficult to browse through them all. Try to narrow down the search results further by adding modifiers such as the year of the car. A search for ' 2007 Hyundai Getz ' only returns results for this specific year. Another option is to search by transmission by typing ' manual transmission Hyundai Getz ' into the eBay search box. Play around with the different search options to discover the best way to search for the Getz model you prefer.
Conclusion
The Hyundai Getz represents a great value and superb high fuel efficiency. While its small size limits its desirability for certain consumers, those who are concerned with high savings find that the Getz provides high returns for their initial investment. It is a budget-friendly car, and therefore does not come with many bells and whistles, although a consumer can get lucky and find one that comes with a limited number of luxury features.
The standard design features common options like anti-lock brakes and air-conditioning. There are also several different models produced during different years. Models before 2005 have a different look to them than do models produced after 2005, and this difference includes the internal engine parts. Since the Getz is no longer manufactured, the best place to find one is through eBay's used car listings. By doing a careful search and examining the car's history, a buyer can get an amazing deal on an affordable yet reliable vehicle.