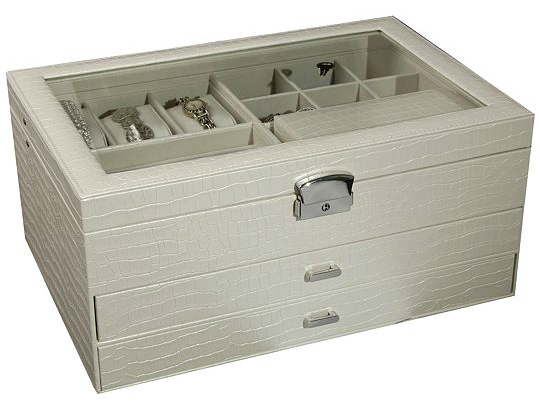 A jewellery box provides a safe place to store items of jewellery so that they do not become lost. It also protects jewellery when it is not being worn. Jewellery boxes are available in a variety of shapes and can be made from several materials, which gives buyers a wide range of options to choose from. Jewellery boxes vary in size, so those who own only a few pieces may benefit from a small box, whereas jewellery collectors may prefer a larger armoire-style jewellery box.
When buying a jewellery box, it is helpful to consider what the box will hold, the styles available and the materials used to make them, the features of jewellery boxes, and whether a used, vintage, or antique box is desirable. A popular place to find to jewellery boxes of all types is the online site eBay. Shopping on eBay offers several advantages, including convenience, great deals, and a large selection of products. It is easy to find desired items on eBay by using the handy keyword search feature. Buyers can also obtain more precise results with a few tricks and tips.
Understand the Jewellery that the Box Will Store
The right style of jewellery box is influenced partly by the volume and type of jewellery that it will store. Buyers who own several necklaces may find a jewellery armoire more convenient than a simple box because it may have hooks and dedicated slots so that the chains do not become knotted or tangled with other pieces of jewellery. When browsing eBay, shoppers should consider filtering the results according to the type of jewellery that they wish to store, such as watches or rings.
Styles of Jewellery Box
It is important to choose a style of jewellery box that reflects the owner's personal taste. Styles can range from classic to contemporary, as well as novelty models that are ideal for children. Some jewellery boxes are available in bright hues, such as red or blue, as well as more stately options, such as black. Natural wood finishes are a timeless option. The most basic jewellery boxes are not much more than a box with a lid. More elaborate designs include the jewellery armoire, the wall jewellery box, the keepsake box, and jewellery rolls and travel cases.
Large Jewellery Boxes
To simplify the search process, buyers should identify which style of jewellery box best suits their requirements, and then modify their eBay searches accordingly. Large jewellery boxes are best suited to those who like to keep all of their jewellery in one place.
Jewellery Armoire
The jewellery armoire has similar features to a larger armoire for clothing. It can be small enough to rest on a dressing table, but larger models can be freestanding and up to a metre tall. A jewellery armoire can have any of the features of a standard jewellery box, as well as pull out drawers. More elaborate jewellery armoires have built-in travel cases, which eliminates the need to purchase a separate travel box. These cases may sit in drawers, or the drawer itself may fold up to travel with the owner.
Wall Jewellery Box
Another large option for jewellery owners is the wall jewellery box, which has a similar design to a bathroom cabinet. It attaches to the wall and opens to reveal shelves and hooks for storing jewellery. These models often feature mirrors, either on the inside or outside of the door.
Small Jewellery Boxes
Small jewellery boxes are useful for small items, such as earrings. They also allow the buyer to keep certain types of jewellery together without storing all of their jewellery in one place. The keepsake box is mostly decorative and meant to hold only a couple of items. The jewellery roll is a pouch-like storage option with compartments to store watches, necklaces, rings, and other items. It opens to lie flat, but can be rolled closed when not in use. The jewellery roll is an ideal solution for travellers, as well as a good option for buyers who are short on space. It is also possible to purchase dedicated jewellery travel cases. These are small and more durable than a jewellery roll.
Materials for a Jewellery Box
When searching for items on eBay, it is possible to specify the material used to make the jewellery box. Wood and leather are common and sturdy choices, but buyers have several other options. Presentation boxes may be made from cardboard, and these are great jewellery boxes to use when presenting a gift. These boxes can be used as long term storage for the item, rather than transferring it to a larger jewellery box. For buyers seeking a more ornate storage solution, there are jewellery boxes with mirrored sides and boxes made from silver and glass. Buyers should remember that these items are more delicate than wood or plastic, so it is best to keep these safely stored and out of the reach of children.
Jewellery Box Linings
Any compartments in a jewellery box should be lined with fabric to protect the jewellery. The lining should be secured firmly to the box and it should have a texture that prevents the items from sliding. Silk may seem luxurious, but it is a bad choice for a lining material because it is too slippery. It also does not help to stop jewellery from tarnishing. Velvet is an option for lining a jewellery box, but it does become damaged easily and is difficult to clean. Better options are felt and faux suede, which help to prevent tarnishing and are textured enough to prevent jewellery from sliding around.
Features of a Jewellery Box
After choosing the material for a jewellery box, shoppers should consider any features that they require, such as separate compartments and mirrors. Some jewellery boxes may even have a lock and key mechanism to protect the contents.
Separate Compartments for Jewellery Boxes
A jewellery box should have separate compartments for bracelets and watches, a compartment with individual slots for rings, and either separate compartments for necklaces or hooks to hang them on. Jewellery pieces should be kept separate to prevent them from tangling and from the damage that can result from the items coming into contact with each other. For example, diamonds are one of the hardest substances on earth and pearls are much softer, so they can be scratched or cracked by diamonds or other gemstones. Gold and silver are soft metals that may be dented by harder materials.
If a jewellery box does not have separate compartments, buyers can store items in the box in jewellery bags, such as those made from organza or velvet. However, this should be done with care. It may be better to keep the most delicate items, including pearls, in separate storage containers. Pearls should never be hung because this can cause pressure and damage to the silk string used to connect them.
To search for jewellery boxes with compartments on eBay, buyers can use keywords such as "jewellery box compartments&" or "jewellery box with drawers&" and go through the appropriate filtering categories.
Mirrors for Jewellery Boxes
Many jewellery boxes may have mirrors within them or outside, which can make it easier when trying on jewellery. The size of the mirror depends on the size of the jewellery box, but can range from a few square centimetres for small boxes to large mirrors similar in size to those found on bathroom cabinets.
Used, Vintage, and Antique Jewellery Boxes
For the shopper looking for a good bargain or rare items, eBay offers a selection of used jewellery boxes. When buying a used jewellery box, shoppers should check the seller's listing for specific information about the condition of the item. This allows buyers to assess whether the box is worth purchasing, or whether its flaws, such as a broken latch, can be repaired. To find used jewellery boxes, buyers can enter a search term such as "used jewellery armoire&" or they can search for a term and then use the filters on the results page to specify the condition.
Shoppers who prefer a jewellery box with a sense of history can turn to eBay for vintage and antique jewellery boxes. Vintage items are those typically 20 to 100 years old and antiques are more than 100 years old. However, buyers should note that the terms are not precise. It is possible to buy reproductions of vintage and antique items. If in doubt about the age of the jewellery box, buyers should always contact the seller. To search for vintage and antique items, shoppers can try generic keywords such as "vintage jewellery box&" or be more specific with phrases such as "1940s jewellery box&".
How to Buy a Jewellery Box on eBay
Using general keywords to search for products can present a great number of results. Buyers can use specific keywords, such as "wooden jewellery armoire&". eBay also provides a way to sort products on the results page by specifications such as condition and price.
A method that buyers can use to narrow down their results is the advanced search function. This function lets buyers use categories and keywords to find results. A useful feature of the advanced search is the ability to specify a seller's location. Buyers can choose local sellers, which opens up the possibility of collecting an item in person, provided that the seller agrees.
Choose an eBay Seller
When shopping on eBay, buyers should pay attention to the sellers as well as the item description. First, they should check the seller's feedback history, which consists of comments and ratings left by previous buyers. To learn more about eBay's feedback system and why it is important, visit the Help Centre feedback page.. Reading the feedback history is a good way to assess the reliability of the seller and to learn about other buyers' shopping experiences.
Top-Rated Sellers
eBay recognises sellers who consistently earn excellent feedback ratings and demonstrate high levels of customer service by labelling them as Top-rated sellers. Buyers can identify Top-rated sellers by the badge that appears on the listing page.
Conclusion
Many buyers look on eBay when searching for the perfect jewellery box. A jewellery box is a wise purchase for buyers as it stores and protects jewellery that is not being worn. Jewellery boxes range in size and shape from small cardboard containers and delicate keepsake boxes to ornate jewellery armoires. So, buyers need to take into account how large their collection is before buying a jewellery box. Buyers should also pay attention to the materials used in the construction of the jewellery box. Wood and leather are standard options, but some jewellery boxes are made from silver or even glass.
Features such as locks, separate compartments, and mirrors, can play a role in the decision making process. In addition to new jewellery boxes, buyers may wish to consider eBay's collection of used, vintage, and antique items. eBay allows shoppers to find exactly what they are looking for with specific keywords and a variety of filtering functions. Combined with the large selection, this makes eBay the ideal choice for buying jewellery boxes.