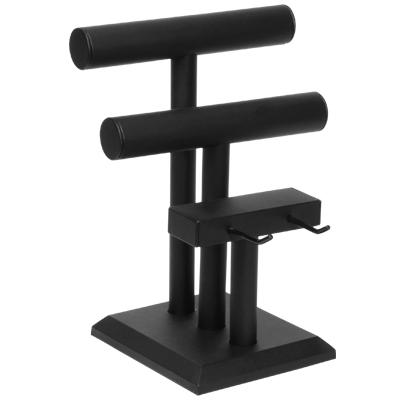 The jewellery display, in all its various forms, is the ideal way to show off fine pieces of jewellery, be it for the living room, lounge, or bedroom. A jewellery display may exhibit a jewellery collection in lots of ways, so whether displayed on stands, boxes, busts, cards, or within a case or cabinet, the right display can bring the treasured items to life. With so many display options available online, eBay provides some of the best examples of a full display range at great value. In fact, it is hard to imagine why a customer would need to look any further for her perfect jewellery display.
The many display unit designs naturally facilitate the widest possible range of jewellery types, from classic to contemporary and every other conceivable kind. Usually, jewellery looks its best when worn, but it comes at least a close second best when properly displayed. Just as different jewellery reflects various personalities, the way a woman displays her jewellery symbolises her feminine attachment to it. Correspondingly, the way a man presents his jewellery also reflects his connection to it which may speak of his identity or individuality. So then, when a customer discovers the best way to display their most precious pieces by learning about the various types of displays available, they find a way to make sure they are constantly appreciated.
The Purpose of the Jewellery Display
Jewellery displays serve a dual purpose, both practical and aesthetic. The practical and most obvious benefit of a jewellery display is that fine jewellery is spared the indignity of becoming tangled or knotted with necklace chains, earrings, or other delicate items when stored in a single box. The use of a jewellery tree stand, for example, overcomes this problem as it enables many kinds of jewellery to hang separately from each other.
Aesthetic reasons for a jewellery display vary according to taste, but as a personal adornment, jewellery has the ability to speak about its wearer every bit as profoundly as other fashion items. Whatever the individual style preferences, there is not a look that cannot be enhanced or extended with the appropriate jewellery. For many women, and for some men also, this becomes a permanent extension of themselves, whilst for others, it merely serves a temporary purpose for a night out. For those who feel that their jewellery is an extension of themselves, it is natural that they would like it displayed even when not being worn.
Show and Tell or Hide and Seek
Some people are reluctant to show off their jewellery at home, whether for reasons of personal security or modesty, but a jewellery display need not be grand and ostentatious. It may be something as simple as a display card to lay out some favourite items to preserve them from tangles, or it may even take the form of a tree from which to hang some bracelets. There are many display options and without a doubt, one that happily meets the needs of most customers looking to eBay for their jewellery organising requirements.
Bedroom Jewellery Displays
A small jewellery display, such as a bust, hand, or tree, can really set off a bedroom dressing table. These items often look best when displayed in intimate spaces, and one or two displays like this can help accentuate and separate a customer's choice items.
Earring Display Card
One of the simplest and most practical ways to store jewellery, the display card lays out jewellery items to keep them neat and well presented. The surface may be made of felt or suede and allow for pinned attachment. This item stands like a picture frame, but many have retractable rear struts allowing them to fold down and lie flat when not in use.
Jewellery Bust
A decorative and elegant way to display a favourite necklace, the jewellery bust is another item for the bedroom or perhaps a living area. It can, of course, be used for either single or multiple necklaces. The neck and bust line of the mould reveals the necklace in the most naturally flattering way, presenting an element of realism simultaneously with a common sense place to keep a favourite necklace.
Jewellery Box
The jewellery box can solve both a storage problem and present an effective display. This item varies enormously according to various types designed for different pieces of jewellery, such as wrist watches, necklaces and rings. Some boxes are made for a single item whilst others are large and designed for the display and storage of many. These items are often antique and may contain several compartments to house different types of jewellery.
As one example, the ring jewellery box is the best place to store and display an array of rings. It provides neat, organised storage at the same time as proving to be an impressive, orderly display when the lid is open. These boxes come in a wide range of designs and finishes, with some that hold up to a 100 rings. An advantage of the jewellery box is that they are often lockable.
Jewellery Stand
The jewellery stand can take the form of many and varied shapes, sizes and dimensions. Within all the design variables, they nevertheless have the same common hanging feature. As a display unit, the jewellery stand can be used for good or ill, depending on how the user displays their wares.
Large Jewellery Displays
Some jewellery display units are large and traditionally made as a stand-alone piece of furniture for both storage and display. Others are discreet and mainly serve as highly organised storage space. Larger furniture display units can be used for bedrooms if space allows but lend themselves particularly well to more prominent rooms of the house.
Jewellery Display Cabinet
More popular in domestic settings in former times, the jewellery display cabinet can be an attractive piece of decorated antique furniture. Modern forms of this cabinet are made mostly of glass, and many include built-in lights. This type is most commonly used for retail business to showcase jewellery in its most dazzling beauty. Nevertheless, some people with large collections of jewellery like to display them in similar cabinets in domestic situations.
Mirrored Freestanding Jewellery Cabinet
The mirrored jewellery cabinet is designed to conceal rather than display, acting as a full length mirror but opening out like a cupboard. This is a fantastic way to store jewellery, and as it keeps all sorts of jewellery neatly organised against a plush vertical bed, it has obvious display potential when the door is opened.
This type of display is quite traditional and some are antique, but it has its modern counterpart. Variations of this design are shallow jewellery cabinets that fit into the back of cupboard doors, and it is another great space saver. Below is a chart for gaining an insight into what to expect from various jewellery displays. It only covers the main types of displays and is by no means exhaustive.
| Jewellery | Material | Placement |
| --- | --- | --- |
| Earring display card | Paper, card, felt, or suede | Mantle, table, or dresser |
| Jewellery bust | Plastic, PVC, leatherette, velvet | Mantle, table, or dresser |
| Jewellery box | Virtually anything | Mantle, table, or dresser |
| Jewellery stand | Metal, wood, plastic | Dresser or floor |
| Jewellery display cabinet | Wood, glass, metal | Floor furniture |
There are alternative ways to display jewellery that are not covered in this chart. The jewellery wearer may also make their own display unit of any size and of any material.
How to Buy a Jewellery Display on eBay
There are many different display units for you to choose from on eBay. When searching for your ideal jewellery display, you should use various, different search criteria, such as "three tier jewellery display&". Once you have found a few potential items that interest you, carefully inspect all details from the sellers' pages, including photos taken from different angles, and see if the seller has an eBay store with similar products.
You then need to read all information pertaining to the seller's terms of sale, such as refund and exchange policies, and make comparisons between several other sellers to get an idea of standard practice. Determine if you can trust your designated seller by checking their ratings score and feedback details. Finally, check the postage and handling costs and determine how you would like your item posted or shipped, and whether by regular or registered mail. Depending on where you live or how large and heavy your chosen item is, you may want to arrange for personal pick up or delivery.
Conclusion
Beautiful jewellery is too valuable to be left crumpled up in a dark box where it may go unappreciated for years. A jewellery display can give life and purpose to jewellery that is not being worn and add some talking points to a room. Also, it is essential that valuable jewellery be kept locked and safe, and for this reason, many people only display their jewellery in private places like the bedroom, where small displays sit convincingly on a mantelpiece or dressing table. Many furniture cabinets for living rooms, however, are lockable, and can potentially generate some intrigue with visitors, which has to be one of the best reasons for an open display of jewellery.
Finding the best jewellery display depends on the amount and type of jewellery a customer has and wants to show. The extensive range on eBay is bound to provide the ideal solution for everyone's needs with the best prices around.