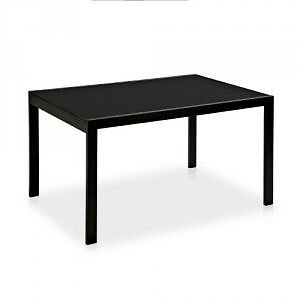 The kitchen is an important room in any home, as this is the place where the family and friends gather, so buying a comfortable, yet functional kitchen table is essential. One needs to take a couple of things into account when shopping for a kitchen table on eBay. With hundreds of different styles to choose from, it should not be too difficult to find a table that suits one's needs and budget. The size of the family, the style of the kitchen, and the uses of the table are some of the factors one needs to consider when shopping for a kitchen table.
The selection of kitchen tables on eBay might seem overwhelming to some, but doing a bit of research in advance may make the search easier. Buyers should consider shapes, sizes, and function before starting shopping for a kitchen table. In addition to that, it would be a good idea to learn more about different types of materials and their pros and cons. Proper research is a great way to make an informed purchase that would enhance the look of any kitchen.
What to Look for in a Kitchen Table
Style and function are the defining characteristics of a kitchen table and buyers should have them on top of their list of things to consider when shopping for kitchen furniture on eBay. Whether one is looking for a wooden or a glass table, there are many shapes and sizes to choose from. The size of the family is of course important, and one should also consider the possibility of adding some extra space for guests when choosing the size of the kitchen table.
Function of a Kitchen Table
The way a family uses the kitchen table is also essential, because in many cases, these tables are not simply used for breakfast, but for a variety of purposes instead, including conversation, craft projects, and homework. Buyers should consider the possibility of scratching marks and colour spills and choose the material of the kitchen table appropriately. For example, if one has children who like to paint in the kitchen, a glass table or one with a marble finish would be a better idea than a wooden one.
Kitchen Style
Another thing one needs to pay attention to when choosing a kitchen table is the style of the kitchen. The table should work well with the existent pieces of furniture in the kitchen as well as with the colour scheme. For instance, a heavy oak table would blend perfectly in a kitchen featuring plenty of dark wood furniture, while a small marble or tile table would be great for a light kitchen with a relaxed, airy atmosphere. The layout of the kitchen is also important and the size and shape of the kitchen should depend upon it. For open-plan spaces, one may choose to separate the cooking and the dining areas, whereas streamlined tables with benches may look good in compact kitchens.
How to Choose the Right Kitchen Table Designs
The design of a kitchen table should be coordinated with the decor of the kitchen and the other pieces of furniture. One of the most popular and practical choices are wooden tables, mostly because they are hard wearing and robust. The only downside of these tables is the fact that wood may scratch and dent, so they may not be the ideal choice for families with small children. Wooden tables are also a perfect addition to country-style kitchens. There are several types of wood to choose from, with oak and pine being some of the most popular choices.
If the kitchen has a contemporary or modern design, plastic tables would be an excellent choice. These are also great for families with children, because they are very easy to clean. For a more formal dining solution, glass tables are an ideal choice.
Besides fabric, one should also take into account the shape of a kitchen table. The most popular choices are rectangular, round, and square, but buyers could also opt for an oval or D-end design. The chart below illustrates the main characteristics of each of these shapes and can help buyers make an informed choice.
Kitchen Table Shape

Characteristics

ideal for intimate settings

available in small and large sizes

great for large families

useful for filling a square floor area in the kitchen

perfect for large families and entertaining guests

seat up to ten people

a good choice for large kitchens

a good option for seating up to six people

generous centre space

perfect for medium and large kitchens

good choice for couples and small families

provide plenty of intimacy

work well in small kitchens

good choice for large kitchens with a traditional design

seat up to eight people

perfect for entertaining guests
When choosing the shape of a kitchen table, one should keep in mind the size of the kitchen as well as the number of person who use it. As it can be noticed from the chart above, the best choices for large families are rectangular, oval, and D-end, while for more intimate kitchens one could opt for round or square designs.
How to Choose the Right Size of Kitchen Table
The size of one's kitchen can play an important part in the process of buying a kitchen table on eBay. Buyers need to consider the size of the table itself and of the chairs around it as well. People need to have enough space to move around and a good rule of thumb is to allow about 50 centimetres all around for sitting down without problems. In order for everyone to be able to sit comfortably at the table, one should make sure there is enough space for the plates and central pieces as well. Foldaway tables may be a good idea for kitchens that are very small.
When shopping for kitchen tables on eBay, buyers have the option to narrow their search results by size, which comes in handy for those who are sure about the size they need. When in doubt, it is always a good idea to browse through the selection for inspiration and choose a kitchen table that is practical and attractive at the same time.
How to Find a Kitchen Table on eBay
Kitchen tables are essential pieces of furniture in every home, so one should pay close attention to a range of details when buying one. One of the best ways to select a suitable kitchen table is to browse through a large selection in order to find the best choice. eBay is a great place to do that, as the website offers thousands of kitchen tables in a wide variety of styles, sizes, and materials from numerous sellers. You can find a kitchen table on eBay either by browsing the entire selection in the kitchen tables category or by performing a quick search.
If you already know what type of kitchen table you are looking for, all you need to do is type the keyword in the search bar on any eBay page. For example, if you are looking for a round table made from glass, you could type "round glass kitchen table" in the search bar. You can then refine the results further by price, colour, size, location, and more. This way, you can find a kitchen table on eBay in a matter of minutes.
There are some things you need to pay attention to when shopping for kitchen furniture on eBay and one of the most important is the location of the seller. As kitchen tables are usually heavy items, the delivery fees may be quite pricey, so buying from a seller in your area would make sense, if budget is your concern. Moreover, you should make sure you read carefully the details in the product description provided by the seller in order to avoid any surprises that may make you want to send the item back.
Conclusion
When choosing a kitchen table, one should always keep in mind that this piece of furniture needs to be comfortable for the entire family and functional at the same time. With so many kitchen table styles to choose from, buyers are spoiled for choice and finding the right style should not be too difficult an endeavour. Kitchen tables come in many sizes and designs and one should coordinate it with the decor of the kitchen. eBay is a great place to shop for kitchen tables, especially if the buyers like to be able to browse through numerous styles before actually making a purchase.
Since eBay offers a large selection of kitchen tables as well as kitchen table sets with chairs, there is something for everyone there. Whether buyers are looking for an affordable option or an elegant kitchen table, they are very likely to find it on eBay, especially because the website is easy to navigate and one can search for a certain style quickly and efficiently.