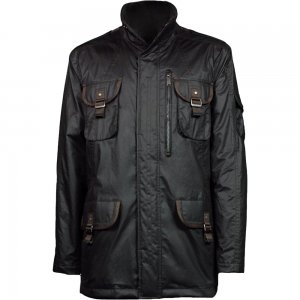 By the time the autumn arrives, with its blustery, rainy days, a coat becomes an useful item. By the time winter arrives, it is essential that every man has a warm, sturdy coat to help him to battle the elements. A man should choose his coat based on how warm he wants to be, whether the coat is purely for practical reasons or suitable for an evening out, whether it needs to be waterproof, and how much he is willing to spend. Both new and used men's coats can be found on eBay, which offers a range of styles and materials to suit every budget. To make the eBay buying process smooth and enjoyable it is useful to understand the types of men's coat that are available, the materials that they are made of, the level of warmth that they offer, how to choose the right size, and how to find just the right coat for the cooler seasons.
Types of Men's Coat
Men's coats range from lightweight rain coats, or shell jackets, to heavy duty insulated and woollen coats. Men should consider whether they need a coat to provide warmth, to be light and waterproof so that it can be stowed away in a backpack, or a combination of the two. There are men's coats to suit every purpose, from practical coats, to on trend coats, from brands like Balmain for H&M, for the fashion conscious man.
Shell Jacket
A shell jacket is a thin and lightweight garment designed for men who like to wear multiple, thin layers to trap the warmth of the body: a shell jacket provides little warmth on its own. It is a waterproof garment that is used either as a top layer to protect from the wind and rain, or as a light coat when the weather is warmer, but rainy. Shell jackets usually have a hood and a zip to close them at the front. A velcro strip often covers the length of the zip to ensure that it remains waterproof. Good quality shell jackets are breathable and promote good airflow inside the garment.
Insulated Coat
An insulated coat is padded inside the lining. Heat is trapped between the body and the lining of the coat. Insulated coats provide differing degrees of warmth, depending on the amount of insulation inside. The insulation is measured in grams, with 30 grams being the minimum and 800 grams the maximum. The higher the level of insulation, the more body heat is trapped inside the coat. There are two types of insulation: down and synthetic. Down comes from the soft, downy feathers of ducks and geese and offers a very high degree of insulation, but is more costly than synthetic padding. It also takes a great deal of time to dry.
Synthetic padding is made from polyester and is the less expensive option. It may not offer the same level of insulation as down per gram, but with additional padding it can be a very effective insulator, and dries much quicker than down. As well as offering warmth, many insulated coats are waterproof, or at least showerproof, and provide protection from the wind. Some insulated coats are multifunctional, and have removable layers, allowing the wearer to use the outer layer as a shell jacket, and the inner layer, which is often a gilet, for warmth.
Wool Coats
Woollen coats include pea coats, duffle coats and overcoats. Wool is naturally waterproof due to the lanolin in the fibres. Woollen coats are exceptionally good insulators, and also protect the wearer from bitingly cold winds. However, wool coats take a long time to dry, and can have an unpleasant odour if left damp for long periods of time. The vast majority of wool coats are dry clean only, which can be expensive. However, they are usually long lasting, so the wearer will have the coat for many winters. Wool coats should be lined with silk or cotton to prevent irritation to the skin in the event of prolonged contact with the wool fibres. It should be noted that long, thick wool coats can make the body appear bulky.
Leather Coats
Leather coats are very popular and are available in several different lengths and styles. Leather coats are expensive, but they provide a very high level of insulation. Leather, if treated properly, is waterproof, and it provides protection from the wind. Leather coats must be dry cleaned, and need to be treated with a leather conditioner to prevent them from becoming cracked and to stop mildew forming. There are four different leather grades, which undergo different processes during production.
Full Grain Leather
Full grain leather is the most expensive and the strongest. Full grain leather from the top layer of skin. The hairs are removed, but it does not undergo any other sanding or buffing. Therefore, the fibres are undamaged, and the leather is exceedingly strong. As the leather is not sanded down, any imperfections or striations and patterns on the skin remain, meaning that each piece of leather is unique.
Top Grain Leather
Top grain leather has the top layer sanded off, and is then buffed to a pleasing finish. This damages the fibres which make up the leather, making top grain leather weaker than full grain. Top grain leather has the majority of the imperfections removed to create a uniform appearance.
Split Grain Leather
Split grain leather is made from a poorer quality of skin. It is an underlayer of skin, which is not as pristine or as strong as the upper layers. Split grain leather is sanded and buffed until it is very thin. An artificial leather effect skin is then placed on the top. It is less expensive than either full grain or top grain leather, but is not as strong, and degrades and cracks. As it has a layer of artificial detailing added, it can be made to look like exotic animal skin, such as crocodile leather, but it is only a fraction of the cost of the real thing.
Bonded Leather
Bonded leather is the least expensive leather type. It is produced from the scraps of leather from other leather grain production. As it is made from scraps, it is much weaker than other leathers. Additionally, it degrades much quicker than other leathers, and is easy to tear accidentally.
Waxed Jackets
Waxed jackets are made from waxed cotton cloth that has had paraffin wax applied to it. This makes the cloth waterproof and wind resistant. Traditionally associated with hunting and fishing, waxed jackets, such as the Barbour range, are also popular with dog walkers, and other people who spend a lot of time outdoors. They are very robust and durable, but can be quite expensive. Wax jackets are very good insulators, but they do not allow the skin to breathe well, as the airflow is limited. Often the lining is removable, because these coats can become very hot and feel heavy when worn for long periods of time. Over time the wax is shed from the cloth, so it is necessary to rewax the jacket, which can be done at home with the correct paraffin wax, or the coat can be sent to the manufacturer for waxing, although this option is costly.
Polar Fleece Coats
Polar fleece coats provide a high level of insulation. However, not all models are waterproof. Polar fleece is very breathable and encourages airflow around the body. While this reduces the effectiveness of the insulating properties, it helps to keep the body dry and cool when participating in vigorous exercise. Polar fleece dries very quickly, and can be laundered at home in a standard washing machine. Polar fleece coats are also very lightweight. Some models offer waterproofing, but those that do not can be worn as an insulating layer beneath a shell jacket.
Trench Coat
The trench coat was originally a military coat, first produced during the Second World War. It has remained fashionable throughout the years, and today is modelled by anyone and everyone, including celebrities and popular fictional characters, such as Doctor Who. A trench coat can end just above the knee, at the knee, or it can be full length. The coat is made from heavy cotton, or wool gabardine. It has a fully insulated lining and is waterproof. Men wear these coats for business and fashion, and to stay warm and dry. While the lining is insulated, it does not offer the same level of insulation as waxed jackets and insulated coats. Trench coats are usually double-breasted, with wide lapels and a row of large round buttons running down each side of the front of the coat. The traditional pale tan brown trench coat is still the most popular colour, but an increasing range of colours are now available.
Size Chart
The chart below provides men with a simple guide to chest size compared against dual sizing. This allows buyers to choose the correctly sized men's coat. The chest size should be measured when wearing a T-shirt or a single, thin layer of clothing.
| | | | | | | |
| --- | --- | --- | --- | --- | --- | --- |
| Size | X Small | Small | Medium | Large | X Large | XX Large |
| Chest (inches) | 32-34 | 35-37 | 38-40 | 41-43 | 44-46 | 47-49 |
| Chest (cm) | 81-86 | 89-94 | 97-102 | 104-109 | 112-117 | 119-124 |
When using this chart to purchase a men's coat, it is important to consider the clothes that will be worn beneath the coat. If the coat needs to fit over many layers, including, say, a suit jacket, then order one size larger than the chest size.
Conclusion
A coat is essential for every man, whether he spends hours in the great outdoors, or just dashes from the office to the car. There are many different types of coat for men, including shell jackets, insulated coats, wool coats, leather coats, and waxed jackets. All of these coats can be found at very competitive prices on eBay. Things to consider when purchasing a coat include size, whether the coat needs to be waterproof, and whether the wearer requires warmth, or prefers just a thin layer of protection. This guide provides buyers with descriptions of the main coat types, giving clear information about the materials used to make them, and the level of warmth and protection of each coat. Using this guide, buyers are able to select the coat that best meets their needs, and to choose the correct size. When looking for a men's coat, shopping on eBay is a great place to start.