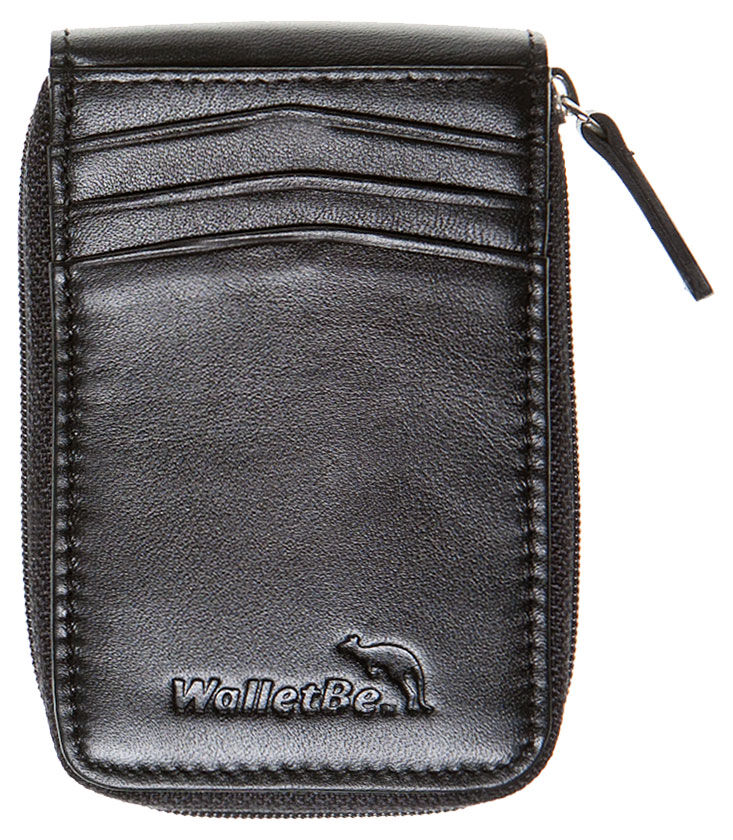 A men's ID wallet houses photographic identification in an easily accessible manner, which is good for general use and for occupations or situations where photographic ID is required. Many men favour a multipurpose ID wallet, that can hold cards and cash, as well as clearly displayed ID. Leather is the most common material for men's ID wallets, with many different types and grades available. For those who have ethical concerns about leather, then faux leather, canvas, and nylon ID wallets can also be found.
When buying a men's ID wallet it is useful to understand the types of materials used to make the range of available wallets, and the advantages and disadvantages of each style of wallet. Armed with this information, a buyer can decide which wallet will be the most appropriate, and then made a confident purchase. Men's ID wallets can be found at men's clothing shops and department stores, or for a vast selection, buyers can browse eBay.
What is a Men's ID Wallet?
A men's ID wallet has a clear, vinyl window used to hold photographic identification, such as a driving licence or occupational ID. Some ID wallets are designed to hold one or two pieces of ID; some have an ID pocket along with credit card holders, paper money and coin compartments; others are specifically designed to hold Oyster cards, with space for one or two credit cards or loyalty cards.
Materials for Men's ID Wallets
Leather is by far the most common material from which ID wallets are made. However, there are a number of other materials used, including canvas, faux leather, synthetic, and recycled materials. Each material has its own advantages and disadvantages, and consumers should have a basic understanding of the different material types before they purchase a wallet.
Leather Men's ID Wallets
There are four different leather grains, each with their own properties. The price range varies significantly for each grain, as does its quality and lifespan. Most men's leather ID wallets are made from cowhide leather, although there are some other choices, including deerskin leather.
Full Grain Leather Men's ID Wallets
Full grain leather is the most expensive of the cowhide leathers. Once the leather has been tanned, it receives no buffing. This creates men's ID wallets with unique surfaces, as the imperfections and unique striations on the hide are left intact. As full grain leather undergoes minimal processing its fibres are left whole, which makes the leather very strong and durable. If properly maintained, full grain leather ID wallets last for many years, becoming soft and supple, and developing a unique patina with age and use.
Top Grain Leather Men's ID Wallets
Top grain leather has the top layer sanded away after tanning, and is then buffed to a deep shine. This splits the leather fibres and makes the finished product somewhat weaker than full grain leather. The sanding removes the majority of the unique imperfections, creating more uniform ID wallets. Top grain leather is still reasonably expensive, but is less expensive than full grain, and has a slightly reduced lifespan.
Split Grain Leather Men's ID Wallets
Split grain leather is made from a lesser quality layer of hide, taken from the underside of the animal. It is thinner and weaker than full or top grain, as it is heavily sanded and buffed, removing all imperfections. Split grain leather is less expensive, and because the sanding and buffing process is so intense, the leather fibres are split dramatically, making the finished product weaker. It has a reduced lifespan and is prone to cracking and desiccation.
Bonded Leather Men's ID Wallets
Bonded leather is made from leather remnants that are by-products from other leather grain processes. It is the least expensive of the cowhide leathers. The scraps are bonded together, and are then moulded and sanded to create a smooth finish. An artificial covering is added, to give the material the appearance of real leather. Often, bonded leather is used to create exotic-looking leathers, such as alligator, but at a greatly reduced cost.
Deerskin Leather Men's ID Wallets
Deerskin leather is used in many expensive men's ID wallets. Deerskin is favoured because it is very strong and durable, but also soft and supple. It softens further with age, and develops a unique patina. Deerskin leather has to be cleaned and maintained correctly. Unlike cowhide, deerskin leather should never be waterproofed or covered with leather protectants. Instead, it should be left raw. The reason for this is that deerskin leather needs to breathe, and the waterproofing and protectants act as sealants. However, deerskin leather can get wet without damage, provided it is thoroughly dried to prevent mould and mildew forming.
Faux Leather Men's ID Wallets
Faux leather has the appearance of leather, but without the use of animal products. Faux leather is the material of choice for those with ethical concerns surrounding the production of real leather. Good quality faux leather is strong, durable, and waterproof. Faux leather does not typically feel or smell like real leather, and does not age as well as good quality leather. Also, it does not develop the same suppleness and patina. However, it is generally less expensive than quality leather, is easier to clean, and comes in a wider range of colours.
Canvas Men's ID Wallets
Canvas is a tough, rugged material, made from heavy woven cotton fibres. Canvas ID wallets are available with both flame-resistant and water-resistant coatings. They are popular with the young and the environmentally conscious. They are relatively inexpensive compared with other men's ID wallets. They are available is a wide range of colours and prints. These wallets usually have a velcro strip for closure, which is considered fairly insecure.
Nylon Men's ID Wallets
Nylon is a tough synthetic fabric. If the nylon is of good quality and heavyweight, then the men's ID wallet lasts for a long time. Nylon is not easily damaged, nor does it decay or degrade. It is stain resistant, and very easy to wipe clean. Nylon wallets are usually waterproofed and hold dyes well, so the ID wallets are available in an extensive range of colours and designs. Nylon is inexpensive, yet very strong.
Types of Men's ID Wallets
Men's ID wallets are available in a number of different styles. Buyers should consider whether they need a basic ID wallet, or if they want a wallet that also allows them to carry credit cards, paper money, or loose coins. Identity theft prevention ID wallets are also available.
Bi-Fold ID Wallet
A bi-fold ID wallet folds in half. There are bi-fold wallets with space for photographic ID only, some act as a card wallet, and other versions have both paper money and loose coin compartments. Bi-fold ID wallets are among the most popular wallet types. They are usually made from leather or faux leather, although there are a small range of canvas and nylon models available.
Tri-Fold ID Wallet
A tri-fold ID wallet folds into thirds and usually has an ID window in one third, and spaces for cards in the remaining two thirds. Some models have paper money compartments, other have a coin compartment. These wallets can be quite bulky when carried in the pocket. They are most commonly made from canvas or nylon.
RFID Blocking ID Wallet
RFID blocking ID wallets are cutting edge technology. Masquerading as a regular wallet, they are usually made of leather. They are part of the modern battle against the theft of personal information. RFID chips contain sensitive personal information and are often incorporated in credit cards. This information can be accessed by unscrupulous people using wireless skimmers and demagnetisation devices. To prevent this from happening a cage within the wallet bounces the signals away harmlessly from the cards tucked inside safely.
Buying a Men's ID Wallet on eBay
eBay has a large range of men's ID wallets available in many styles, designs, and materials. Buyers can find their ideal ID wallet by searching from the eBay home page. To get a wide variety of results to browse through, buyers should use general search terms. If buyers have a clear notion of the wallet that they want, then using detailed search terms, such as "black leather RFID wallet" provides more accurate results.
Buyers should always check the feedback score of the seller before they commit to a purchase. Sellers with a high percentage of positive feedback have a solid reputation for providing quality products and excellent service consistently. If the buyer has any questions or concerns after reading the item description thoroughly, they are able to contact the seller and ask for more information. It is also important to check the returns and refund policy of the seller, in case the wallet does not meet the buyer's requirements.
Conclusion
An ID wallet is a useful and often essential accessory for many men. The clear vinyl pocket allows identification to be readily accessible, which saves time and is vital for some occupations. There are simple wallets that house one or two pieces of photographic ID, but this leaves men having to carry a separate wallet for cards and cash. More practical ID wallets can hold paper money, coins, credit cards, travel tickets and ID, all in separate compartments.
For those worried about identity theft, it is possible to purchase a high tech wallet that blocks skimming signals and protects personal information on credit cards. Leather men's ID wallets are the most popular and are available in different grains, but there are other materials, such as faux leather, canvas, and nylon. For an extensive range, buyers can browse the range from sellers on eBay, and purchase a men's ID wallet to keep their information secure.