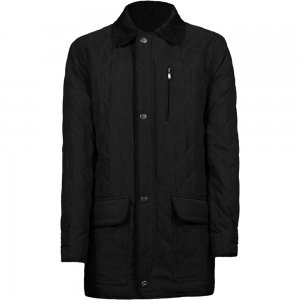 Winter coats are essential when the rain begins to lash, the frost hits, the cold wind blows and the heating gets turned up indoors. A man without a good quality winter coat at this time of year will regret it quickly if he spends much time outdoors. A pea coat is a classic winter coat for men, as is a black leather jacket, which never goes out of fashion. Even men who like to wear lots of thin layers to retain body heat need a top layer, like a shell jacket, which is capable of protecting against the rain, wind, and cold. There are a number of other options including different styles of parkas and insulated winter coats.
This guide provides a comprehensive overview of men's winter coats, and gives guidance on choosing the right style and type based on body shape and preferred level of insulation. Men's winter coats can be purchased from a variety of shops, including outdoor clothing shops, men's clothing stores and department stores. For a vast selection of men's winter coats at fantastic prices, without having to venture out into the cold, consumers can shop quickly and easily on eBay, with no fuss or queueing at the tills.
Types of Men's Winter Coat
A winter coat enables the wearer to stay both warm and dry. While men's winter coats are practical items, they can also be on trend for the fashion conscious man, and there are a range of styles and materials available to suit every taste. When choosing a waterproof men's winter coat, it is important to check that the seams are waterproof as well, otherwise the wearer will still end up wet and cold.
Pea Coats
Pea coats are a classic and popular choice. They were originally worn by sailors, but today are worn widely and are considered, by many men, to be a winter wardrobe staple. Pea coats end at the bottom of the hips, and have broad lapels. They are made from heavy, densely woven wool, which makes these coats very warm, as they help to trap body heat. Pea coats are waterproof if properly treated. Men who choose a pea coat should select the smallest size possible, while still allowing room to fit plenty of winter layers comfortably beneath. The buttons and fabric should not be stretching or gaping open. A pea coat makes the figure seem larger than it truly is, and a coat that swamps the man makes him seem oddly out of proportion. Pea coats are a good option for slimmer men, as they make the waist appear trim, while broadening the appearance of the chest and shoulders. Larger men should avoid a pea coat, as the cut gives large men the appearance of having a larger upper body.
Leather Coat
A leather coat is a timeless classic in men's fashion. Many men buy these coats because the leather can last for a long time, so the coat is a good investment. Men's winter coats made from leather are among the warmest available. If properly padded, leather coats make excellent insulators, trapping body heat to keep the wearer warm. Unless the leather coat is treated regularly with specially formulated products, it is not waterproof. There are numerous styles available, although generally colours are limited to black or brown. Leather coats come in a variety of lengths, including full length, mid calf, knee, mid thigh, or waist length. Shorter men should avoid coats that are too long as they make the body appear shorter. For those who have ethical concerns about the use of leather in clothing, such as vegans, faux leather models are available, which are less expensive and tend to be waterproof, but do not offer the same level of warmth.
Shell Jackets
Shell jackets are worn by men who prefer lots of thin layers for the winter, rather than one thick coat. They are suitable for all body types. Many of these jackets are waterproof, and also offer protection from strong winds. Shell jackets usually come with a hood to provide additional protection, and they have external pockets that are usually covered with a substantial flap to keep the contents dry. The jackets have adjustable drawstrings at the hood, cuffs, and hem. Shell jackets are generally made from a breathable material, such as nylon or polyester and they suit all body types.
Parka
A parka is a waterproof, fully insulated coat with a fur lined hood to keep the head warm. The hood is often detachable, and is fastened on by a zip or a series of snap fasteners. The coat has an insulated interior of either down or synthetic fibres. A parka can either be mid thigh length or hip length. The parka was originally pulled over the head, but is now more commonly sold as a zip up coat.
Insulated Coats
Insulated coats have a waterproof exterior, with a lining beneath. Padding that traps the heat is added between the exterior and the interior. The padding is made from down, the soft feathers of young birds, or polyester, a synthetic material. Both options offer a very high level of insulation. Although down is not recommended for people with allergies, it is favoured by many because it is a natural material associated with luxury. Down is somewhat more expensive than polyester. The insulation for men's winter coats of this type is measured in grams, with the lowest level of insulation at 30 grams and the highest at 800 grams. Some insulated coats have a removable inner. This can often be worn as a gilet, and the exterior can be used as a shell jacket, making a single coat into three versatile garments.
The chart below indicates the advantages and disadvantages of synthetic and natural insulation, offering buyers a simple comparison. This allows them to decide the type of insulation which is most appropriate to their needs.
Type of Insulation

Advantages

Disadvantages

Natural

Warm for its weight

Easy to compress

Lasts for a long time

Bulky

More expensive

More difficult to store

Does not keep warm when damp

Special cleaning required

Synthetic

Inexpensive

Easy to store

Option for buyers who have a down allergy

Loses heat quicker than natural insulation

Weight to warmth ratio is poor
Using the chart above buyers should be able to identify the key points to consider when choosing insulation. After weighing up the advantages and disadvantages of each, buyers can choose whether they require a natural or synthetic interior in their coat.
Things to Consider When Purchasing a Men's Winter Coat
There are a number of factors that should be considered when buying a men's winter coat. The length of the coat is important. Men of shorter stature should avoid long, knee length, or full length coats. The coat overpowers the man, and makes him appear even shorter. Very tall men should avoid short, waist length coats, or ones that sit around the hips, because this makes the legs look exaggeratedly long and out of proportion with the rest of the body.
The fastenings should also be taken into consideration. Buttons are more time consuming, and difficult to grip with gloves on. Smaller buttons are also very difficult to manipulate for someone with limited dexterity or range of motion problems so, in these cases zips or snap fastenings are a better option.
When buying a waterproof men's winter coat, making sure that the seams are also waterproof is essential. There are two types of seams: critically taped or fully taped. Critically taped is the least expensive seam choice, but only some areas are taped, such as on the wrists. This is a perfectly acceptable level of waterproofing unless the wearer plans to spend much time in heavy rain. Fully taped is the more expensive choice, but all the seams are taped, ensuring that every element of the coat is fully waterproof.
Buying Men's Winter Coats on eBay
Men's winter coats are available from outdoor supply shops, sports shops, department stores, and men's clothing retailers. Some shops may only stock winter coats in certain seasons. However, eBay has them available throughout the year. eBay offers an extensive range, with coats suitable for every taste, budget, size, and style. Men's winter coats can be found by conducting a simple search from the eBay homepage,, which delivers a multitude of results. This simple search is an excellent method for those who have no clear idea of the type of coat that they want, and it provides an opportunity to browse through the many available options. If, however, the buyer has any specific details in mind, such as sizing, coat type, or colour, then including this information in the initial search narrows down the choice of coats considerably.
Buyers can choose to purchase a new or used coat, and, if available, can purchase one in their local area, which, if the seller is agreeable, they can collect themselves. This allows them to save on postage costs. Once the ideal coat has been identified, buyers should check the feedback score of the seller before they confirm their purchase. Consumers should ensure that the seller has a high percentage of positive feedback,, which indicates that they will provide a quality men's winter coat in a timely manner, and also provide the buyer with a good eBay experience.
Conclusion
Nobody enjoys walking the dog or spending time outdoors in the pouring rain or in freezing cold temperatures, and they enjoy it even less if their coat springs a leak. A warm, sturdy, waterproof coat is essential once the winter weather sets in, the heavens open and the temperatures plummet. There are many options available for men who need a winter coat, from pea coats to leather, and insulated coats. Some are padded to provide extra warmth, while some, such as shell jackets, are thin; designed as a top layer of water and wind protection for those who favour multiple layers for warmth. This guide provides buyers with a number of different men's winter coat options. eBay has a wealth of men's winter coats to choose from, throughout the year and there are some great savings to be made on both new and used coats.