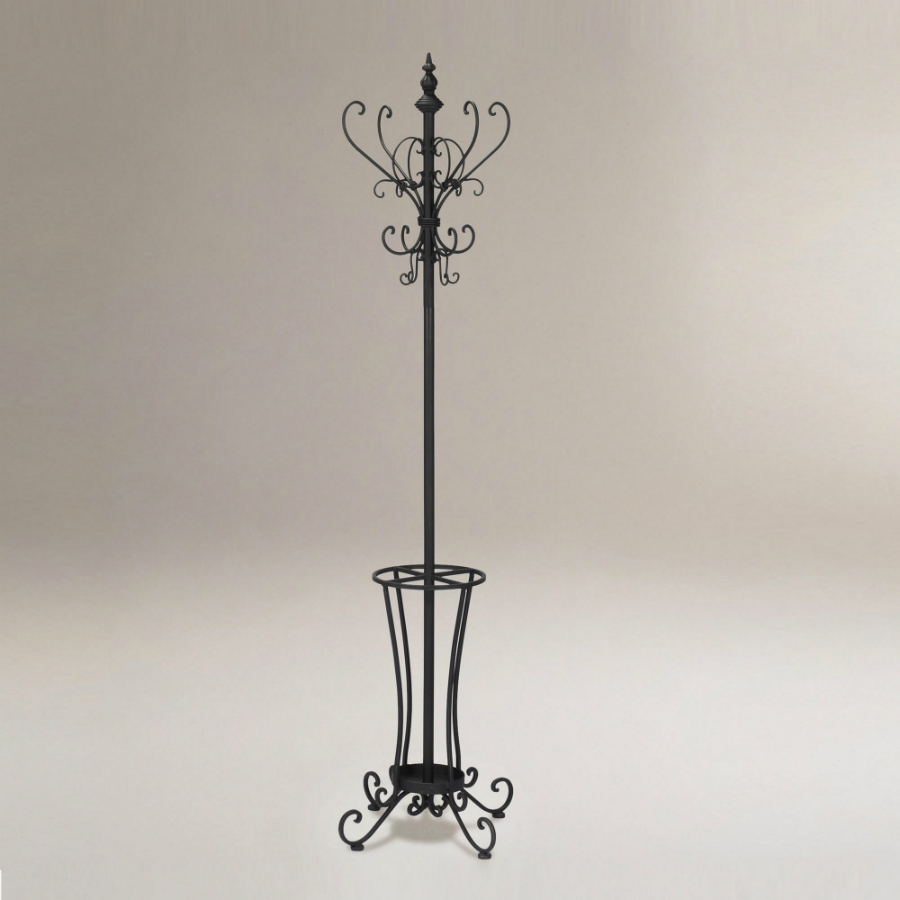 Coat stands are ideal solutions for organising personal belongings and keeping a space free of clutter. They assist with reducing clutter, particularly in cooler months when multiple layers of outwear can be found lying around an entryway or throughout a home. Particularly, metal coat stands provide sturdy storage solutions as well as attractive finishes and designs that complement a range of personal design preferences. Metal coat stands can also be found in a variety of designs that match the style of most rooms and spaces in both domestic and commercial properties.
About Metal Coat Stands
Undeniably useful for businesses and in the home, no bulding is complete without a coat stand. The most common materials used for coat stands are metal and wood, though metal coat stands are ideal for those looking for a sturdier storage solution. Available in a range of finishes and building materials, they are typically heavier than wood stands, and relatively more expensive. Common building materials and finishes for metal coat stands include aluminium, steel and stainless steel, iron and cast iron, bronze and brass, and chrome. Finishes can also be textured to evoke an elegant glossy look or a more weathered antique or contemporary texture. Some metal coat stands may also be combined with other materials, in particular wood. For example, a wood stand may be matched with metal hooks or a metal base. This combination is used for enhanced effect to provide buyers with more style choices. These coat stands provide beautiful finishes that mix the contrasting textures and appearances of wood and metal. Some metal coat stands may also feature a marble base to add a sturdier support, particularly when large items or heavy articles are placed on the stand.
Choosing Metal Coat Stands
When choosing a metal coat stand, it is important to consider the space where the stand will be located. The size of the coat stand must be proportional to the available space so that it does not overwhelm the room or space. The coat stand must also be sufficient in size to accommodate the potential users of the unit. For example, a large family will require a bigger coat stand than a single person living on their own. The more hooks and prongs a stand has, the more items a coat stand can accommodate. The type of metal coat stand purchased will also depend on a range of additional factors, including the material used, the finish of the metal, the style and design of the coat stand, and price of the stand.
Coat Stand Types
There are two main types of metal coat stands, regular coat stands and coat stands with an umbrella stand. All coat stands are mobile and not fixed to a wall or the ground. They typically have legs or a case at the base of the stand, with hooks or prongs at or near the top. In addition to simple or regular coat stands, some units feature an umbrella case or stand at the bottom of the coat stand. This type of coat stand provides buyers with additional storage space. Specifically, coat stands with an umbrella stand allow buyers to store outwear as well as umbrellas and other accessories, including walking sticks, canes and golf clubs.
Coat Rack Design
Metal coat stands convey character and style through their design. From coat stands made in the shape of trees to designs evoking a bygone era, designs can range from simple to complex, traditional to modern, bland to elaborate. There are three common designs for metal coat stands.
Traditional
Traditional metal coat stands are typically basic. They often feature classic, heritage or antique designs, including traditional decorative features such as curved hooks and legs.
Contemporary
Contemporary metal coat stands have modern lines, including understated style and design. Legs and hooks are generally simple with minimal curvature.
Decorative
From playful colours to elaborate designs, decorative metal coat stands appeal to niche design preferences. Design features on decorative coat stands often evoke a specific theme, such as natural or children's themes.
Metal Coat Stand Material and Finishes
Metal coat stands are made from a range of metals and metal alloys. Some of the most commonly used metals and metal alloys include steel and stainless steel, iron (for example, wrought iron and cast iron), aluminum, and zinc die cast metal. While aluminum is commonly used for lighter and more affordable coat stands, iron and cast iron coat stands are heavier and have heritage decorative features. A range of finishes are added to the base material to add style, flare and beauty. The table below summarises some of the most common metal finishes found on coat stands.
| | |
| --- | --- |
| Brushed | Brushed finishes are smooth yet textured. They are typically dull or soft in appearance, such as a matte or satin surface. Brushed metal is common in antique and vintage styled hooks, but also found in modern and contemporary coat stands. Examples of brushed metal finishes include nickel, steel, and aluminum. |
| Polished | Polished metal is shiny and vibrant. This finish is used to create an elegant appearance in both traditional and contemporary coat stands. A metal polish may be needed in order to maintain the sheen of certain polished metal surfaces, for example, brass or bronze. Other examples of polished metal finishes include stainless steel and chrome. |
| Metal Plated | Metal plated surfaces include chrome or nickel finishes. Metal plated finishes are added to a metal base, such as steel or zinc die-cast, using a chemical bath that coats the surface of the base with liquid metal. Metal plated surfaces are often more durable and resistant to corrosion than other metal surfaces and provide for a refined appearance. |
| Paint | Paint is generally used to add a broader range of colours to a metal coat stand. Colours can be used to achieve a range of design objectives, from subtle tones like black for a modern stand to bright colours for a playful decorative stand. |
Conclusion
Metal coat stands offer a sturdy, convenient, and attractive place to store outwear and other accessories. In addition to enhancing a space with an attractive piece of furniture, metal coat stands assist with organising personal belongings and spaces. From contemporary and modern designs to antique and traditional features, metal coat stands are available in a wide range of styles to suit any preference or design objective. Looking at a variety of metal coat stands will assist in finding a unit that fits within a space. Researching metal coat stands will also ensure buyers find a unit that complements or fits the design and feeling of a space.