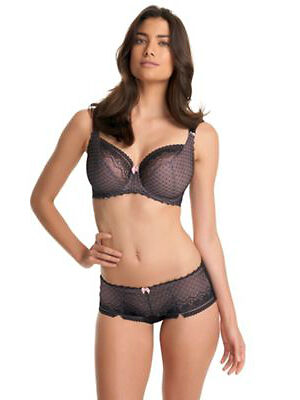 Without a bra, the chest has no support, shaping, or lift, which can lead to back and shoulder pain for some women. Although lingerie typically remains hidden, some women regard it as being as important as their street clothes, which are visible to everyone. Many women choose to wear a bra and knickers that match, or that form a pretty set. Whether the items are sold as a pair, or the wearer purchases them separately, eBay has every style, shape, and size for both bras and knickers: ready made sets and stand alone items that buyers can pair themselves. This guide provides buyers with information about the different bra styles, the level of support and lift that they offer, and the chest size and activity level suited to each. In addition, the guide discusses the different knicker styles that can be used to create a pretty bra set.
Types of Bras
For many women, a bra is an essential item, and they will not leave the house without wearing one. Bras are designed to lift, shape, and support the breasts, but in addition to their practical function, they can be fun, sensual, or stylish. Pairing bras with knickers to create a pretty set is very common, as many women like to be colour coordinated, or to have matching designs, even when the audience for the lingerie is limited. A pretty bra set that is correctly fitted can help to increase a woman's self confidence, and make her feel attractive. Bras are available in a range of styles, offering different levels of comfort and support. Bras also vary in the shape of the straps.
Underwired Bra
The underwired bra has firm, but flexible wires running from the underarm and around the bottom of the cup. It is commonly featured in pretty matching bra and knicker sets. However, it should be noted that underwired bras can be extremely uncomfortable if fitted incorrectly. In a poorly fitted bra, the wires dig into sensitive flesh. Underwired bras offer moderate to firm control. Many of them are half cup models, and as such are not designed for sports or vigorous activity. Women with large breasts can find underwired bras uncomfortable when worn for long periods of time.
Non-Wired Bra
Non-wired, or soft bras, are also used in pretty bra sets. A non-wired bra does not have wires running underneath the cups. Instead, the cup is made from very firm fabric and offers lift, control, and support. These bras are typically considered to be more comfortable than underwired types. Non-wired bras are available in light, medium, and firm control options.
Minimising Bra
A minimising bra reduces the appearance of the size of the breasts. It does this by redistributing the breast tissue, keeping it firm and contained. This can reduce the cup size by up to two or three sizes. Minimiser bras are worn by women with large busts who wish for their chest to be less obvious, and who want people to spend more time making eye contact with them. Minimising bras offer firm support.
Strapless Bra
A strapless bra, as the name suggests, has no straps, so it puts no strain on the shoulders and back. The lack of straps means that the bra offers only light support and therefore is not suited to women who have a large bust, or want to participate in lots of activity, such as sports or dancing. Some strapless bras are supplied with clear straps, which help to increase the level of lift and support, while being invisible from a distance.
Multi-Way Bra
A multi-way bra has strap which can be attached and rearranged in a variety of ways, making it a versatile style. For a typical multi-way bra, the straps can be removed altogether for a strapless look, or they can be turned into a halter neck, racer back, low back, or the traditional form. The level of support varies according to which strap style is chosen.
Full Cup Bra
A full cup bra has large, full cups, covering the breast entirely. These bras offer a high level of comfort, and a great deal of support and lift. So, they are the best option for those with a large cup size. Full cup bras are not designed for wearing with low cut tops, but can be worn beneath tops with a higher neckline, such as a boat neck.
Half Cup Bra
A half cup bra covers less of the breast than a full cup bra, and so it shapes and supports less effectively. However, it enables women to wear low cut tops without displaying their bra. Half cup bras are popular among small to medium busted women who do not require a great deal of support. These bras are not recommended for use when doing vigorous activity.
Matching Knickers
For women that like to feel attractive and well coordinated, a pretty bra set is a must. The knickers can match the bra exactly, with the same fabric, pattern, or lacy edging, or they can be complementary by matching an accented colour within the bra. The look and feel of an attractive bra can be ruined by plain or ill-fitting knickers that do not match. So, the shape and style of the knickers should be taken into account. Women generally have a strong preference when it comes to the style of knickers. Some women are uncomfortable in high legs, while others are horrified at the prospect of wearing full briefs. Therefore, when choosing a pretty bra set, purchasing the right type of knickers for personal taste and fit is just as important as choosing the bra.
Boy Shorts
Boy shorts, also known as shorties, help to avoid visible panty lines. They sit closely at the top of the hips, and finish mid way down the hip. These knickers suit all body types. They offer a full coverage, while still appearing attractive and fashionable.
Briefs
Briefs are more traditional knickers. They are available in both high leg and medium leg. They sit higher on the waist than shorties, and finish higher at the hip. The positioning of the leg band means that when worn with tight fitting clothes, high and medium length briefs may result in visible panty lines.
Full Brief
Full briefs are knickers that sit very high on the waist often covering the stomach, and finish very low at the hip. They are considered old fashioned, and are known colloquially as granny pants. However, they offer such a high level of comfort that they are gaining in popularity. They offer full coverage and limited visible panty line issues. Full briefs with slimming panels are also available and help to slim the appearance of the stomach.
Thong
A thong is a pair of knickers that sits around the very top of the hip line, and provides good frontal coverage. They taper to a moderately wide string at the back, leaving the buttocks exposed. Not every woman is comfortable with the idea of wearing a thong, but those that are find them very useful for avoiding any visible panty lines when wearing tight fitting garments.
Buying a Pretty Bra Set on eBay
Pretty bra sets are available from women's fashion retailers, lingerie shops, or department stores. eBay also offer an extensive selection of pretty bra sets, catering for women of all shapes and sizes. Women are able to buy complete sets, or to choose the bra and knickers separately to form their own unique set. Some women choose to purchase several pairs of knickers to match a single bra.
Bras and knickers, as sets or stand alone items can be found by searching from the eBay homepage. If buyers know the colour, size, or style of the bra, knickers, or sets they are looking for, then entering this information will yield more accurate search results. Once the desired items have been identified, buyers should read the item listing thoroughly, to ensure that they are aware of any flaws, or other relevant factors. Buyers should also check the refund and returns policy of the seller. Some sellers may only offer refunds or exchanges on undergarments if they were tried on over other underwear, for example. Checking the feedback score of the seller is also a sensible option, as a high percentage of positive feedback strongly suggests that a seller will provide quality products and a good service.
Conclusion
A pretty bra set can make a woman feel ultra feminine and boost her self-esteem. A bra set consists of a bra and at least one pair of knickers. Some women choose to have multiple pairs of knickers to match the bra. The knickers can be the same fabric design as the bra, or can be used to highlight an accented colour in the bra. Getting the right bra for the required level of activity is essential, as is getting the right style of knickers. Comfort and fit are key as well as the buyer's tastes. Shoppers can use this guide to explore the different bra styles, which chest size the bra is best suited to, and the level of support that each offers. Also, buyers can use this guide to assess which style of knickers is most appropriate for their requirements. All of this will help them to decide whether they should buy a ready matched set or create their own on eBay, or a high street retailer such as La Senza or Agent Provocateur, where a massive choice awaits.