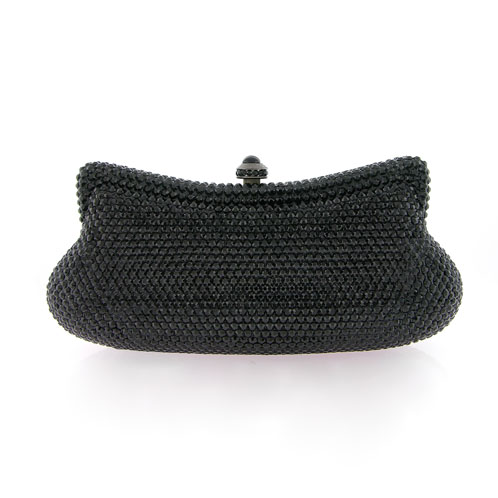 Every woman has a purse, designed to hold her money, credit cards, debit cards, loyalty cards, and perhaps a few small personal items, like a hair tie. Purses are characterised by their small size, similar in design to a man's wallet, and not to be mistaken for the larger handbag that is known as a purse in other parts of the world. Purses come in many different styles, sizes, and shapes. Women's purses often contain dividers, pockets, and compartments, allowing women to keep their cash and cards organised for quick and easy access.
Purses are available in a variety of materials, ranging from leather to silk and velour. Some may be embellished with intricate beads or sequins, while others are embroidered. Fasteners are important for securely holding a woman's belongings and include clasps, snaps, and zips. Women who carry very little may manage to use a purse in lieu of a handbag, but most require more space and will keep their purse stored inside a larger handbag for safekeeping. In order to buy a purse on eBay, it is helpful to know the most popular types available and the proper steps needed to make an informed purchase.
Types of Purses
There are various types of purse designed for different uses and tastes. When considering the perfect purse, buyers should keep in mind its intended function, how many items it should be able to hold, and when is will be used: whether it is for everyday or for a special occasion.
Coin Purse
Coin purses are small and usually carried inside a larger handbag. These purses are designed to hold loose coins, but may also have room for folded paper money and a credit card. Some coin purses have compartments to allow a woman to divide the coins, maybe keeping silver coins in one section, and copper coins and pound coins in another. Coin purses can be made of leather to protect against the abrasive qualities of metal coins, or fabric to make them flexible and easy to store in a small bag or pocket.
Chequebook Purse
Chequebook purses are larger than coin purses. They are designed to fit a woman's chequebook, although few people carry these today. They may also contain multiple credit card slots and a zipped coin compartment. The purse is long enough for paper money to be stored flat, and there may be multiple sections to separate the different denominations of notes. Chequebook purses are large enough to hold receipts and other items, and may have a plastic holder to display small family photographs.
Flapover Purse
A flapover purse is the ideal solution for women who want an item smaller than a checkbook purse, but with more compartments than a coin purse. The flapover purse allows cash and cards to be organised within a compact unit. They typically feature multiple card slots, sometimes up to seven. The flapover section opens out so that paper money can be inserted flat, but the notes become folded when the flap is closed. The flapover section either folds over the coin section, or it can be back to back with it.
Types of Purse Fasteners
Not only are purses are available in different sizes, they also have different fasteners. Some purses have multiple sections, each with a different fastener, for example, a clasp or zip for the coin section and a snap fastener for the paper money section.
Clasp Purse Fastener
The clasp is a vintage-style purse fastener. It consists of two elegant metal parts that interlock to keep the purse closed. Clasps can be found on all types of purse, usually for the section containing coins, but they cannot be closed if the purse is full.
Snap Purse Fastener
Purses can be held closed with a snap. Snaps can be magnetic, or feature a clip or a button. Purses with snaps are quick and easy to close. When considering a purse with a snap, buyers should take into account the number of items that they will be carrying. When purses with snaps are overstuffed, the snap tends not to function as intended and may even break.
Zip Purse Fastener
Purses with zips are a good option for women who tend to overstuff their purse. The zips are durable and are thought the better solution for securing a woman's items, even though they require more effort to close. Zips lessen the chance that an items may fall out of the purse and are unlikely to become undone accidentally like a snap or clasp. Zip fasteners can wrap around the entire purse or just close a particular section.
Searching for a Purse on eBay
To navigate to eBay's assortment of purses, buyers should start their search on the eBay home page. Using the search bar, buyers can type in any key terms related to the item they are looking for. Buyers may choose to simply search "women's purses" or type in more specific keywords such as "black Gucci purse". A more specific search will better narrow down listings, although searching this method often skips over items that may have been of interest to the buyer.
Alternatively, buyers can use eBay's Advanced search feature to narrow down item listings by category or price. This feature also allows buyers to search by location or to limit the listings of purses for sale to that of Top-rated sellers.
Search by Purse Brand
Searching by brand is a good option for buyers who tend to favour certain designers. While Gucci, Coach, and Louis Vuitton are widely known for their exclusive purse collections, these designer purses are on the more expensive end as buyers are ultimately paying for the name brand. Buyers can opt for less expensive, yet still popular, purse brands such as Guess, Roxy,Fossil or Cath Kidston.
Search by Purse Material
Buyers may choose to browse purses by material. While a canvas purse may be better suited for daytime use, a satin or suede purse is ideal for evening events. Leather purses are versatile and are the preferred choice of many buyers. Unlike other materials, leather lasts well with extended use and is easy to care for.
Search by Purse Condition
Many buyers seek purses that are in a particular condition. New purses are widely available, but buyers may opt for a used purse as a cheaper alternative. Some purses are designed for specific occasions and therefore have received limited use. Buyers should always ask sellers about the condition of the purse before placing a bid. If the purse has a broken fastener or contains heavy signs of wear and tear, buyers should take this information into consideration.
Search by Purse Colour
Searching by colour is a great option for buyers who are looking for a seasonal purse. While black and brown purses are perfect for everyday use, brighter purses such as pinks and reds can add a dash of colour. These bright purses are great for spring and summer.
Buy a Purse With Confidence
Buyers should always examine all listing images for signs of wear or damage to the purse before making a purchase. The photos of purses can provide a helpful insight to the buyer and let them know exactly what they are bidding for. However, it is possible to buy a purse that is not what was expected.
Buyers should only purchase purses from sellers that accept returns. It is also important to remember that postage, packaging, and postal insurance may not be refundable. Information regarding returns and exchanges are generally included within an item description. If the description does not discuss the returns policy, a buyer should contact the seller to ask about this important detail before committing to a bid.
Ask a Question
If not all of your questions regarding the purse are answered under the seller's item description, buyers are free to use the "Ask a question" feature on the item's listing page. This link is designed to help buyers communicate with the seller effectively. The majority of sellers are generally happy to answer any questions a buyer may have.
Top-Rated Sellers
When browsing and searching, buyers will sometimes see "Top-rated seller" icons. This icon is intended to inform buyers of the most reputable sellers in the eBay community, giving buyers confidence when purchasing items sold by those sellers. Top-rated sellers have a history of satisfactory customer service and excellent feedback ratings which are given by past buyers.
Conclusion
A purse is often a vital part of a woman's daily life, accompanying her everywhere. A purse is both a functional and a stylish item. The wide selection of purses available on eBay means that every woman can find a purse to her taste. While smaller purses are limited in the number of items that they can hold comfortably, larger purses have a more practical use. Some purses are designed for the sole purpose of holding coins, while others offer multiple compartments for plastic cards. Buyers should also consider the types of purse fasteners. While snaps are quick and easy to use, zips can better secure a woman's items, and clasps provide an elegant vintage look. If looking for a summer purse, a bright colour will help to liven up a woman's handbag. With so many purses to choose from, eBay can help every woman to find the perfect accessory.