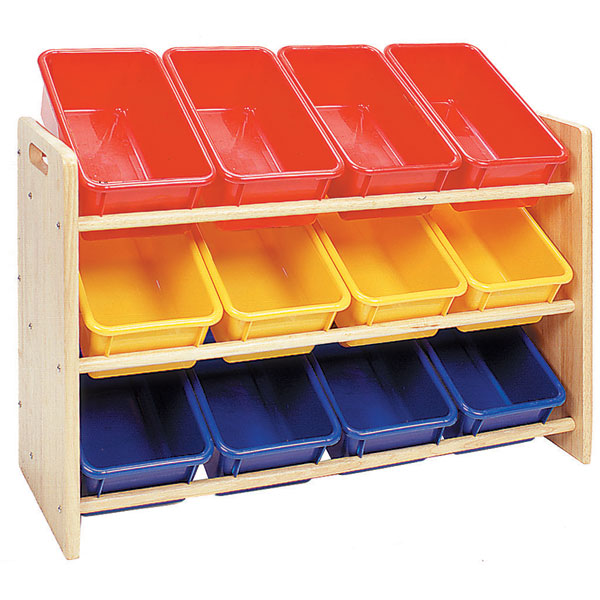 A rack is a handy storage device with many possible applications. For example, a coat rack is useful for neat storage of clothing, and a spice rack is ideal for storing cooking condiments. Store music and software on a CD rack, and use shelving racks to house a huge variety of different items. With such a wide application of uses, racks come in many shapes and sizes: some may be small and compact, while others may be large and robust. Some rack designs are utilitarian, purely functional pieces of furniture, whereas others incorporate aesthetics, rendering them beautiful decorative items. A rack is a sensible storage solution for both home and workplace, and the range of different styles enables easy co-ordination with existing decor. Shopping on eBay enables the viewing and purchase of a wide selection of assorted racks.
A Variety of Racks
Variations in types of rack enable a multitude of different items to be stored or displayed: clothes and shoes, CDs and DVDs, bikes and buggies, food and drink. Providing sensible, space-saving storage solutions, racks have uses throughout the home: in the hallway, kitchen, living room, or bedroom. Larger racks are ideal for organising sheds, garages, or workshops. Also utilise racks in a work environment; office furniture, retail displays, and warehouse storage are just some examples of potential applications. A rack may feature hooks, hangers, or rails. Alternatively, a rack may be comprised of shelves, slots, or supports. Racks can be either free standing or wall mounted, either rotating or fixed. Retro, vintage, and antique racks are available to purchase, as well as modern furniture and novelty designs. The material used in manufacturing the rack will vary, depending on the type of rack, goods to be stored, and the point in recent history at which the rack was produced.
Choosing the Right Rack
The intended use of the furniture will govern which type of rack is most appropriate. Make certain to identify what type of item will be stored, whether the rack will be placed at home or in a work or other leisure environment, and the amount space available in its intended location. Consider which features are required, and take into account the age and condition of the item before selecting a rack to purchase.
Coat and Hat Racks
Coat and hat racks store these garments, along with scarves, cardigans and other items of clothing, in a manner that keeps these items and their surroundings neat and tidy, and which enables simple retrieval. Traditionally, hooks, pegs, or rails protrude from the rack, on which coats and hats are hung. A variety of coat and hat racks exists, offering the opportunity to select a style to suit individual tastes and requirements.
| | |
| --- | --- |
| Free Standing Rack | On feet or legs, a freestanding coat rack or hat rack is a purpose-built piece of furniture, ideally positioned by an entrance or exit. |
| Wall Mounted Rack | A great space saving solution, wall mounted racks have hooks or pegs protruding from a surface which is fixed to the wall in any room or outbuilding. |
| Tabletop Rack | Designed to be placed on top of other furniture, a tabletop rack is a great way to display hats, for example, in shop windows. |
| Hallstand | A hallstand is a large piece of furniture, incorporating hooks to store hats and coats well as extra features to store accessories such as umbrellas or walking sticks. |
Shoe Racks
A shoe rack is the way to neatly organise and store footwear collections. Sliding doors or fold-down cupboards cleverly conceal peep-toes to trainers. Alternatively, leave shoes on display with uncovered shelves. A further shoe storage option is plastic or fabric pockets attached to a hook or hanger for holding footwear in a vertical arrangement; keep hanging racks out of site in a wardrobe or closet.
CD Racks
Digital entertainment storage is not just limited to CDs, but also includes DVDs and Blu-ray discs, video games, computer software, and mp3 devices. Place a CD rack next to a CD player for quick and efficient music selection in any room of the home, or in the workplace. CD racks are available in free standing, wall mounted or table top formats. Materials including wood, metal and plastic are used to manufacture CD racks, and designs that include modern, retro and novelty racks enable music storage solutions to be easily incorporated into existing home decor.
Magazine Racks
Keep living spaces tidy by storing magazines, newspapers, comic books, and other products in a magazine rack. Store reading materials nearby in a neat unit to work or relax in a clutter free environment. Magazine racks are available in various designs to suit individual tastes.
Spice Racks
Amateur and professional cooks alike benefit from a well-organised selection of herbs and spices. Spice racks provide suitable storage for pots or jars. Smaller racks suit those who seldom add seasoning, and larger racks fulfill the requirements of fans of flavoursome food. Types of spice rack include rotating racks, tabletop racks, and wall-mounted racks in a range of stylish and sleek designs.
Wine Racks
From a display unit for just a couple of bottles to storage sufficient to fill a cellar, a wide variety of wine racks is available to purchase on eBay. Free standing, wall mounted, and counter-top designs present suitable options for each type of space available. Antiques, retro designs and modern creations offer flexibility in presentation to suit every taste, while novelty wine racks are a great conversation starter at dinner parties and make excellent gifts.
Shelving Racks
Achieve order in miscellany by using a shelving rack. With multiple shelves at adjustable heights, these sensible storage units are invaluable at home, in the office, or in other workspaces. Potential applications include housing books in a child's bedroom, holding power tools in the shed, displaying collectables in the living room or minimising clutter in the bathroom. Available in a variety of shapes and sizes, and constructed from a range of materials, shelving racks meet all household and commercial storage needs.
Antique Racks
Discerning antique collectors and those simply drawn to beautiful furniture can browse a range of antique racks on eBay. Antique furniture is equally desirable in the home or in the workplace as an aesthetic alternative to mass-produced modern creations. Take care when buying an antique rack to ensure it is a genuine artifact and in good condition, and undertake proper maintenance to retain the beauty and value of an antique rack.
Buying a Rack on eBay
Each item listing on eBay has a written description, and most listings feature at least one photograph of the item for sale. Read descriptions carefully to understand fully the details of the item. Look at pictures to increase knowledge and to appraise the condition of the item. Try to view an item in person before making a purchase if this is possible. To increase confidence in a hassle free transaction, read seller's feedback comments or search eBay's Top Sellers to identify sellers recognised for good service. Be aware that similar items may be for sale by many sellers, including businesses and individuals, so shop around for the best deal before making a purchase. Take into account the cost of delivery of an item, and, if collecting the item in person, always ensure a vehicle with sufficient space to prevent damaging the item will be used.
Conclusion
A rack is a storage solution with many practical uses in the home or workplace. Racks exist in many different styles and designs; many tailored to serve a specific need. Consider its intended use when choosing a rack to purchase, and research eBay listings and sellers for a good deal and a hassle-free transaction.