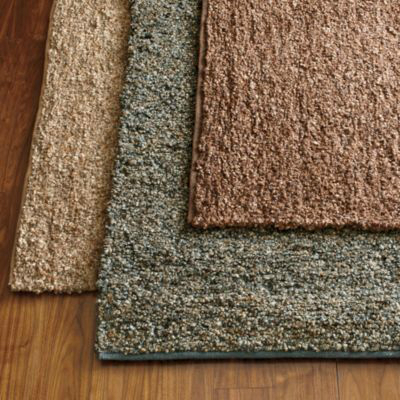 The right rug ties the room together. Throughout history, rugs have served a myriad of purposes, including protecting the floors, providing something comfortable and warm to stand on, covering up stains in the carpet, and simply providing the finishing touches to a decorative scheme. It is important to find a rug that is both thematically appropriate for the room, but also is the correct size and shape.
There are many factors to consider when purchasing a rug. Look for a rug that is the appropriate style for the room, whether it is a Persian rug, an Oriental rug, or one of the many varieties of modern rug styles. Different styles of rugs are constructed with different techniques that create a unique texture and look to the rug. Rugs can be made from both natural and synthetic fibers. Traditional rugs are more likely to be made from natural fibers, but modern rugs are made from either. Synthetic rugs are typically less expensive than natural rugs. If proper care is taken of a rug, it can last many years. eBay offers a large selection of rugs at reasonable prices.
Why Buy a Rug?
Rugs serve many purposes. Historically, they were animal skins used as bedding, seating, and protection against the rough and cold floors of caves. Now, there are many styles of elegant and ornate rugs that can be used to cover the floors in a sophisticated manner. There are modernized rugs that can be used anywhere from the bathroom to the kitchen to protect the floor against spilled water. An area rug on a tile or wood floor protects the floor from scratches and helps prevent slipping. There are few things as unpleasant as placing feet onto a cold tile or wood floor first thing in the morning. An area rug next to the bed helps protect the feet from an unpleasant shock and it is an easy way to add a touch of personalization to the room. Area rugs can also be placed on carpeted surfaces to cover stains, protect the carpets from spills, or finish a decorative scheme.
Styles of Rugs
There are many styles of rugs available for purchase. Three of the main categories of rugs include Persian rugs, Oriental rugs, and modern rugs. Each of these rugs has a different look and method of construction that is unique to the style and time period that it originated. Persian and Oriental rugs are typically more expensive than modern styles of rugs. They generally work better on display in formal settings such as in a formal dining or living room. The style of the selected rug should complement and complete the room while remaining within the personal style and taste of the owners of the home.
Oriental Rugs
An Oriental rug is what typically comes to people's minds when rugs are mentioned. They are the classic ornate rug that has been depicted throughout history. Oriental rugs primarily come from China and related regions. Historically, these rugs were hand-knotted, hand-loomed, and hand-woven, and while many Oriental rugs are still constructed this way, machine-woven Oriental rugs are becoming more prevalent with some rug manufacturers combining elements of hand-crafting in with the machine crafted rugs. Most rugs are made from 100 percent wool, silk, or cotton. A traditional Oriental rug is done in a dark, rich color scheme.
Persian Rugs
Persian rugs are sometimes classified as a subsidiary of Oriental rugs, however, they are well known enough to receive their own stylistic definition. There are three main design categories for Persian rugs. There are geometric, floral, and pictorial schemes. Originally used to provide a floor covering for tents for nomadic tribes, they now serve as elaborate, decorative rugs for the home. Antique Persian rugs are available for purchase. There are rugs on the market that are more than a century old. A Persian rug is not considered to look its best until it is about forty years old. In addition to antique, hand-crafted Persian rugs, there are more affordable modern equivalents, both hand-crafted and machine made. There are also classic Persian rugs that are modern reproductions of ancient rug patterns. Common colours of classic Persian rugs include red, black, gold, tan, olive green, and forest green, but modern rug colours also include blue, cream, yellow, orange, and white.
Modern Rugs
There are many styles of modern rugs, sometimes referred to as contemporary rugs, available for purchase. These rugs are not limited in construction style, design pattern, and colour as they are not attempting to emulate traditional styles. Modern rugs reflect the popular decorative choices of the time they were created, whether it is bold splashes of colour, intricate patterns, or colour blocking. Modern rugs also feature rugs that are geared for children, with bright colours in animal or floral shapes as well as licensed characters.
Construction Style
There are several common methods of rug construction. These styles all provide a different appearance. The pile, or raised surface of the rug, differs from style to style. When selecting a style of construction, it is important to know the benefits and disadvantages of each style of rug. Ultimately, the choice of construction style comes down to what is most visually pleasing for the buyer.
| Style of Construction | Description |
| --- | --- |
| Hand-Knotted | Hand-knotted rugs are labour-intensive and require that each knot is hand-tied to the warp yarns that make up the frame of the rug. The knots are what form the surface of the rug. The more knots that are made, the higher the quality of the rug |
| Tufted | Loops of yarn are pulled through the backing material for the rug and then sheared off so that a shaggy texture is created. The tufts of the rug have a tendency to shed if not firmly secured on the back |
| Hooked | Hooked rugs are created in the same fashion as a tufted rug, however the ends are not sheared off at the finish of the product |
| Flat-Woven | Flat woven rugs are woven together and do not have a pile |
| Braided | A braided rug does not have a pile. The yarns are braided together into a single rope and then sewn together in a circle creating a durable rug |
There is no one construction style of rug that is right for every room. Rather, the style of rug should be selected based on what best fits in with the decorative scheme and within the buyer's budget. Any rug that is crafted by hand carries a higher price tag than one that is constructed with the aid of a machine.
Choosing the Right Rug
Once the style and construction method of the rug has been decided on, there are still several other things to take into consideration before making a final selection. The colour, size, and fibers of the rug are important factors to consider. Before beginning the rug search, it is a good idea to have an idea of the colours, size, and shape of rug that is needed to appropriately fill the space.
Colour of Rug
Avoid choosing a rug in a colour that clashes with the decorative scheme of the room. Darker colours, especially in warm tones can make the room look cozy, which can create a more intimate space. However, in a smaller room, choosing light colours make the room look larger and more open.
Size of Rug
Make sure that the selected rug fits well into the available space. There are rugs designed to be used in entrance halls, smaller rugs meant to be used as bathroom and kitchen mats, and larger area rugs that are used as the centerpiece of a room. Be sure to take measurements of the room before purchasing a room, including measuring any unusual protrusions or angles in the wall.
Area Rug
An area rug is large enough to take up a significant chunk of the room, usually no smaller than two meters by three meters. These work well under tables, in living rooms, dens, or bedrooms where a large area of floor needs to be covered.
Scatter Rug
Scatter rugs are smaller, the typical rug is about half a meter by a meter in dimension. These can be used around the house as floor mats in the kitchen and bathroom or at the foot of a chair.
Accent Rug
An accent rug is larger than a scatter rug but smaller than an area rug. These rugs work well in halls, entryways, and smaller rooms. Avoid putting an accent rug in the middle of a large open space, as it can appear dwarfed.
Runners
Runners are long, narrow rugs that are designed to go in hallways and entryways. They also work well in front of couches or under bars.
Natural vs. Synthetic Fibers
Natural and synthetic fibers have a different feel and appearance to them. Some fibers are more commonly used to make certain styles of rugs. For instance, most Oriental and Persian rugs are made from natural fibers.
| Fiber | Type | Description |
| --- | --- | --- |
| | Natural | Durable, soft, absorbs dye well, ideal for high-traffic areas |
| Jute | Natural | Soft, natural colouring, should not be placed under furniture, ideal for low-traffic areas, environmentally friendly |
| Nylon | Synthetic | Durable, stain resistant, holds up well under furniture, ideal for high traffic areas |
| | Synthetic | Plush, easy to clean, holds colour well |
| Polypropylene (Olefin) | Synthetic | Easy to clean, resists mold and mildew, can be used outdoors |
| Sea Grass | Natural | Easy to clean, ideal for low-traffic areas, should not be placed under furniture, environmentally friendly |
| Silk | Natural | High lustre, soft feel, ideal for low traffic areas |
| Wool | Natural | Soft, thick, static resistant, ideal for high traffic areas, may shed when it is new |
Rugs made from natural fibers are more environmentally friendly than rugs made from synthetic materials. Pay attention to the durability of the material in the rug when exposed to constant use. Not every material is suited to use in a front entryway. For rugs that are exposed to high traffic and dirt, select one that is made in a material that is both easy to clean and durable.
How to Buy a Rug on eBay
Begin your search for a rug on eBay by typing the desired style, colour, or material of rug into the search bar, such as with a search for "Persian rug", "red rug", or "brown rubber rug". From this point, rugs can be narrowed down by size, main colour, and style as well as several other customisable options. Searches can be modified or started over from a search bar on any page, not just the homepage. Add any rugs that catch your eye to your watch list, so that you can go back and compare them after several selections have been made so that you can be assured you are purchasing the rug that best suits your needs.
When making a selection, consider the seller's feedback score, their location, and their return policy. Sellers with high feedback ratings have a history of providing positive transactions. Sellers that are local have shorter shipping times and may even allow for a local, in person pickup.
Conclusion
There are many styles of rugs available for purchase that best suit different spaces and purposes. The first step to consider when purchasing a rug is what room the rug goes into. This determines the size of the rug that is needed to be purchased. When purchasing a rug, consider using eBay for a large selection of new, gently used, and antique rugs in a variety of styles. Make sure to choose a rug that compliments the overall design schematic of the room, whether it is a traditional formal setting like a dining room or living room or something more contemporary and inviting like a family room or basement.
Rugs can also be used in kitchens, bathrooms, entryways, halls, and bedrooms to protect the floor or provide extra comfort and warmth. There are both synthetic and natural materials available for rug creation. Synthetic materials have a tendency to be very durable and good for use in high-traffic areas. While some natural fibers are more delicate, there are also ones that are robust enough to stand up to daily wear and tear. Whatever rug is selected should complement the size of the room, the schematic decor, as well as the stylistic taste of the homeowners.