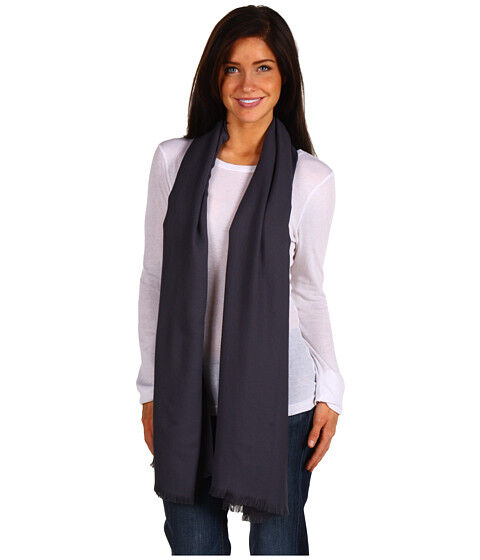 Women can wear a scarf for warmth, as a fashion statement, or as a combination of the two. These fashion accessories can be paired with nearly any outfit from jeans to more formal business wear. Scarves come in a wide range of colours, lengths, and fabrics. Lighter colours and fabrics are ideal for the spring and summer. Any colour can be worn in the autumn and winter, when the fabric tends to be wool. The versatility of the scarf means that wearers can style them in numerous ways, whether tying the scarf in a special knot or dangling it from the neck. In general, scarves are unisex, but certain patterns and fabrics can appeal more to women: fabrics such as chiffon or silk. eBay is an excellent resource for browsing and buying women's scarves. When shopping for a scarf it is useful to know the various styles available as well as the fabric options in order to make an informed purchase.
Styles of Scarves
Women's scarves vary in shape and length. Some women may prefer longer scarves, which are more versatile in the way that they can be worn. Others appreciate the simplicity of square scarves.
Long Scarves
Long scarves are ideal for styling and can be worn in a number of ways depending on a woman's personal taste. They can be looped around the neck to create multiple layers or draped with the ends hanging loose. Long scarves made of wool or flannel are ideal for colder weather, and lightweight scarves in chiffon and silk are better suited for the warmer months.
Square Scarves
Square scarves are usually folded in half to form a triangle then tied in a simple knot. These scarves are an excellent choice to complement a blouse. Square scarves made of silk are popular and can range significantly in price, with designer Hermes creating some of the most desirable models. Square cotton scarves are also a useful addition to any woman's wardrobe. Similar to long scarves, square scarves can be worn in a number of different ways.
Materials for Scarves
Women's scarves are made of a variety of materials. While some are better suited for warmer weather, others are ideal for when the temperature dips.
Silk Scarves
Silk is a highly breathable fabric, making silk scarves perfect for both hot and cold weather. In the winter, the scarf naturally insulates the wearer's body, while in the summer, it keeps the wearer cool. Silk fabric can be dyed easily and as such, scarves made of this material generally feature colourful prints.
Wool Scarves
Wool scarves are often reserved for colder weather because of the warmth of the fabric. These scarves are usually draped in a simple way around the wearer's neck, but can also be wrapped around for additional warmth. Buyers should purchase high quality wool scarves. Low quality wool scarves are composed of shorter, coarser fibres which tend to irritate the wearer's skin and may even lead to skin reactions.
Cotton Scarves
Cotton scarves are an accessory for both hot and cold weather. The fabric's ability to absorb perspiration makes it ideal for the summer. Cotton scarves are soft and comfortable against the skin and are made in an array of weights and textures.
Searching for a Scarf on eBay
Buyers looking to purchase a scarf should begin their search on eBay's home page. From here, buyers can enter any search term such as "women's scarf", into the search bar. This will provide buyers with a wide range of result listings. To narrow down these listings, buyers should use more specific key terms such as "women's silk scarf" or "women's pink scarf". Buyers can also use eBay's Advanced search feature to search by certain criteria such as price. This feature also allows eBayer's to find items for sale by a specific seller.
Search for a Scarf by Material
Buyers may choose to search for a scarf by including a material with their search terms. This is ideal for buyers who know exactly what type of material they want. While buyers looking to buy a scarf for use during the summer months may opt for a 100 per cent silk scarf or a chiffon scarf, those looking for a winter scarf may find a fur, fleece, or wool blend scarf better suits their needs. For those who have sensitive skin, a 100 per cent cotton scarf will prevent any skin allergies from occurring.
Search for a Scarf by Condition
Searching by condition is a great idea for buyers who have a general sense of whether they are looking for a new or a used scarf. Buying a used scarf is a good option since many of this kind of accessory are worn infrequently and so can be found in like new conditions. If buyers want to purchase a scarf as a gift, then they may find that a new scarf better suits this purpose.
Search for a Scarf by Pattern
Buyers are free to search the results by pattern. This is an ideal option for those who have a specific design in mind or are looking for a scarf to complement a particular outfit. A floral scarf pattern is a great choice for summer wear, offering wearers more brightly coloured and tropical prints. A floral pattern can add the perfect feminine touch to a woman's outfit. Floral scarves come in many print sizes and are best paired with block colour clothing. Alternatively, buyers may opt for an animal print scarf for an exotic touch. Animal print scarves enhance a bold look and keep the focus of the outfit at scarf level.
Conclusion
A scarf is a versatile accessory in any women's wardrobe. Whether buying a scarf for its functionality, for fashion, or for a gift, eBay offers buyers the most original items at competitive prices. The selection of scarves on eBay is far larger than many other retailers can offer. Depending on the colour and design of the scarf, this accessory can dress an outfit up or down. While lighter prints and select fabric choices such as cotton are ideal for the summer, wool and heavier materials can add a layer of warmth during the winter. Buyers who wish to tie their scarf in a variety of different ways will find that a long scarf works best, while a square scarf is better suited to be worn simply and elegantly around the neck. eBay's easy to navigate search options makes the site user friendly, which makes it straightforward to find the perfect scarf.