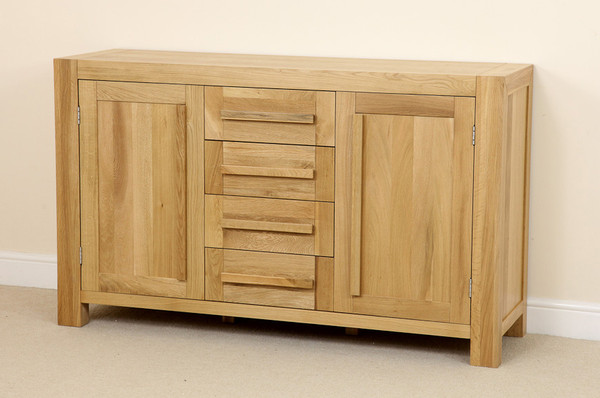 While the sideboard, in its current form, has seen a number of changes since it first came into being, the functionality for which it was once used way back in the 17th century continues to remain its biggest selling point. Mainly found in dining rooms, the use of sideboards in kitchens is not uncommon now, and this is not only because they create more storage space, but because kitchens are increasingly being used as dining spaces as well.
When used in a kitchen, a sideboard can be used to store dishes, utensils, crockery, cutlery, as well as a host of kitchen gadgets like juicers, mixers, and toasters. Buyers looking for sideboards have the option to search for them in shops, or they can also choose to search online through websites like eBay. From a buying perspective, one ought to consider how a sideboard is used, and one should know how to choose between different types of design alternatives, sizes, and materials.
Size of the Sideboard
The first thing one ought to do is measure the kitchen space where the sideboard is placed. This has a bearing on the size of sideboard for which one should search, as well as on design alternatives. For example, if there is no space constraint, one can look at a sideboard that comes with five sections made up of two doors and three rows of drawers. On the other hand, a sideboard with two doors and a single row of drawers would suit a smaller space.
Given that sideboards come in various sizes, finding one to fit any particular space should not be a problem. However, looking for one without taking relevant measurements is not at all advised. Sideboards are generally quite big and if they are made using solid wood, they can be quite heavy as well. The weight of a sideboard also needs to be taken into account, in addition to its size, and this is simply because one needs to address how this piece of furniture is moved from one place to another.
What Does It Hold?
The items that the sideboard holds should be taken into account during the search process. If the sideboard is used to store small items, such as cups, saucers, cutlery, tablecloths, and napkins, one ought to look for sideboards with more drawers. Sideboards with more doors and shelves are ideal if one intends to use them to store large items like juicers, mixers, and platters. Open-shelved sideboards can be used to good effect in kitchens, especially when it comes to keeping frequently accessed items, like coffee makers and juicers.
The Different Alternatives
Buyers have different types of sideboards to search through, even when it comes to sideboards designed for kitchens, and this includes closed and open sideboards as well as those that come with detachable shelving.
Closed vs. Open
A sideboard with closed doors is a better alternative if one does not wish to worry about how things are displayed on the inside, and a closed sideboard can also help to create a formal feel. Open shelved sideboards, on the other hand, require that items kept inside look presentable, otherwise they can create an impression of unkemptness. If one intends to use the sideboard to store crockery and linen, this should not be a concern, and open sideboards may be considered.
When it comes to sideboards that allow visibility, one has the option to choose between those made with glass doors or those that come with completely open shelves. Glass door sideboards are not as heavy as their wooden counterparts, and still manage to offer the stored items some kind of protection.
Detachable Shelves
Sideboards that allow users to divide the space within as per one's requirements are not hard to come by, and this is done through the use of detachable shelves. For example, one can find a sideboard with special shelves designed to hold cups, saucers, and plates. One can also come by sideboards that offer detachable wine racks, which are otherwise replaced by normal shelves. Sideboards that come with pull-out top shelves offer additional serving space as, and when, required.
Different Styles
Given that sideboards date back many years, one can expect to find some genuine antiques when looking for them. What one can also expect to find are a range of new sideboards that are made to look like antiques, as well as a plethora of modern and contemporary designs. A sideboard should ideally match the kitchen's existing theme, wherein if the kitchen exudes modernism, an antique sideboard in the same space would look rather out of place.
In addition to the various combinations when it comes to doors, drawers, and open sections, if space is a constraint and opening and closing doors can be a problem, one ought to look at sideboards that come with sliding doors.
Materials
The most commonly used material to make sideboards is wood, and this includes different types of wood, such as oak, mahogany, walnut, and pine. Laminates that imitate other materials, like wood and stone, are popular when it comes to retro or contemporary designs. One also has the option to go through various alternatives that are made using pressed sawdust or composite wood, and while these may look good, avoiding them is suggested. This is because while they may seem like more affordable alternatives, they are not really built to last for long.
Good quality hardwood results in a better bargain if one is looking for a sideboard for long-term use and this is simply because it is easy to maintain and can be restored to its original finish quite easily.
Heat Resistance
When looking for kitchen sideboards, one should realise that their surfaces could be used to keep hot dishes from time to time, especially if they are going to be used as serving surfaces. As a result, one should look for a sideboard that comes with some type of heat-resistant surface, examples of which include marble, granite, and glass.
The Sideboard as a Serving Surface
If the sideboard is used as a serving surface, one needs to look for a sideboard that comes with a convenient height. Take into account that the surface is subjected to splashes and stains every now and then, and this is another reason for the material of the top surface to be robust. Tiled, glass, or laminated tops make for good solutions, although with any other type, one may have to think about using additional protection in the form of trays or mats.
Electrical Fittings
Having a power point near the sideboard helps if it is being used in the kitchen. The surface, then, can be used to run coffee makers, juicers, and toasters. If one intends to use the kitchen sideboard to carve and plate food, ensuring that the area right above it has sufficient lighting is a good idea. Using a spotlight to focus right on top of the sideboard can have a great effect, and if this light can be fitted with a dimmer it works even better, wherein it can be bright when carving and serving, and toned down otherwise.
The Sideboard as a Kitchen Island
When used in a kitchen, a sideboard can be a great way to separate the kitchen from the eating area and also works very well as a kitchen island. Although sideboards are traditionally meant to be placed against walls, one can also be used to double up as an eating surface, and when used as a kitchen island, one can also place a few kitchen chairs or kitchen stools around it quite easily.
In such a scenario, not only is the sideboard used as a place where people can get together for breakfast or tea, it also serves as an important kitchen storage space.
Buying a Kitchen Sideboard on eBay
There are numerous options when it comes to buying kitchen sideboards on eBay, and this includes sideboards made using different materials as well as sideboards in different styles and sizes. It helps to know that various sellers have sideboards available through eBay, and this warrants a thorough search. Comparing the prices of multiple sellers is always suggested, and this is because of the competition that leads to some sellers lowering their prices more than others.
Buyers have the option to search through new as well as used sideboards, and one can also expect to find antique sideboards on eBay. Given that a sideboard can be quite heavy and expensive to ship, looking for sellers who are located locally can help, as this can bring down shipping rates considerably. Looking for kitchen sideboards using eBay is straightforward; one can use the site's menu options or simply search for "kitchen sideboards" using its user-friendly search option.
Conclusion
In addition to fulfilling its basic role of providing additional kitchen storage space, a kitchen sideboard can also be put to use in other ways. They can be a wonderful addition to any kitchen, and since they are made available in various sizes, finding one to fit any given space should not really be a problem. Once the size aspect is addressed, one should look at the various styles on offer and choose one in accordance with its intended use. Delving into the different materials on offer is definitely suggested, as this helps in establishing the life of the sideboard as well as helps to match it with the rest of the room.
Buying a sideboard does not have to be complicated, as long as one follows the aforementioned points and what a consumer should remember at all times is that this piece of furniture is meant to last, and therefore, quality should take precedence over finding a cheap alternative.